Discover the world of Italian aperitifs with this ultimate guide to Aperol vs. Campari. From their histories and flavor profiles to popular recipes, you'll find everything you need to know about these two stunning and delicious Italian aperitifs.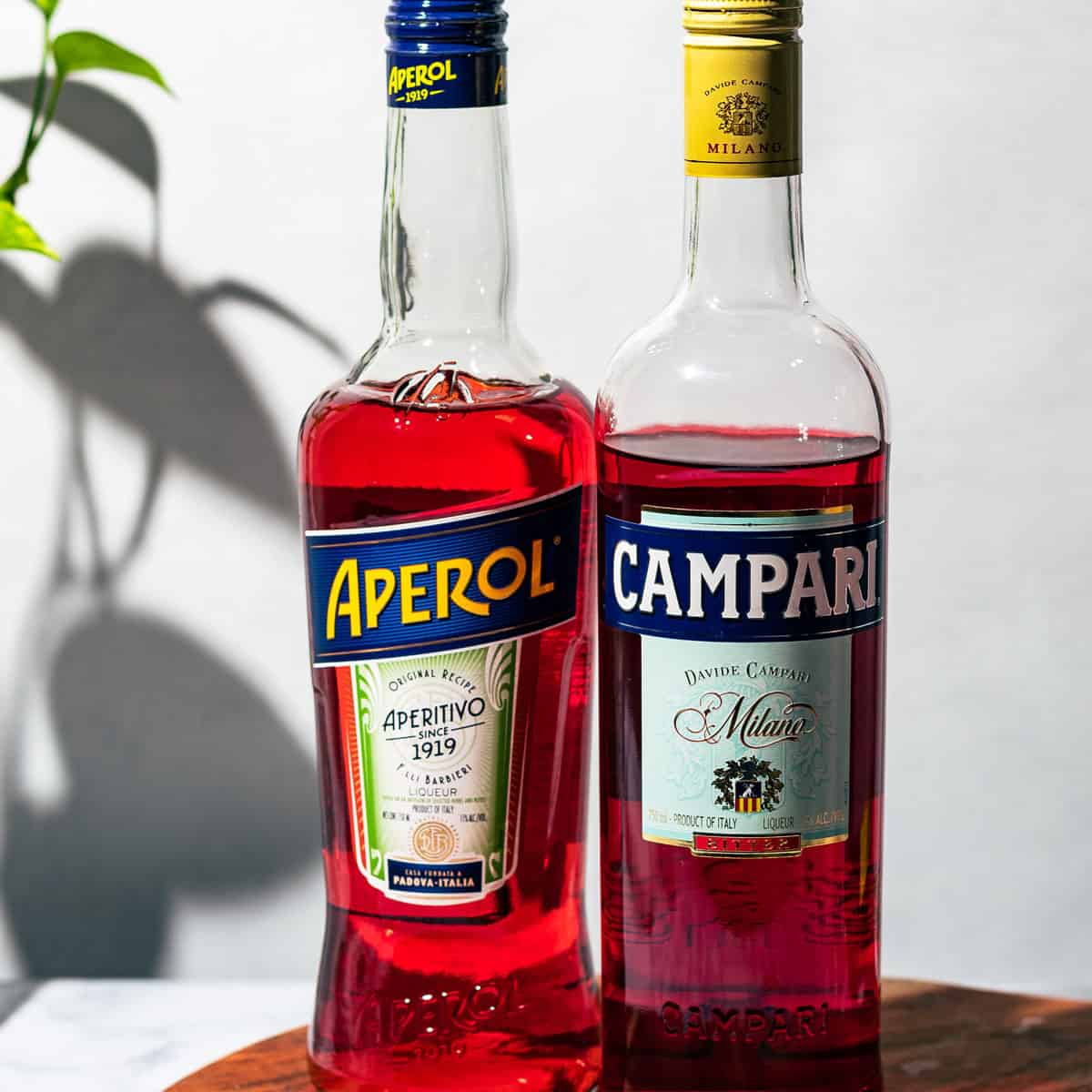 You may have heard of Aperol and Campari, both Italian aperitifs used as components in cocktails or enjoyed on their own neat or poured over the rocks. While they may appear the same, they have distinct differences that make each better suited for different tastes. Let's dive into the history and comparison between Aperol and Campari and what makes each unique.
Jump to:
What is an aperitivo?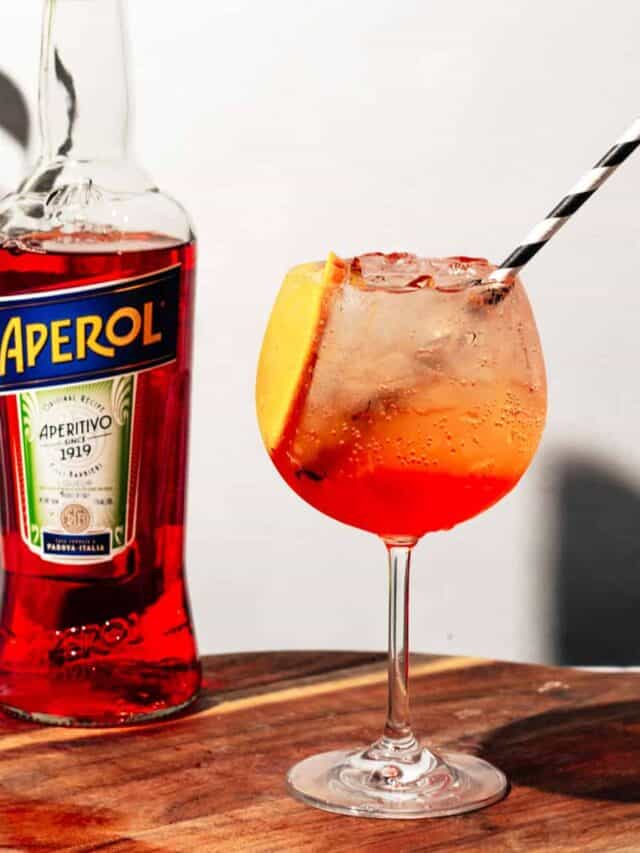 In Italian culture, aperitivo refers to the social time before dinner meant to enjoy small appetizers and drinks. The word stems from "aperto," meaning to open or begin, which is the intention of those indulging before dinner.
You could closely compare aperitivo to an American happy hour, although in Italy, this socializing time is more about food accompanied by drinks instead of the other way around. Typically, when one orders a drink during aperitivo, it is served along with a complimentary snack that varies depending on the region.
Campari and Aperol are known as Italian aperitifs, commonly mixed into a cocktail and enjoyed during aperitivo. In addition, beer, wine, and prosecco are popular drink choices that wash down dishes such as bruschetta, assorted cheese and olives, and even small, shareable pizzas.
Participating in aperitivo is an essential part of the social nature of Italian culture, regardless of the region. This lovely tradition allows for relaxation after a long work day as a time to unwind and prepare the stomach for a delicious dinner!
Origins
Campari
Now let's get into the differences between these two liqueurs, starting with the origins and brief history. While today, both are manufactured and distributed by the Campari Group, that wasn't always the case.
Campari was invented in Novaro, Italy, in 1860 by Gaspare Campari. Shortly after, in 1867, Campari moved his company to Milan and opened up what was known as Caffe Campari on the famous Piazza Duomo, a true cultural center of the city. The business outgrew the space, and, eventually, in 1904, a plant was opened to mass produce the quickly popularized iconic red liqueur to the world.
Campari became so popular in Italy that in 1915, the heir to the Campari company, Davide Campari, opened the bar Camparino. This bar was located near the home of the original Caffe Campari and revolutionized the way the red liqueur was served, bringing the idea of the aperitivo to the region and culture. With decor from well-known artisans and artists, Camparino drew large crowds from all over and remains open to this day.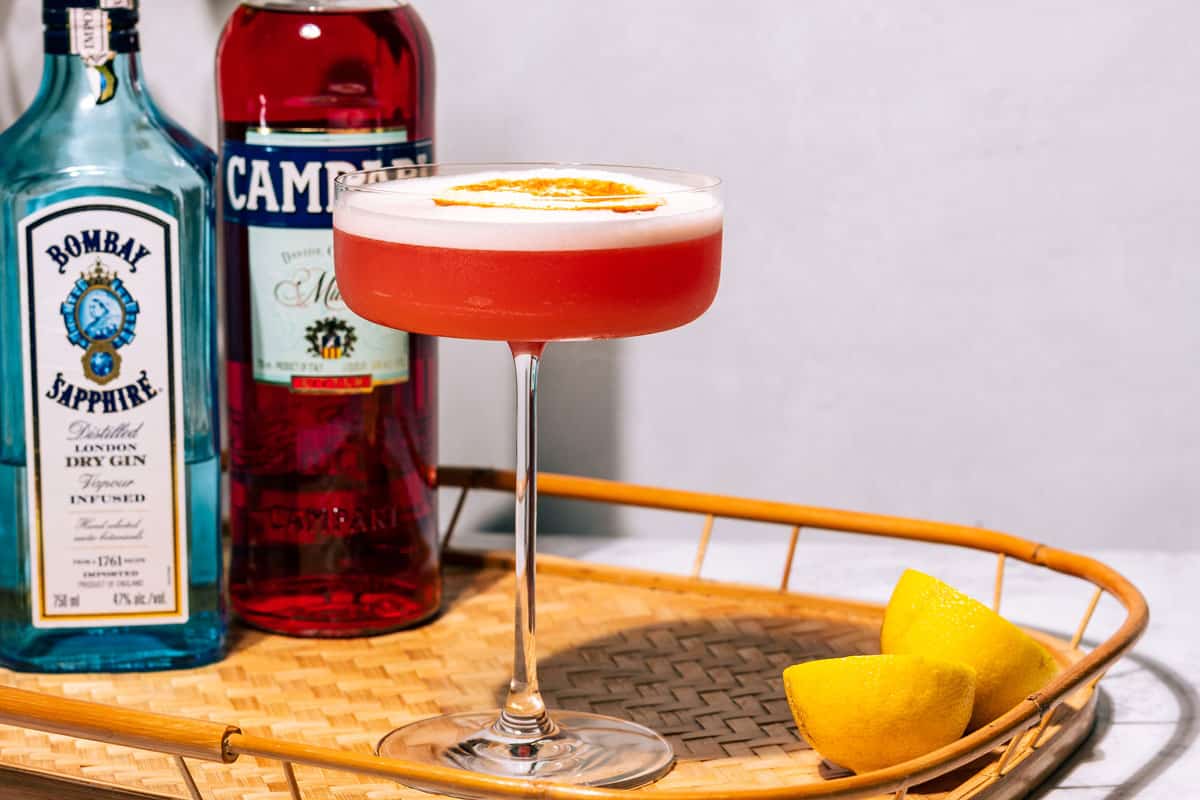 Aperol
Aperol was first created in 1919 in Padua, a region in northern Italy, by brothers Luigi and Silvio Barbieri, who wanted to make a unique aperitif to the area. While it took seven years to perfect the liqueur, it gained widespread popularity after World War II. The drink initially premiered at the Padua International fair, where the bright orange color drew attention and intrigue from fairgoers. 
The idea of Aperol is loosely based on the original Campari liqueur, with a much lighter color and lower alcohol content.
Aperol is most commonly known as the main ingredient in an Aperol Spritz, which originated in the 1950s and has had a resurgence in popularity in recent years.
Taste
While both are Italian bitter liqueurs infused with a combination of herbs and spices, Campari is much stronger and more intense in flavor. Aperol, however, is slightly sweeter and less bitter than its counterpart.
Campari has a strong bitter orange flavor with cherry and cinnamon notes. Because of this flavor profile, it mixes well with other liquors in cocktails without getting lost. On the other hand, Aperol is only slightly bitter, with citrus and herb notes. Both liqueurs are made with the main ingredient of rhubarb, with different herbs and spices giving each its uniqueness. 
Color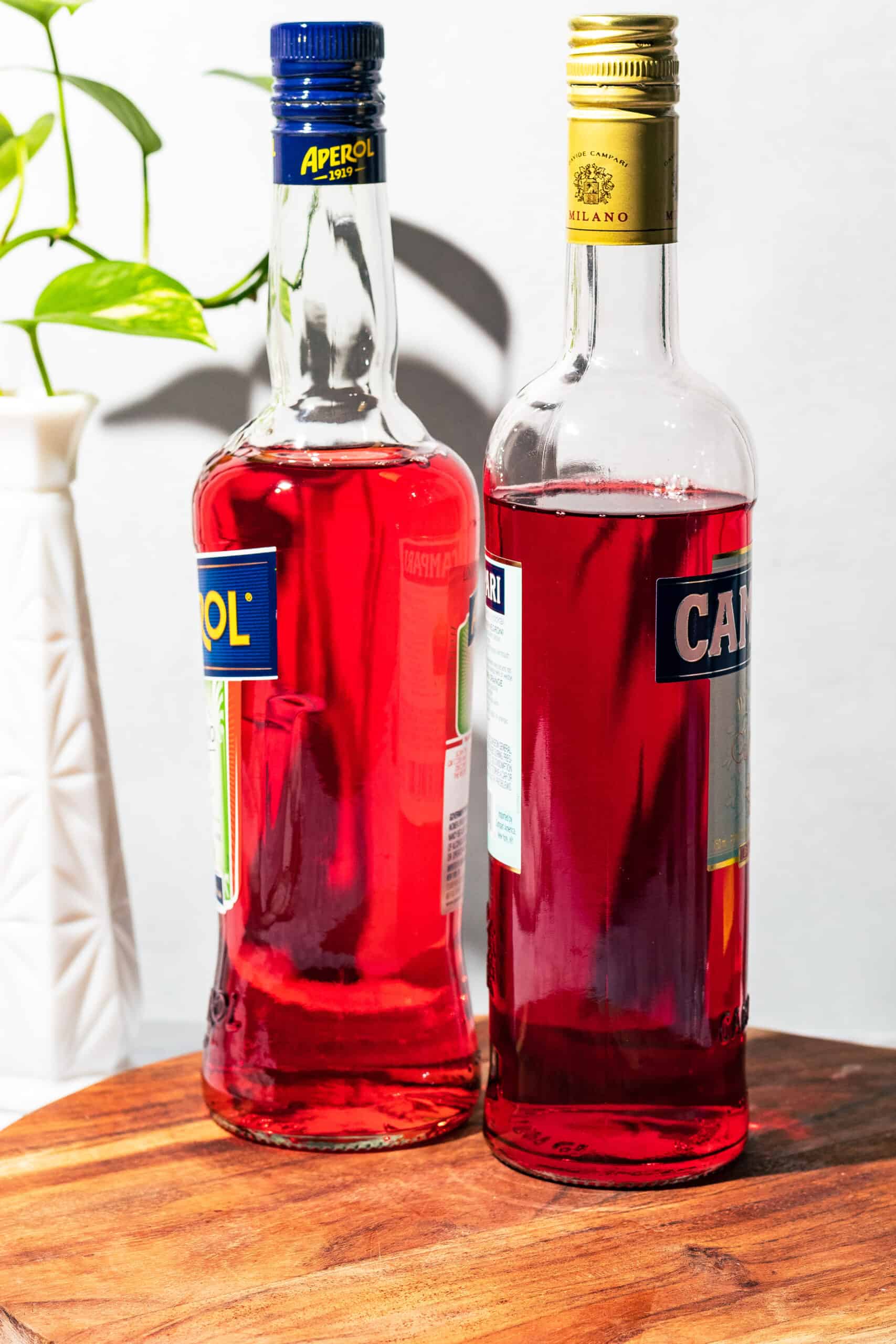 Campari and Aperol may appear to be easy to confuse with one another, but they are slightly different in color. Campari is bright red in appearance, while Aperol is a bright orange hue. Both aperitifs have a beautiful bright color, whether served on their own or mixed into a cocktail.
Campari was made initially with carmine dye, which is created from crushed cochineal insects. This dye gave Campari its distinctive red color until 2006, when the Campari group stopped using it in its recipe. Nowadays, Campari, like Aperol, uses artificial coloring to obtain its bright red hue.
Alcohol content (Percent ABV)
You may be surprised to discover that Campari has a much higher alcohol content than Aperol with nearly twice the percentage of alcohol. Campari is 48 proof, with an ABV, or alcohol by volume, of 24%. Aperol is 22 proof, with an ABV of 11%.
The percentage of alcohol in Campari can range from 20-28% depending on what country you buy it in; for example, in the United States, Campari is 24% ABV. Aperol is consistent in its ABV, except for in Germany, where it is 15% instead of 11%. Both liqueurs are significantly lower in alcohol than liquors such as gin, tequila, and vodka, which all come in at around 40%.
Cost comparison
You can purchase both in a 750 ml size as well as a 1-liter size bottle. While the same company, Campari Group, owns both aperitifs, they are their respective brands and, due to the difference in alcohol content, are also priced accordingly. 
Currently (as of 2023), a 750 ml sized Aperol bottle is around $27.50, while a 1-liter sized bottle is about $34.70. Campari is significantly more expensive at around $34 for a 750 ml and $40 for a 1-liter bottle.
Easy Aperol and Campari Cocktails
Now that we know the differences between these two Italian bitters liqueurs, let's explore the best uses for each in making tasty cocktails to enjoy in your version of an aperitivo.
Campari Cocktails
Classic Negroni – made with one part Campari, one part sweet vermouth, and one part gin garnished with an orange peel, this classic cocktail is not for the weak or inexperienced drinker. The Negroni is served in a rocks glass over ice and is gently stirred, not shaken.
Boulevardier – slightly similar to the Negroni, the Boulevardier is made with equal parts Campari, sweet vermouth, and bourbon or rye whiskey. If you love the smoothness of bourbon, the Campari is seamlessly balanced by the sweetness of the bourbon.
Americano – the Americano is made simply with equal parts Campari, sweet vermouth, and soda water. Known as the oldest Campari cocktail, the Americano originated in the original Caffe Campari in Milan, Italy.
Campari Spritz – the Campari spritz is made with Campari, prosecco, and soda water, for a light and refreshing (but more boozy) twist on the better-known Aperol spritz.
Jungle Bird – you may not think to pair rum with Campari, but the Jungle Bird does just that with pineapple juice, lime juice, and rum combined with the red liqueur. The result is sweet and tart with a little bit of bitterness.
Aperol Cocktails
Division Bell – this cocktail adds tequila into the mix with Aperol and Maraschino, a cherry-based liqueur. The ingredients are shaken together, strained into a glass, and then garnished with a grapefruit twist.
Summary (TLDR)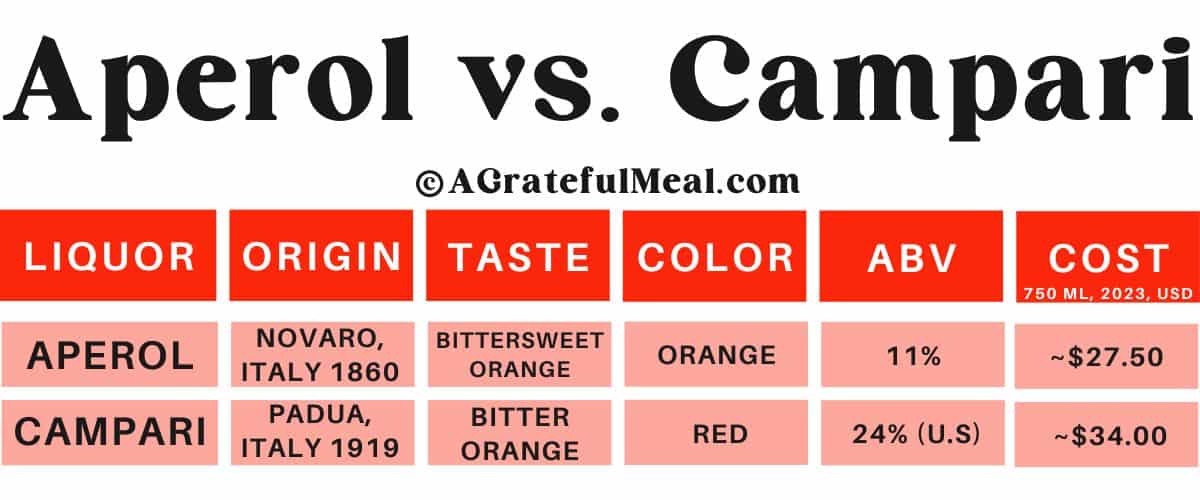 FAQ
Can you drink Aperol or Campari straight?
Yes, you can drink Aperol or Campari straight if you prefer to taste the flavor unhindered by other ingredients. It's best to start with a small amount in a shot glass or a dessert wine glass.
Can I use Aperol in place of Campari or vice versa?
Yes, you can use either of these liqueurs instead of the other. Just remember that the flavors and colors will be slightly different, which may result in discovering a new favorite cocktail!
Which is better for a Negroni? 
Depending on your preference, you can use either Campari or Aperol in a Negroni. While Campari is a more robust flavor that may stand out more in a Negroni against the sweet vermouth and gin, Aperol will give you a sweeter cocktail that is a bit lighter in alcohol.
Is one better than the other?
No, one is not better than the other; it depends on your taste preferences and tolerance for alcohol content. While one may be better suited for specific cocktails than another, in the end, they can be interchanged easily and enjoyed in similar ways.
More Food and Beverage Guides
More Italian Cocktails
If you're looking for more Italian cocktails – I got you covered with everything from a Limoncello Spritz to an Italian Mule.
Don't forget to follow along on social media for alerts on new recipes!
You can catch me on Instagram, TikTok, Pinterest, and Facebook.