Planning a fancy Italian dinner party and looking for the best wine to pair with your menu? It can be intimidating to choose the right wine to serve with food, but if you follow some simple guidelines it becomes stress-free and even fun. So next time you're hosting a soiree, read on to find out what the best wines with Italian food are.
Jump to:
What Determines Wine Pairings?
Wine pairing is based on balancing the flavors of the wine with the flavors of the food you are eating. This applies to all different types of cuisine and varies from spicy to sweet dishes.
Sometimes, a wine pairing will complement the food with similar flavors and characteristics. Other times, a wine pairing compliments the food with contrasting flavors and characteristics, giving it balance.
When pairing the best wine with Italian food, if the dish has a sauce, it is best to pick a wine that will work well with that. Wine can be paired with proteins such as beef, chicken, or seafood but if there is a flavorful sauce accompanying the protein, that should be considered.
Red meat usually pairs best with red wine, given its intensity and boldness. White meat and seafood are lighter fare and tend to be complemented with a bottle of white wine.
Keep in mind that the intensity of the dish should always match the intensity of the wine. A big bold red wine will overpower a light salad and is better suited for a thick juicy steak.
You will also find that rich dishes call for a more acidic wine that will cut the heaviness and cleanse the palate. Keeping this rule in mind will help you to better pair wines with any type of food.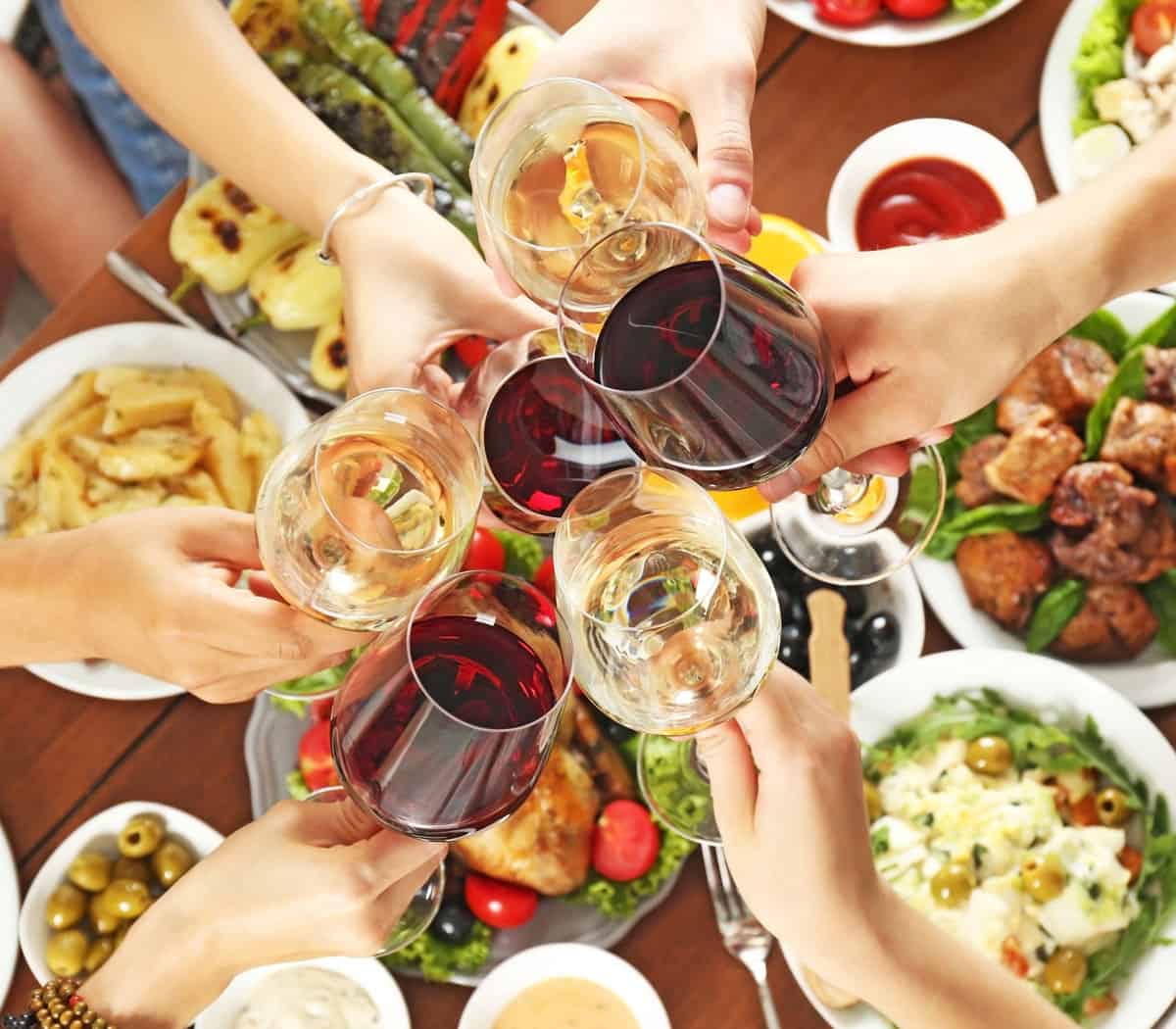 Best Wine with Italian Food Pairings
Below are several varietals of wine and delicious Italian food pairings that go best with them. Use this guide the next time you are at the wine store trying to figure out what tasty wine to match your Italian dishes with.
White Wine With Italian Food
Pinot Grigio
Pinot Grigio (sometimes called Pinot Gris in French) is a dry, highly acidic yet mellow flavored white wine. Popular in Italy, Pinot Grigio pairs great with Italian food. Pinot Grigio is known for its refreshing taste and overall light-bodiedness. Typical in Pinot Grigio's flavor profile are green apples, honeysuckles, and lemons.
Because of its light-bodiedness, Pinot Grigio pairs best with Italian food that is on the lighter side. Spaghetti Alle Vongole, or Spaghetti with Clams, is a popular Italian dish that pairs well with Pinot Grigio. The subtle flavor of the wine won't overpower the delicious light flavors of white wine broth and clams.
Pasta Primavera, made with pasta and fresh veggies, is an Italian springtime dish intended for warm weather. The crisp flavors of the vegetables pair harmoniously with the bright acidity of the Pinot Grigio.
Chardonnay
Chardonnay can be dry and crisp or buttery and mellow, depending on how and where it is produced. Chardonnay has notes of apple and pineapple, and toasty vanilla when it is aged in wooden barrels. The barrels also give the Chardonnay a buttery flavor, which lends itself to several Italian dishes.
Unoaked Chardonnay pairs well with simple and fresh flavors. Luckily, Italian food is known for its simplicity and high quality ingredients. Pour crisp Chardonnay along with a dish of seared scallops or chicken piccata for an excellent pairing.
Oaked Chardonnay is slightly richer and pairs well with creamy sauces and heavier Italian food. Mushroom risotto and oaked Chardonnay make a great combo and amplify the flavors of the wine and of the dish. Creamy fettuccine alfredo with a glass of oaked Chardonnay makes a winning combination.
Sauvignon Blanc
Sauvignon Blanc is another light, crisp, and acidic white wine that pairs well with Italian food. Unlike the other white wines on this list, Sauvignon Blanc has an herbaceous and "green" flavor. Sauvignon Blanc is slightly vegetal in flavor and pairs well with fresh or lightly sauteed vegetables.
Pair Sauvignon Blanc with fresh mozzarella cheese, tomatoes, and basil to enhance its fresh flavors. This uncooked dish is a perfect match that corresponds well with the Sauvignon Blanc for its simple and herby taste.
Marinated artichokes and a garlic aioli dipping sauce play off of Sauvignon Blanc's savory flavor and tartness. The lemony flavor from the marinade, along with the extra virgin olive oil and garlic from the aioli stand up to Sauvignon Blancs taste profile.
Riesling
Riesling is a white wine that is often considered a sweet wine, but it is still crisp and can accompany many dishes if the wine is well balanced. A dry Riesling is very accommodating to food, and many Italian dishes can be enjoyed in its company.
Riesling is a great choice for Italian seafood dishes like Frutti Di Mare, a dish made with garlic, olive oil, white wine, and red pepper flakes. Clams, scallops, shrimp, and mussels are cooked together in the sauce making a delicious dish. The small amount of heat added by the red pepper flakes is balanced by the slight sweetness of the Riesling.
Porchetta, a stuffed Italian pork dish, is another great pairing with Riesling. The fatty flavor of the pork and the spices are ideal with the dry acidity and sweetness of Riesling.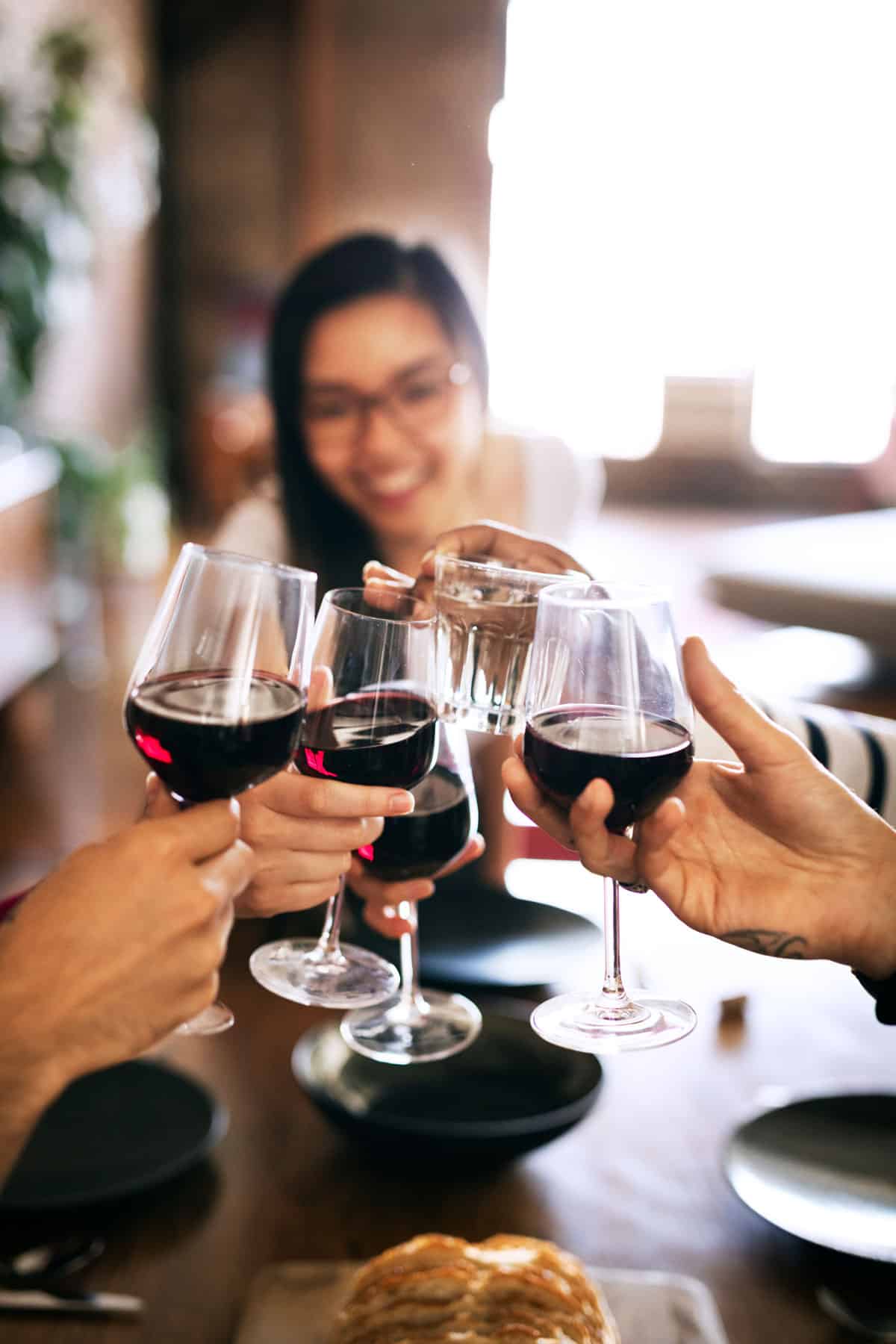 Red Wine With Italian Food
Cabernet Sauvignon
Cabernet Sauvignon is a bold, full-bodied wine that pairs great with many red sauces and meats in Italian cooking. With notes of black pepper, blackberry, and cherry, Cabernet Sauvignon is a popular wine all around the world. In fact, it is the most popular varietal of grapes used for winemaking.
Prepare a delicious and hearty Spezzatino di Manzo, or Italian beef stew, and pair it with a bottle of rich Cabernet Sauvignon for a mouth-watering combination. The boldness of Cabernet Sauvignon stands up to the fatty flavors and textures of the beef and potatoes.
Pizza or flatbread is a no-brainer when it comes to pairing Cabernet Sauvignon. The acid of the tomato sauce is met with the big flavors of the Cabernet Sauvignon, and the perfect pairing is elevated even more when there is cured meat on the pizza.
Pinot Noir
This very drinkable wine is one of the lighter red wines and very versatile wine when it comes to pairing with Italian food. Pinot Noir has earthy notes, along with cherries and a subtle vanilla flavor when aged in oak barrels.
Pinot Noir is best paired with leaner meats, like chicken or pork, and light red sauces and roasted vegetables. Try Pinot Noir with some chicken cacciatore, filled with the umami flavors from mushrooms and olives in a light red sauce.
Pinot Noir can stand up to the richness of an Italian pasta with cream sauce as well. Penne alla vodka with rigatoni will go splendidly with a glass of Pinot Noir at dinner time. The slight acidity from the tomato paste is mellowed by Pinot Noir's vanilla undertones and earthy flavor.
Zinfandel
Zinfandel is a bold medium to full-bodied wine that has deep fruity flavors and a good amount of acidity. Often described as jammy and a little spicy from its high acidity, Zinfandel is a great wine to enjoy alongside food, especially Italian cuisine.
Zinfandel's flavor profile complements grilled and roasted meats and vegetables, as well as lots of pasta dishes. Zinfandel will pair flawlessly with Tuscan-style roasted lamb seasoned with lots of rosemary, ground mustard, and olive oil. The fattiness of the lamb is balanced easily by the high acidity from the Zinfandel.
Like many other red wines, Zinfandel is excellent with pasta and red meat sauce. A traditional Italian Sunday gravy with slow simmered pork neck and meatballs over spaghetti or fettuccine is a true match made in heaven alongside Zinfandel.
Chianti
Medium-bodied and tart, Chianti (sometimes called Chianti Classico) is a classic Italian wine that pairs well with food of the same cuisine. Chianti is a highly acidic, deep red wine, giving it versatility in pairing with food. Chianti has notes of balsamic vinegar, strawberries, dried herbs, and even smoke.
A hearty wine like Chianti pairs well with soups and stews. Try Chianti with Italian Ribbolita, a bean soup with lacinato kale served alongside crusty bread perfect for the cold winter months. Chianti is truly an excellent wine to enjoy alongside food.
An impressive antipasto platter with savory meats like salami and prosciutto, pecorino, and provolone cheese with plenty of marinated olives and spicy pickled peppers accompanies a freshly poured glass of Chianti seamlessly. Chianti is one of the quintessential Italian wines to enjoy with Italian cuisine. 
More Guides for Wine Pairings
Making Your Meal Complete with the Best Wine
Now that you have a better understanding of the best wines to pair with Italian food, you can make any delicious Italian spread better with a glass or two of red or white wine. Italian pasta sauces, grilled meats, vegetables, and irresistible cheeses all pair fantastically with a variety of wines.
Keep these simple rules in mind, and make sure to always drink what you really enjoy whether you're dining at home or in an Italian restaurant.
More Ways to Explore Wine
Did you find this guides or resources helpful?
Let me know in the comments and share on social media.