Oh yes way, Rosé!
I've got my first ever cocktail for you! I am in love with this rosé with this one for three reasons:
1) It's EASY
2) It's freaking DELICIOUS
3) It's PRETTY
Put all three of these together and it's the holy grail of food and drink. In all seriousness, it's a really balanced drink that is super refreshing. I recommend getting a brut sparkling rosé. Brut is a fancy French word that means "raw, crude," and in terms of sparkling wine or champagne degree of sweetness it's means "dry." It kind of makes your mouth pucker, but in a refreshing way like lemonade. Combine this with a flowery, syrupy elderflower liqueur like St-Germain, which sweetens up the drink a bit. I garnished up the drink with some edible rose petals (only $1.99 from World Market!!) With all the botanical flowers going on and the bubbles from the sparkling wine, I'm calling this drink my "Flower Power Spritzer."
It's a perfect Spring/Summer drink, and would make a great substitute for mimosas at Sunday brunch or Mother's Day.
Now what are you waiting for? Let the good times roll.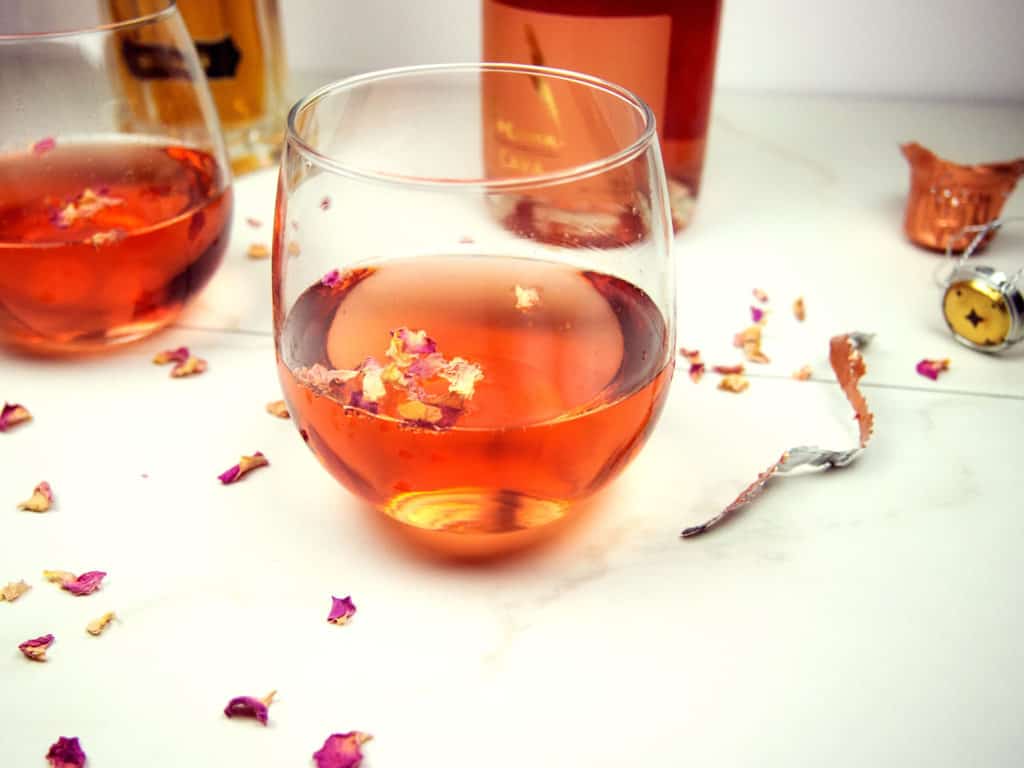 Print
Flower Power Spritzer
4 oz

. sparkling rosé (recommend brut)

0.5

–

1

oz. elderflower liqueur (recommend St-Germain)
Edible rose petals for garnish (optional)
Instructions
Pour rosé in a cocktail or wine glass, top with elderflower liqueur, and rose petals (if using). Serve immediately.