This Aperol Spritz cocktail is a classic Italian summer cocktail that's refreshing and easy to make, perfect for sipping on a hot day. It can also be scaled up to make a pitcher for a crowd, making it ideal for entertaining. It just takes a few simple steps and ingredients to make the best Aperol Spritz.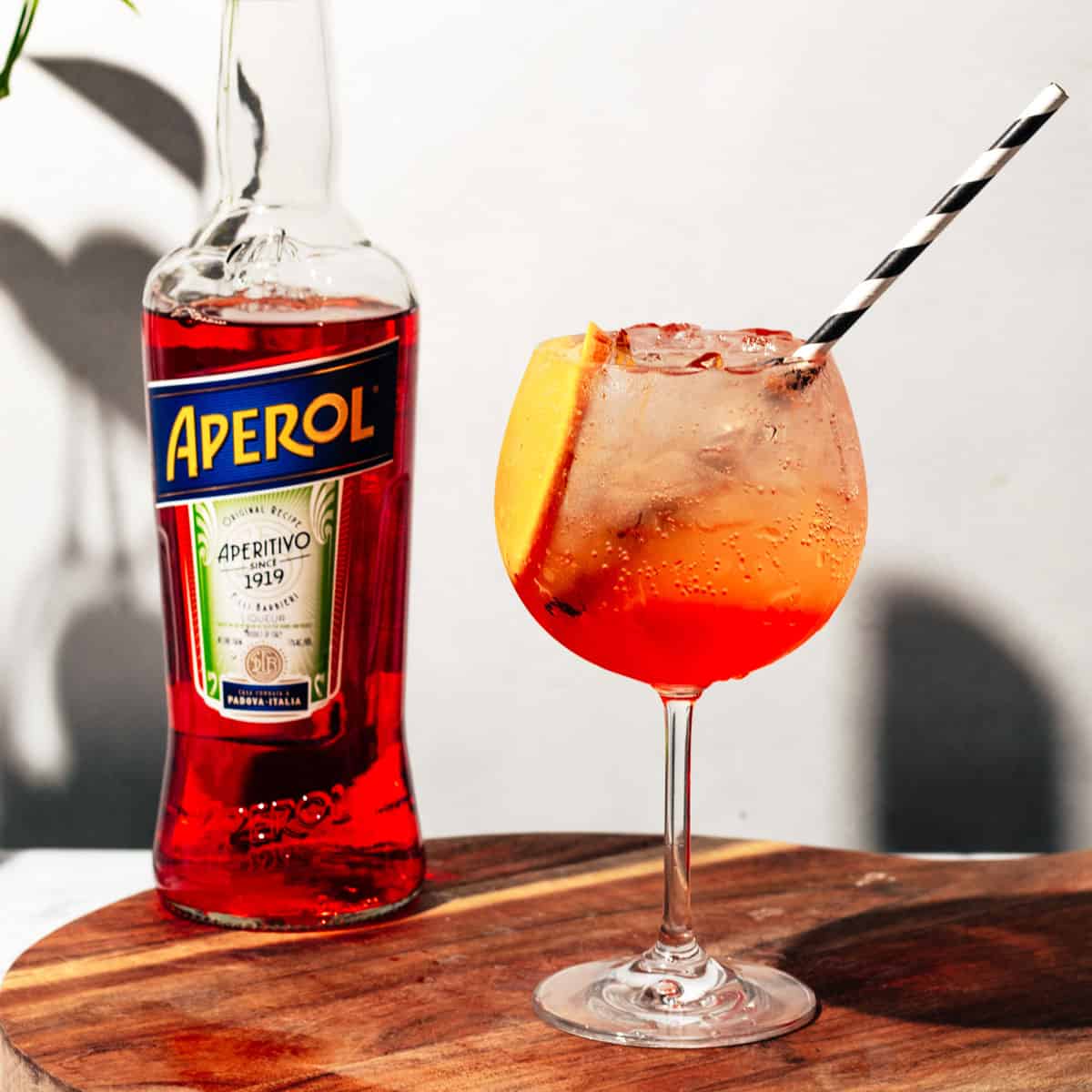 Explore the world of Aperol cocktails and try out some of my other delicious easy cocktail recipes like Aperol Negroni, Rosé Aperol Negroni Sbagliato, and Aperol Sour Cocktail. Or, if you're looking for a variation but with a spicy kick of ginger, check out my Aperol Mule.
Jump to:
Why This Recipe Works
Refreshing and light: It is a light and bubbly drink that's the perfect cocktail for hot summer days. The combination of Aperol liqueur, Prosecco, and a splash of soda water creates a refreshing and easy-to-drink cocktail.
Unique flavor: The citrusy and bitter flavors of Aperol liqueur give the spritz a unique and delicious taste that's different from other popular cocktails.
Versatility: It's a versatile cocktail that can be easily customized to suit different taste preferences. You can adjust the ratio of Aperol to Prosecco and soda water to find the perfect balance of sweetness and bitterness.
History and Origin of Spritz Cocktails
Originating in the Veneto region of Italy, Spritz cocktails are a classic Italian cocktail that is recognized by the International Bartenders Association (IBA). The Spritz dates back to the 1800s when Habsburg Empire soldiers were stationed in the Veneto region.
The soldiers began to dilute Venetian wine with a spray of water (or "spritzen" in German) due to the higher alcohol content of the wine. This resulted in the creation of this iconic bubbly cocktail.
This evolved into the classic Italian Aperol Spritz that was created in the early 1900s in Northern Italy. It wasn't until the 1950s and 60s, however, that it gained widespread popularity and became a staple of Italian culture.
In recent years, the Aperol Spritz has become a global phenomenon and is now enjoyed in many cocktail bars and restaurants around the world, particularly during the summer months.
I still remember my first spritz that I had way back in 2019 while vacationing in Sonoma. It was love at first sight (err, sip!)
Ingredient Notes
You just need a few simple ingredients that are available at any liquor or grocery store to whip up this refreshing drink!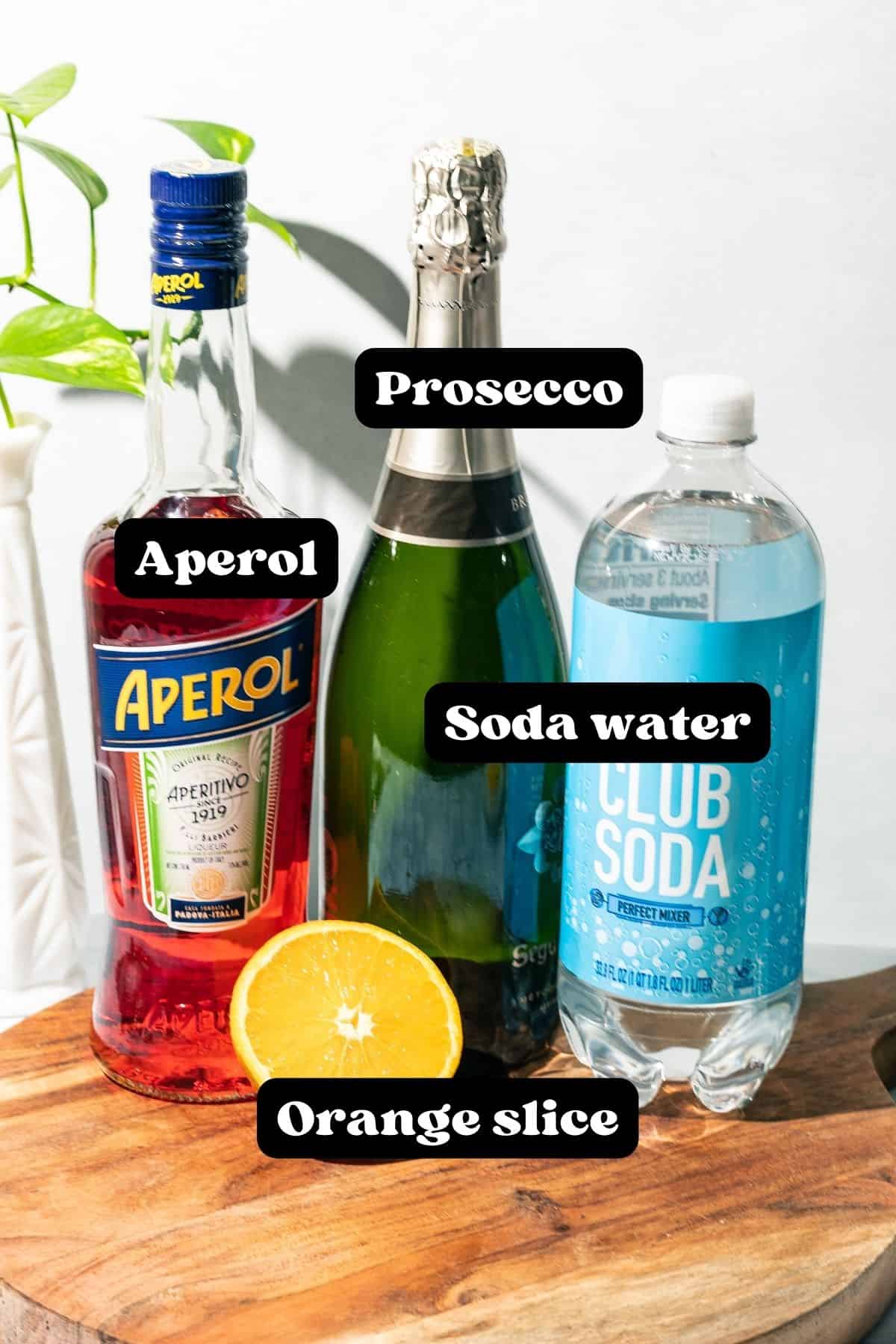 Aperol is an Italian liqueur with a bittersweet taste and notes of bitter oranges, rhubarb, and herbs. It has a lower alcohol content and is widely available at the liquor store, making it a versatile ingredient in cocktails
Prosecco is an Italian sparkling wine that is known for its light and refreshing taste, with notes of green apple, pear, and lemon.
Soda water adds a bubbly and effervescent quality to the drink.
Orange slices are a traditional garnish for an Aperol Spritz and a delicious way to complement the bittersweet flavors of the cocktail. A slice of orange also adds an extra pop of color to the drink.
Step-by-Step Instructions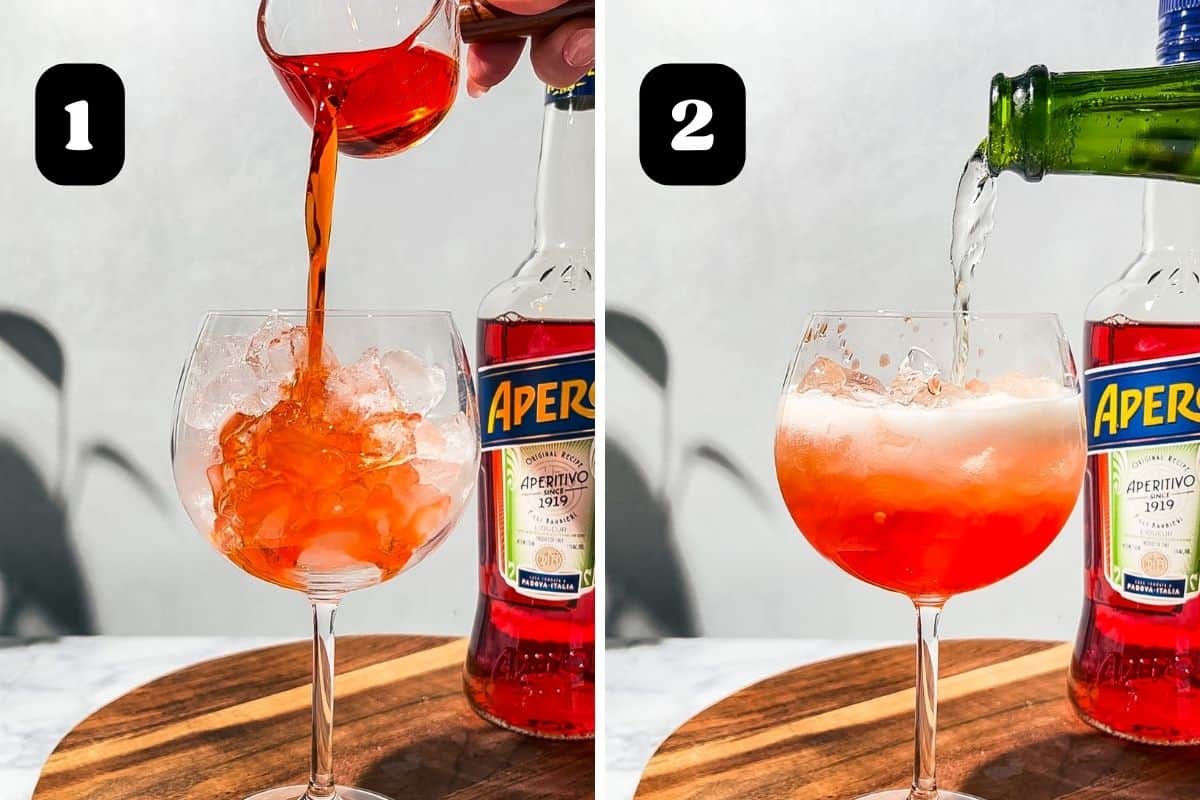 Step 1: Add the Aperol to a large wine glass or a spritz glass filled with ice cubes.
Step 2: Add the dry prosecco.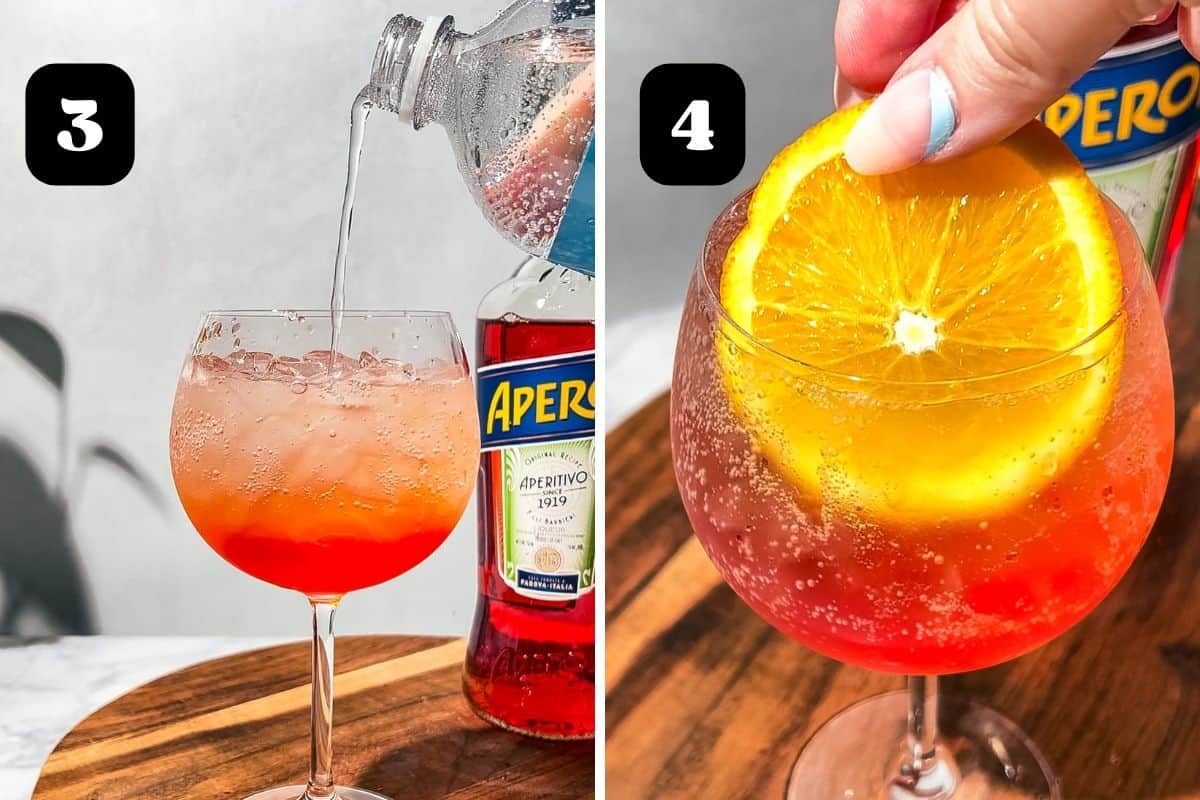 Step 3: Top with soda water.
Step 4: Garnish with an orange slice.
Tips
Buy dry prosecco – When buying or using Prosecco in a spritz, look for a dry or extra dry variety that will balance the sweetness of the Aperol. Dry prosecco can also be labeled as "brut."
Mix it up with a twist – While a classic Aperol Spritz is delicious on its own, you can also experiment with different variations by adding a twist of citrus or a dash of bitters. Try adding a slice of grapefruit or blood orange for a more complex flavor, or a dash of orange bitters for a deeper and more aromatic finish.
FAQ
What is Aperol?
It's an Italian aperitif liqueur with a bright orange color that was first produced in 1919. It has a bittersweet taste with notes of orange, rhubarb, and herbs, and is made with a secret blend of simple ingredients that include bitter and sweet oranges, gentian root, cinchona bark, and other botanicals.
It is widely used in popular cocktails, which has become a favorite summer drink around the world.
How do I store Aperol?
It can be stored at room temperature in a cool, dark place, but low-alcohol spirits, such as Aperol, keep longer in the fridge. It's generally considered safe to consume them even if they're not stored correctly, but their quality may suffer. If you're not sure if your bottle is good, you should follow the golden rule of food safety – "when in doubt, throw it out."
How do I make a pitcher for a crowd?
Yes, you can definitely make a pitcher of Aperol Spritz cocktails for a crowd. I have included measurements in the recipe below for making a pitcher. 
Can I make a batch in advance?
While it's not recommended to make an Aperol Spritz pitcher in advance as the Prosecco and soda water may go flat, you can prepare the ingredients ahead of time by chilling them in the fridge. This way, when you're ready to serve, you can quickly and easily assemble the cocktail to ensure that it's as fresh and bubbly as possible.
Is an Aperol Spritz high in alcohol?
An Aperol Spritz is considered a relatively low-alcohol cocktail. Aperol itself has a low alcohol content compared to other liqueurs. It clocks in around 11% alcohol by volume (ABV), while Prosecco typically has an ABV of around 11-12%.

This means that an Aperol Spritz is usually around 8-11% ABV, depending on the specific recipe and the amount of each ingredient used.
Why do Italians drink Aperol Spritz cocktails?
Aperol Spritz cocktails are a popular aperitif in Italy because it is a light and refreshing cocktail. It's the perfect pre-dinner drink. The bittersweet flavors, combined with the bubbly effervescence of Prosecco and the subtle sweetness of soda water, make for a delicious and easy-to-drink cocktail that is perfect for warm summer afternoons.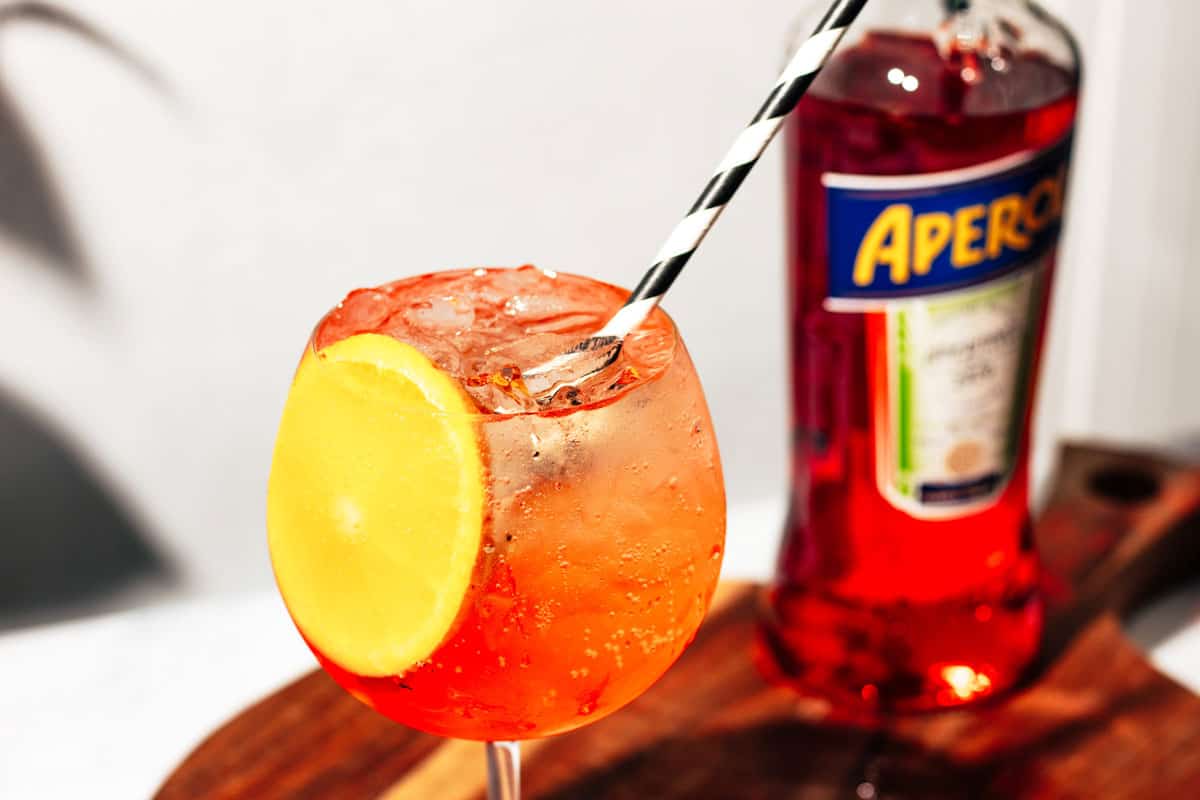 Related Recipes
Did you love this easy Aperol Spritz recipe?
Please leave a 5-star 🌟🌟🌟🌟🌟 rating in the recipe card below & a review in the comments section below.
Reviews will help others find this recipe!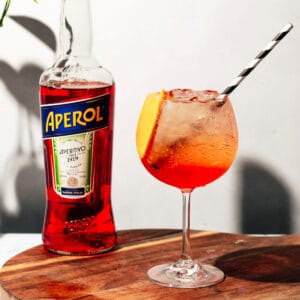 Aperol Spritz Recipe
This Aperol Spritz cocktail is a classic Italian summer cocktail that's refreshing and easy to make, perfect for sipping on a hot day. It can also be scaled up to make a pitcher for a crowd, making it ideal for entertaining.
Ingredients
2

ounces

Aperol

3

ounces

Prosecco

(dry or brut style)

1

ounce

Soda water

(seltzer or club soda)

Orange slice for garnish

(optional)
Instructions
Add the aperol to a large wine glass filled with ice. 

Top with prosecco and soda water. 
Notes
For a pitcher (makes 8 Aperol Spritz cocktails):
2 cups aperol
1 bottle prosecco (750 ml bottle, dry or brut style)
1 cup soda water (about ⅔ of a 12 ounce can)
Orange slices for garnish, optional
Add Aperol, prosecco, and soda water to a pitcher or drink dispenser that can hold at least 55 ounces and gently stir.
Add several orange slices to the pitcher, if desired.
Allow guests to pour into cocktail glasses filled with fresh ice.
Tip: Avoid adding ice directly to the pitcher. Instead, keep the pitcher chilled as much as possible either in a fridge or nestle the pitcher in a large bucket of ice. 
Don't forget to follow me on social media to be the first to see new recipes!
You can catch me on Instagram, TikTok, Pinterest, and Facebook.