An Aperol Negroni, sometimes called a Contessa Cocktail, is a perfect balance of bitter, sweet, citrus, and earthy notes in every sip.
This aperol gin cocktail is not for the faint of heart; made of three different alcohols, it packs a real punch. If you love a refreshing citrus drink that pairs well with food, the Aperol Negroni is for you!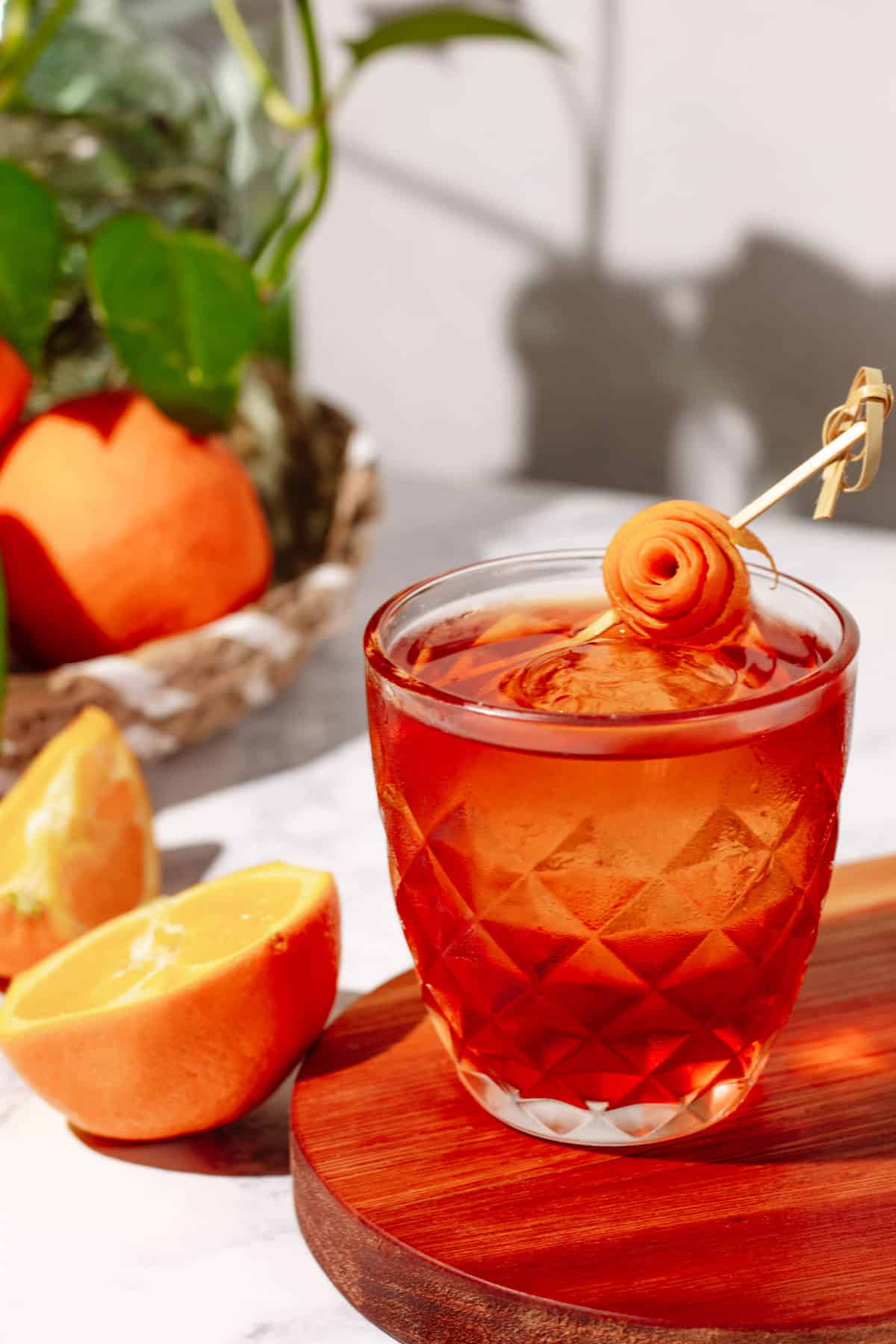 Jump to:
What is a Negroni?
The classic cocktail, Negroni, is an Italian aperitivo, or before-dinner drink, intended to stimulate the appetite before a meal. The traditional Negroni is made with Campari, a distinctly bitter cousin to Aperol, which is sweeter.
The classic Negroni recipe is made with equal parts Campari, gin, and sweet vermouth and is often topped with an orange peel garnish.
Stirred and poured over ice, the Negroni is a timeless cocktail with several popular variations, such as the Boulevardier, which replaces gin with whiskey.
Negronis are so beloved they even have a week dedicated to them in New York City called Negroni Week, which promotes the drink and raises money for various philanthropic causes.
I've got lots of Negroni recipes on this site including the Negroni Sour. For those that aren't gin fans, you should check my Negroni Sbagliato, Vodka Negroni, and my Pink Rosé Negroni Sbagliato.
Can You Put Aperol in a Negroni?
Yes, you can absolutely use Aperol in place of Campari in a Negroni!
Aperol is the perfect substitute for Campari in this cocktail if you prefer a sweeter and slightly less bitter Negroni. If you aren't sure if Negronis are your thing, using Aperol in place of Campari is a good introduction to Negronis.
Aperol and Campari are both Italian aperitifs and bitter liqueurs meant to stimulate the appetite, so their cocktails are perfect as a pre-dinner drink.
However, Campari has a much higher alcohol content at 20-28% ABV than Aperol at nearly half the amount of 11% ABV.
Visually, you can tell the two apart by their distinctively different colors. Campari has a crimson red appearance, while Aperol is an eye-catching bright orange.
Ingredient Notes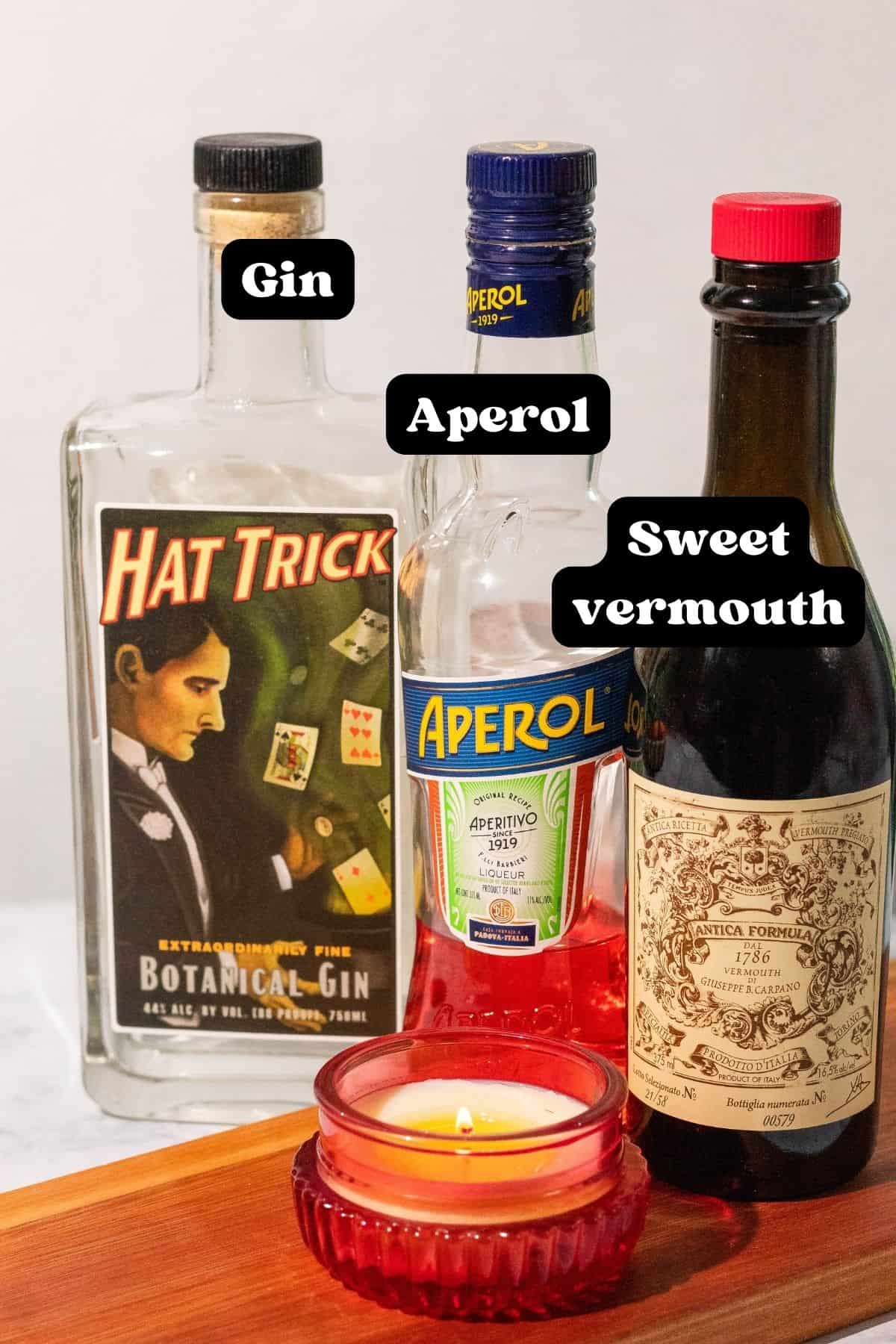 Now that you know a little more about the Aperol Negroni cocktail, let's learn more about its simple ingredients. Made up of only three ingredients in equal parts, the Aperol Negroni is simple to remember, and its components are easy to find.
While you may already have gin in a well-stocked bar, you may be less likely to have Aperol or sweet vermouth. Never fear; these can be found at most liquor stores, and before you know it, you will be mixing up one of these easy cocktails.
Aperol: As I've explained, Aperol is known as an aperitif, or aperitivo, if you're in Italy. First marketed in 1919, Aperol is most commonly found in the famous Aperol Spritz. The Aperol Spritz is served over ice with a garnish of an orange slice.
It gets its refreshing flavors from a combination of gentian root, oil from orange peels, rhubarb, and cinchona bark. These unique flavors make for a citrusy, herbal taste with undertones of vanilla.
Aperol is easy to find, but many other brands make versions of this aperitif that may be cheaper. Try Galliano, Luxardo, or Contratto if you can't find Aperol, or you can go back to the original Negroni with Campari, but of course, it will be more bitter.
Gin: The next crucial ingredient in an Aperol Negroni is gin. For this cocktail, try a London Dry style gin with solid notes of juniper to balance out the Aperol.
Although all gin is made with juniper, additional different botanicals are also used in gin production, giving a unique flavor to different brands and styles. Gin can range in alcohol content, being as low as and ABV of 35% and as high as 55%.
If you already have a bottle of your favorite gin at home, it will work fine in this Aperol cocktail, even if it isn't a London Dry gin style, although you will get mixed results with different gins. But, I believe the best gin is your favorite gin.
Sweet vermouth: Finally, sweet vermouth is the third equal part to your Aperol Negroni. Sweet vermouth or Rosso vermouth is a fortified wine usually from Italy, used to add a sweet and herbal flavor to cocktails.
Since sweet vermouth is made from fortified wine, it contains tannins or bitter, astringent compounds found in the skins and vines of grapes. This lends to the flavor characteristics of sweet vermouth, counterbalancing some of the sweetness with a little dry element. Some other flavors in sweet vermouth are spices, vanilla, and caramel.
Sweet vermouth is relatively low in alcohol, at around 15-18% ABV. While it doesn't pack the same punch as gin or Aperol, sweet vermouth still lends a bit of booziness to this purely alcoholic cocktail.
You can replace sweet vermouth with dry red wine for less alcohol, which won't change the drink's appearance but won't be quite as sweet.
Orange garnish: Garnish your Aperol Negroni with the peel of an orange, also known as a twist, or an orange slice if you'd like even more flavor from the pulp and the skin.
How to Make an Aperol Negroni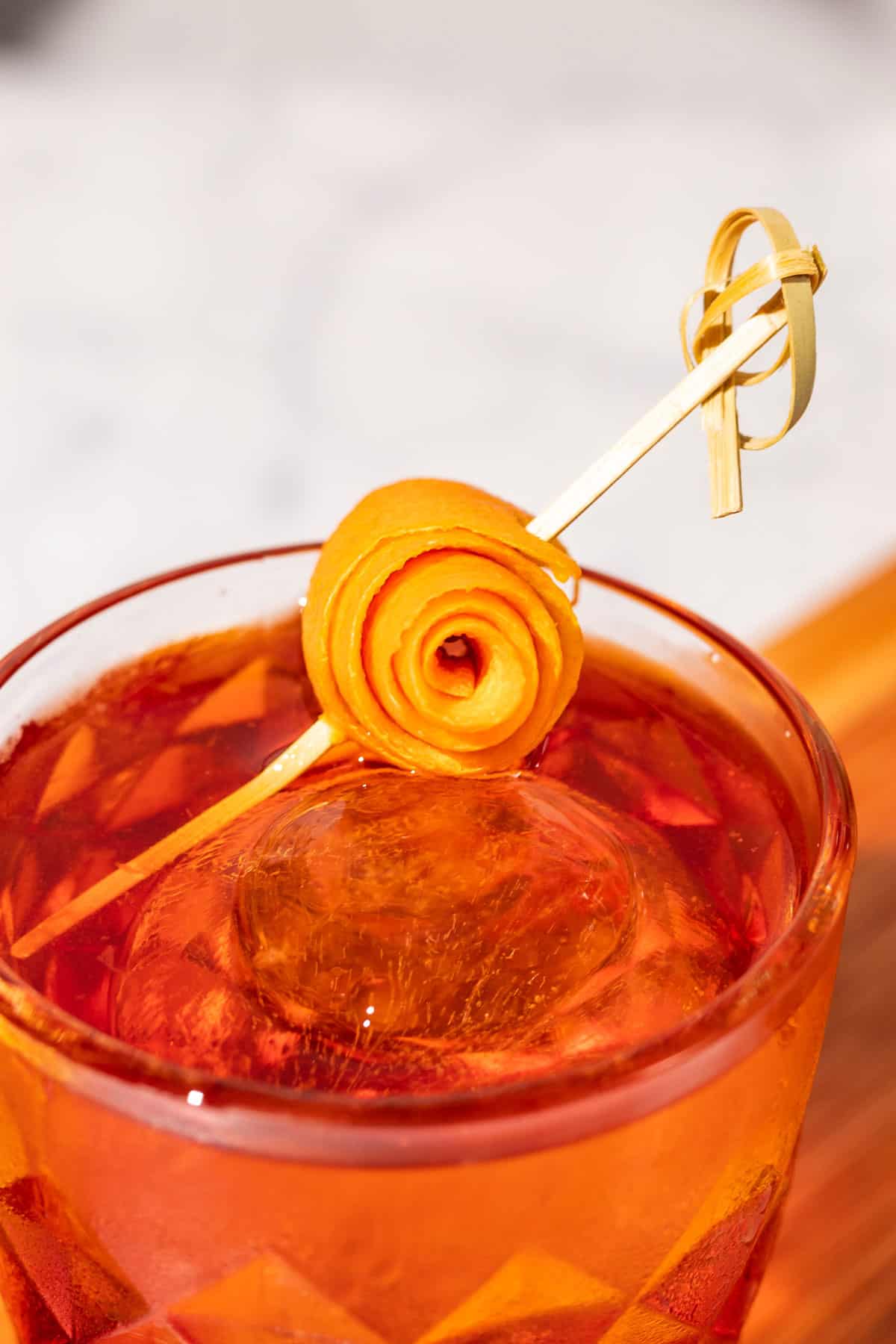 Ready to make this tasty and easy cocktail? To make this cocktail, you will need a jigger, mixing glass, strainer, stirring spoon, ice, and a rocks glass. Check out my favorite Amazon finds for my favorite cocktail tools.
Combine equal parts of Aperol, gin, and sweet vermouth in a mixing glass with some ice.
Stir the ingredients together and use a cocktail strainer to strain the cocktail into a rocks glass filled with ice. I like to use large ice cubes, sometimes marketed as "whiskey ice cubes."
Garnish the cocktail glass with an orange twist or slice of orange for added flavor and a beautiful aesthetic. Enjoy!
Serving Suggestions
As with any cocktail, this Aperol Negroni is best paired with good company for optimal results! The Aperol Negroni is an ideal before-dinner cocktail. Enjoy it with salty foods that call for bright flavors and a bittersweet taste.
Any salty meat or cheese with crostini and a bit of jam or honey will take the edge off this highly alcoholic concoction.
Food ideas to try with a Negroni:
Charcuterie Boards – charcuterie spreads are full salty and bright flavors thanks to cheese, salted meat, and fruit.
Feta Cherry Tomato Pasta – this viral TikTok pasta recipe includes an entire block of feta. This version also adds chopped olives, but if you're not an olive fan, you can leave them out.
Or, if you're needing some help finding gifts for the gin lovers in your life (even if that would mean you 😉), check out my guide to the Best Gin Gifts.
Related Recipes
Did you love this cocktail?
Please leave a 5-star 🌟🌟🌟🌟🌟 rating & review in the comments below.
Reviews will help others find this recipe!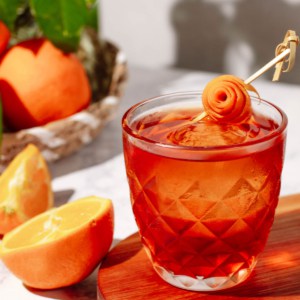 Aperol Negroni [Aperol Gin Cocktail]
An Aperol Negroni, sometimes called a Contessa Cocktail, is a perfect balance of bitter, sweet, citrus, and earthy notes in every sip. 
Ingredients
1

oz

Aperol

1

oz

gin

1

oz

sweet vermouth

Orange twist

for garnish (optional)
Instructions
Combine Aperol, gin, and sweet vermouth in a mixing glass with ice.

Stir well and strain into a rocks glass with ice.

Garnish with orange twist, if using.
Don't forget to follow along on social media for alerts on new cocktail recipes!
You can catch me on Instagram, TikTok, Pinterest, and Facebook.