This Aperol sour cocktail recipe is a versatile cocktail perfect for every occasion from the hot summer holidays to the cozy winter holidays, like Christmas and New Year's.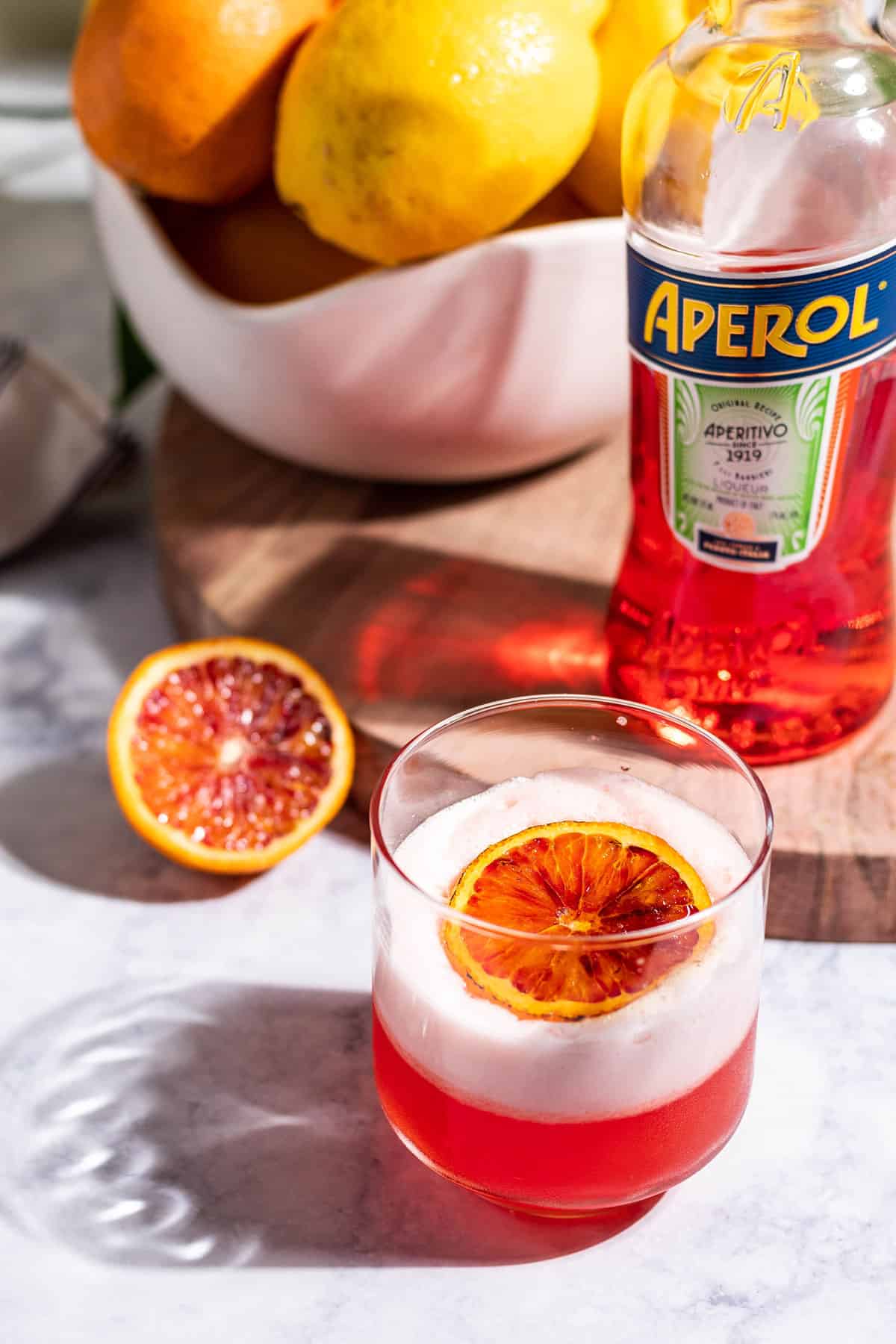 If you've ever had an aperitif on its own, you know that they can be pretty bitter and an acquired taste. Enter this Aperol Sour cocktail recipe, a delightful all-seasons cocktail that combines Aperol's slightly bittersweet orange and rhubarb flavors with blood orange, lemon juice, and a frothy egg white to create a unique and refreshing beverage.
The egg white creates a beautiful creamy, white foam on top of the cocktail that has a silky texture. If you've never tried cocktails with egg whites, you're missing out! And, if you're still freaked out, then I have some tips for extra food safety precautions and even a vegan alternative!
Try this Aperol Sour recipe next time you want to add some variety to your regular cocktail menu. Sour drink recipes, like this one, make such fun cocktails and are one of the best cocktail categories, in my opinion.
Jump to:
What is Aperol?
Aperol is a great aperitif from Italy, or "before-dinner drink", infused with bitters, herbs, and fruit to give it bittersweet and bright citrus notes and equally bright orange color. Aperitifs are typically a lower alcohol drink, and Aperol is no exception at 11%, half the content of Campari, its boozy cousin.
Intended to stimulate the appetite, Aperol makes an excellent addition to cocktails like an Aperol Negroni, Aperol Spritz, or Aperol Vodka Martini.
Ingredients
This cocktail has a few ingredients you may already have readily available in your at-home bar and refrigerator.
Aperol: If you have Aperol stocked in your bar, you've got the first essential component to make your Aperol Sour cocktail. If not, you can generally find Aperol in any liquor store.
Fresh lemon juice and egg whites round out the list of likely ingredients, while blood oranges may be a bit challenging to find.
Lemon juice: If you can, use freshly squeezed lemon juice in your Aperol Sour instead of bottled lemon juice. I prefer the flavor of fresh-squeezed lemon juice, and it is so easy to make your own with a lemon squeezer.
This is the lemon squeezer I use, and I love it because it is a two-in-one that is the perfect size for both lemons and limes.
If you don't have any fresh lemons and only bottled lemon juice, it will work just fine in this recipe.
Blood orange juice is usually available in the refrigerated juice section of your grocery store. The whole blood orange is sometimes available in the citrus portion of a supermarket's produce section – I find it's easiest to find blood oranges around the holidays, but many grocery stores have them available year round.
Blood oranges are slightly sweeter and less acidic than regular oranges, with hints of raspberry and strawberry. However, regular orange juice with a splash of cranberry for color will do in this Aperol Sour recipe if you can't find blood oranges. The blood orange juice was sweet enough on its own to not need additional simple syrup.
Food Safety Considerations for Egg White Cocktails
Egg whites in cocktails do little to affect the drink's flavor but create a silky and frothy texture that is more satisfying by the sip. Make sure to fully separate the yolk from the egg white, as the yolk does not lend itself to being included in your cocktail.
If you are worried about consuming a raw egg product, use ultra-pasteurized eggs that are super fresh to guarantee your egg whites are safe to drink.
If you are vegan or simply do not like the idea of egg whites in your cocktail, you can substitute with aquafaba, or strained chickpea liquid. You can buy aquafaba as a powder or open a can of chickpeas from your pantry and strain the juice from the beans.
Aquafaba is a common ingredient in vegan baking that doesn't add to the flavor of whatever you are making. Two to three tablespoons of aquafaba is a good amount to sub for one egg white.
Instructions for an Aperol Sour Cocktail
Now that you've gathered all of your ingredients, it's time to make this Aperol Sour cocktail. You will need a cocktail shaker and some ice, as well as a strainer for your finished product.
Gather all of your ingredients, squeeze your juices, and prepare your blood orange garnish if you have it. You can also use a simple lemon twist, peeled from the rind of a lemon.
Measure out your Aperol and the citrus juice. Crack the egg into a separate glass using the shell to strain the egg whites away from the egg yolk.
You can also break the egg into a small strainer and separate the egg yolk from the egg whites. If you feel confident in your egg cracking skills, you can crack and separate the egg whites straight into the cocktail shaker. Just be sure not to get any yolk in there!
Use a "dry shake" method: Sour cocktail recipes with egg whites typically use the "dry shake" method, that is, to add all of your components, including the egg whites and shake, before adding the ice. By doing a "dry shake", you are emulsifying the ingredients and allowing the egg whites to create volume in the process.
Once you have given your ingredients a vigorous ice-less shake for 30 seconds, add your ice into the shaker and shake again for 30 seconds to chill and dilute your cocktail before straining.
Strain your Aperol Sour into a cocktail glass. You can also double strain by having another fine-mesh strainer underneath your cocktail strainer when you pour out the cocktail, if you want it ultra smooth, but it might take away a little bit of the froth.
Garnish with a blood orange wedge or a lemon twist, and enjoy!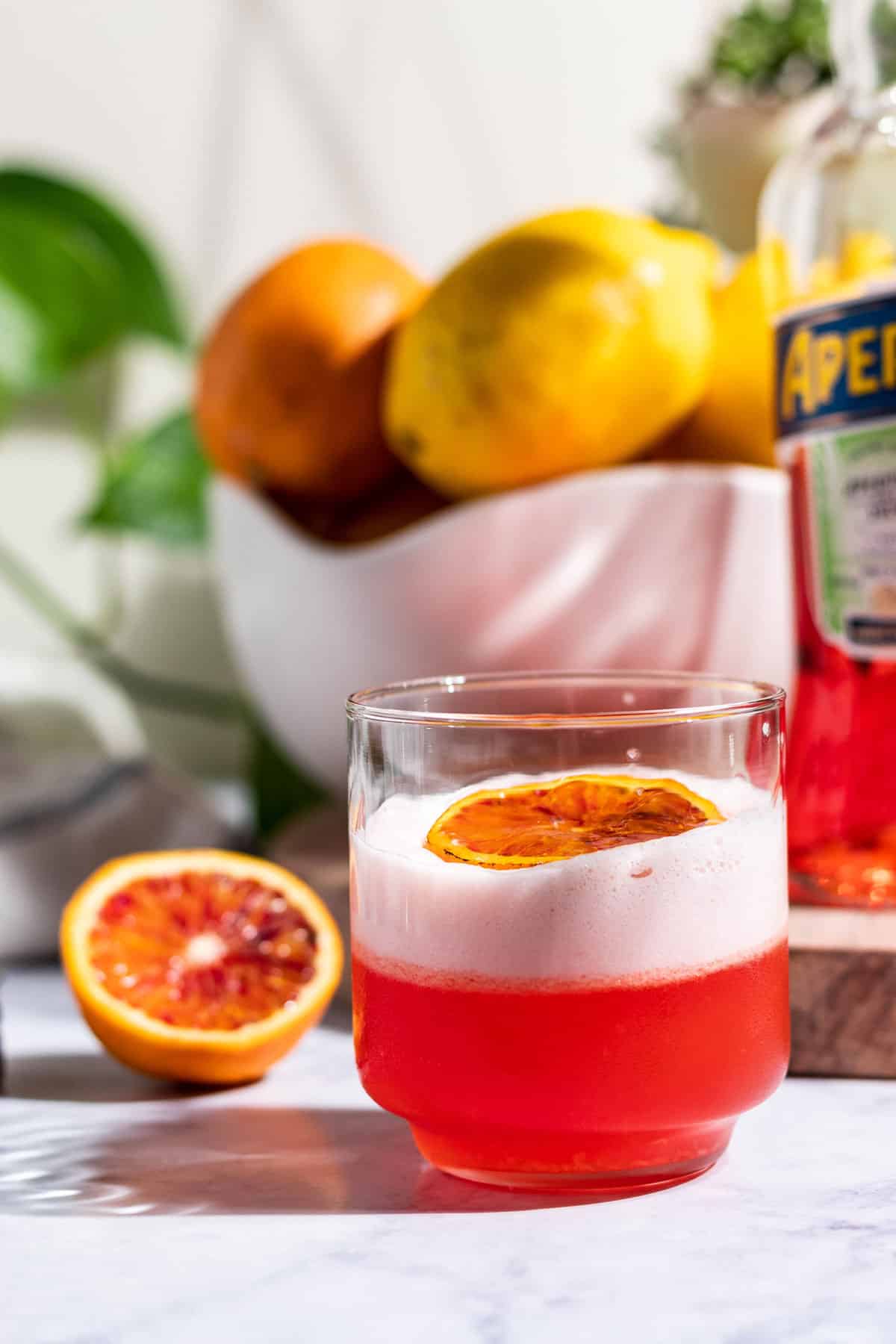 Serving Ideas and Other Cocktail Ideas
This Aperol Sour cocktail is a refreshing summertime drink that you can serve at an outdoor barbeque or dinner party. Enjoy an Aperol Sour in the wintertime for a light and refreshing cocktail during the holidays that may help stimulate your hunger for more holiday ham or Christmas cookies.
If you liked this cocktail, you'll probably also like these cocktails: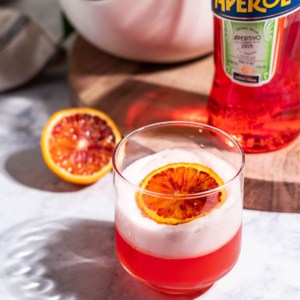 Frothy Aperol Sour Cocktail Recipe
This Aperol sour cocktail recipe is a versatile cocktail perfect for every occasion from the hot summer holidays to the cozy winter holidays, like Christmas and New Year's.
Ingredients
2

oz.

Aperol

½

oz.

Blood orange juice

½

oz

lemon juice

1

egg white

Blood orange wheel or lemon peel twist

for garnish
Instructions
Add Aperol, blood orange juice, freshly squeezed lemon juice, and an egg white to the cocktail shaker

Cover the cocktail shaker and vigorously shake the ingredients for 30 seconds

Add a scoop of ice to the cocktail, cover, and shake for another 30 seconds

Strain your cocktail into a glass garnished with a wedge of blood orange or a lemon peel twist, and enjoy!
CLICK TO DISPLAY NUTRITION INFO
Nutrition
Calories:
161
kcal
Carbohydrates:
23
g
Protein:
3
g
Fat:
0.1
g
Saturated Fat:
0.01
g
Polyunsaturated Fat:
0.01
g
Monounsaturated Fat:
0.01
g
Sodium:
51
mg
Potassium:
93
mg
Fiber:
0.1
g
Sugar:
22
g
Vitamin A:
29
IU
Vitamin C:
13
mg
Calcium:
5
mg
Iron:
0.1
mg