Are you looking to shake up your cocktail game with a refreshing twist on a classic margarita? Next time you're planning a day by the pool or a backyard barbeque, why not try a blackberry basil margarita!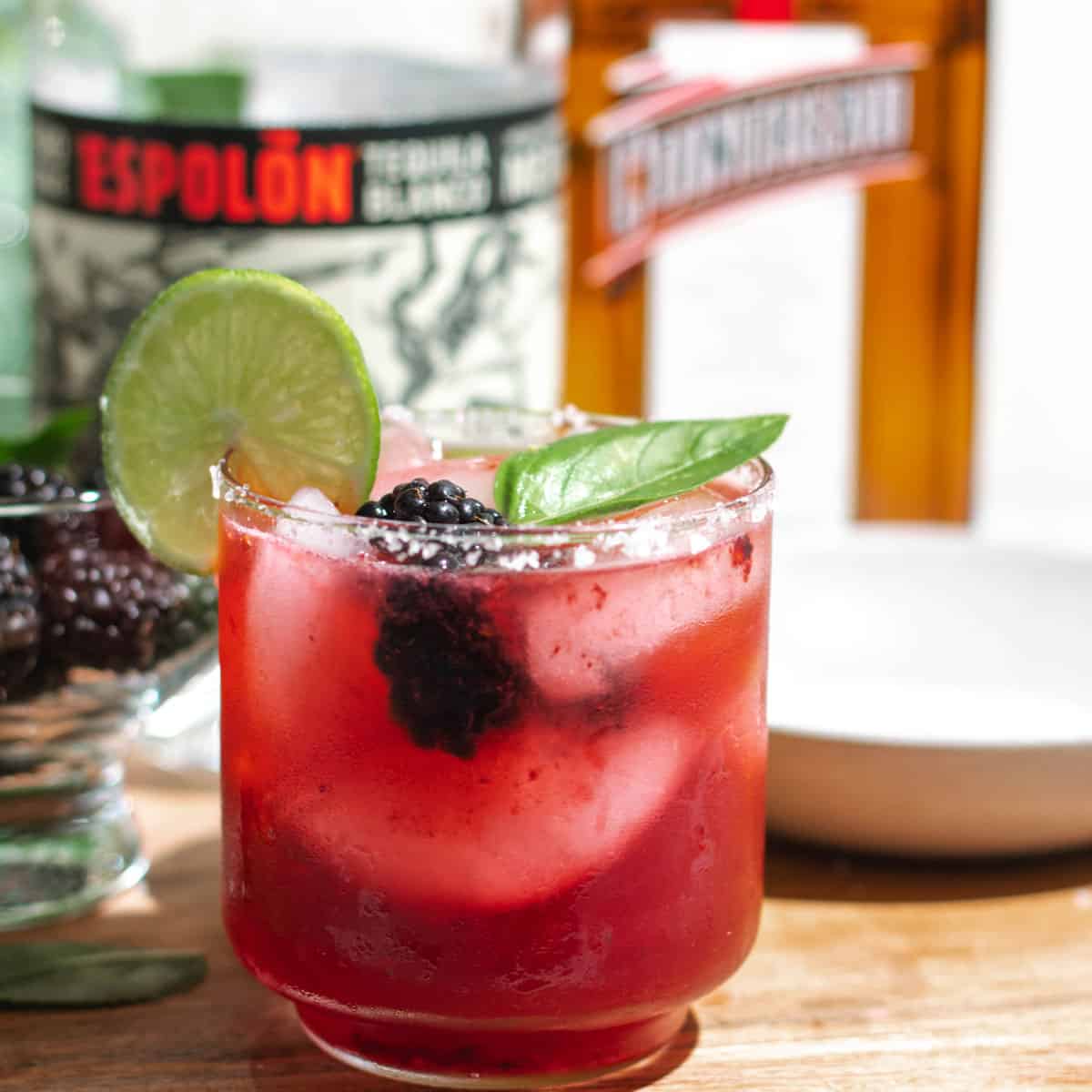 Made with fresh blackberries and basil, this imaginative fruity cocktail breathes new life into the classic margarita and is guaranteed to satisfy on a hot day. It will quickly become one of your favorite ways to make a margarita.
If you just can't get enough of margaritas, make sure to check out my Orange Mezcal Margarita or Strawberry Limoncello Margarita.
Jump to:
Ingredients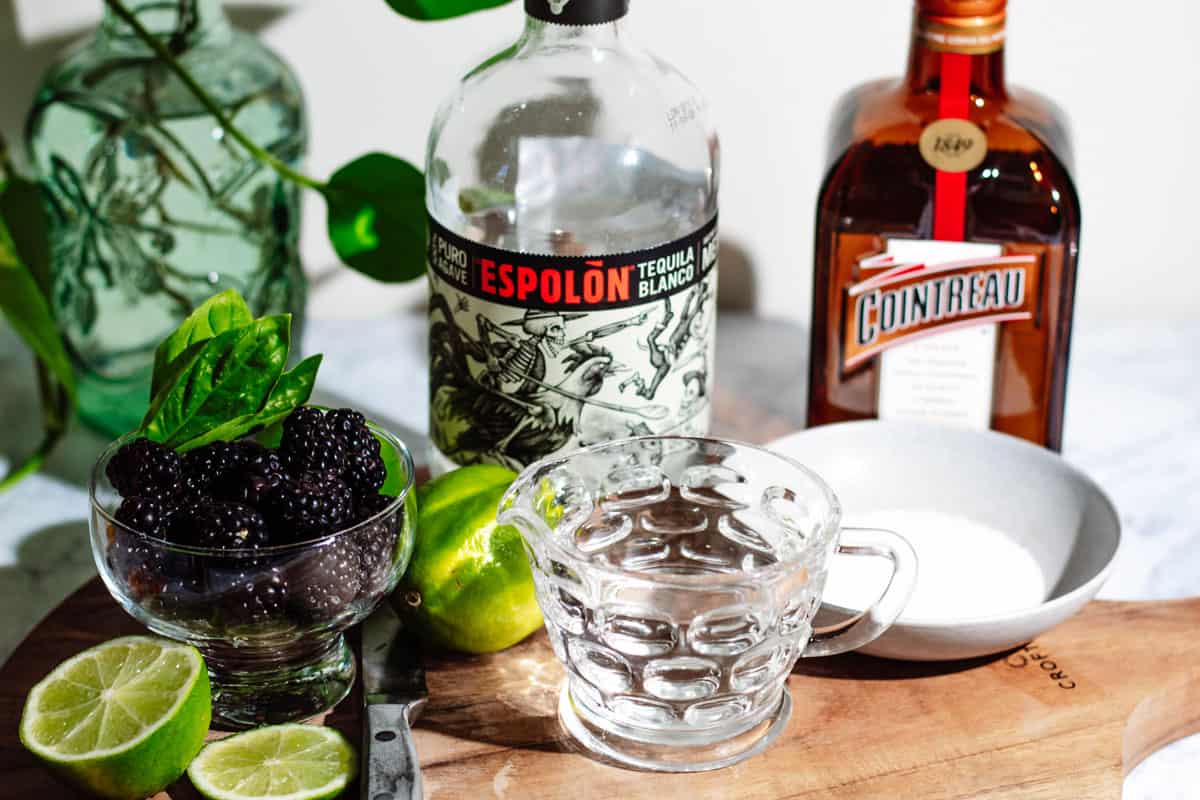 This cocktail starts with fresh ingredients easily found in the grocery store. If you have a well-stocked bar at home, you will likely have the rest of the components needed to prepare a blackberry basil margarita. The ingredients are fresh basil leaves, blackberries, tequila, simple syrup, Cointreau, fresh lime juice, and, if you want, a splash of soda water.
Fresh basil leaves and blackberries are the headliners in this summer cocktail. Pick a few leaves from your herb garden, or find them in the produce section at your grocery store. Basil has a subtle minty and peppery taste that compliments sweet and savory flavor profiles. This makes basil a perfect pairing for blackberries.
Use fresh or frozen blackberries in your margarita for some tartness. If you use frozen, there is no need to defrost, they will soften up quickly once you take them out of the freezer, and they work just as well as fresh with a much longer shelf life.
Tequila is next on the list of ingredients. I recommend using silver or blanco tequila for blackberry basil margaritas or any margarita, as it has a more robust but smooth flavor profile. Because gold tequila has been aged for longer in oak barrels, it tends to have a woody and smoky taste that does not work well with the other flavors of this margarita.
If you prefer the flavor of gold tequila over silver, it is ok to use it, just remember that the final product will be slightly different!
Simple syrup is a common ingredient in many cocktail recipes and adds the right amount of sweetness to this blackberry basil margarita. Simple syrup combines equal parts of water and sugar in a pot over medium heat until the sugar is completely dissolved.
You can easily make this at home if you have granulated sugar in your pantry. Alternatively, you can find simple syrup at most liquor stores alongside other mixers. Make sure to fully dissolve the sugar into the water and allow to cool completely before adding it to your margarita or storing it for future use. Simple syrup is a great thing to have on hand for quickly whipping up a cocktail!
Cointreau is the next ingredient in this margarita recipe. Cointreau is a type of Triple Sec or orange liqueur. Liqueur labeled Triple Sec tends to be less expensive and lower in alcohol than Cointreau, a higher quality orange liqueur.
The profile is citrusy and sweet, with some bitterness from the orange rind. This is a common ingredient found in a classic margarita or a sidecar. Depending on your preference, you can use Cointreau or a different brand of Triple Sec in this margarita.
Fresh lime juice is essential in any margarita and rounds out the blackberry basil margarita ingredient list. I prefer to use fresh citrus juice whenever making a cocktail because it is much more intense and brings a brightness to your cocktail that you won't get from the bottled stuff. However, if you are in a pinch and only have bottled lime juice, it will work just as well to give you that secondary citrus flavor.
How to Make a Blackberry Basil Margarita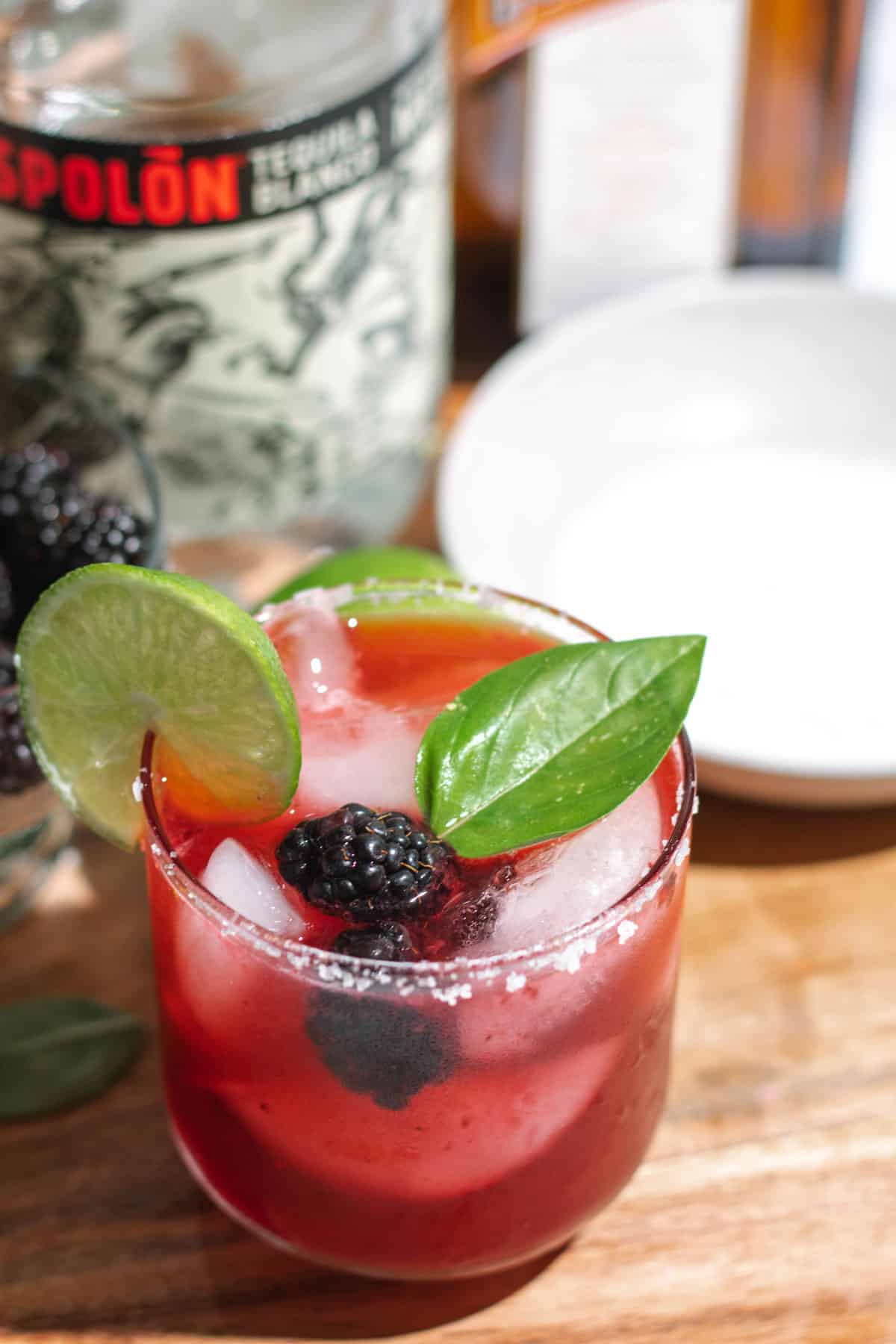 So you've gotten all of your ingredients, and you're ready to play bartender. You will need a cocktail shaker and a drink muddler to make this blackberry basil margarita. If you do not have a muddler, you can simply replace it with a long spoon that reaches the bottom of your cocktail shaker.
Start by adding your leaves of fresh basil, blackberries, and simple syrup to the cocktail shaker. Muddle them together a few times by gently mashing them into the bottom of your cocktail shaker with your muddler or spoon. This releases the flavors and juices of the aromatic basil and fresh berries into your cocktail.
Next, measure out your tequila, Cointreau, and lime juice and add one after another into the cocktail shaker. Cover your shaker and give the cocktail a couple of good shakes to combine all of your ingredients.
If you like a salt coat rim on your margarita, coat the rim of a glass with lime juice and then roll in salt. Fill a glass with ice and pour margarita into your cocktail glass. I recommend just using the strainer on the cocktail shaker and not double strain with a fine-mesh strainer set.
The blackberry and basil pulp will add flavor and color to your margarita. If you are adding soda water, pour a splash over at the very end to top off the cocktail. Garnish with additional blackberries, lime wedge (or wheel of lime), or a basil sprig, and enjoy!
Variations
Feeling inspired by this blackberry basil margarita but missing basil or blackberries? Maybe you don't love either of these ingredients but want to try a new, fun twist on a refreshing drink. You can try these substitutions to this blackberry margarita recipe that promise to be worthy stand-ins.
Strawberry and Basil Margarita – a classic pairing made into a cocktail. Sweet and refreshing!
Blackberry and Rosemary Margarita – pairing the sweetness of blackberries with the woodsy and lemony flavor of rosemary makes a great combination
Blackberry and Thyme Margarita – similar to rosemary, thyme has a flavor profile that works well with blackberry
Blackberry and Jalapeno Margarita – add a little spiciness into your margarita with some slices of jalapeno muddled with your blackberries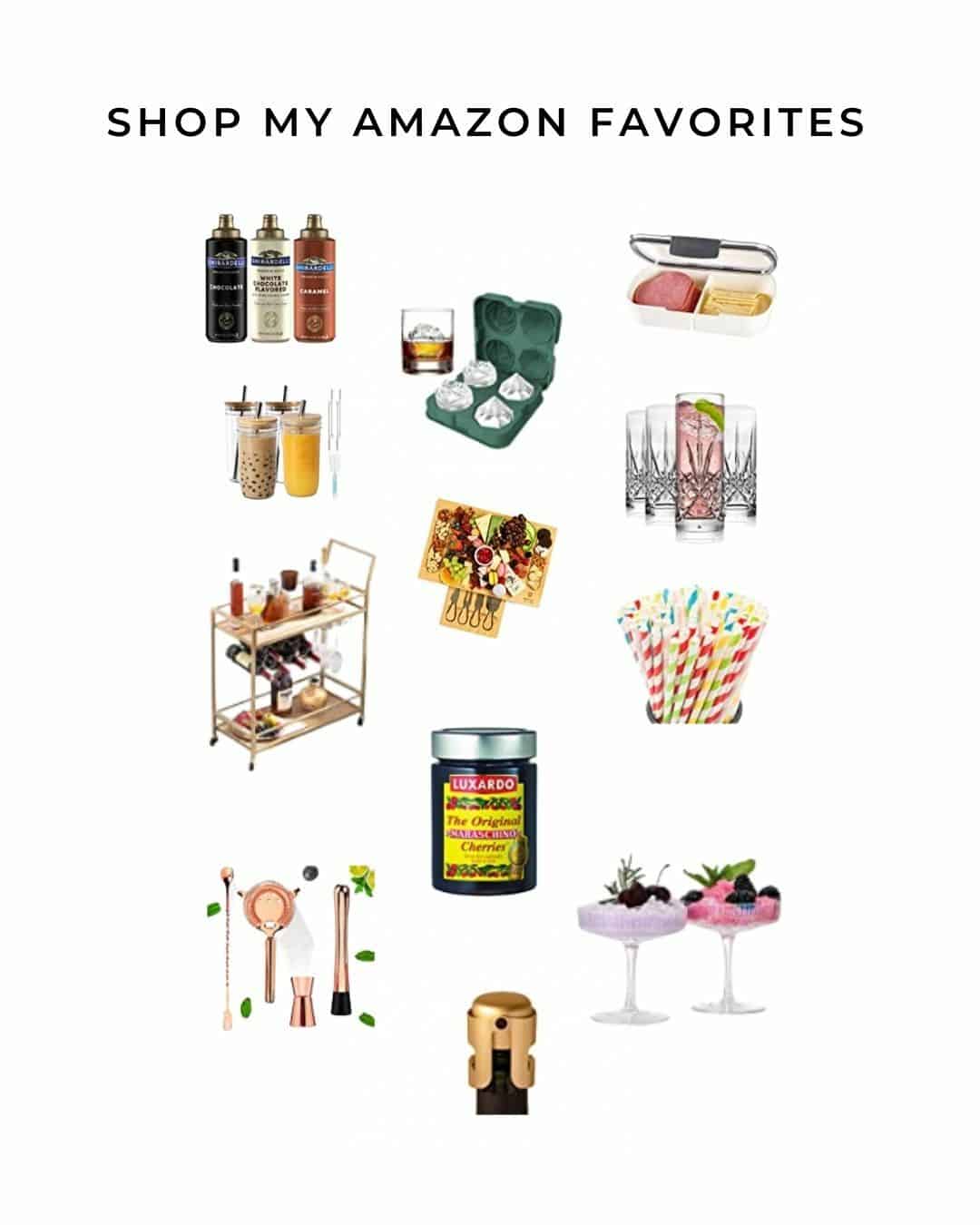 If you liked this Blackberry Basil Margarita, you might also like these recipes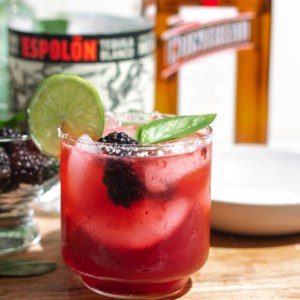 Blackberry Basil Margarita
Ingredients
2-3

basil leaves

3-5

blackberries

½

oz.

simple syrup

2

oz.

tequila

preferably silver

¾

oz.

Cointreau

¾

oz.

lime juice

Salt

for glass rim - optional

Soda water

optional
Instructions
Muddle blackberries, basil, and simple syrup in the bottom of a cocktail shaker

Add lime juice, tequila, and Cointreau to your shaker

Cover and shake your ingredients

If wanting a salt rim, coat the rim of the cocktail glass with lime juice and roll rim in salt. Fill a rocks glass with ice, and pour your cocktail over the ice

Top with soda water and extra blackberries, lime, or basil leaf for garnish.
CLICK TO DISPLAY NUTRITION INFO
Nutrition
Calories:
244
kcal
Carbohydrates:
20
g
Protein:
0.3
g
Fat:
0.1
g
Saturated Fat:
0.02
g
Polyunsaturated Fat:
0.1
g
Sodium:
11
mg
Potassium:
61
mg
Fiber:
1
g
Sugar:
18
g
Vitamin A:
95
IU
Vitamin C:
9
mg
Calcium:
10
mg
Iron:
1
mg