This Empress Gin French 75 classic cocktail has color-changing abilities and is made from gin, sparkling wine, lemon juice, and simple syrup.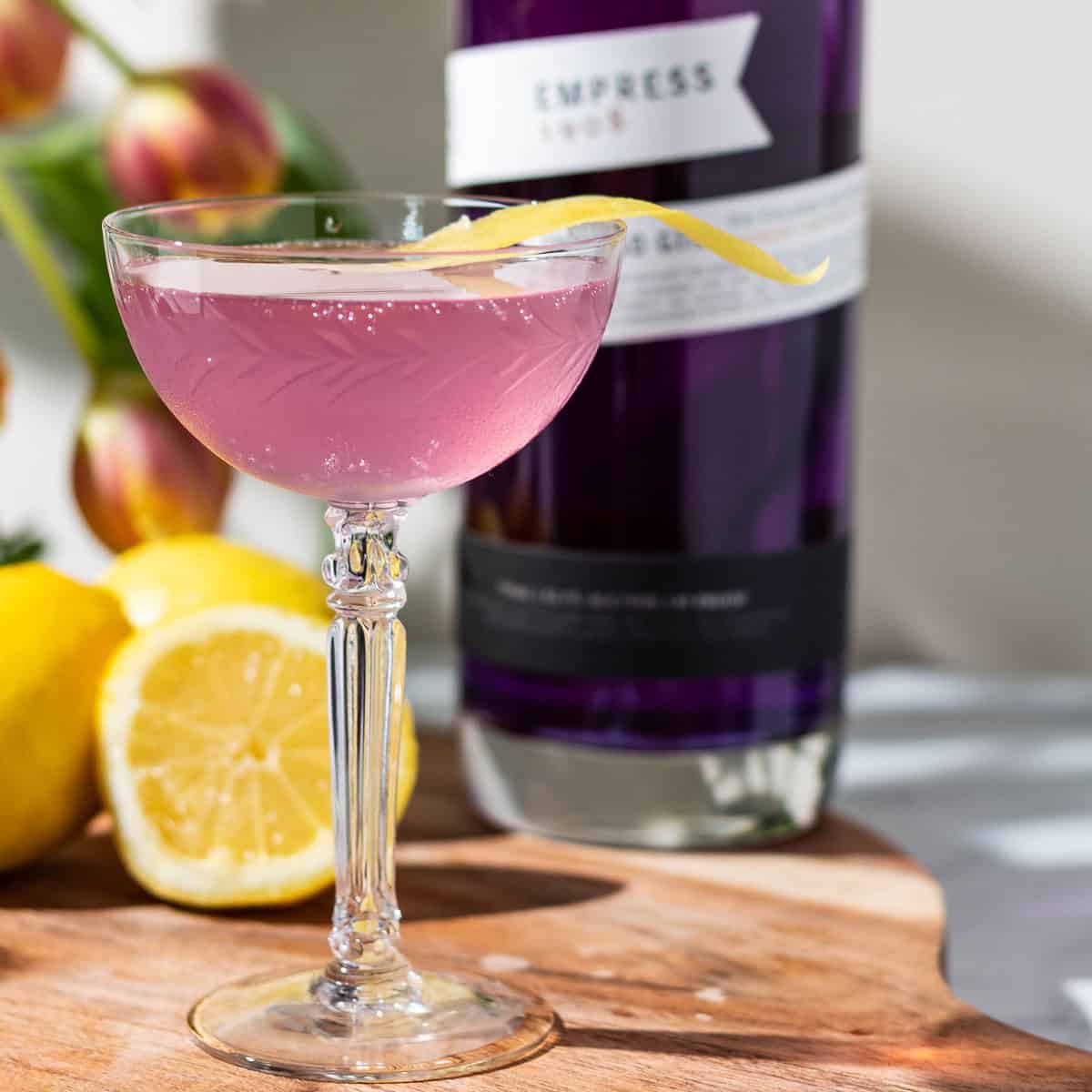 If you're looking for a fun conversation starter at your next party, this Empress Gin French 75 is sure to impress and excite your guests. Named after the French 75mm field gun used in the WWI era, this cocktail packs a punch with two different types of booze.
The French 75 cocktail is a classy drink with a little something for everyone. If you're a gin drinker, it's guaranteed to be one of your favorite cocktails.
You will love every bubbly sip. The classic cocktail made from gin, sparkling wine, lemon juice, and simple syrup gets a facelift with this unique and fun gin.
Jump to:
What is Empress Gin?
Perhaps you've seen the alluring vivid indigo colored bottle on display at your favorite bar, or you've wondered what the delicate soft pink drink was that the person at the next table was sipping. If you have, you've already been introduced to Empress 1908 gin from Victoria Distillers.
Their gorgeous specialty gin is truly something special. Made with a combination of traditional botanicals and butterfly pea blossom, Empress gin stands out against others on the shelf because of its eye-catching color.
It's named after the Fairmont Empress Hotel in British Columbia inspired by their afternoon tea. It makes the most delicious gin cocktails.
Butterfly pea blossom is a plant known for its vibrant blue, edible flowers. It is typically brewed into tea and consumed for its antioxidant properties.
The beautiful indigo color changes to pinkish-purple when citrus or tonic is added. This characteristic makes for an impressive show and a really fun party trick! You definitely want to get a hold of a bottle of Empress 1908 if you haven't yet.
Ingredients for Empress Gin French 75
In addition to the Empress 1908, you will also need:
Sparkling wine: Adding some bubbly sparkling wine gives the drink effervescence and ramps up the booze. You can use your favorite champagne, cava, or prosecco for this ingredient, depending on what your preference is.
If you want to make a non-alcoholic version of the French 75, use sparkling grape juice or cider instead.
Lemon juice: This gives this cocktail a fresh citrus component. Whenever possible, use fresh squeezed lemon juice, as it will have a better flavor than the bottled stuff.
If you're feeling a little extra and fancy, try using Meyer lemons. Meyer lemons add an extra touch of sweetness and almost floral flavor compared to regular lemons, which lends well to gin cocktails.
Simple syrup: It is made by combining equal parts granulated sugar and water together and heating until the sugar is dissolved. Making a large batch of simple syrup to have on hand is a great idea when you want to whip up a drink.
Just make sure to let the simple syrup cool completely before you store it or use it in your Empress gin French 75.
Instructions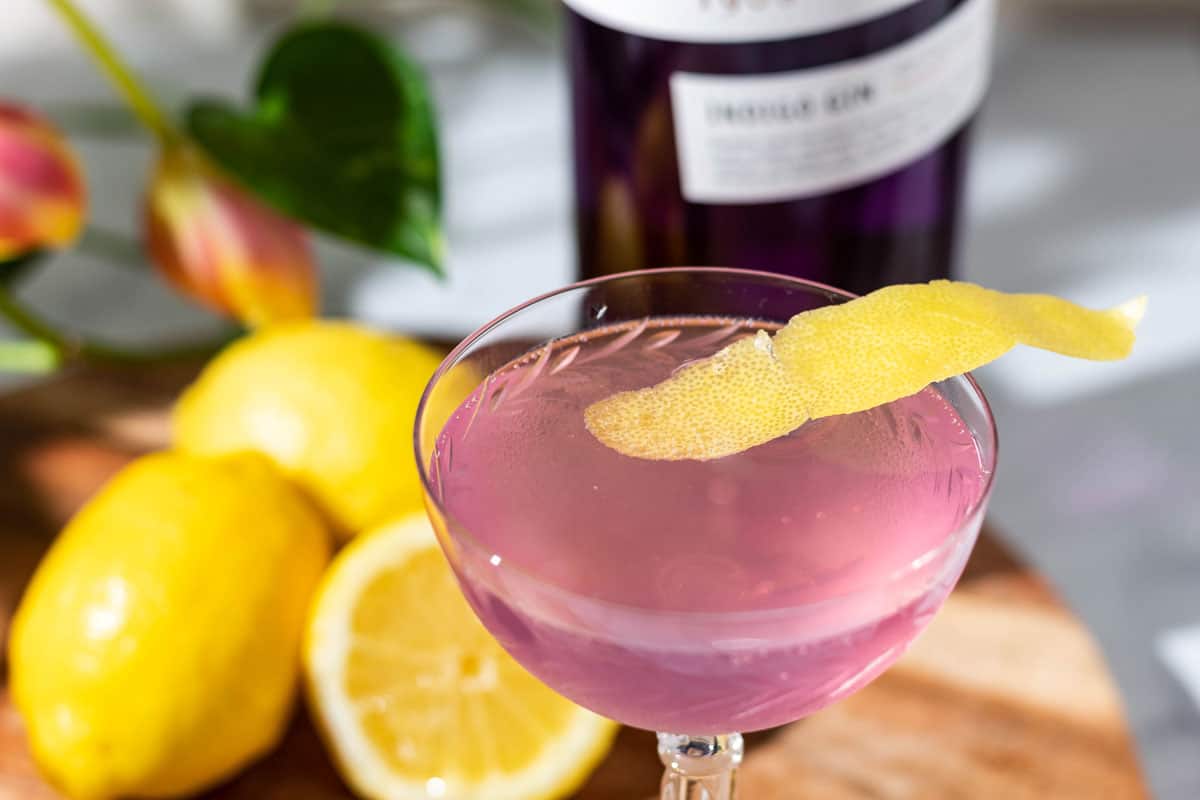 So you've gathered all your ingredients and you're ready to assemble your Empress gin French 75. Start by pulling out your champagne flutes, which are the classic glassware choice for this cocktail.
You can also use a coupe glass as I did. You can also pre-chill the champagne flute or coupe glass to make sure the cocktail stays nice and cold.
Before you start mixing up your Empress French 75, you'll want to make your lemon twist garnish and squeeze your lemon juice.
You can make a lemon twist by cutting your lemon in half widthwise. Carefully take a pairing knife and trace around the lemon, cutting the rind away from the pulp, leaving as much of the white pith behind.
If the twist is too thick, cut it into a thinner strip. You can twist the lemon rind around your finger in order to create a small bouncy coil for the rim of your glass.
Add ice to your cocktail shaker, along with ¾ ounce simple syrup and 1 ½ ounces Empress gin. Give the ice, gin, and simple syrup a couple of good shakes to combine your ingredients.
Then strain the mixture directly into your chilled champagne flute. Next, add ¾ ounces of lemon juice and watch the magic happen! The natural indigo hue will quickly change into a pinkish purple once the lemon juice hits the Empress gin.
*Allow for a dramatic pause as everyone watches in amazement.*
Finally, finish off your Empress gin French 75 with 3 to 4 ounces of sparkling wine and a lemon twist garnish on the rim of your glass. This bubbly cocktail is not only visually stunning but you're guaranteed to enjoy its complex flavor profile.
Serving Ideas for Empress Gin French 75
French 75's are typically made in small batches, but they can totally be made for a crowd as well.
If you'd like to make a batch ahead of time, mix 1½ cups gin with ¾ cup simple syrup in a large pitcher and keep cold in the refrigerator.
Squeeze your fresh lemon juice ahead of time and have ¾ cup ready to divide amongst each glass upon execution, after your gin and simple syrup mixture.
Top each glass with 3 to 4 ounces of sparkling wine. This batch recipe will make eight cocktails and cut down your time behind the bar, so you can get back to your party!
It's the perfect drink for just about any occasion – everything from a New Year party to a boring Tuesday evening! It doesn't have to be limited to special occasions.
The Empress gin French 75 is a perfect cocktail for brunch to enjoy instead of a mimosa. Having a girls' night? Pop the bubbly and make this Empress gin French 75 cocktail recipe for your friends.
It also makes a fancy and unique Mother's Day cocktail that gin and bubbly drinkers alike will be sure to ask for again. 
Looking for More Cocktails?
If you love this Empress Gin cocktail and fun recipes, you may also like:
Or, if you need help finding gifts for the gin aficionado in your life, check out my guide for the Best Gin Gifts. (I won't tell if you're the aficionado in question. 😉)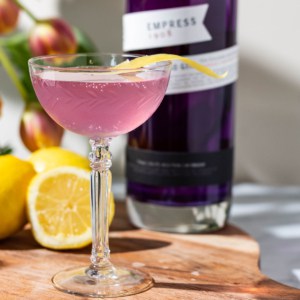 Empress Gin French 75
This Empress Gin French 75 classic cocktail has color-changing abilities and is made from gin, sparkling wine, lemon juice, and simple syrup.
Ingredients
¾

ounces

Simple syrup

1 ½

ounces

of Empress 1908 gin

butterfly pea flower gin

¾

ounces

lemon juice

3-4

ounces

sparkling wine

Lemon peel for garnish
Instructions
Shake the simple syrup and gin in a cocktail shaker with ice.

Strain into a glass and add the lemon juice (this is where the color change happens!)

Top with sparkling wine and lemon peel. Enjoy!
CLICK TO DISPLAY NUTRITION INFO
Nutrition
Calories:
205
kcal
Carbohydrates:
19
g
Protein:
0.2
g
Fat:
0.1
g
Saturated Fat:
0.01
g
Polyunsaturated Fat:
0.01
g
Sodium:
19
mg
Potassium:
121
mg
Fiber:
1
g
Sugar:
17
g
Vitamin A:
4
IU
Vitamin C:
16
mg
Calcium:
20
mg
Iron:
1
mg