Are you looking for the perfect gift for the gin lover in your life? Look no further! I've got 29 best gift ideas that are sure to delight any gin enthusiast. Whether they prefer classic G&Ts or more complex gin cocktails, these gifts will help them take their love of this delicious spirit to the next level.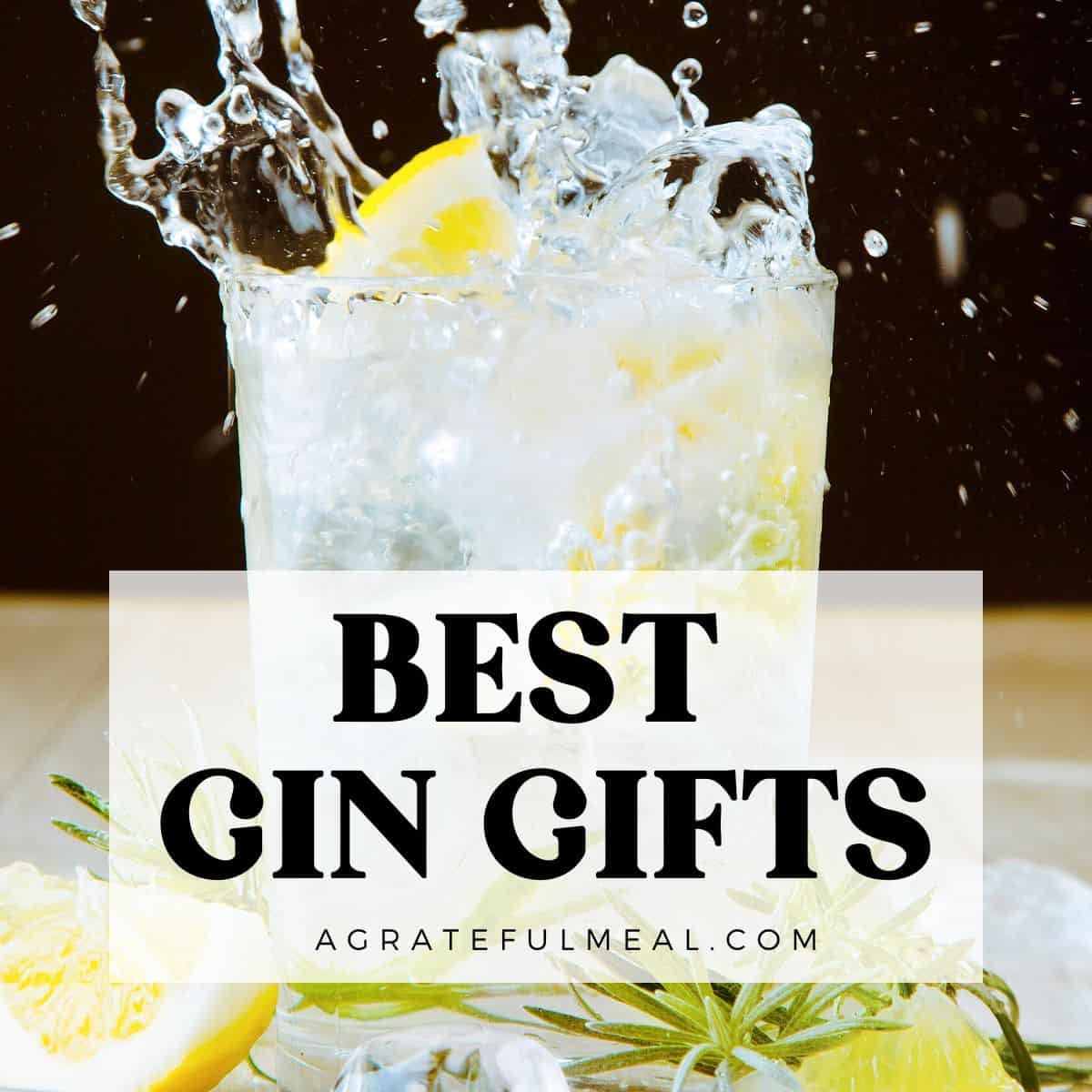 Whether you're shopping for a birthday gift, the holiday season, or another special occasion, this gin-related gifts guide covers a range of prices to make sure there is something for everyone! At the time of publishing, this list has items that range in price from $8-$60.
As someone that also loves gin, I've only picked gin drinker gifts that I personally own, given as gifts to people in my life, or would be over the moon to receive. You can also check out my gift guides for the Best Gifts for Wine, Margarita and Prosecco Lovers. 
So pour yourself a cocktail, sit back, and get ready to be inspired by this ultimate gin gifts guide!
Jump to:
Things to Consider Before Choosing a Gift
Practical vs. aesthetic and fun gifts: Consider the recipient's preference for practical versus aesthetic gifts. A practical person might appreciate high-quality tonic water or a gin-making kit, while someone that loves aesthetics might enjoy a set of beautiful gin glasses or edible glitter to garnish their cocktails.
Classic vs. new: Do they have a classic timeless taste? Or, maybe they love trying new things and are always up for adventure? For a someone with classic taste, consider a classic and timeless set of glassware or an all-in-one mixer for a classic cocktail. For someone more adventurous, consider a recipe book with unique ideas or a cocktail smoker kit to take their gin drinks to a whole new level.
Budget: Of course, it's important to consider your budget when choosing a gift. Fortunately, there are plenty of great gift options at every price point. Consider your budget upfront to make your search easier and more efficient.
Infusion and DIY Kits
Mixers and Cocktail Kits
Cocktail Garnishes and Utensils
Glassware and Tumblers
Gin Books and Recipes
Gadgets and Tools
Funny and Cute
DIY Gin Gift Baskets and Wrapping FAQ
What do you put in a gin gift basket?
When putting together a gin-themed gift basket, consider it a "kit" and include items that will help the recipient make the most delicious gin cocktails. No matter what or how much you choose, any combination of the items from the gin gift guide that fits your budget will be appreciated by the gin lover in your life.
For a well-rounded gift basket, consider including the following items:

–Their favorite bottle of gin, if you know the brand. If you're not sure what their preferred brand or type is, opt for a mid-tier or premium brand if your budget allows. For large-scale, national brands, a couple of my favorite bottles are Bombay Sapphire Gin and Empress 1908 Gin.

Expert tip: Go enjoy a tasting of different gins at a local distillery in your area and ask the staff what they recommend. If you're local to Charleston, you can't go wrong with Highwire's Hat Trick Gin or Nippitaty's Original Gin, or Aurora Butterfly Pea Flower Gin. Both distilleries have tasting rooms to learn more about their products.

–Set of G&T (or martini) glasses or tumblers.

–Tonic water concentrate or other gin mixers (like a Bee's Knees or Tom Collins).

–Gin recipe book or a handwritten recipe card is a thoughtful personal touch to the gift basket. For recipe inspo to write on the recipe card, check out my recipes for a Negroni Sour, White Lady Cocktail, or my French Gin Martini.

–Optional: Fresh citrus fruit such as limes (for drinks like a G&T) or lemons (for drinks like Tom Collins or a Bees Knees) in a pretty (and functional) produce bag so they can hit the ground running with cocktail making.
What are some creative ideas for wrapping unique gin gifts?
If there are multiple items, they can go in a nice basket, gin-themed tote bag, or ice bucket. These are all practical items that can be used long after the gift is consumed.
Pretty bows are great to add. Instead of using filler paper in the gift container, cozy throw blankets or pretty kitchen towels can be the "filler" for an eco-friendly option that is also its own gift.
Did you find this gift guide helpful?
Let me know in the comments and follow along on Instagram, TikTok, Pinterest, and Facebook.