Known as the unofficial drink of Bermuda, the Dark 'n Stormy is a rich and spicy island cocktail. Combined with pumpkin puree and other fall flavors, this recipe's classic Dark 'n Stormy becomes a fall rum cocktail fit for land or sea!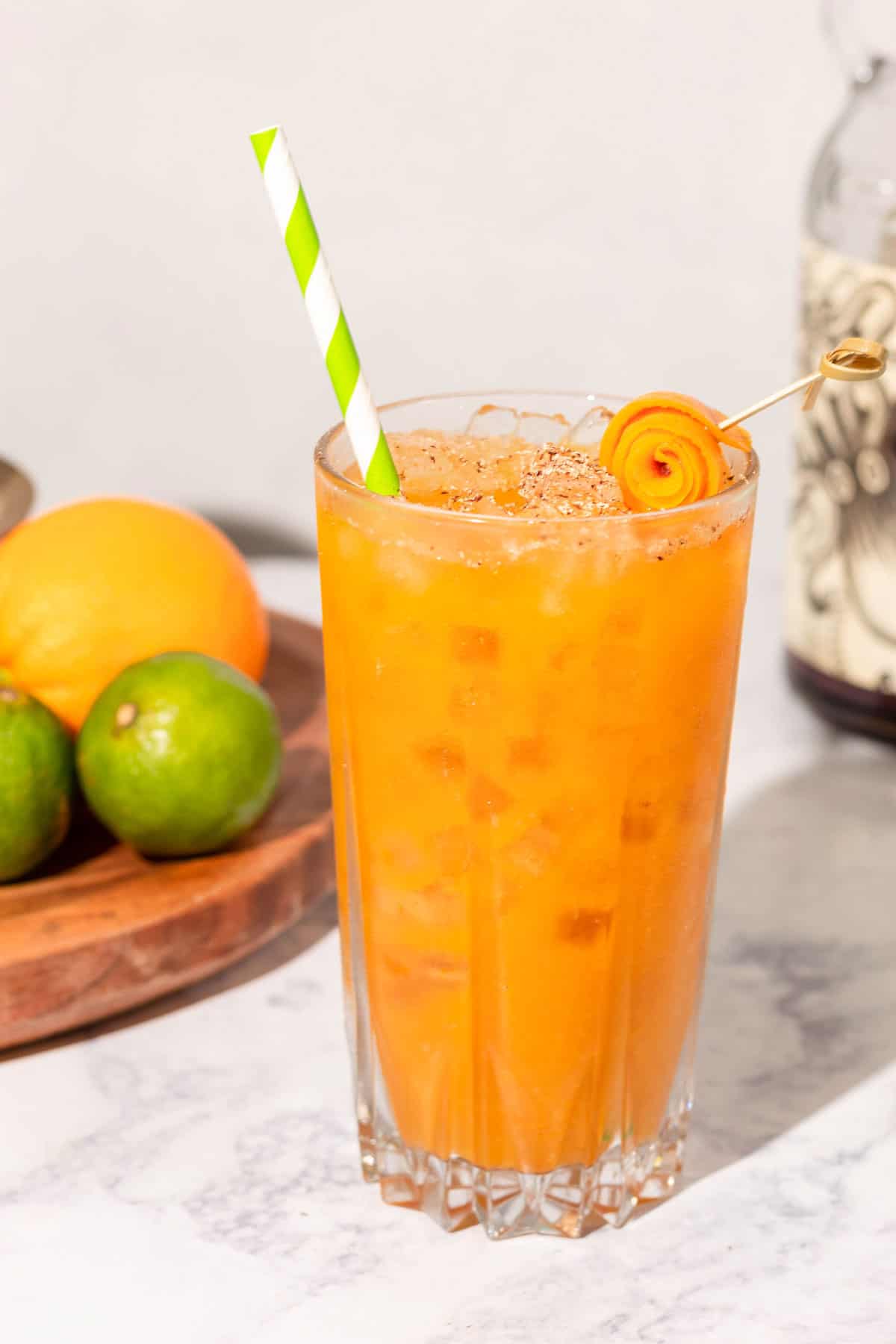 Jump to:
What is a Dark 'n Stormy?
The original Dark 'n Stormy is a flavorful, classic rum cocktail made of dark rum, ginger beer, and fresh lime juice. It's a simple drink that was named for the dark clouds over the ocean during a tropical storm as described by an old sailor, or so legend says.
The Dark 'n Stormy is beloved amongst seafarers and landlubbers alike, but its origin likely has deep roots in sailing. The combination of dark rum with soothing-the-stomach ginger beer could be why this cocktail became popular among sailors.
Originally made with Gosling's Black Seal rum, the brand actually has a trademark on the cocktail. This rich rum originated in Bermuda in 1806 and has a vanilla and caramel flavor profile with strong spice notes.
The Best Rum For a Fall Rum Cocktail
Rum is a distilled liquor made of sugarcane or molasses, originating in the Caribbean in the 1650s. The sugar explains why rum is naturally sweeter than other distilled liquors. If you are a seasoned rum drinker, you may already know the different types of rum, but let's briefly review the different styles and flavors.
There are four main types of rum:
Light
Dark
Spiced
Aged
You may be familiar with light or white rum in drinks like Pina Coladas or Daiquiris.
Dark rum is made with molasses instead of sugar and is aged in charred oak casks, giving it even more depth of color and smokiness. The main difference between dark and spiced rum is the flavors added to the spiced rum, such as cinnamon, cloves, and cardamom. The spices added can make the rum even darker in color than dark rum.
Using a dark or spiced rum for a fall rum cocktail is ideal. Depending on the flavors incorporated into the cocktail, a dark rum's deep smokiness and subtle sweetness may be your best bet.
Choose a spiced rum to compliment your fall rum cocktail for a lot of spice and a big flavor. For this Pumpkin Dark 'n Stormy, dark rum is the best choice, paired with spicy ginger beer and layers of citrus.
Ingredients for a Pumpkin Dark 'n Stormy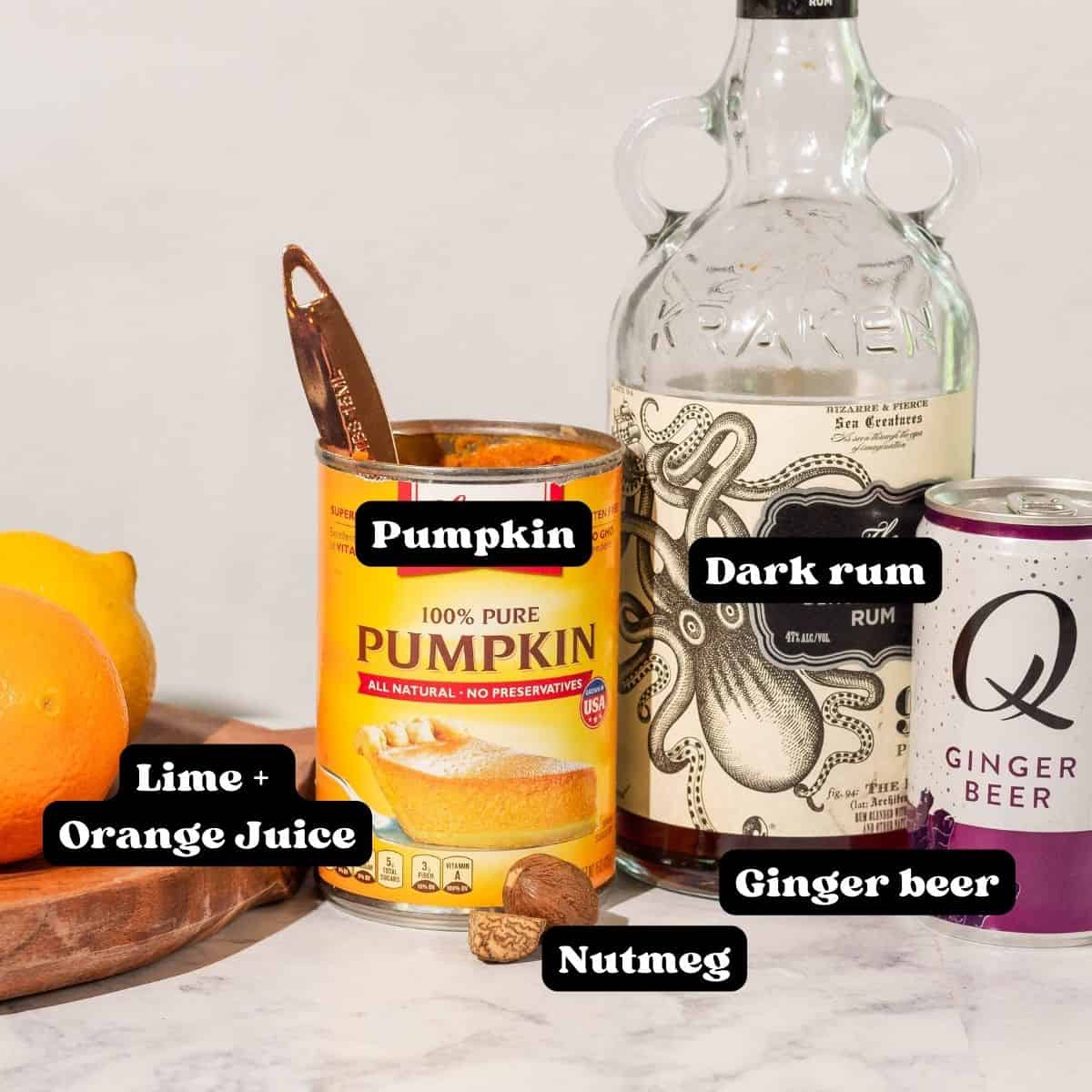 This tasty and warming fall rum cocktail uses simple ingredients with a seasonal spin on the classic cocktail. Instead of just lime juice, this Dark 'n Stormy variation uses orange juice with a sprinkle of grated nutmeg to enhance the flavors. You can purchase all the ingredients at the grocery store to make a perfect fall cocktail that is anything but boring!
Dark rum: This is the first and most essential ingredient for your Pumpkin Dark 'n Stormy. If you'd like to stick to the original, find a bottle of Gosling's Black Seal Rum at your favorite liquor store to make this drink. If you already have some dark rum on your bar, there is no need to buy a new bottle. I had some Kraken Dark Rum on hand, so that is what I used.
As I explained, dark rum is made from distilled molasses aged in charred oak casks; this gives it a rich flavor and some smokiness with a sweet note. You can use any dark rum or mix it up with spiced rum if you prefer that extra kick of spice in your cocktail.
Lime juice: The next ingredient for your cocktail is freshly squeezed lime juice. One of three parts of the original Dark 'n Stormy, lime makes for a refreshing cocktail and some brightness.
I recommend freshly squeezing your lime juice as the flavor is better and fresher, but if you only have bottled juice, that will work. In a pinch, you can use lemon juice, but since it is sweeter than lime, you may find that it doesn't cut through the already sweet flavor of the rum.
Orange juice: This sweet citrus balances the lime juice while adding a little extra flavor. Like the lime juice, I recommend squeezing your own fresh orange juice to make the best quality cocktail. You can also use bottled orange juice, but it could be much sweeter depending on what kind of juice you purchase.
Pumpkin puree: The pumpkin puree gives this fall rum cocktail a more creamy texture and flavor than the original Dark 'n Stormy. You can easily find a can of pumpkin puree in the grocery store baking aisle. Pumpkin puree and canned pumpkin are the same but often labeled differently depending on brands.
I don't recommend substituting pumpkin puree for any typical substitutes you may use in baking. Sweet potato and butternut squash are often used to substitute pumpkin but may yield undesirable results in a cocktail.
Ginger beer: This is essential for any Dark 'n Stormy, and this fall cocktail is no exception. Ginger adds a spicy and refreshing bite to the drink and goes great with dark rum. Ginger beer is usually available in the soda aisle or the grocery store or near the drink mixers in the liquor store. Two of my favorite brands are Q Mixers Ginger Beer and Fever-Tree Premium Ginger Beer.
Spices and garnish: Finish your cocktail with a grate of nutmeg and an orange peel for a little extra flavor and a beautiful presentation. If you don't care for nutmeg, you can use cinnamon, allspice, or pumpkin spice.
Make sure to slice a peel off your orange before squeezing it, so you can use it for a garnish. You can also opt for a cinnamon stick, if you prefer. Orange slices would also work for a garnish as well.
How to Make a Pumpkin Dark 'n Stormy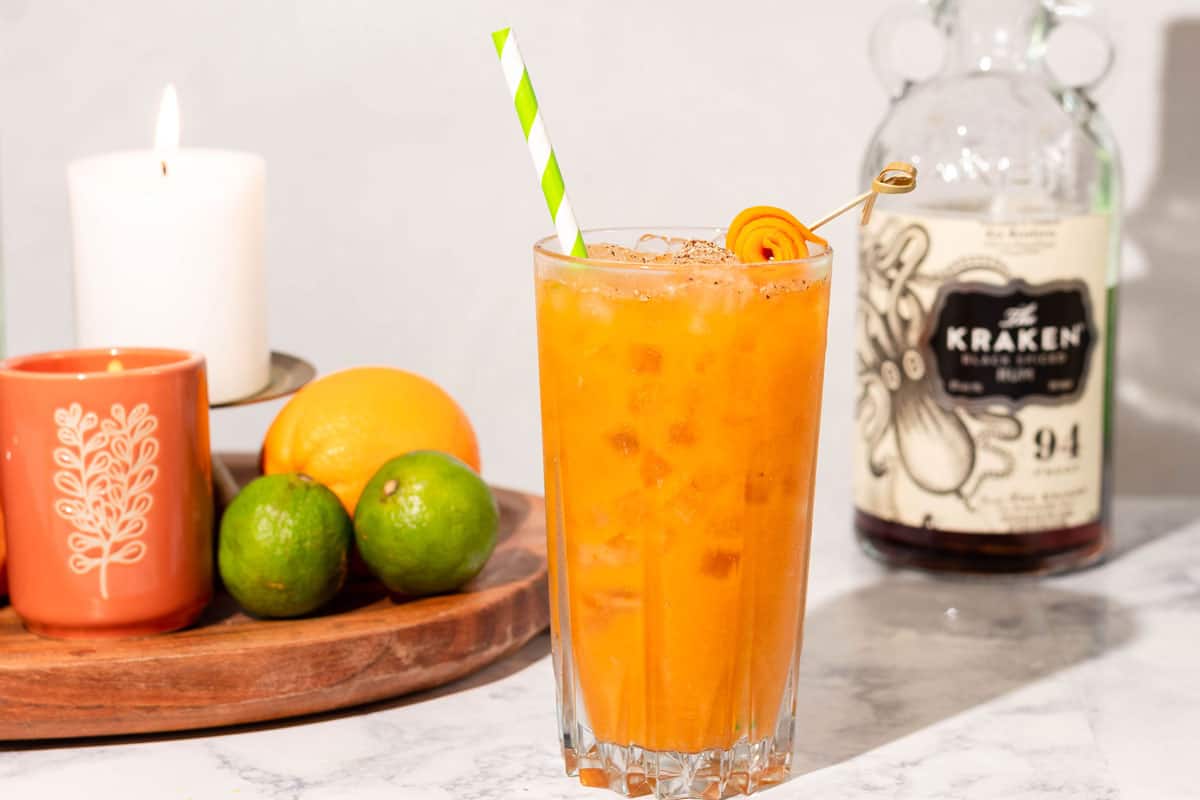 Now that we know more about our ingredients, let's make a Pumpkin Dark 'n Stormy! For this drink recipe, you will need a jigger, cocktail shaker, strainer, and tall highball cocktail glass.
Measure your rum, juices, and pumpkin puree and add to a cocktail shaker with ice. Shake thoroughly and ensure all ingredients are combined before straining the cocktail into a highball glass filled with ice.
Top the cocktail off with ginger beer until it reaches the top. Sprinkle with grated nutmeg and garnish with an orange peel or cinnamon stick and enjoy!
Serving Suggestions
Fall rum cocktails with their warm spices and rich flavors should be served as a delicious drink at your next fall gathering or for a little treat on Halloween while handing out candy. It's also the perfect drink to serve at cocktail hour before Thanksgiving dinner.
You won't be able to resist this fall rum cocktail in the cooler months when the temperatures drop, and the leaves begin to fall!
More Fall Cocktails to Enjoy
If you're looking for more seasonal cocktails, you may also want to check out these great festive fall cocktails:
Shop my Amazon Favorites for Fall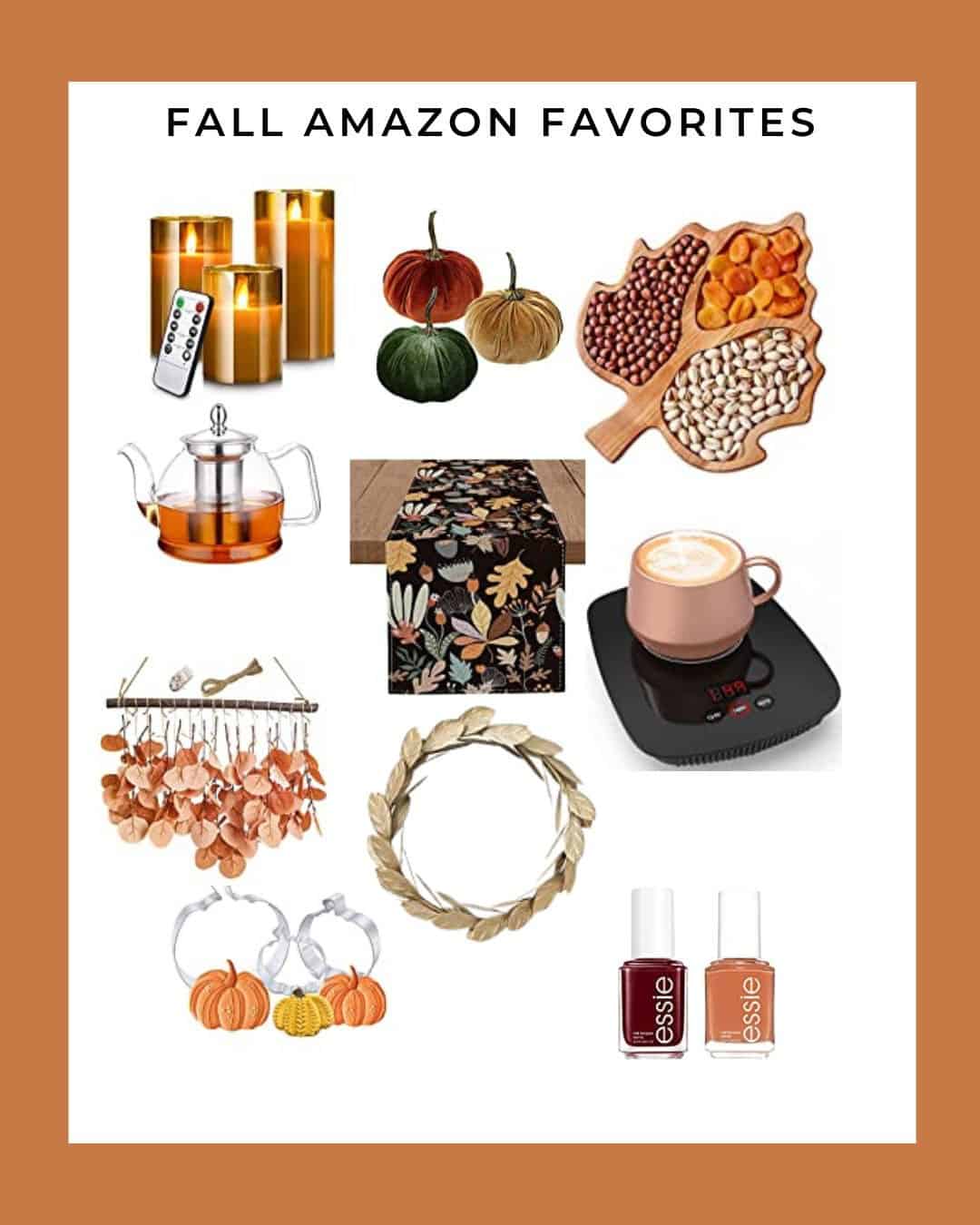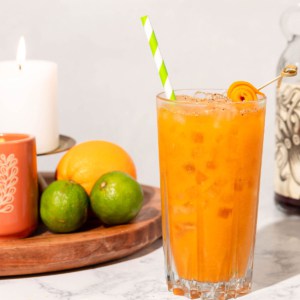 Pumpkin Spice Dark and Stormy Fall Rum Cocktail
Known as the unofficial drink of Bermuda, the Dark 'n Stormy is a rich and spicy island cocktail. Combined with pumpkin puree and other fall flavors, this recipe's classic Dark 'n Stormy becomes a fall rum cocktail fit for land or sea!
Ingredients
1 ½

oz

dark rum

½

oz

lime juice

½

oz

orange juice

2

tablespoon

pumpkin puree

Ginger beer for topping

Grated nutmeg

Orange peel for garnish

optional
Instructions
Add rum, juices, and pumpkin puree to a cocktail shaker filled with ice. Shake well.

Strain into a tall glass filled with ice and top off with ginger beer to taste. Sprinkle grated nutmeg on top and garnish with an orange peel, if using. 
CLICK TO DISPLAY NUTRITION INFO
Nutrition
Calories:
160
kcal
Carbohydrates:
16
g
Protein:
1
g
Fat:
0.2
g
Saturated Fat:
0.1
g
Polyunsaturated Fat:
0.01
g
Monounsaturated Fat:
0.03
g
Sodium:
9
mg
Potassium:
135
mg
Fiber:
2
g
Sugar:
10
g
Vitamin A:
4755
IU
Vitamin C:
29
mg
Calcium:
34
mg
Iron:
1
mg