You'll love this smoked gin cocktail if you're looking for a unique drink with an exciting twist! Whether or not you've tried this technique, making your own smoked gin cocktails is a surprisingly easy way to add some flavor to your cocktail game.
If you're into experimenting with different flavors and mixology techniques, this cocktail is definitely for you!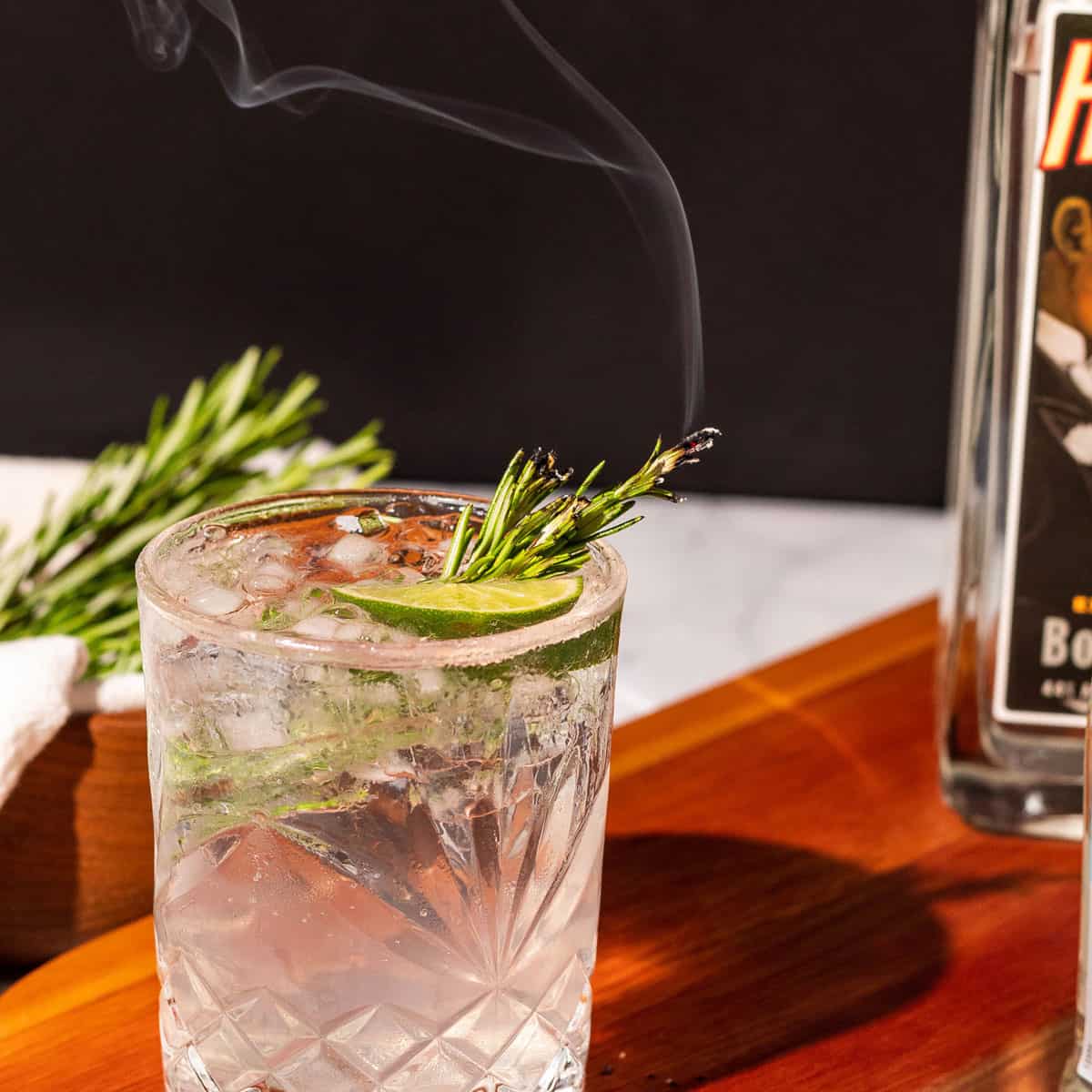 Gin and Tonics might be one of my favorite cocktails of all time. This smoked rosemary g&t is no different. You should also check out one of my other favorite variations – my Elderflower Gin and Tonic.
The smokiness adds an intense layer of flavor to any cocktail. Pine, citrus, and warm spices like coriander and cardamom are gin's primary flavors and aromas. Since gin is very aromatic, the smoke plays nicely off its tasting notes. Smoked rosemary also goes well with bourbon to make a Smoked Rosemary Old Fashioned.
Jump to:
How to Add Smoke Flavor to a Cocktail
There are a number of ways to infuse smoke into a cocktail. You can buy a smoke gun that burns wood pellets or chips and infuses the residual smoke into the cocktail glass through a short hose.
Alternatively, you can purchase a cocktail smoking kit with a piece that rests on your glass. Wood chips are put into a small well with a screen underneath it, and the smoke shoots into the glass, infusing the liquor by placing a direct flame on the wood chips.
This smoked gin cocktail doesn't require special tools – you will only need a lighter, plate, some rosemary sprigs, and a glass! After lighting a rosemary sprig on fire, allow it to burn a little and produce smoke before placing the cocktail glass directly over it. This will trap the smoke and infuse the smoky flavor into the glass.
Ingredient Notes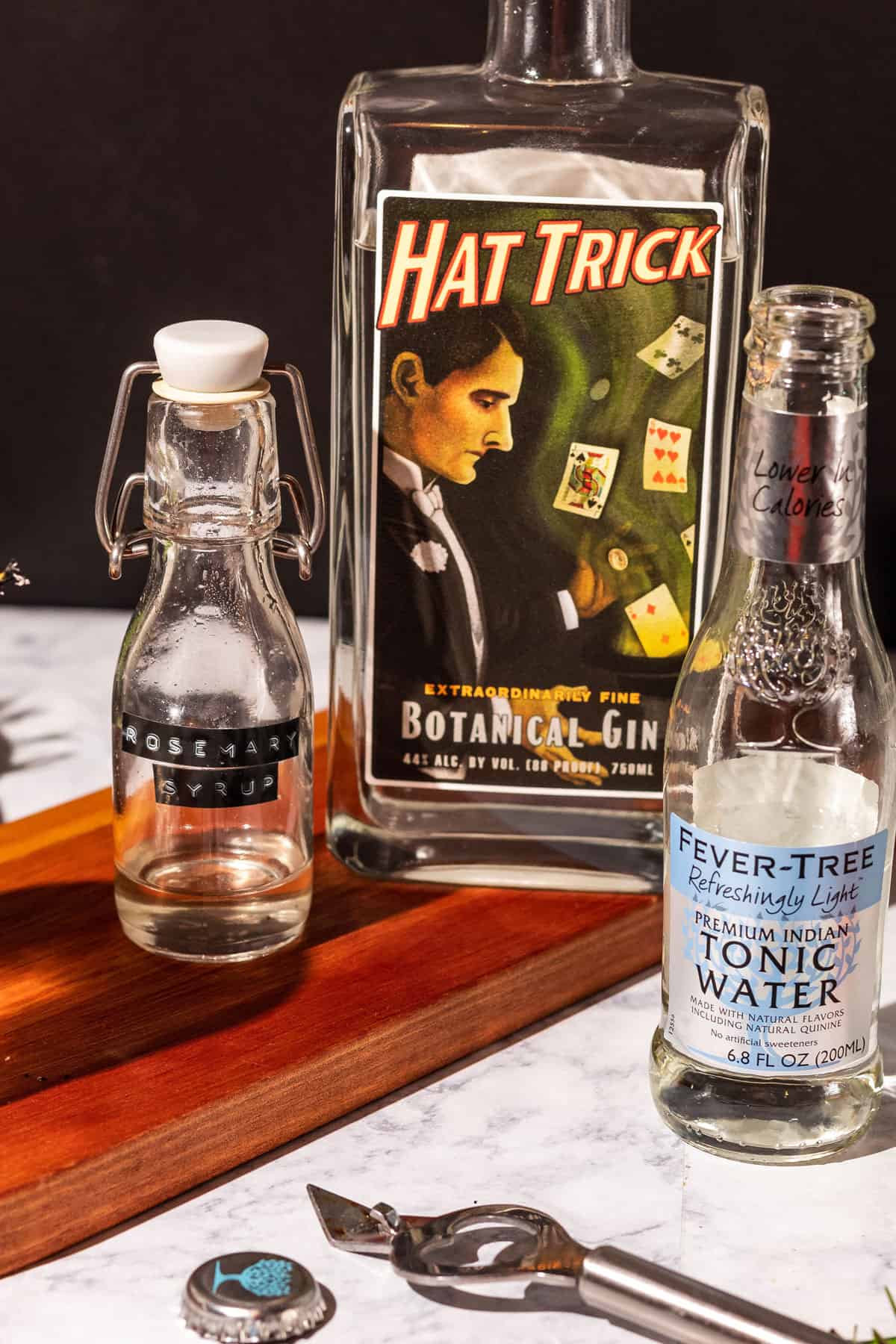 You just need a few simple ingredients to make a smoked rosemary gin and tonic recipe. Most of these ingredients you may already have in your refrigerator and bar cart or can be found easily in the store.
Fresh rosemary sprigs: These are the most essential element of this recipe. Not only will you use the rosemary sprigs to light on fire and make smoke in your glass, but you will use them to infuse your simple syrup and even garnish your cocktail if you like.
Look for the freshest rosemary sprigs you can find since they will have the best flavor and appearance. Rosemary goes seamlessly with gin since it has a similarly strong pine flavor. Rosemary is also very easy to grow – trust me, I have a black thumb and my rosemary in my garden has been going strong for a few years now.
Gin: You can choose whichever gin brand you prefer for this smoked gin cocktail. I'm a huge fan of a Charleston local gin called Hat Trick Botanical Gin, which is from High Wire Distillery (I highly recommend visiting if you ever make it to Charleston).
While all gin is made with juniper berries, there are variations in the other botanicals used during distillation. These variations will create distinct flavor profiles in different types of gin. Whichever brand you choose, the flavor profile will go great with the rest of the components of this fabulous cocktail.
Rosemary simple syrup: Next on the list of ingredients for this smoked gin cocktail is the homemade rosemary simple syrup. You can quickly and easily make this part of the recipe from scratch using sugar, water, and rosemary sprigs.
To make simple syrup, add equal parts of sugar and water to a saucepan and dissolve it over a medium-low flame. If you're feeling extra lazy, I have made simple syrup in the microwave as well.
By infusing a few sprigs of rosemary into the simple syrup as it dissolves, you will create an added layer of flavor to this already flavorful cocktail. If you don't want the extra rosemary flavor in your cocktail, simply omit the rosemary sprigs from the simple syrup when you are making it.
Store the simple syrup in the refrigerator once completely cooled for up to one month in an airtight container. 
Tonic water: To complete this cocktail, top it off with some tonic water. Tonic water has sweet and slightly bitter notes from the presence of quinine. The classic cocktail, gin and tonic, is a perfectly paired combination that is very refreshing on a hot summer day. 
In this cocktail, tonic lends itself to the other flavors of rosemary and smoke by balancing them out. My favorites are Fever Tree and Q Mixers. If your taste buds don't care for the taste of tonic, you can replace it with club soda for a more subtle flavor overall. 
How to Make a Smoked Gin Cocktail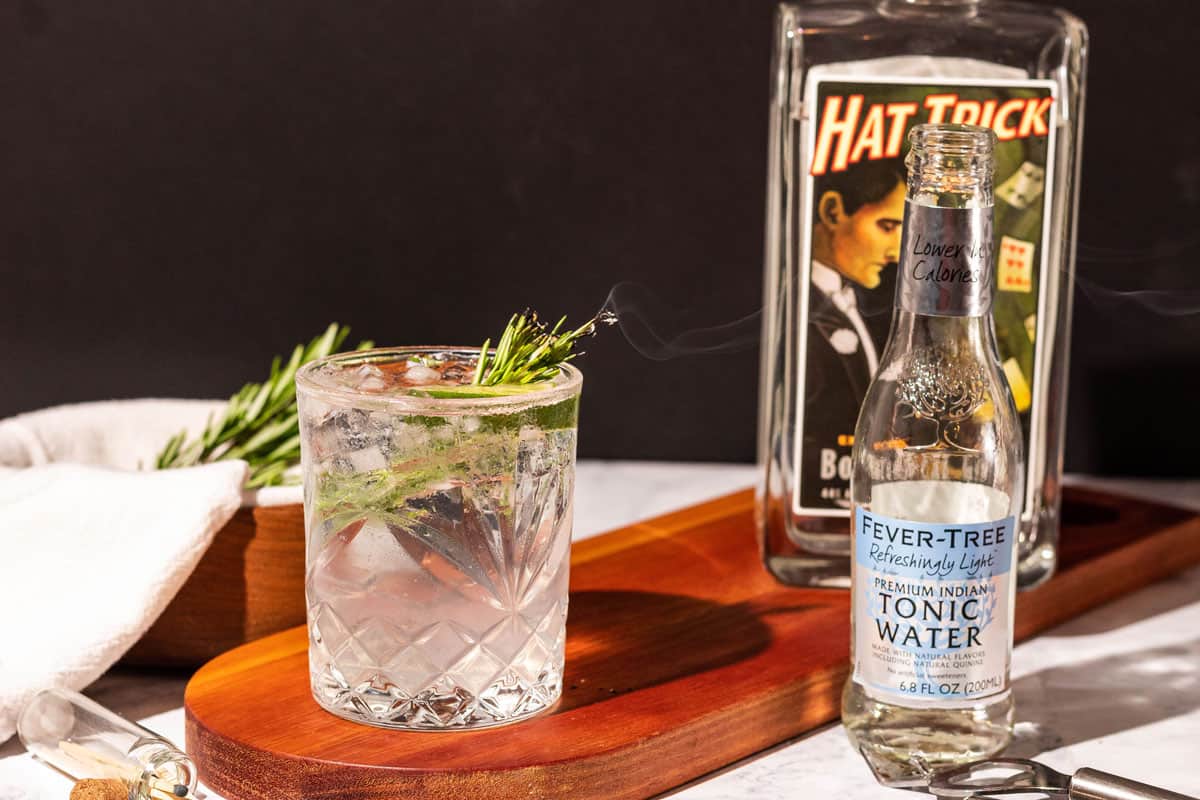 Now that we've covered the ingredients in this unique cocktail, it's time to make one! You will need a cocktail glass, lighter, plate, cocktail shaker or mixing glass, strainer, and some ice.
First, you'll need to make your rosemary simple syrup. 
Place equal parts sugar, water, and rosemary sprigs into a saucepan and heat over medium-low heat. Allow the sugar to dissolve completely and turn the heat off. Let the simple syrup cool completely before straining it into a clean air-tight container.
Next, carefully hold the end of a rosemary sprig and light the other end with a match or kitchen torch until it is burning, and place it on a plate. Once it has started smoking, cover it by turning your cocktail glass upside down over the smoking rosemary and let it sit until you are done mixing your cocktail.
Add ice cubes to a mixing glass or cocktail shaker, and add your gin and rosemary syrup. Stir the gin and rosemary syrup together. Flip the smoky cocktail glass over and add ice, then strain your cocktail over the ice.
Top the cocktail off with tonic water and garnish with a lime and sprig of rosemary. If you like, you can singe the end of the rosemary sprig for dramatic effect.
Ideas to Enjoy Your Cocktail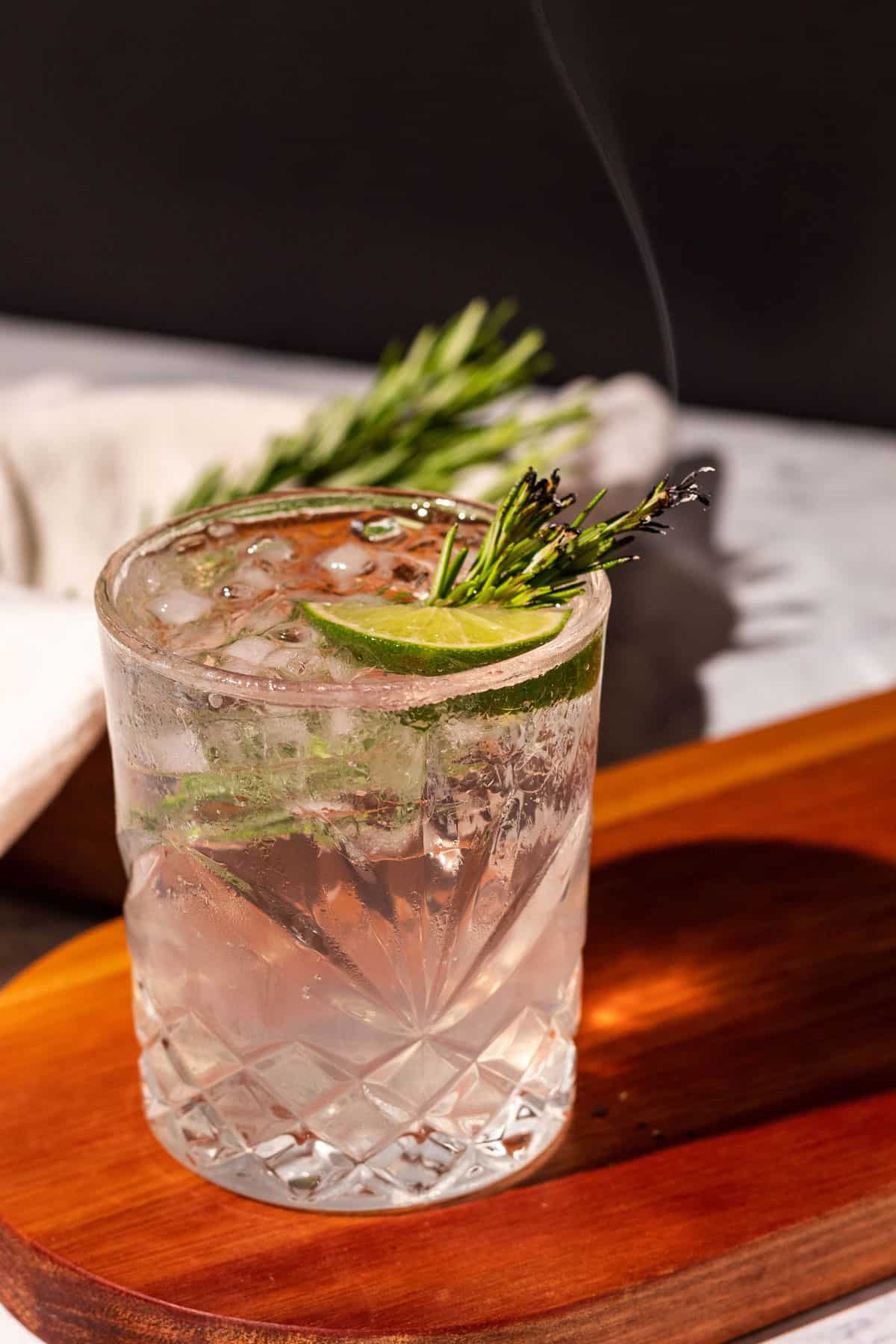 The flavors of this smoked gin cocktail are warm and inviting and best enjoyed with friends at a winter cocktail party. This cocktail would pair well with a nice cheese and charcuterie board, accompanied with plenty of crackers, nuts, and olives. However you choose to enjoy this cocktail, you will surely be impressed by its complex flavors.
Related Cocktail Recipes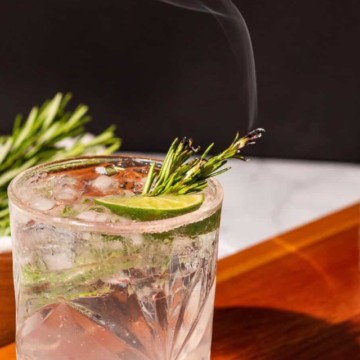 Smoked Gin and Tonic with Rosemary Recipe
You'll love this smoked gin cocktail if you're looking for a unique drink with an exciting twist! Whether or not you've tried this technique, making your own smoked gin cocktails is a surprisingly easy way to add some flavor to your cocktail game.
Ingredients
1

sprig

fresh rosemary

2

ounces

gin

½

ounce

rosemary syrup

see notes

3-4

ounces

tonic water

Lime wedge and/or more rosemary for garnish

optional
Instructions
Carefully, burn the end of a rosemary sprig until smoking and lay on a plate. Cover the smoking rosemary sprig with a cocktail glass to trap rosemary smoke.

Meanwhile, stir gin and rosemary syrup together in a mixing glass with ice.

Flip the cocktail glass over and add ice. Strain the gin rosemary mixture into the glass.

Top off with tonic water and garnish, if desired.

Optional: you can singe the end of the rosemary garnish for dramatic effect.
Notes
To make rosemary simple syrup:
Ingredients:
½ cup granulated sugar
½ cup water
3 sprigs rosemary
Instructions: 
Add sugar, water, and rosemary to a small sauce pan.
Bring to a boil and stir until sugar is dissolved.
Remove from heat and allow to sit for at least 30 minutes. The long it sits the stronger the rosemary flavor.
Once cool, store in fridge for up to 3 weeks. 
Makes roughly 12 ounces. 
CLICK TO DISPLAY NUTRITION INFO
Nutrition
Calories:
199
kcal
Carbohydrates:
19
g
Fat:
0.01
g
Sodium:
20
mg
Potassium:
11
mg
Fiber:
0.01
g
Sugar:
19
g
Vitamin A:
3
IU
Vitamin C:
0.02
mg
Calcium:
2
mg
Iron:
1
mg