If you love the rich, deep flavors of the classic cocktail, you'll love this Smoked Manhattan with Cinnamon. Bourbon is combined with sweet vermouth, bitters, maraschino cherry syrup, and the added smoky flavor of smoked cinnamon for a real treat that any Manhattan drinker will definitely want to try.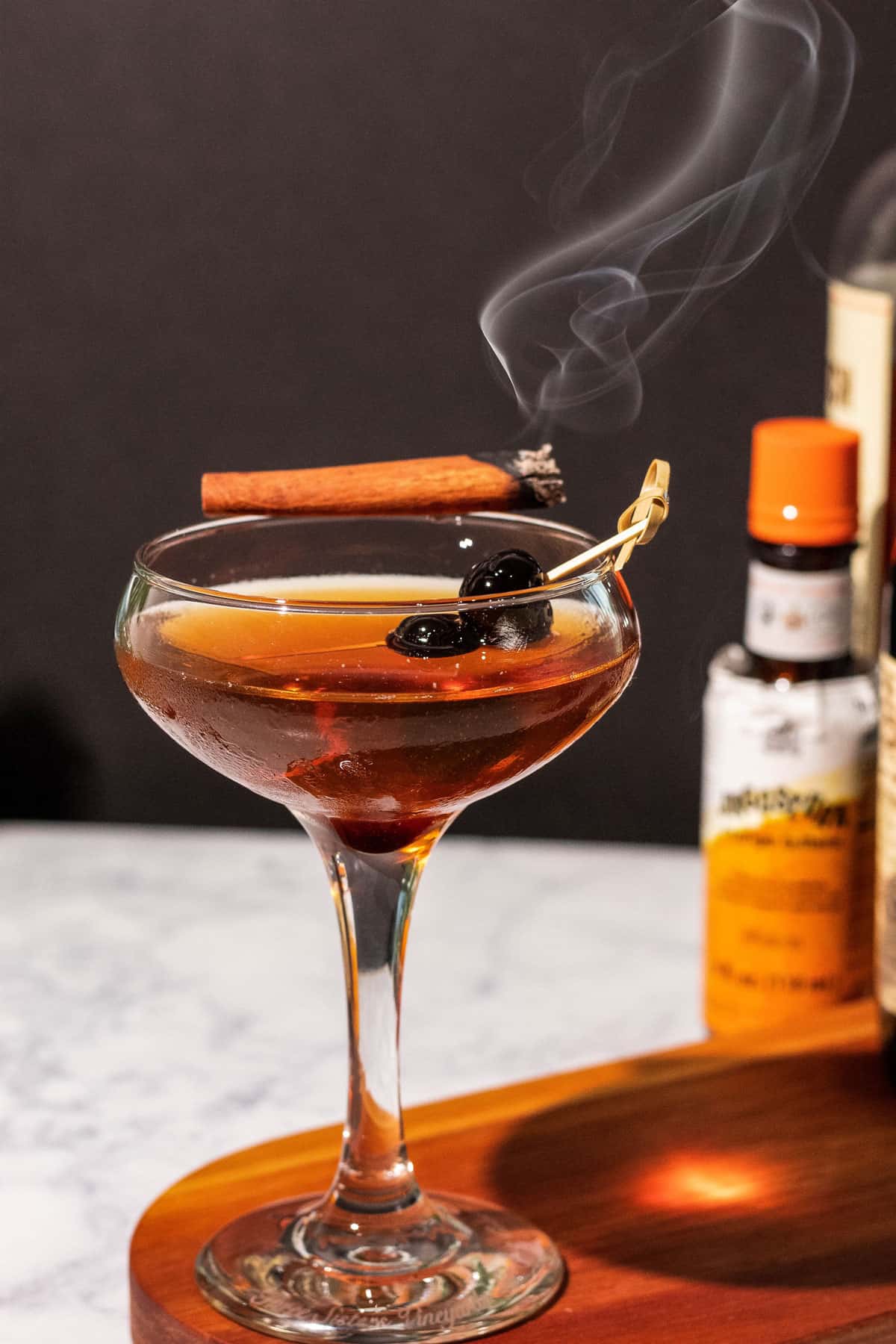 A Smoked Manhattan is super easy to make and an impressive cocktail to serve up to guests during happy hour or as an after-dinner drink. For more smoky cocktails, be sure to check out my Smoked Rosemary Old Fashioned, Mezcal Manhattan, and Mezcalita.
Jump to:
What is a Manhattan?
History of Manhattan Cocktails
The classic Manhattan dates back to the early 1880s. There is some controversy over who invented the cocktail, but it is believed to have originated at the Manhattan Club, a social club in New York City. Rye whiskey is the traditional whiskey used in a Manhattan, but you can also use bourbon, Tennessee whiskey, or Canadian whiskey. A Manhattan is typically served in a martini glass but can also be served over the rocks in a low-ball glass.
Traditional Ingredients for Manhattans
The traditional ingredients in a Manhattan are rye whiskey, bitters, sweet vermouth, and a maraschino cherry for garnish. The cocktail's flavor is strong, as it is made of pure alcohol, with some bitterness and earthiness. The sweet vermouth adds very little sweetness and instead rounds out the flavors of the whiskey. The Manhattan is certainly not for anyone who does not love whiskey!
In a twist on the classic, this Smoked Manhattan combines complimenting, different flavor profiles to make one of the best smoked cocktails. The warmth of the cinnamon is amplified by burning the cinnamon stick to create smoke. Since cinnamon is a tasting note standard in bourbon, the two flavors blend well together. Bourbon is always aged in oak barrels that are often charred to give extra flavor—this characteristic of bourbon pairs particularly well with the smoked cinnamon in this cocktail.
Ingredient Notes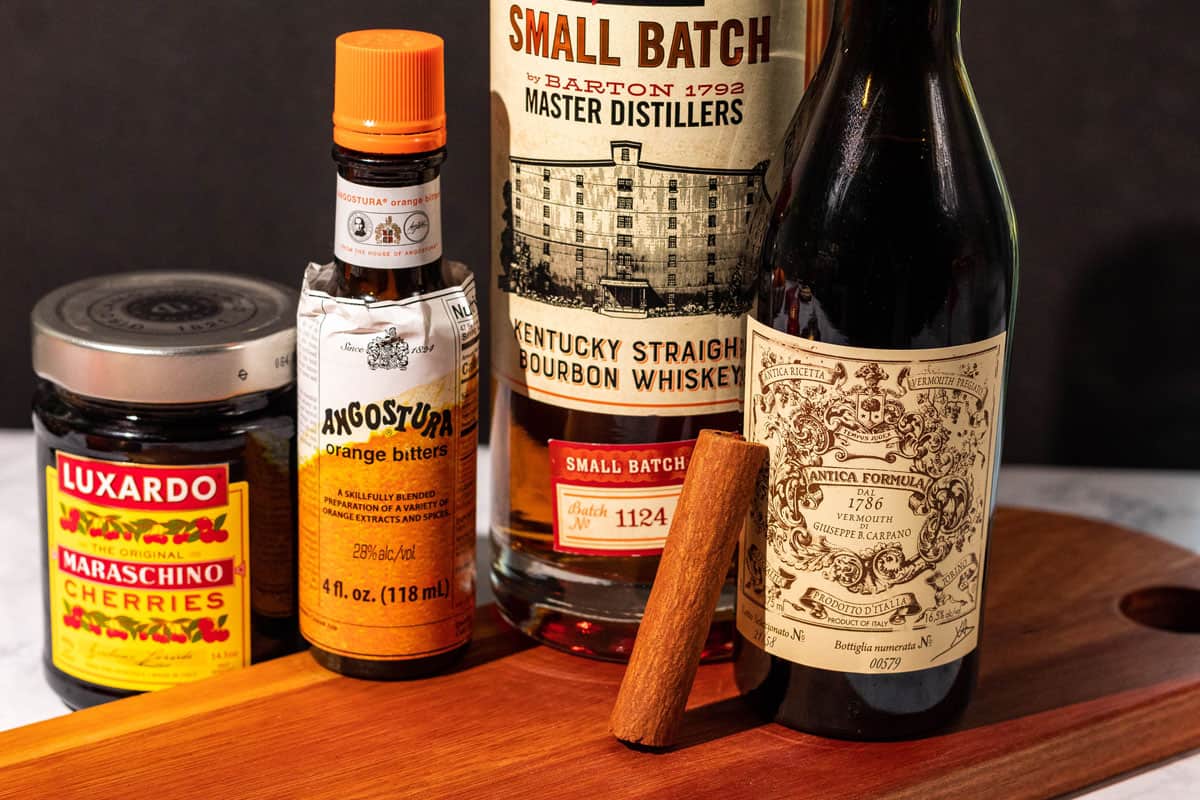 Making this Smoked Manhattan cocktail only requires a few simple ingredients that you may already have in your home bar and pantry. You can easily find your favorite bourbon, sweet vermouth, maraschino cherries, and orange bitters at your local grocery and liquor store.
This Manhattan recipe calls for orange bitters instead of the classic Angostura aromatic bitters traditionally used in a Manhattan. Let's learn a little more about the ingredients for this Smoked Manhattan with Cinnamon.
Bourbon: I mentioned earlier that a classic Manhattan is made with rye whiskey. This take on the cocktail is made with bourbon, giving it a slightly sweeter flavor than whiskey.
Unlike whiskey, which is made chiefly of malted grain such as barley, bourbon is made primarily of corn. Bourbon is produced only in the United States and mainly in Kentucky. Whiskey is made worldwide and in the USA in countries such as Ireland, Scotland, and Japan.
Bourbon is often enjoyed neat or on the rocks and is also the main ingredient in an Old Fashioned and Mint Julep. This recipe can also use scotch or whiskey, but remember that the flavor will differ.
Sweet Vermouth: Vermouth is a fortified wine made with spices and herbs, giving it a unique flavor. There are two types of vermouth- dry and sweet. Sweet vermouth typically comes from Italy and ranges from sweet to very sweet.
While dry vermouth is more floral and generally used in martinis, sweet vermouth is popular for cocktails with dark liquors, such as bourbon, because of its spiciness.
Orange Bitters: Bitters are a blend of herbs and spices used to create complex layers of flavor in cocktails. You may be familiar with aromatic Angostura bitters, used in the classic Old Fashioned cocktail, adding a slight spiciness and bitterness.
While there are many different bitters, this recipe calls for orange bitters. With an infusion of orange peels, the citrus flavor lends itself to this Smoked Manhattan, accenting the warmth of the cinnamon and bourbon.
If you prefer to stick to the classic Angostura bitters when making this smoked cocktail, it will work fine, with a flavor similar to a classic Manhattan.
Cinnamon Stick: To give your Smoked Manhattan its signature flavor, use a burnt cinnamon stick to infuse smoke into your cocktail glass. The warm flavors of the cinnamon combined with the subtle smoke flavor will elevate your cocktail and create layers of flavor reminiscent of fall.
Maraschino Cherry Syrup: A spoonful of maraschino cherry syrup will give your Smoked Manhattan a little sweetness. This syrup won't add much additional flavor, but it will give the cocktail some color.
If you don't want the added sweetness, you can leave out the maraschino syrup. Hands down, Luxardo Maraschino Cherries are the best maraschino cherries that you can use. They are a bit pricey, so if you want something at a lower price point but good quality, you can check out these Amarena Fabbri Wild Cherries.
Instructions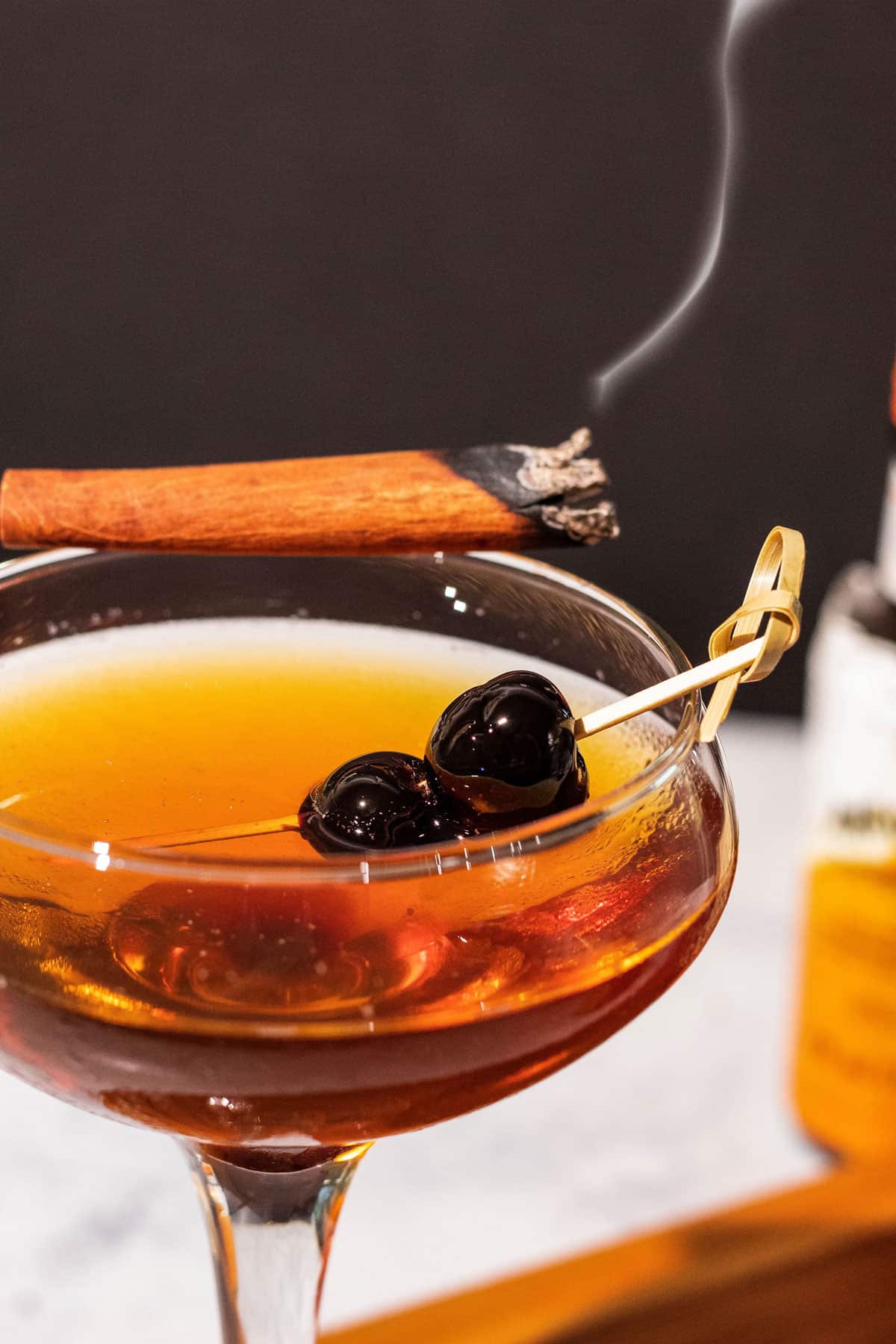 Now that we've got some information on our ingredients for a Smoked Manhattan with Cinnamon, let's make one! For this recipe, you will need a mixing glass, a cocktail glass, a strainer, a heat-proof plate, a long spoon, a lighter, and some ice.
Burn the cinnamon stick
Start by carefully lighting the end of your cinnamon stick on fire, allowing it to burn a little so that it creates smoke. Blow out the flame and place it on a heat-proof plate, covering it with an upside-down cocktail glass. Leave this to infuse the smoke into your glass while mixing your drink.
Mix the drink
Fill a mixing glass with ice cubes and add the bourbon, sweet vermouth, a few dashes of bitters, and a bit of cherry syrup, stirring until combined. Flip your cocktail glass over and strain the cocktail into the smoked glass.
Garnish and serve
Finish your Smoked Manhattan by garnishing it with a maraschino cherry or two, and enjoy!
Serving Suggestions
This fun Smoked Manhattan cocktail is warm and spicy, full of flavors enjoyed around Halloween and Thanksgiving. I recommend serving up these cocktails at a holiday party or after taking a hay ride or trick or treating. It'll take all of your celebrations next level.
Make sure to enjoy your Smoked Manhattan with some food or after dinner, as it is pretty strong to drink on an empty stomach. This cocktail is a great drink to go with smoked meats and cheese, homemade pizza, or flatbread with hearty toppings.
If you really love a good Manhattan, you should try a Man O' War Cocktail – it is a bourbon-based cocktail that is almost like a cross between a Whiskey Sour and a Manhattan.
Ingredients and Tool Suggestions
It's pretty easy to find all of the ingredients needed for this cocktail in most grocery stores. If you can't find certain items or tools or would prefer to order online, I have a few Amazon links (affiliate) listed below for your convenience. Some of these items are "nice to haves" and not 100% necessary, such as the kitchen torch, but they do have other applications in the kitchen and beyond.
Key Ingredients and Tools
Favorite Spirit Suggestions for a Smoked Manhattan
Favorite Whiskeys
Favorite Sweet Vermouth
More Cocktails to Try
Did you love this cocktail?
Please leave a 5-star 🌟🌟🌟🌟🌟 rating & review in the comments below.
Reviews will help others find this recipe!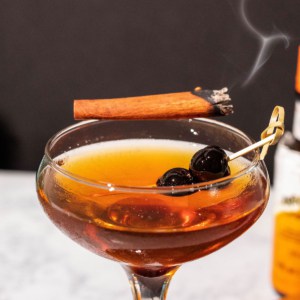 Smoked Manhattan with Cinnamon Cocktail Recipe
For this Smoked Manhattan with Cinnamon, bourbon is combined with sweet vermouth, bitters, maraschino cherry syrup, and smoky cinnamon stick for a real treat that any Manhattan drinker will definitely love.
Ingredients
1

cinnamon stick

2

oz

bourbon

¾

oz

sweet vermouth

Few dashes of orange bitters

1

bar spoon of maraschino cherry syrup

Maraschino cherries for garnish
Instructions
Very carefully light the end of the cinnamon stick on fire. Blow it out or let the flame extinguish. Place the smoking cinnamon stick on a heat proof plate and cover with an upside-down cocktail glass.

Add bourbon, sweet vermouth, bitters, and cherry syrup to a mixing glass filled with ice.

Stir well and strain the Manhattan into the smoked cocktail glass. Garnish with maraschino cherries.
CLICK TO DISPLAY NUTRITION INFO
Nutrition
Calories:
185
kcal
Carbohydrates:
8
g
Protein:
0.2
g
Fat:
0.1
g
Saturated Fat:
0.01
g
Monounsaturated Fat:
0.01
g
Sodium:
3
mg
Potassium:
38
mg
Fiber:
2
g
Sugar:
4
g
Vitamin A:
13
IU
Vitamin C:
0.1
mg
Calcium:
40
mg
Iron:
0.3
mg
Don't forget to follow along on social media for alerts on new recipes!
You can catch me on Instagram, TikTok, Pinterest, and Facebook.