If you love a classic Old Fashioned cocktail, it's time to shake things up a bit with this Smoked Rosemary Old Fashioned! No smoking gun or other special equipment is needed – and it just takes a few minutes to make!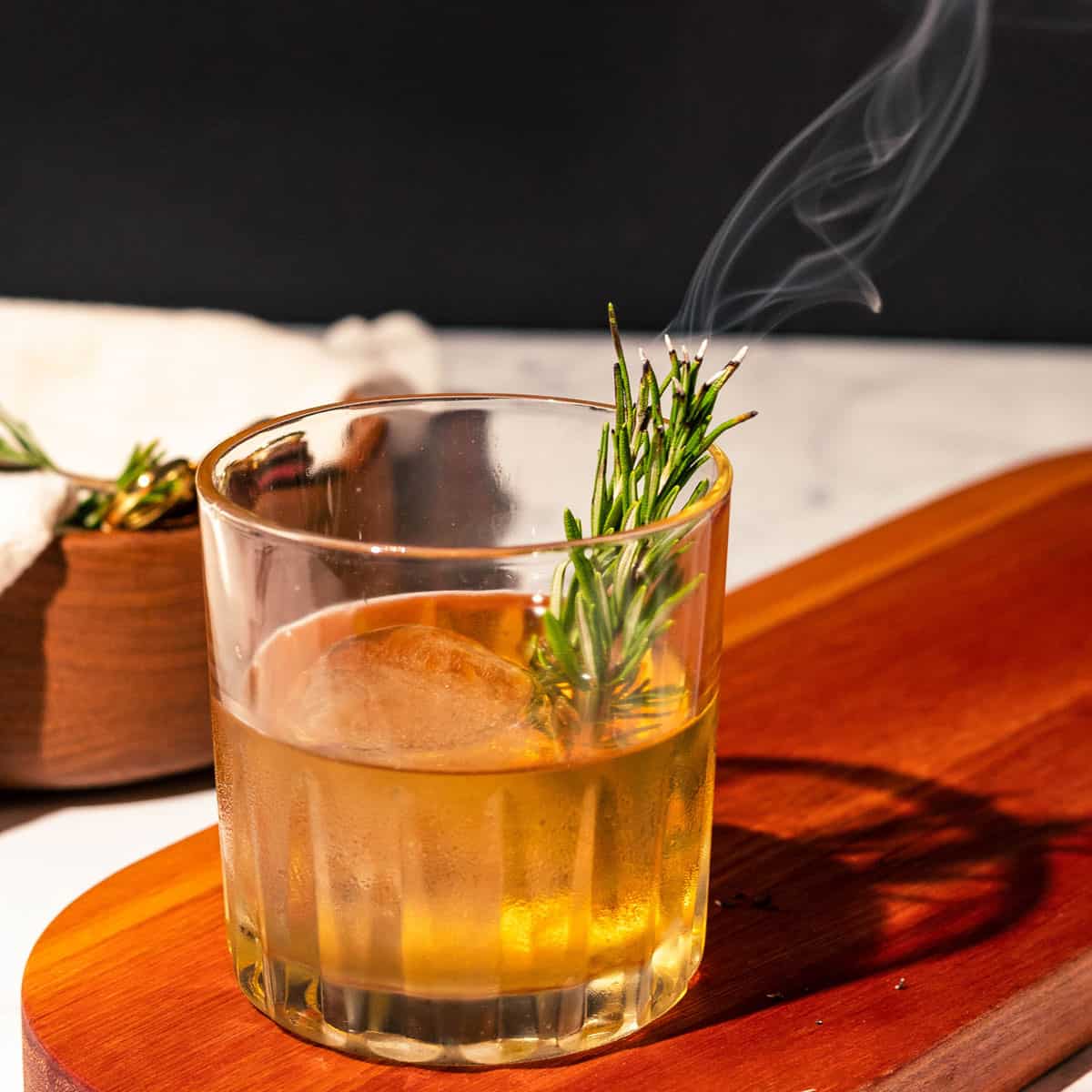 The flavors of your favorite classic bourbon-based drink combine with smoked rosemary to make a warming cocktail that you are sure to enjoy, just in time for the holidays and the cool weather this season brings.
Other great smoked cocktails you might want to try include my Smoked Cinnamon Manhattan, Mezcal Manhattan, and Smoked Rosemary Gin and Tonic. The Man O' War Cocktail is another good bourbon drink that tastes like a Whiskey Sour meets Manhattan. Or, if you're just after Old Fashioned cocktail variations, you'll probably also like my Spiced Rum Old Fashioned.
Jump to:
Why You'll Love This Recipe
Adding smoke to a cocktail can help develop flavors cocktails.
The aroma and the visual aspect are fun to experience. You can experience something that is usually done in high end bars in the comfort of your own home.
No cocktail smoking gun is required! Many recipes require special equipment to smoke a cocktail, but this smoked old fashioned only requires fresh rosemary sprigs and a match.
How to Smoke a Cocktail without a Smoking Gun
There are several different techniques that you can use to smoke a cocktail. This cocktail requires lighting the end of a rosemary sprig and swiftly trapping the smoke in a cocktail glass. This method is the least expensive and easiest way to add smoke to cocktails, but you need to exercise caution with the open flame!
There are several other ways to add smoke to a cocktail. For example:
You can also buy a smoking plank, which is a piece of wood like cherry, pecan, or hickory. To create smoke, you need to use a small kitchen torch, similar to the one you would use for the top of a creme brulee. Once the wood is smoking, a cocktail glass is turned over to trap the smoke before pouring the cocktail.
Then there is a smoking top device, which sits on top of a glass and holds wood chips in a small bowl. As the chips are scorched with a kitchen torch, which is often included in these kits, the smoke falls into the glass, trapping the smoke and infusing it into the glass.
But if you do want to purchase a cocktail smoking gun, they can add a lot of smoky flavor to cocktails. The cocktail smoker gun works by implementing a small vacuum that sucks the smoke from the burning wood chips through a tube and into your cocktail glass. This option tends to be the most expensive option but not always.
Whichever method you use, you will get different flavors depending on where the smoke comes from (think wood chips vs. smoked herbs). You can also buy spirits that already have a smoked quality, like this Mezcal Margarita that has a deep smoky flavor.
Ingredient Notes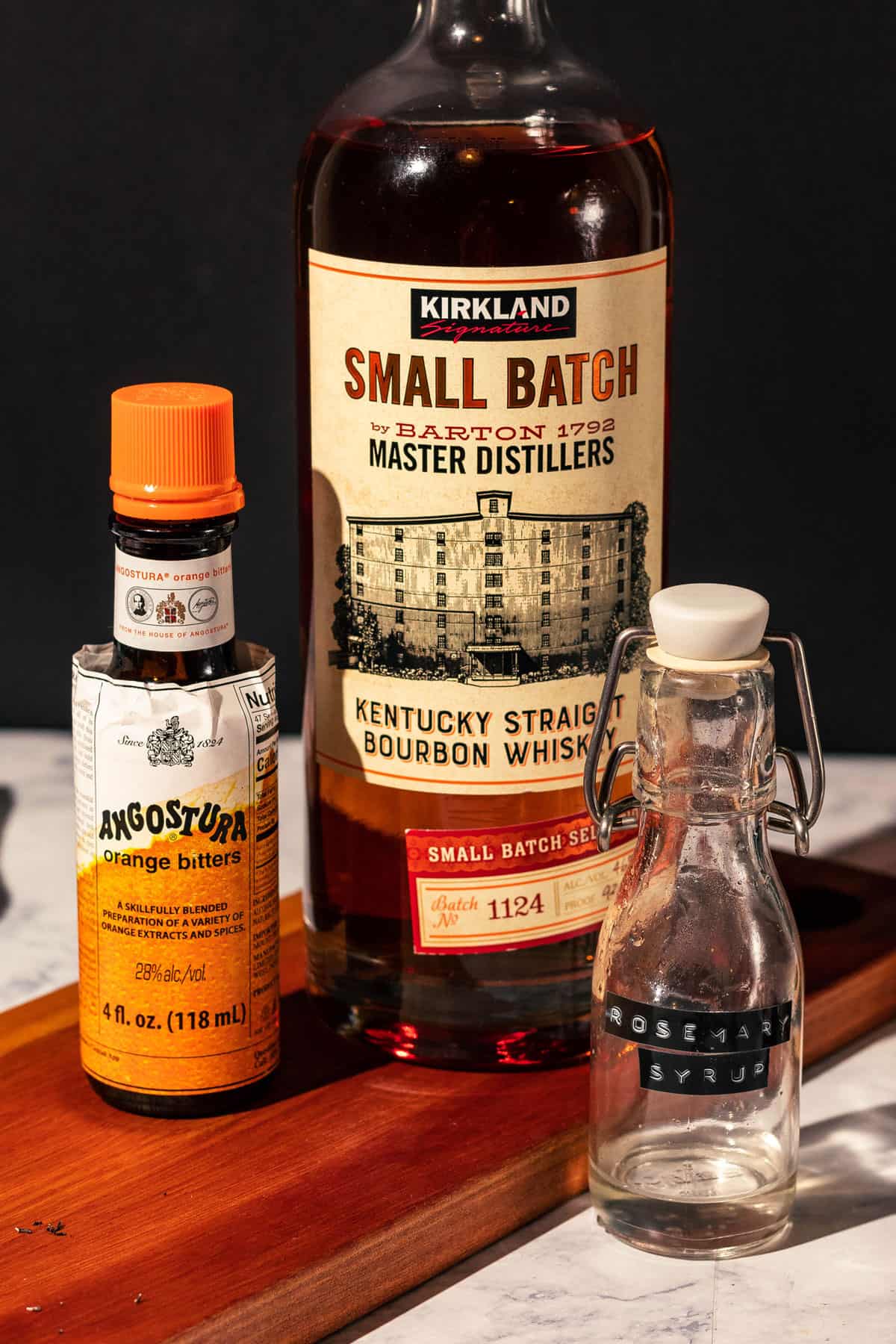 This cocktail recipe is simple, with only a few ingredients, but it packs a lot of unique flavors with a fun presentation!
Rosemary – You can easily find rosemary in your grocery store with the other fresh herbs in the produce section. Rosemary has a pine-like flavor with notes of lemon, mint, and sage. Instead of rosemary, you can also try thyme, another milder woody herb that is full of similar flavors.
Bourbon – Old Fashioned cocktails are typically made with bourbon, giving the drink a smooth vanilla and caramel flavor. Bourbon is a type of whiskey made from a combination of different grains. This whiskey must contain at least 51% corn and be produced in the United States in order to be considered a bourbon. You can try other types of whiskey if you'd like to experiment with the flavors.
Rosemary Simple Syrup – In addition to flavor from smoked rosemary, this Old Fashioned recipe gets extra flavor from a rosemary-infused simple syrup. Simple syrup is easy to make at home using equal amounts of sugar and water. Maple syrup is another option that would go well with the flavors of this cocktail.
Step by Step Instructions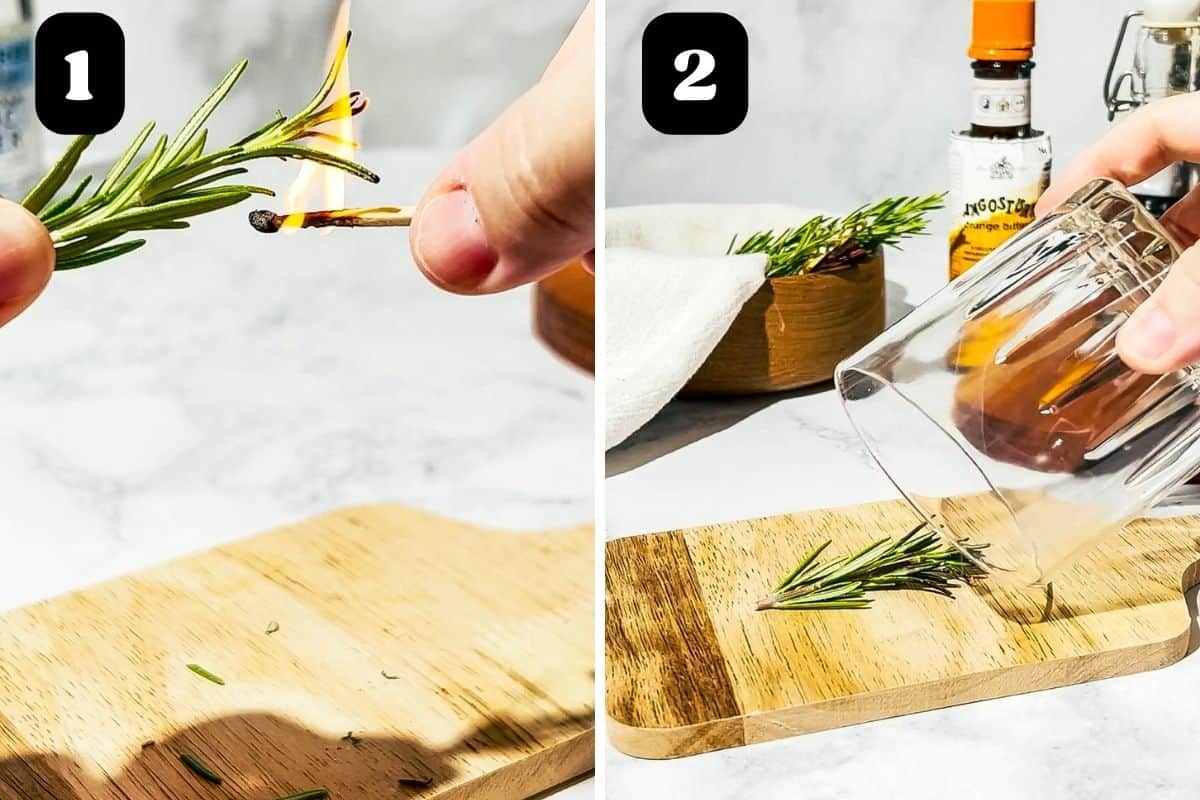 1: Carefully light the end of your rosemary sprig until it begins to smoke.
2: Place it on a heatproof surface or wood cutting board and cover it with a rocks glass to trap the smoke for a few minutes.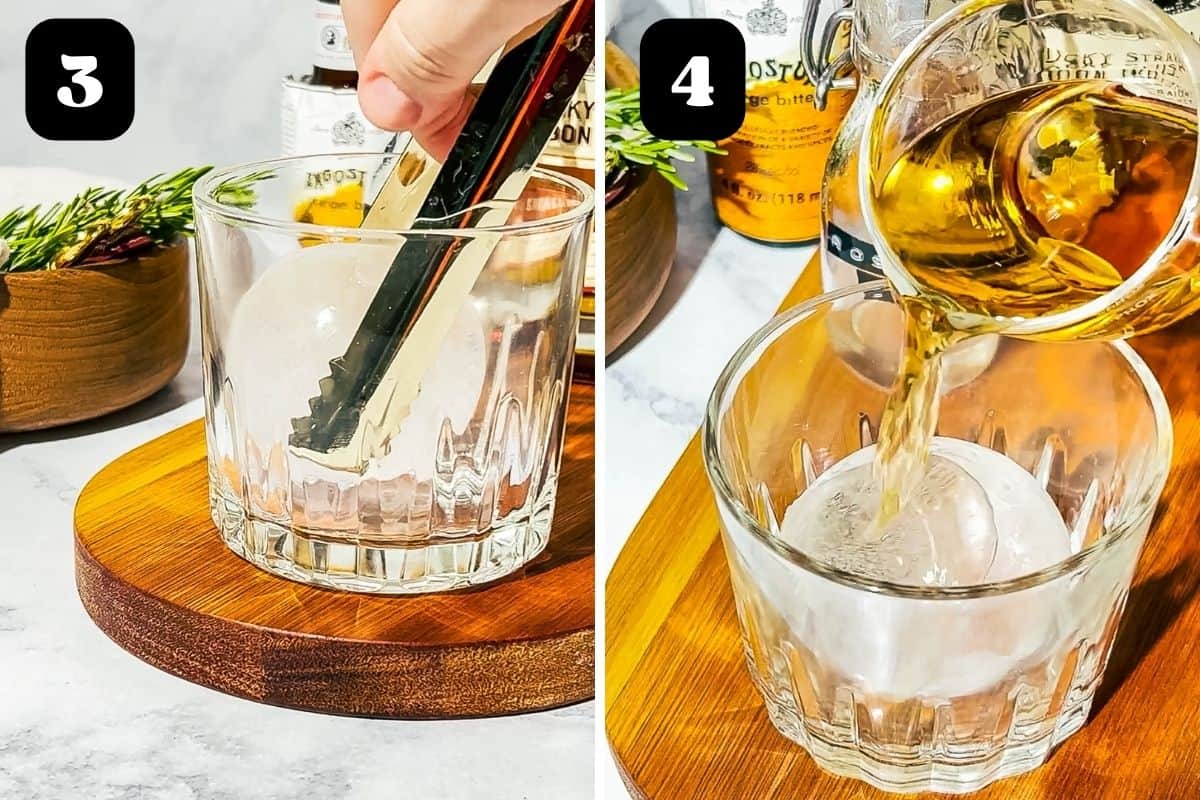 3: Flip your glass over and add your ice. A clear large ice cube, like I used, is very aesthetically pleasing and it's much slower to melt than regular ice.
4: Measure your bourbon and add it to the glass.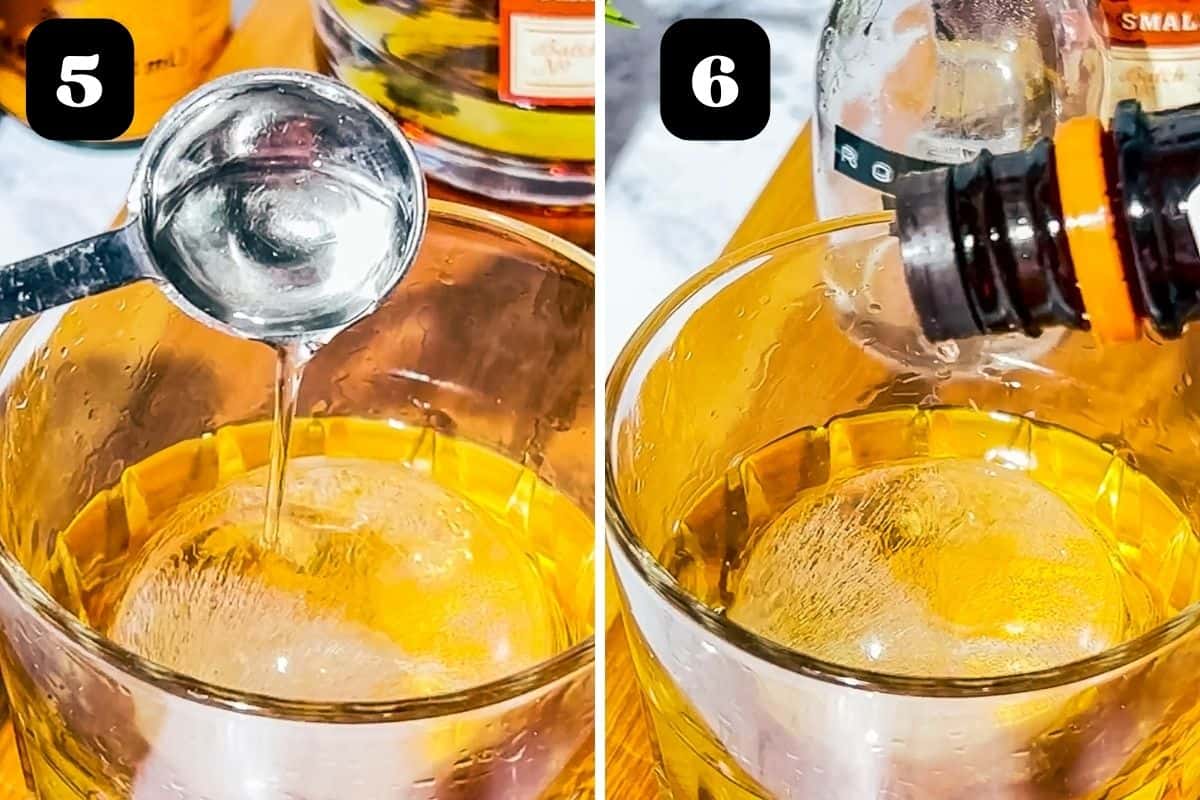 5: Next, add your simple syrup.
6: Followed by adding a few dashes of orange bitters.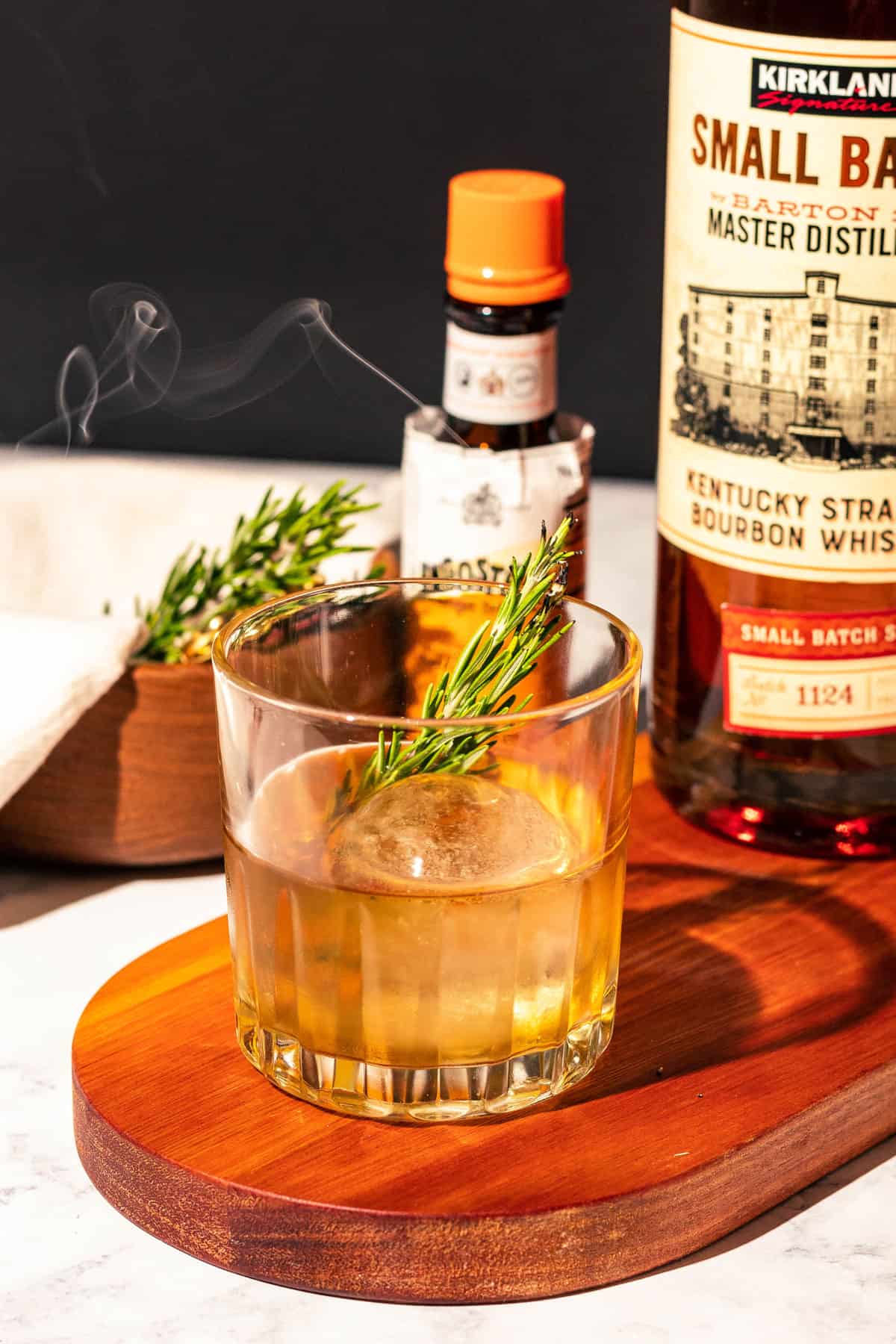 Lastly, stir and garnish with the singed sprig of rosemary and/or an orange peel.
Expert Tips
An Old Fashioned cocktail's taste is highly dependent on the quality of the bourbon. No matter what you choose, the only thing that truly matters is that YOU like it. Being pretentious and looking down on other people's accessibility and preferences is not an ingredient that you'll find in my cocktail recipes.
If you love the flavor of cinnamon, you can use smoked cinnamon instead of rosemary to add flavor to your Old Fashioned. The aromatic smoke will add lots of warm flavors to this smooth cocktail. I made a Smoked Cinnamon Manhattan using this technique that I recommend you try.
Add even more flavor to your smoked Old Fashioned with a splash of apple brandy. This will sweeten the cocktail a bit but add some nice apple flavor that goes great with rosemary. It's a great way to get in the holiday spirit with all those flavors that cool weather brings.
Recipe FAQ
Which bitters are best for an Old Fashioned? 
Old Fashioned cocktails are typically made with original Angostura bitters, but other flavored bitters like Angostura orange bitters complement the flavors of the drink.

You can use either type of bitters, but I don't recommend skipping the bitters in Old Fashioned cocktails. 
What other herbs go well with whiskey?
Fresh herbs like thyme, tarragon, and mint are great additions to whiskey cocktails. 
Can you smoke non-whiskey cocktails?
Absolutely! Whiskey is often the base liquor in many smoked cocktail recipes, but dry gin is another nuanced liquor that does really well with smoke. Smoke can put a modern twist on an everyday gin and tonic.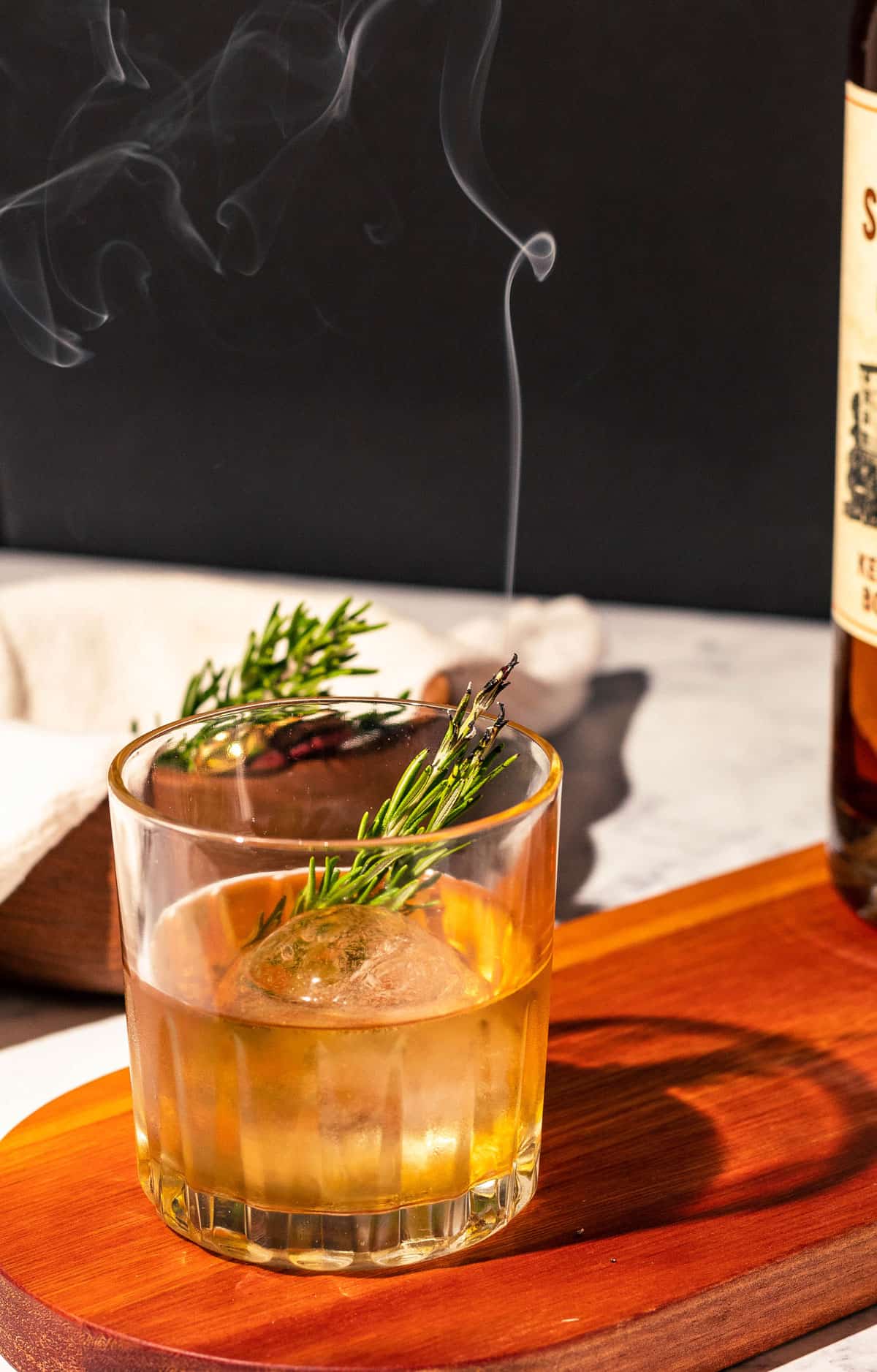 Related Recipes
Did you love this cocktail?
Please leave a 5-star 🌟🌟🌟🌟🌟 rating in the recipe card below & a review in the comments section below.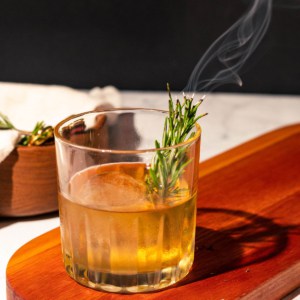 Smoked Rosemary Old Fashioned Recipe
If you love a classic Old Fashioned cocktail, it's time to shake things up a bit with this Smoked Rosemary Old Fashioned cocktail! No smoking gun or other special equipment is needed – and it just takes a few minutes to make!
Ingredients
1

sprig

fresh rosemary

2

ounces

bourbon

½

ounce

rosemary simple syrup

see recipe notes

Few

dashes

Orange bitters

Additional rosemary and/or orange peel

for garnish, optional
Instructions
Carefully burn the end of a rosemary spring until smoking. Cover the smoking Rosemary with a cocktail glass to trap smoke. Allow to smoke inside the glass for a few minutes.

Flip over cocktail glass and add ice.

Add the bourbon, rosemary syrup, and orange bitters.

Gently stir then add garnishes, if using.
Notes
To make rosemary simple syrup:
Ingredients:
½ cup granulated sugar

½ cup water

3 sprigs rosemary
Instructions: 
Add sugar, water, and rosemary to a small sauce pan.
Bring to a boil and stir until sugar is dissolved.
Remove from heat and allow to sit for at least 30 minutes. The long it sits the stronger the rosemary flavor.
Once cool, store in fridge for up to 3 weeks. 
Makes roughly 12 ounces. 
CLICK TO DISPLAY NUTRITION INFO
Nutrition
Calories:
184
kcal
Carbohydrates:
12
g
Fat:
0.01
g
Sodium:
9
mg
Potassium:
11
mg
Fiber:
0.01
g
Sugar:
11
g
Vitamin A:
3
IU
Vitamin C:
0.02
mg
Calcium:
2
mg
Iron:
1
mg
Don't forget to follow along on social media for alerts on new recipes!
You can catch me on Instagram, TikTok, Pinterest, and Facebook.