This apple cider hot toddy with tea is a twist on the traditional hot toddy and will warm you up during the cold fall and winter months. Made with honey, apple cider, bourbon, black tea, and spices, it tastes just as good as it looks. And, it only takes 5 minutes to make and can be made for one or as a batch for a crowd!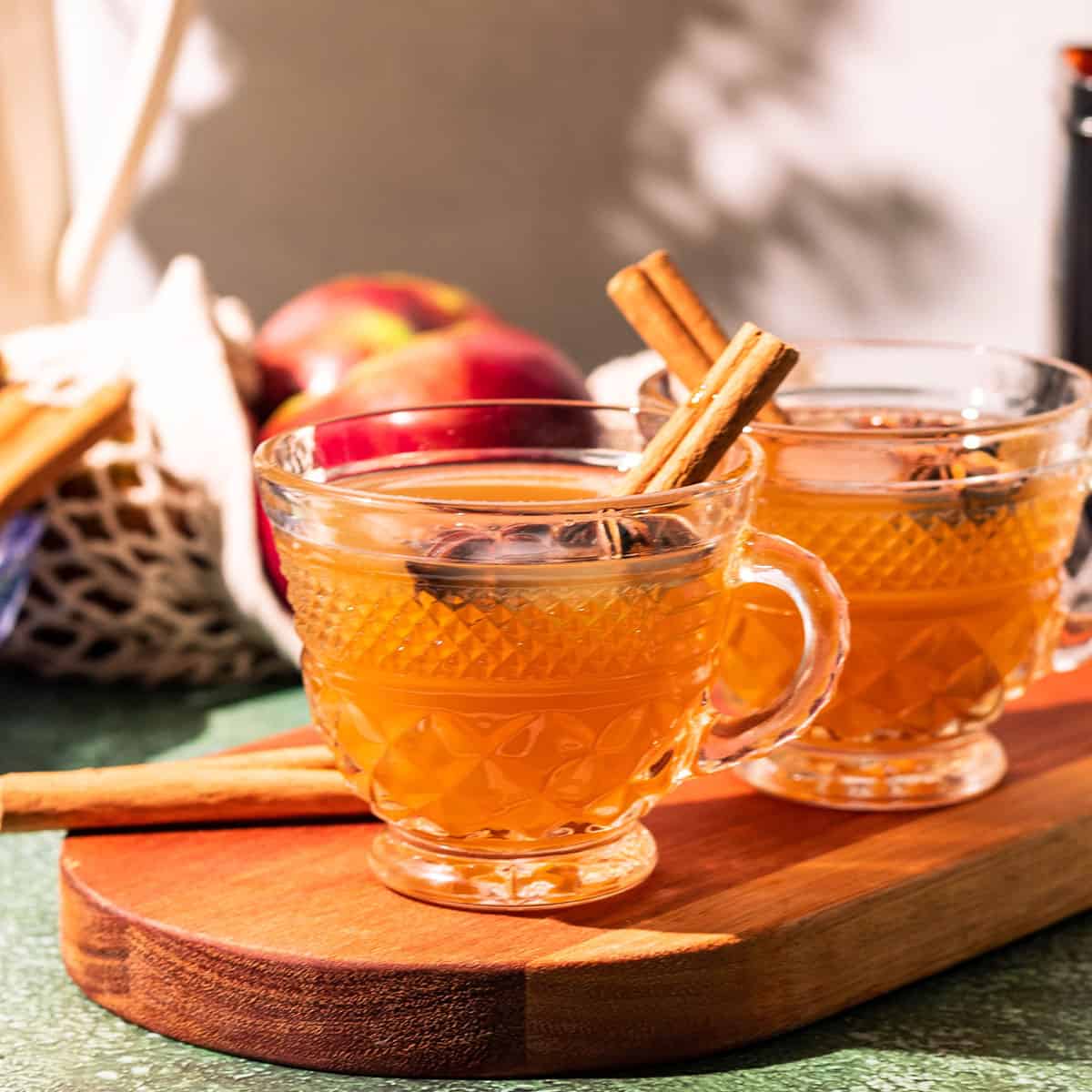 'Tis the season for warm beverages. Right now, it's all about hot tea, coffee, and cocoa. Hot toddies are perfect for when you need a bourbon cocktail that is extra cozy instead of ice cold cocktails like my Bourbon Mule or Smoked Rosemary Old Fashioned. And, many find them soothing for those nasty cold symptoms that tend to show up this time of year. If you're looking for another batch cocktail option, you can also try my Cranberry Mistletoe Vodka Martinis – the recipe includes instructions for serving 8.
Jump to:
Why You'll Love This Recipe
It's oh-so-cozy! It'll warm you up on a cool night. This spin on a classic hot toddy is like a warm hug in a mug.
It only takes 5 minutes to create this soothing and comforting cocktail.
You can make this recipe for one or as a batch for a crowd.
What is a Hot Toddy?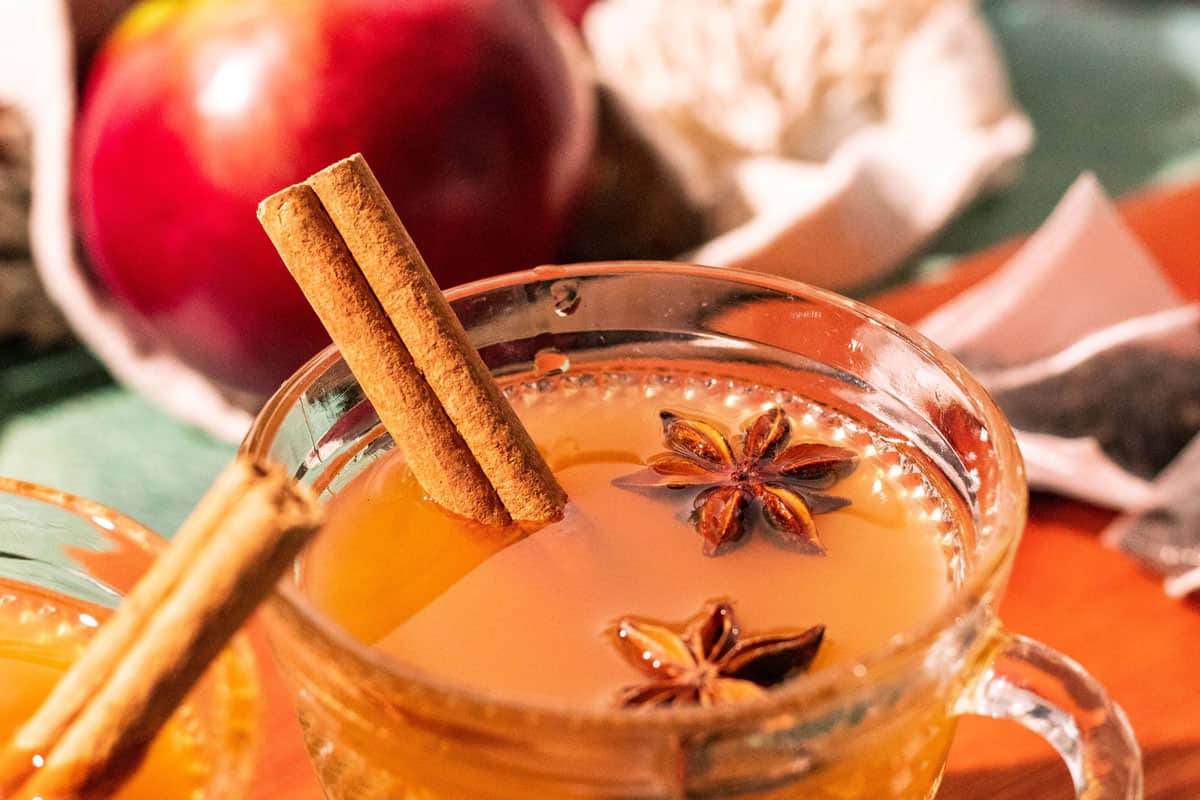 Hot toddies are a classic hot cocktail and are great cocktails as nightcaps on cold evenings or when someone is feeling under the weather. They're typically made from whiskey, hot water, and honey as a basic recipe, but I've seen variations using apple cider and/or tea (like this recipe) as well. Adding black tea and apple cider to this hot toddy recipe really increases the flavor profile and makes it an even better cocktail.
Hot toddies have been around for centuries. The word "toddy" is derived from the Hindi word "taddy," which is a beverage made from distilled palm sap. By the 1700s, the British appropriated this beverage into its current form from Indian culture and claimed it as their own.
With exotic spices much more available due to the British colonization of India, pubs in the United Kingdom began adding hot water and spices to their whisky to combat the cold, damp weather in northern England and Scotland.
There are also claims that the hot toddy was created by Robert Bentley Todd, an Irish physician, that ordered patients to drink his "hot toddy" recipe involving hot brandy, cinnamon, sugar, and water.
And, some believe that there is truth in both origin stories, but no one knows the exact story of the evolution of hot toddies.
Hot toddies are a controversial remedy for cold and flu symptoms. There's no clinical evidence that hot toddies will cure or shorten the common cold or other ailments, but many find them quite soothing when feeling under the weather, including myself.
There are risks to combining alcohol with medications and alcohol can cause dehydration, so always check with your physician before partaking in this or any home remedy.
Ingredients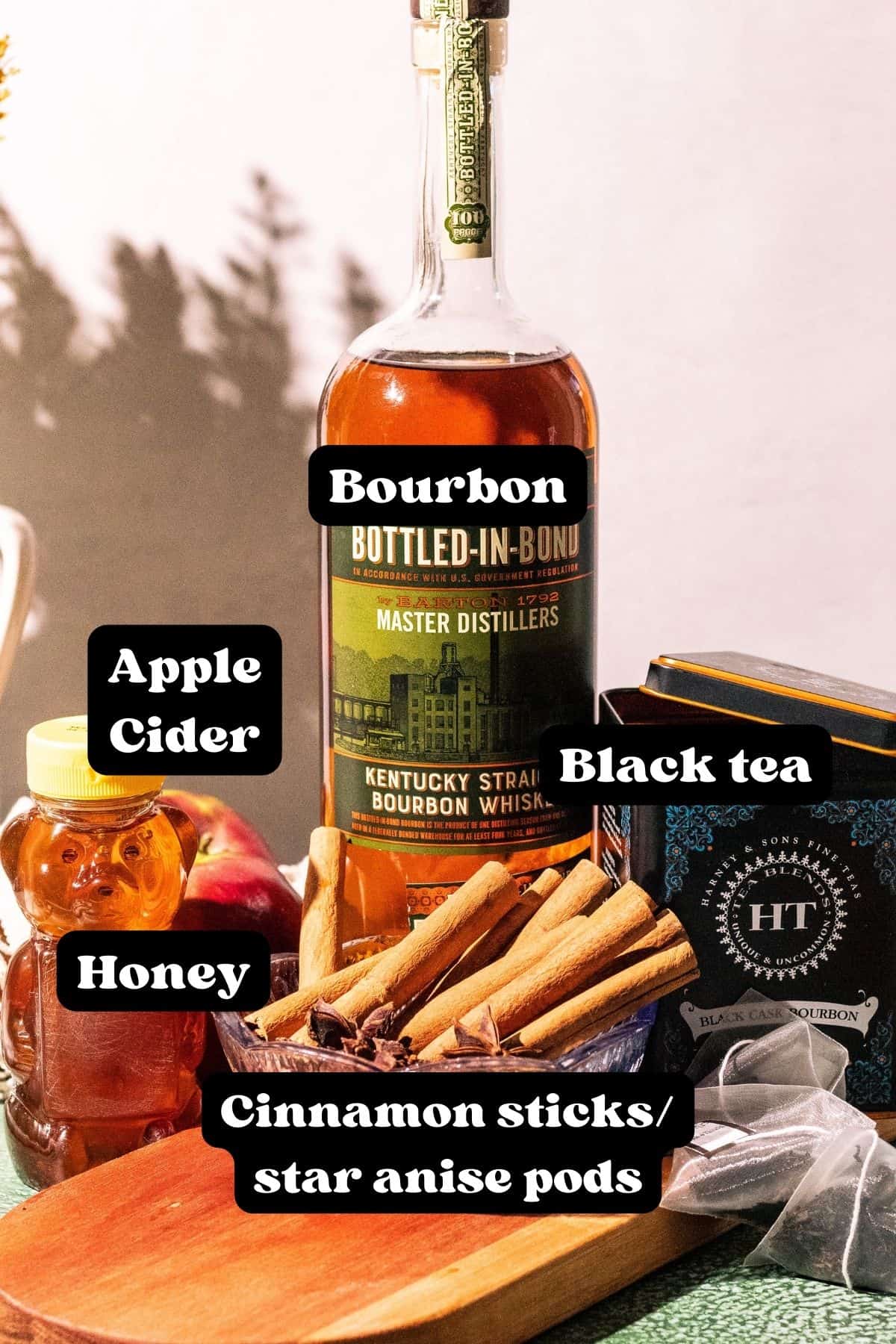 I like to make my hot toddies with black tea. I think the best tea for a hot tea toddy is Harney and Sons' Black Cask Bourbon Tea, which goes well in this hot toddy since it's a bourbon whiskey drink. The tea itself is not alcoholic but the flavors are reminiscent of bourbon whiskey. But, feel free to use your favorite tea bag or loose leaf tea, whatever that might be.
Honey and apple cider add the perfect amount of sweetness to the hot toddy and provide a lot of extra flavor. You can also sub in maple syrup or agave nectar for the honey.
Make sure to use a good whiskey – I prefer bourbon. I like to support local whenever I can – my favorite local Charleston bourbons hail from Cannon and High Wire Distilleries.
Whole spices – I prefer to use whole spices instead of ground cinnamon or anise. Ground spices would be too overpowering and not mix well. I like to use cinnamon sticks and whole star anise pods. Plus, they look very aesthetic floating a glass mug.
Step-by-Step Instructions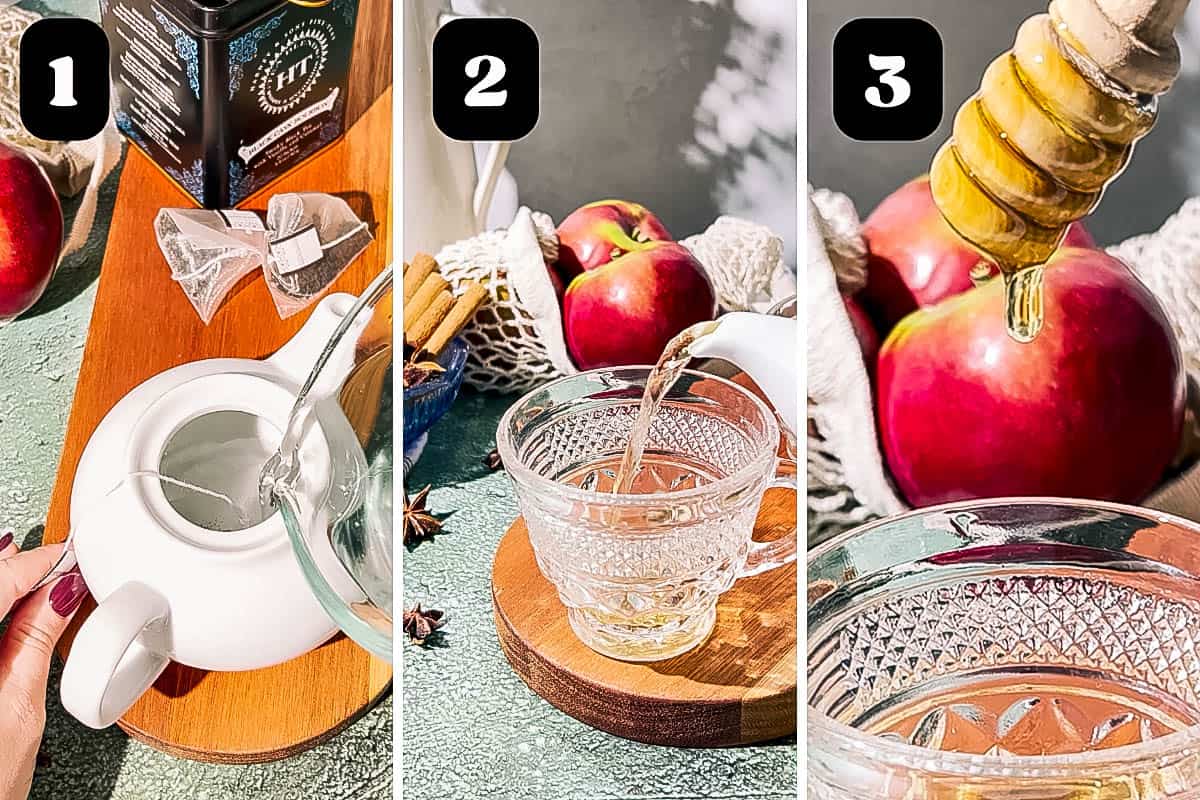 1: Add a tea bag to a pot with hot water and brew tea to package directions.
2: Pour the tea into your favorite mug.
3: Sweeten the to taste with honey.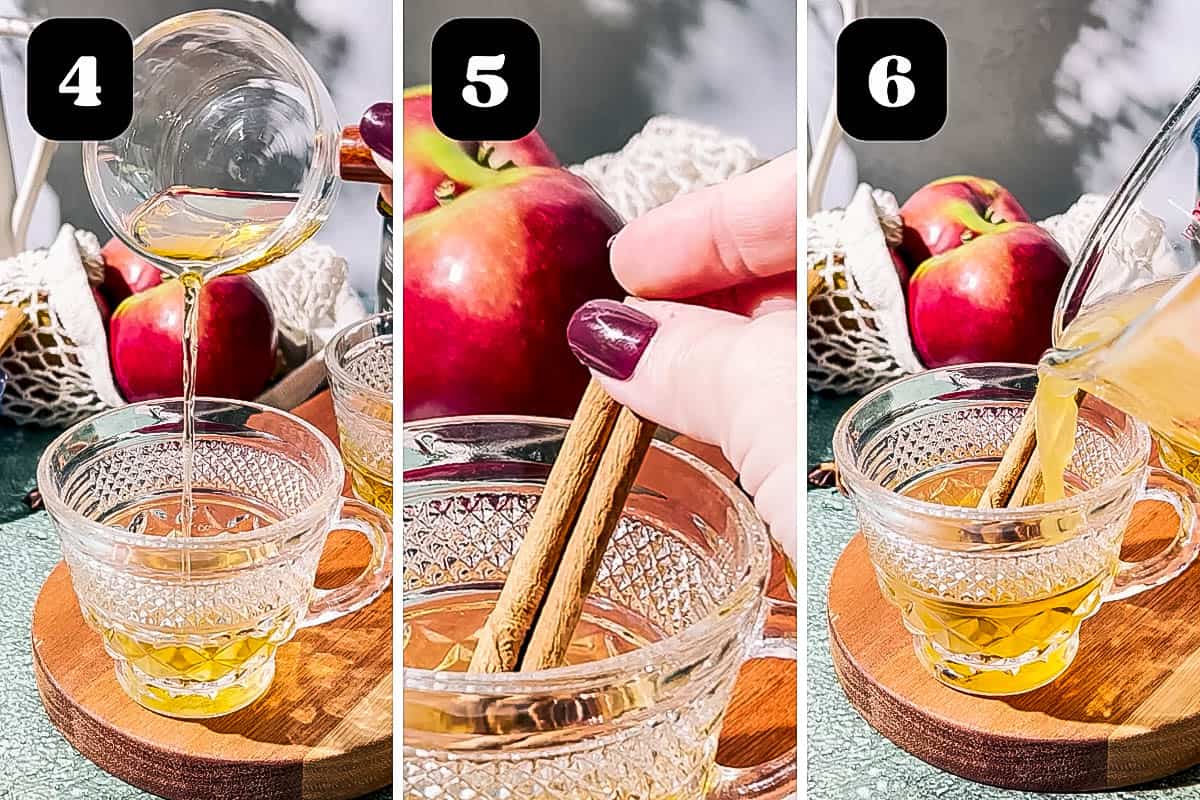 4: Add bourbon to the mug.
5: Add a cinnamon stick and/or star anise pods to the mug.
6: Top off with apple cider that has been warmed in the microwave or on the stovetop.
Serving Ideas
While many may use hot toddies to relieve symptoms when they feel under the weather, I typically will use hot toddies as a cocktail. An apple cider hot toddy with tea is the perfect recipe for holiday gatherings. My brother has made them as Thanksgiving night caps when we get together, and they are always a hit.
Hot toddies are also excellent to go with events or gatherings that require being outside in the cold. They are made for cold winter nights. Bonfires, fall picnics, and Halloween are all great occasions to bust out some hot toddies to keep everyone warm. See below for how to scale hot toddies to serve a crowd.
Recipe FAQ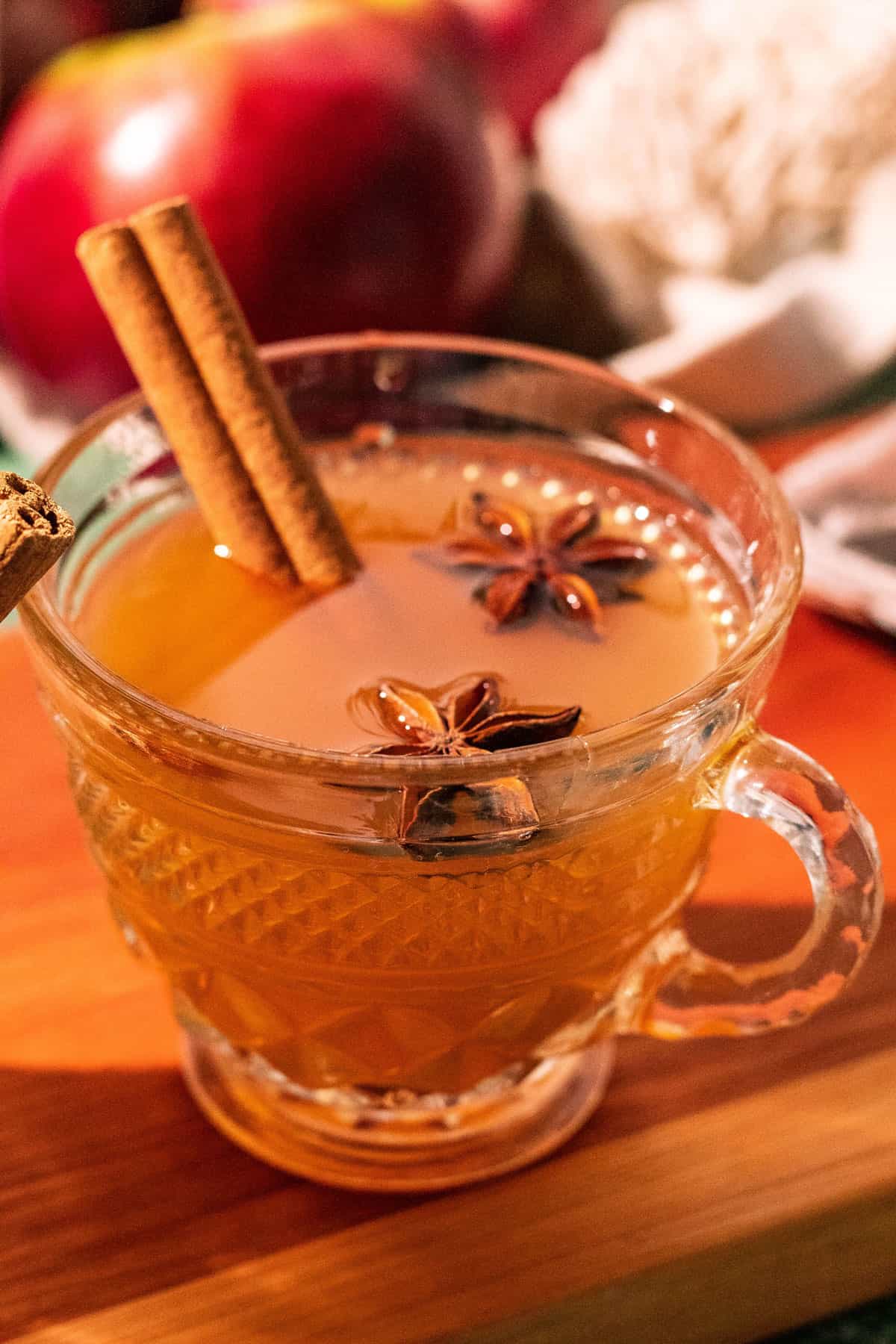 More Whiskey Cocktails to Enjoy
Did you love this cocktail?
Please leave a 5-star 🌟🌟🌟🌟🌟 rating in the recipe card below & a review in the comments section below.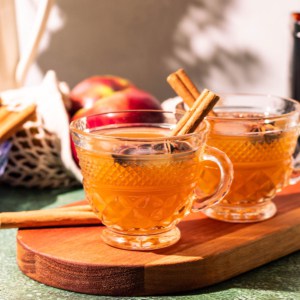 Apple Cider Hot Toddy Recipe
Made with honey, apple cider, bourbon, black tea, and spices, this hot toddy will will warm you up during the cold fall and winter months. And, it only takes 5 minutes to make!
Ingredients
½

cup

brewed black tea

2

teaspoons

honey

or to taste

1 ½

ounce

bourbon

1

-2 each

cinnamon stick and/or star anise pods

½

cup

apple cider

warmed
Instructions
Brew black tea to package's directions. Sweeten with honey to taste.

Pour black tea into a mug. Add bourbon and whole spices.

Top with warm apple cider.
Notes
To make hot toddies for 8, you'll need:
4 cups brewed black hot tea
Honey to taste
1 ½ cups bourbon
8-12 cinnamon sticks and/or star anise pods (plus extra for garnish)
4 cups warm apple cider
Makes ~ 8 (ten ounce) servings. Mix everything together in a heatproof pitcher or hot water urn and stir well.
Add the honey ahead of time or have your guests add their own so that they can tailor it to their own tastes.
Provide extra whole spices that can be added to each cup for garnish.
CLICK TO DISPLAY NUTRITION INFO
Nutrition
Calories:
205
kcal
Carbohydrates:
28
g
Protein:
0.3
g
Fat:
0.2
g
Saturated Fat:
0.04
g
Polyunsaturated Fat:
0.1
g
Monounsaturated Fat:
0.02
g
Sodium:
10
mg
Potassium:
186
mg
Fiber:
2
g
Sugar:
23
g
Vitamin A:
12
IU
Vitamin C:
1
mg
Calcium:
45
mg
Iron:
1
mg