These jello shot syringes are a festive and fun way to present jello shots. They're incredibly easy to make and are a great crowd pleaser. They're a must for the spookiest of Halloween parties.
This elevates typical jello shooters into something special. Only a few ingredients are needed.
You can also leave out the alcohol and increase the water in order to make alcohol-free jello shot "mocktails" if you have someone that is abstaining from alcohol or for the under-21 crowd. They will definitely be a hit at your next Halloween party.
Jump to:
Ingredients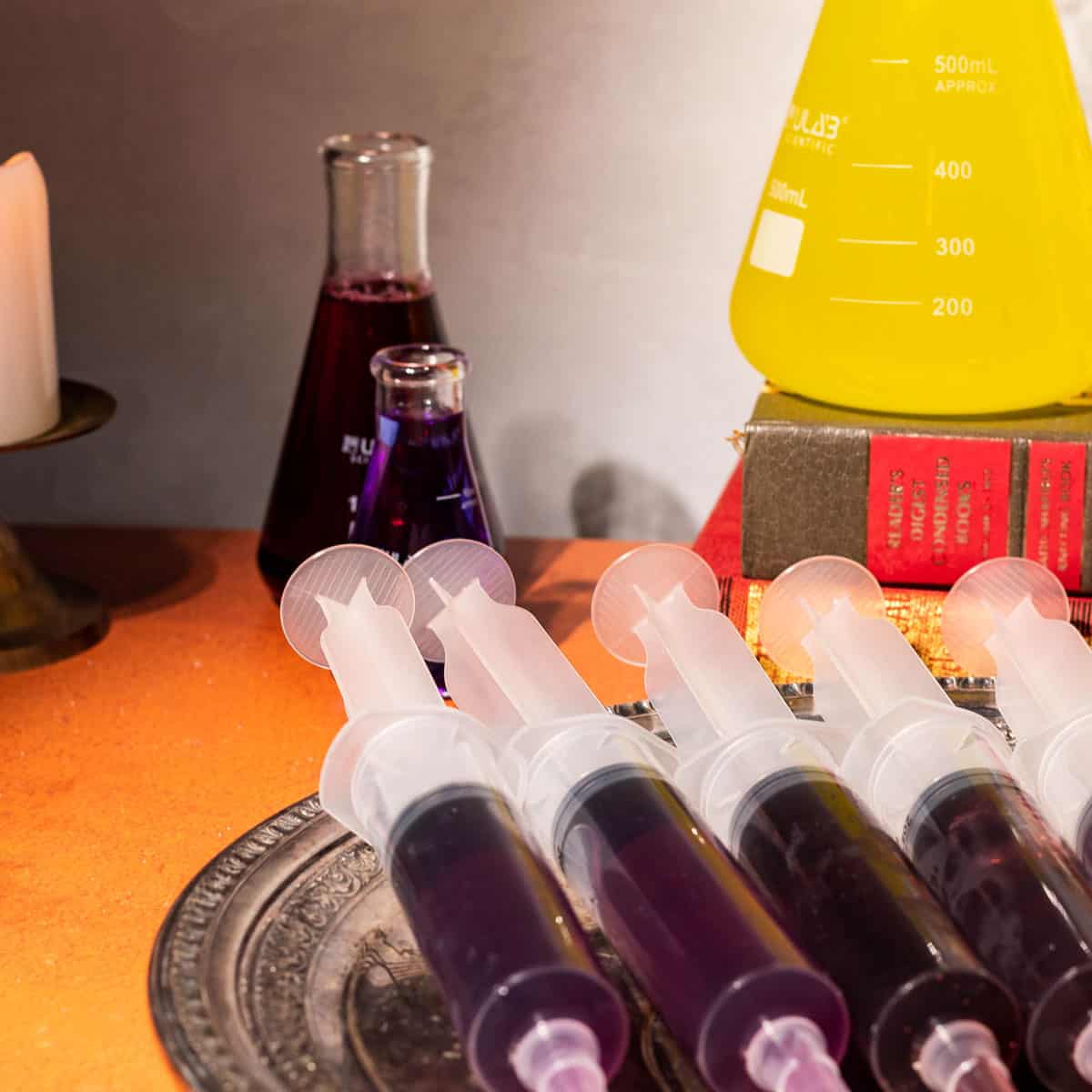 Jello: This one is obvious. Jello is technically a name brand, so feel free to use a generic gelatin mix. You can choose any flavor of the jello you like or you can choose based on Halloween colors.
I used strawberry jello for red blood-looking syringes as well as grape jello to make purple. Neon green like sour apple is also a great choice too – it would look like green, slimy ooze. Personally, I like the red jello so that they look like bloody syringes.
Water: You'll need both boiling and cold water just like you need to make regular jello. As I mentioned above, if you want to make some alcohol-free options, you would just replace the liquor with more cold water.
Liquor: Vodka is the most common liquor used in jello shots. Vodkas come in a range of flavors so you can match the flavor of the vodka to the flavor of jello mix. I used whipped cream vodka. You can substitute other liquors or liqueurs as well.
I would stick with vodka, white rum, or blanco tequila if you go the liquor route. I'd avoid aged alcohols like bourbon or any other liquor that has complex flavors. The resulting flavor likely won't produce a great taste.
Another option is a fruit-flavored liqueur. I have some flavor combinations listed below that you'll want to check out if you're looking for something other than plain vodka.
If you're on a budget, Costco has a lot of high quality liquors for reasonable prices if your Costco carries alcohol. They carry national, well known brands as well as their own in-house liquor.
How to Make Syringe Jello Shot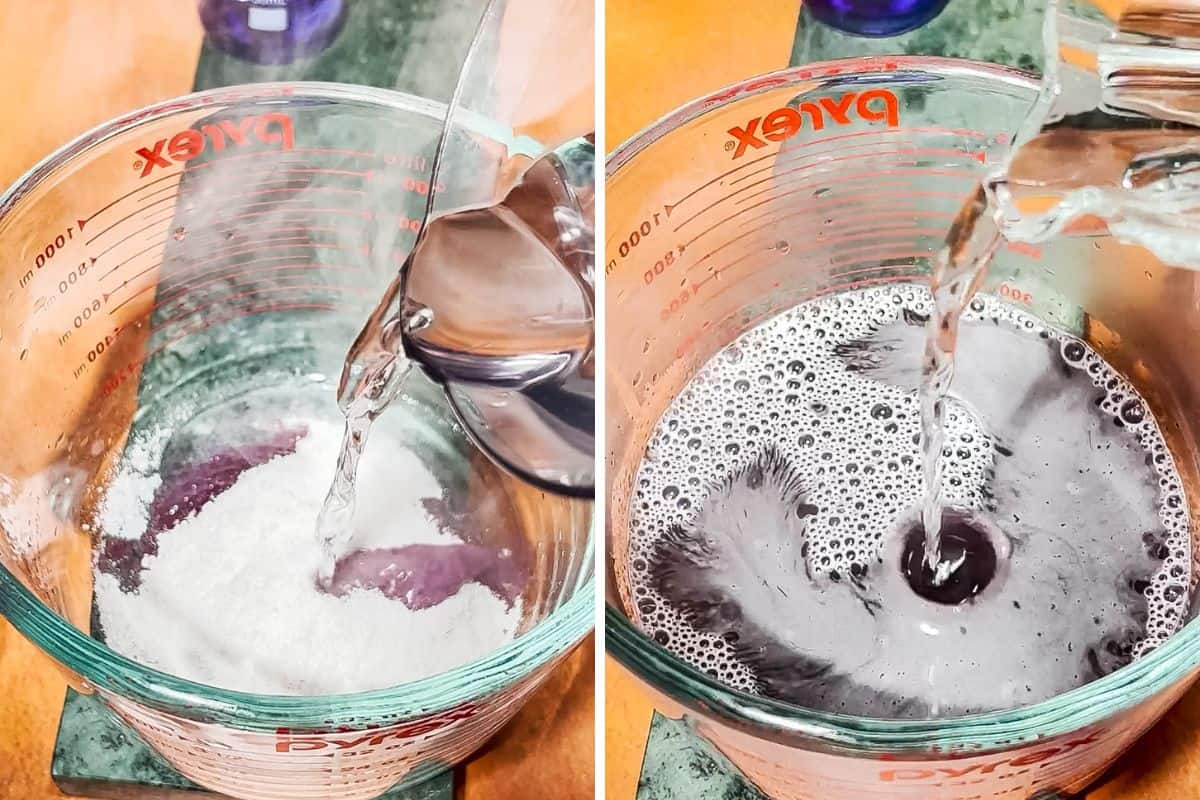 First, mix the jello powder with boiling water until completely dissolved. You'll want to cool it down by adding your cold water and whisk again.
Next, you'll add the vodka (or alcohol of choice) and make sure the liquid is smooth without any lumps. It basically follows the package directions but swaps liquor for ½ cup of water.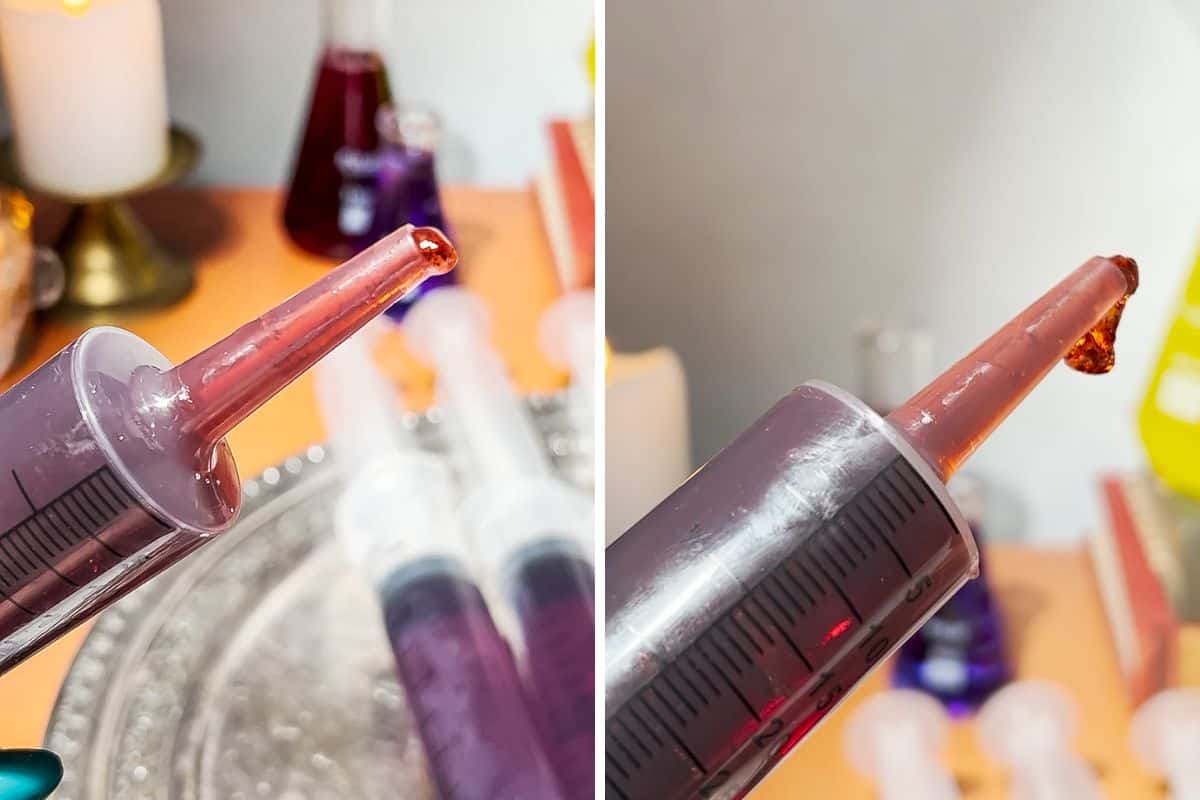 Once the jello mixture is no longer steaming, you'll carefully want to lower the syringe into the liquid jello. Pull back on the syringe to your desired level. Cap the end and repeat as necessary. Refrigerate the shots for 4 hours and you are ready to go.
Hint: You'll definitely want syringes with caps so that it doesn't leak out.
Serving Suggestions
You can definitely choose some spooky serving platters or a Halloween-themed container to display the syringe shots for your party guests. I have a few ideas below. If you want to see more of my Amazon Fall and Halloween Favorites, you can check it out here.
Flavor Ideas for Variation
Sour apple jello with caramel vodka for a caramel apple shot
Cherry jello with the liquor split 50/50 between vodka and amaretto for a cherry almond shot
Peach or orange jello with whipped cream vodka for either a peaches and cream or an orange creamsicle jello shot
Lime jello with coconut white rum for a "lime in the coconut" jello shot
Tools Needed for Syringe Jello Shots
You likely have most of what you need at home to make these except for the jello shot syringes.
Cocktail FAQs
Who sells syringes for jello shots? Where can I buy syringes for jello shots?
As with most things, Amazon – which I've linked some Amazon options in the previous question. Party stores like Party City can sometimes stock them around Halloween.
How long do syringe jello shots take to set?
Typically it takes 2-4 hours for jello shots to set in the fridge. For this recipe method, I recommend 4 hours. 
Are jello shot syringes reusable? Dishwasher safe?
They typically are – always check the packaging to make sure.

They usually are dishwasher safe if they are sturdy – but double-check the packaging. If they are flimsy or thin plastic, they'll likely warp in the dishwasher. If the package doesn't say, use your best judgment.
Can you make shots in syringes ahead of time?
I recommend making these no more than 3-4 days in advance. They can last longer, but the texture may begin to break down if they sit for too long.
More Halloween Cocktails to Enjoy
Love this cocktail? Please leave a 5-star 🌟🌟🌟🌟🌟rating in the recipe card below & a review in the comments section further down the page.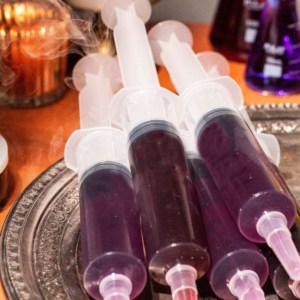 Syringe Jello Shots for Halloween Recipe
These jello shot syringes are a festive and fun way to present jello shots. They're incredibly easy to make and are a great crowd pleaser. They're a must for the spookiest of Halloween parties.
Ingredients
1

box Jello

1

cup

boiling water

½

cup

cold water

½

cup

vodka

or liquor of choice
Instructions
Whisk jello powder in a bowl with boiling water until smooth. Allow to cool slightly and add cold water and vodka.

Take syringes and suck up the liquid in the desired amount.

Refrigerate for at least 4 hours.