If you love strawberry lemonade and margaritas, this Strawberry Limoncello Margarita recipe is about to be your favorite cocktail. It's the perfect way to elevate the classic margarita.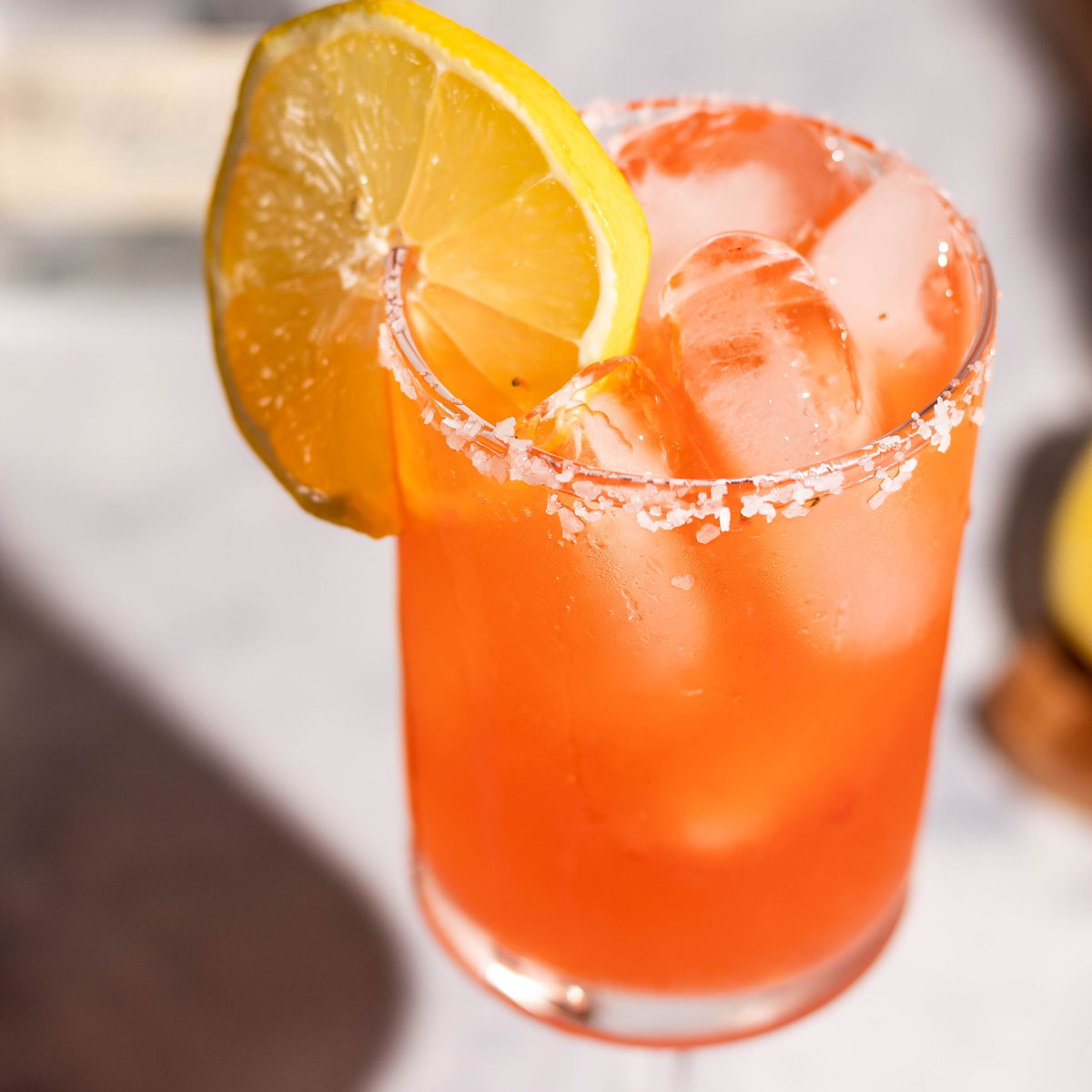 Lemons can be so refreshing and combined with strawberries and tequila you really can't go wrong with this recipe. These Italian margaritas are pure sunshine in a glass. Margaritas, in general, are perfect for the dog days of summer when the heat is relentless, but you can definitely enjoy this margaritas anytime. For more margarita recipes, check out my Midori Melon Margarita and Blackberry Basil Margarita.
Jump to:
What is Limoncello?
Limoncello is an Italian lemon liqueur that is made from lemons – specifically lemon peels. It is often sweetened and served as a digestif. A digestif is something that should be drunk at the end of a meal to "help digest" your meal but really I'll drink limoncello just about any time of day.
The Amalfi coast in Italy is famous for limoncello. It's great to sip on its own (preferably in an ice cold shot glass) and makes an equally great cocktail ingredient. In addition to making this margarita, you should also try my Limoncello Sour, Limoncello Spritz, or Limoncello Tonic.
Ingredient Notes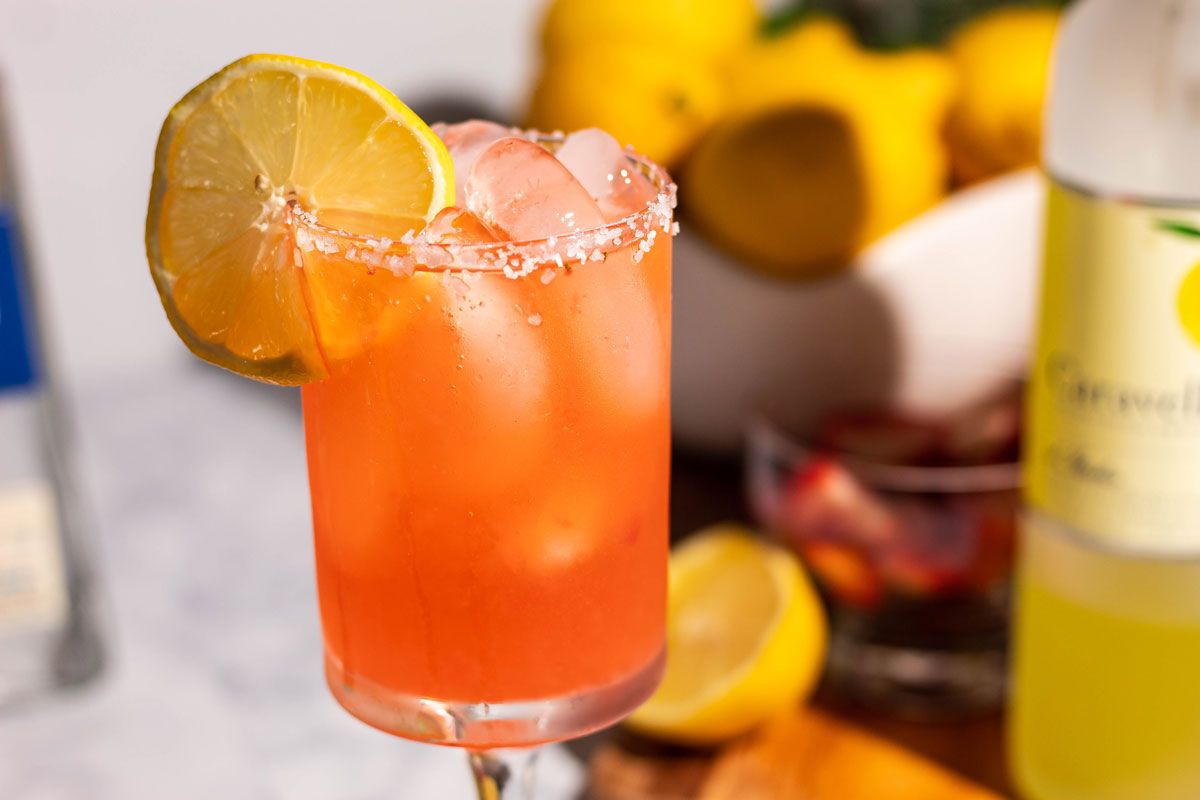 This Strawberry Limoncello Margarita has very simple ingredients that you can find at any grocery and liquor store. You may already have some ingredients for this Strawberry Limoncello Margarita in your home bar and refrigerator.
Strawberries: You just need a few strawberries sliced up for this cocktail. You can use strawberries that are just starting to get a little soft because you just going to smash them up in the cocktail shaker. Super ripe fruit always yields a sweeter flavor, so it works out great.
You can definitely use frozen strawberries here too. Just make sure that they are thawed enough that you can easily smash them. If not, you can puree hard, frozen strawberries in a blender.
Tequila: You definitely want to use a silver tequila (sometimes called blanco tequila), which has a very smooth flavor. Gold tequila is typically aged in oak barrels, it could give a smoky, woody taste, which will definitely not be great in a Strawberry Limoncello Margarita.
If you prefer the flavor of gold tequila over silver, I would opt for a different margarita to use it in such as my Blackberry Basil Margarita – it too does best with silver tequila, but would a better fit for gold tequila if that's your preference.
Limoncello: You can find a bottle of limoncello at just about any liquor store these days. In this recipe, its used similar to triple sec (orange liqueur) as in traditional margarita recipes. Limoncello on its own is fairly sweet, so you don't need simple syrup in this recipe.
But, if you find that you want more sweetness, you can add some simple syrup to your liking. I would recommend trying the cocktail as is first before adding simple syrup to see if you want to adjust. If you're feeling fancy, you can also try making your own small batch homemade limoncello – it's actually not too difficult!
Lemon juice: Traditional margarita recipes use lime juice, but to make the Strawberry Limoncello Margarita feel a little more like lemonade, lemon juice is added instead. Juice from fresh lemons will result in a better overall flavor and you just need a small amount. If your only option is bottled, you can use it.
In this recipe, lemon replaces the limes of a traditional margarita. I like to also cut off a slice of lemon for garnish. You could also use lemon zest for a garnish. Or, you can use the lemon zest to make lemon salt for the rim. You just need to combine zest with salt.
Instructions for a Strawberry Limoncello Margarita
Now let's make your Strawberry Limoncello Margarita! You'll need to bust out a cocktail shaker and muddler. If you don't have a muddler, you can use something else like a long spoon to smash the strawberries.
Start by adding the sliced strawberries to the bottom of the cocktail shaker. Mash them gently with your muddler or long spoon until the strawberries look like a rough puree. It's okay to have a few larger chunks from the strawberries. This will release the strawberry juices and pulp for the cocktail.
Then add your tequila, limoncello, and lemon juice to the cocktail shaker and add ice. Cover and shake until the cocktail is well combined.
If you like salt, run a lemon wedge all the way around the rim of the glass and press the rim into a plate of course salt. I typically use kosher salt for my salted rim.
Pour the cocktail into the margarita glass filled with ice cubes and garnish with the lemon wedge if desired.
Variations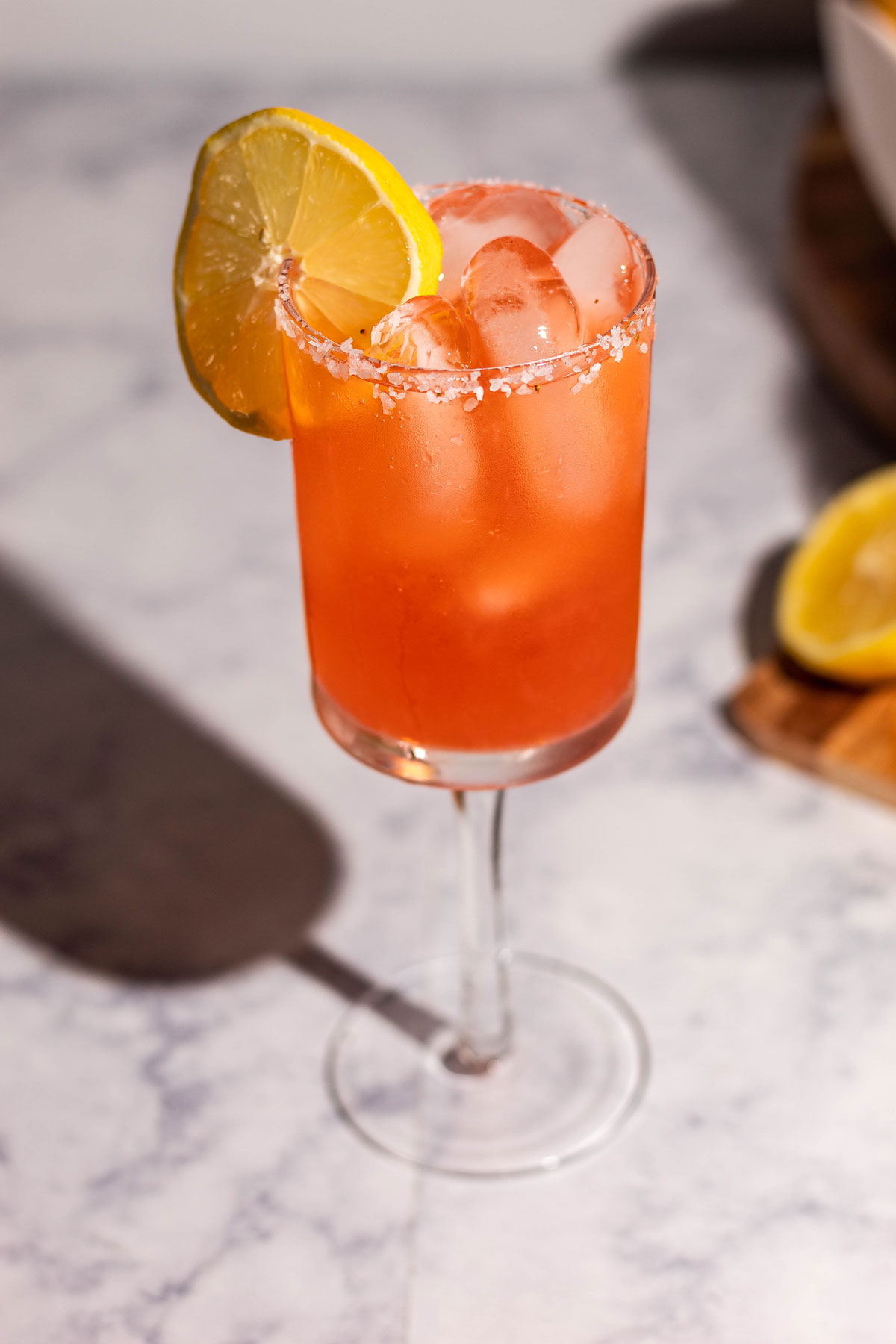 If you love lemonade and don't like strawberries or want to try a different fruit in place of the strawberries give the following fruits a try instead:
Blackberry Limoncello Margarita
Kiwi Limoncello Margarita
Pineapple Limoncello Margarita
Raspberry Limoncello Margarita
Mango Limoncello Margarita
If you liked this Strawberry Limoncello Margarita, you might also like these cocktails and drinks: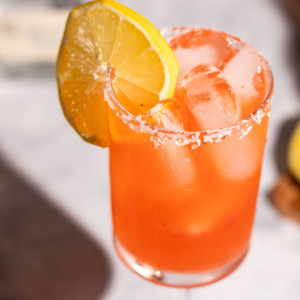 Strawberry Limoncello Margarita Cocktail Recipe
If you love strawberry lemonade and margaritas, this Strawberry Limoncello Margarita recipe is about to be your favorite cocktail. It's the perfect way to elevate the classic margarita.
Ingredients
2-3

strawberries

sliced

1 ½

oz

tequila

1

oz.

Limoncello

1

oz

lemon juice

Lemon slice for garnish
Instructions
Muddle strawberries in the bottom of a cocktail shaker.

Add ice, tequila, limoncello, and lemon juice. Shake well and strain into a glass with ice. Top with a lemon slice.
CLICK TO DISPLAY NUTRITION INFO
Nutrition
Calories:
213
kcal
Carbohydrates:
15
g
Protein:
0.3
g
Fat:
0.1
g
Saturated Fat:
0.01
g
Polyunsaturated Fat:
0.04
g
Monounsaturated Fat:
0.01
g
Sodium:
1
mg
Potassium:
58
mg
Fiber:
1
g
Sugar:
12
g
Vitamin A:
5
IU
Vitamin C:
22
mg
Calcium:
5
mg
Iron:
0.1
mg