With the holiday season quickly approaching, it's time to plan for your Thanksgiving feast, and that, of course, includes the wine! If you need help picking wine pairings for Thanksgiving, you've come to the right place for an easy guide to make pairing on Turkey Day effortless and fun.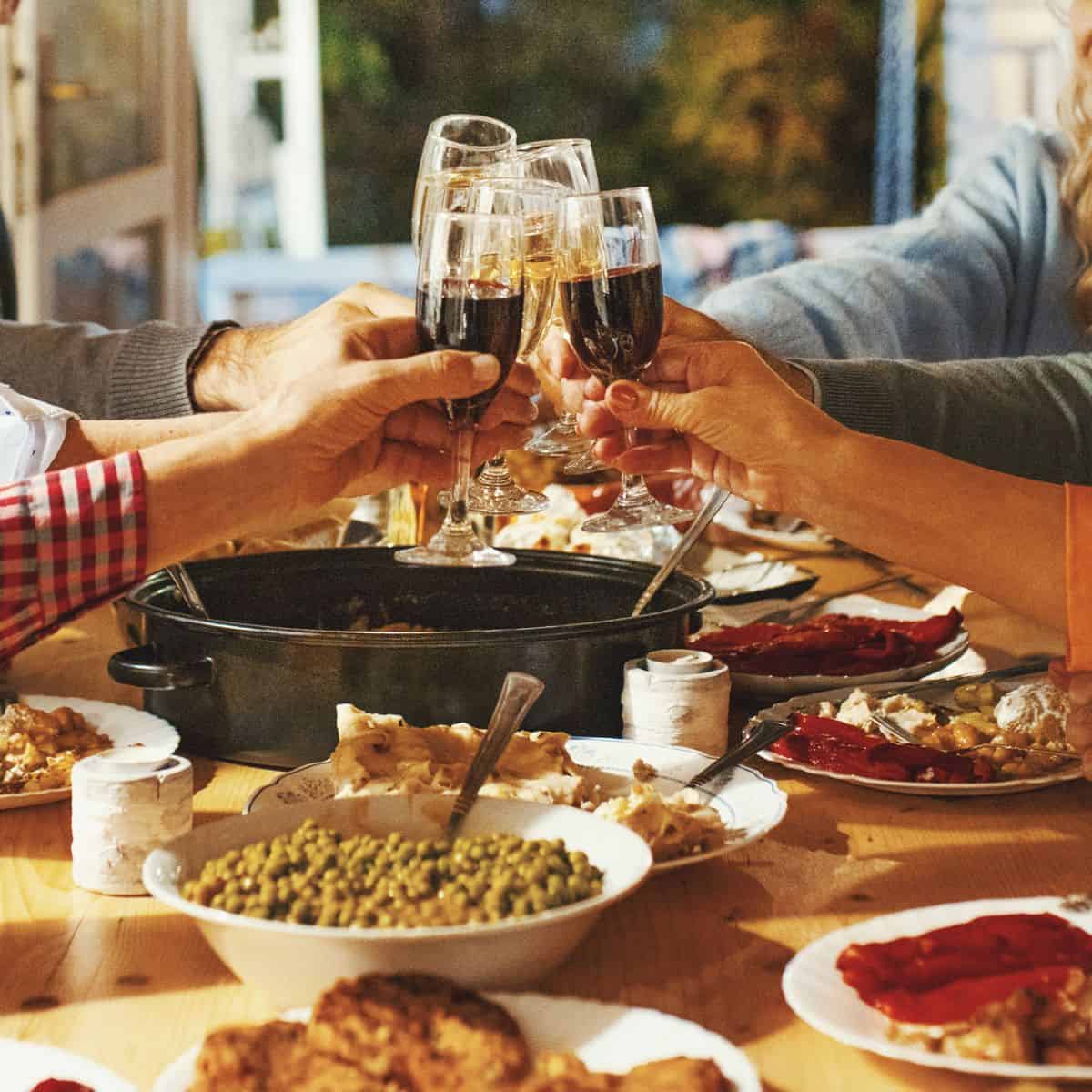 Pairing wine for your holiday table is more about preference, versatility, and drinkability than ensuring each wine pairs perfectly with your Thanksgiving menu.
After all, Thanksgiving reminds us all that gathering, having a good holiday meal, and enjoying the company is what matters. After reading this guide, you can be confident that your wine selection will provide something for every palette that attends on Thanksgiving.
Jump to:
General Tips for Choosing the Best Wines
Although you aren't trying to pair your wine with each dish on your Thanksgiving table, these standbys do well at hitting the mark when choosing wine pairings for Thanksgiving.
Before we get into the best wine pairings for Thanksgiving, let's go over some general tips for the perfect pairing for your taste buds.
Wine should have the same level of flavor intensity as the food.
Match wine with complementary flavors of food, or
Match wine with enhancing flavors of food
It's okay to try new and unusual pairings; these are often the most unexpected yet delicious ones!
An important note to remember about wine: Varietals of wine will vary depending on the region they are from, the age of the wine, and the style of winemaking used to produce them. Don't hesitate to ask the wine store staff for assistance when selecting your bottles.
Red Wine Pairings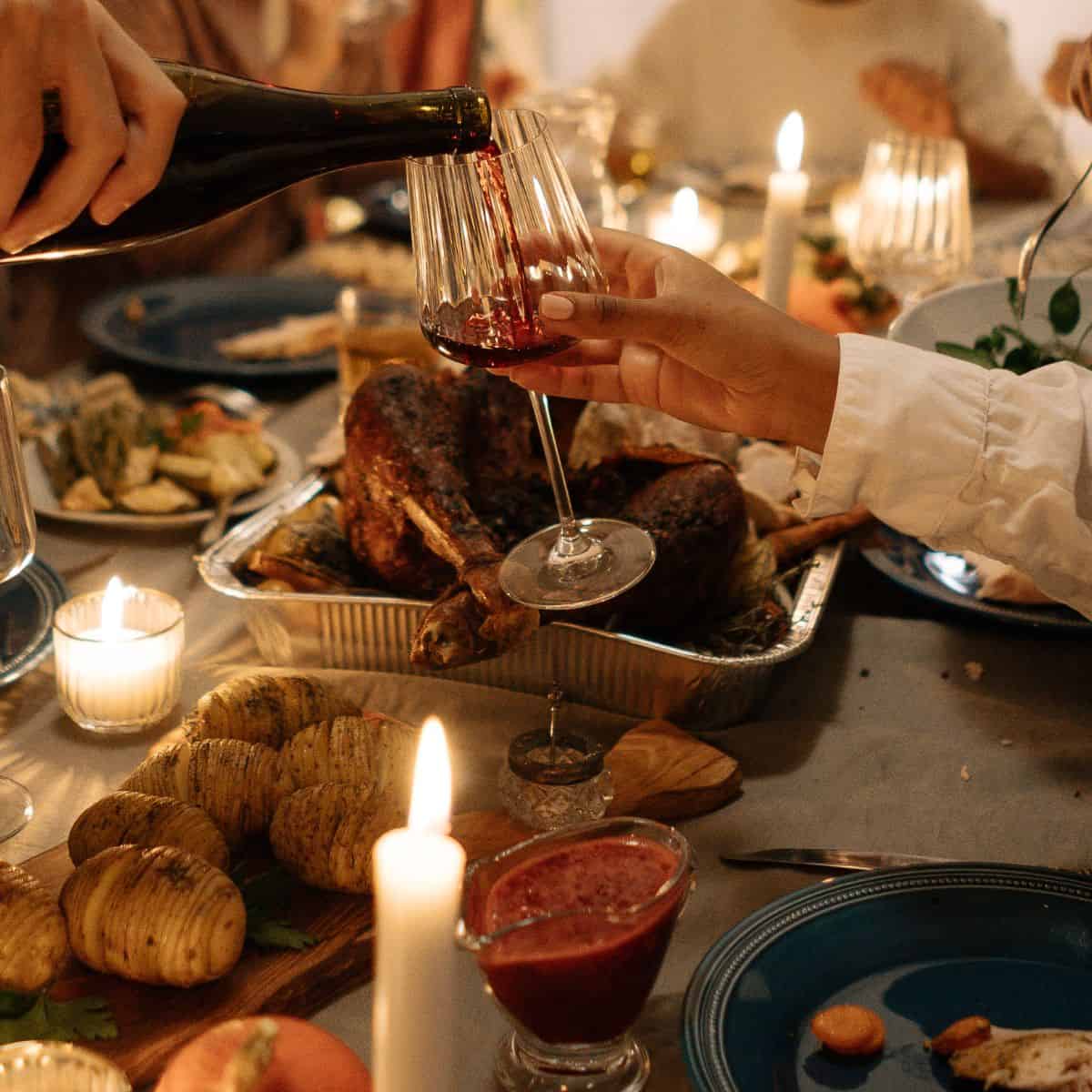 Pinot Noir
Most Pinot Noirs are smooth with spicy, fruity, and earthy flavors. Pinot Noir has a mild flavor profile that won't overpower any of your Thanksgiving food, yet it is bright enough to cut through some of the fat in the mashed potatoes and dark meat.
Zinfandel
Zinfandel is a bit more jammy and bolder with notes of baking spices when compared Pinot Noir. This creates a Thanksgiving wine pairing that provides some contrast while holding up to the food.
Zinfandel generally has a higher alcohol content and a fuller body, providing a slight spiciness to accompany the flavors of a traditional Thanksgiving meal. Spring for an old vine Zinfandel if your budget allows, it's totally worth it.
Cabernet Franc
Another dry red wine with an excellent balance between fruit and earthiness, Cabernet Franc is often blended with other varietals to lend said balance. Cabernet Franc is easy to drink and cuts through more decadent foods, making it the perfect red wine pairing for Thanksgiving.
Gamay
Similar to Pinot Noir, Gamay is bright and fruity with slightly more delicate flavors. An excellent sipping wine, Gamay is dry, making it a great wine for pairing with an array of holiday foods, whether on the heavy side or lighter.
My Red Wine Pick
Gamay is my go-to and my personal favorite for Thanksgiving. You can often find a lot of Beaujolais Nouveau, made from Gamay, released around Thanksgiving.
The Nouveau varieties are very young wines. It can be difficult to find a good Nouveau, so I recommend a Cru Beaujolais instead.
White Wine Pairings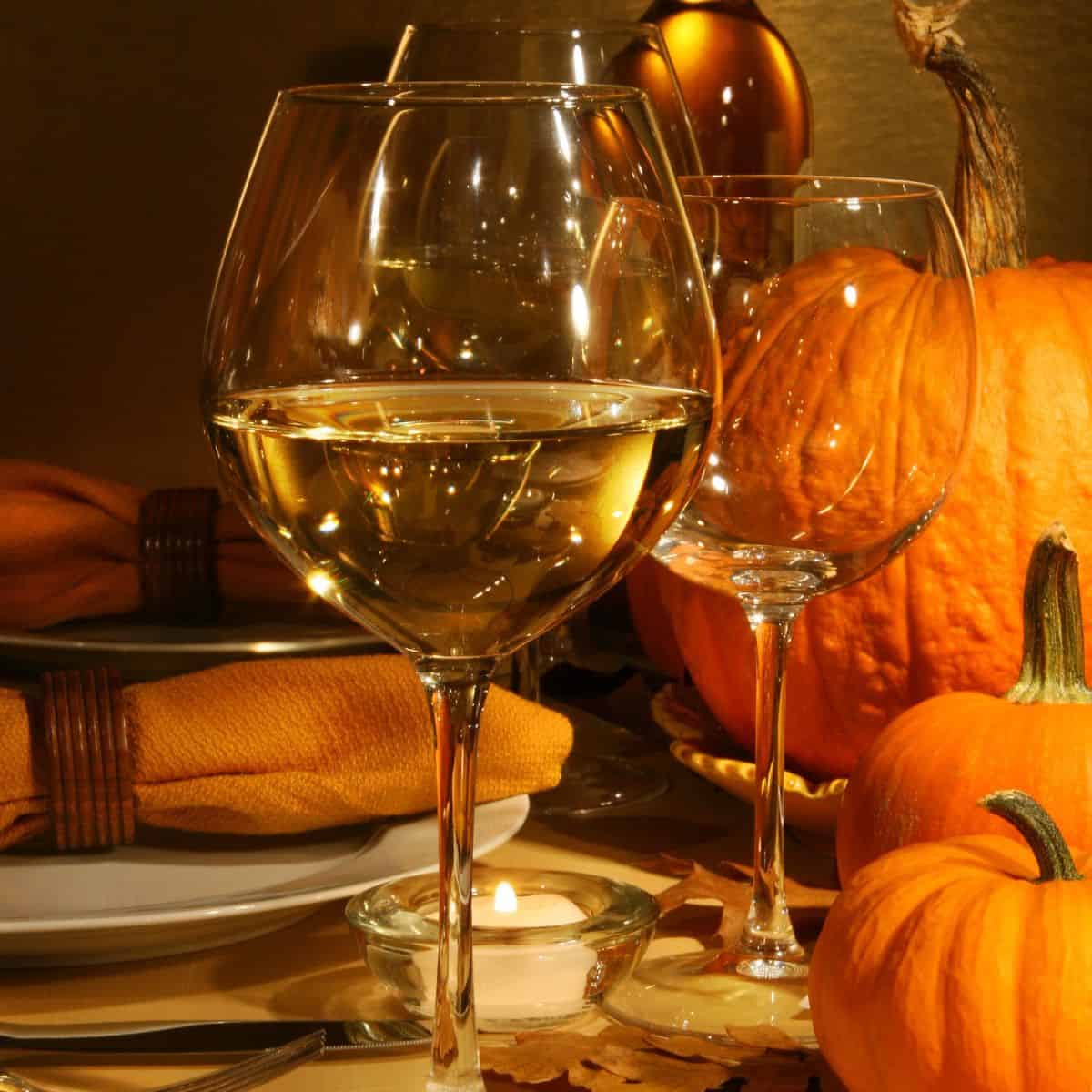 Chardonnay
Chardonnay is medium-bodied and dry, with a good amount of acid. These characteristics make Chardonnay an excellent choice for a hearty Thanksgiving meal. If you choose an oaked Chardonnay, the buttery notes will accompany your mashed potatoes perfectly!
Viognier
Viognier is a smooth, rich white that is fruity, delicious, and well-balanced. Its smooth finish won't overpower your meal and is also delicious on its own.
Sauvignon Blanc
This wine is known for its vegetal, grassy, bright lime notes, which will cleanse your palette in between mouthfuls of stuffing. If you want something to serve that is crisp, fresh, and easy to find, Sauvignon Blanc is an excellent addition to your wine pairings for Thanksgiving.
Chenin Blanc
Chenin Blanc is a versatile white wine that is perfect for Thanksgiving. Its crisp and high acidity and flavors of apple, pear, and citrus are the perfect match for turkey, ham, and other classic dishes. Chenin Blanc can also be enjoyed on its own as a pre-dinner drink (Aperitif) or dessert wine.
My White Wine Pick
My husband and I are the white white drinkers in our family. While a red Gamay may be what I drink with my Thanksgiving meal, you can definitely catch me sipping on Chenin Blanc while I'm finishing up in the kitchen before we eat.
It's a light and easy drink to offer people as they arrive, and it can carry on into the meal if you don't finish the glass before dinner is served.
Sparkling Wine Pairings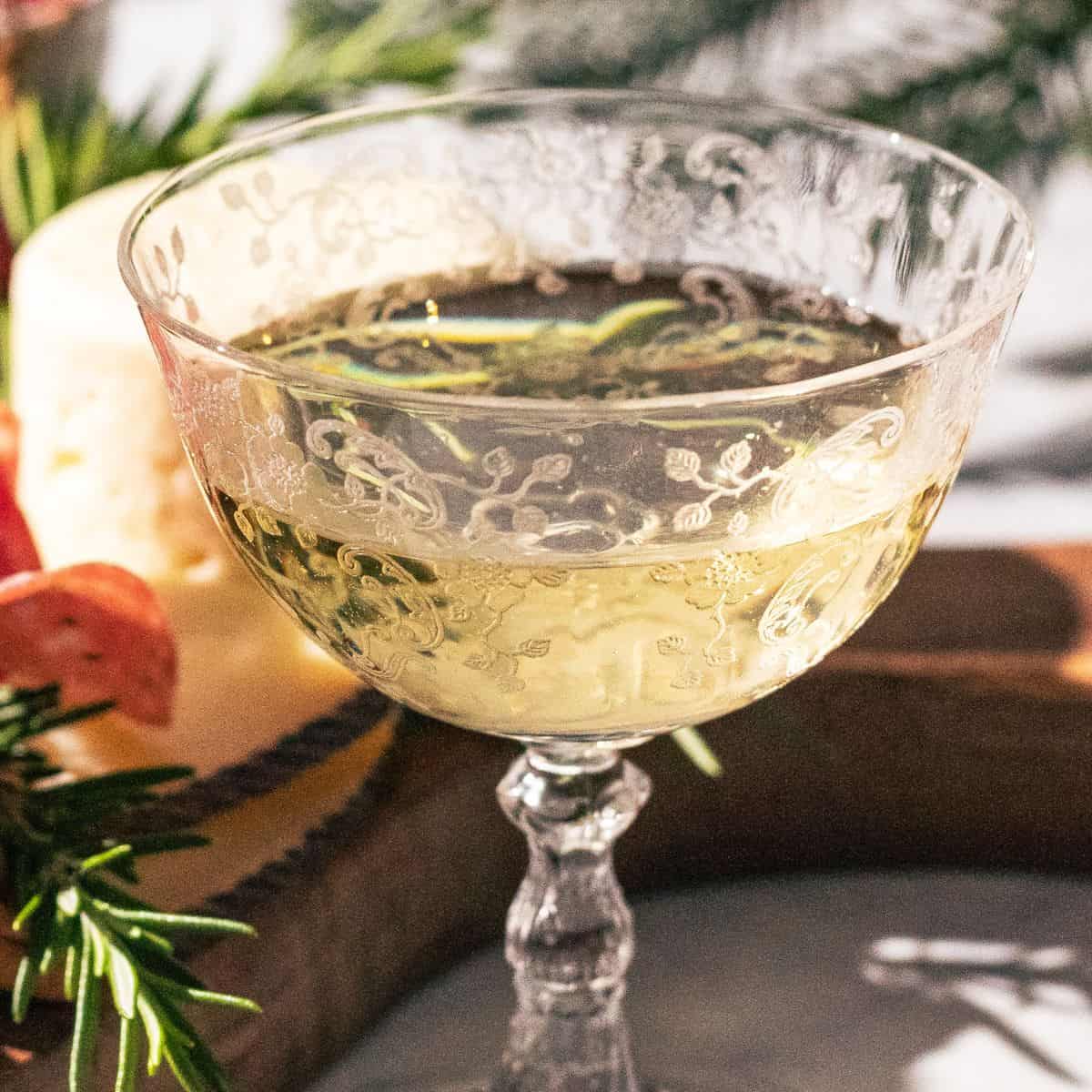 Prosecco
Prosecco is slightly sweeter than Champagne and has a balance of acidity and fruit. Besides being an elegant dinner accompaniment, the bubbles will cut through some of the fattiness of typical Thanksgiving dishes.
Sparkling Rosé
Sparkling Rosé can be dry or sweet; sparkling Rose, like Prosecco, is a tasty complement to Thanksgiving dinner. Most you find will be lightly sweet, satisfying the palette of anyone who may prefer that over dry wines.
Cava
This sparkling wine is friendlier to the wallet than the other sparkling wines and provides bright acidity and zesty citrus flavors. This dry sparkling wine is light to medium-bodied, perfect for anyone who wants to sip on something lighter that will still go great with dinner.
Dessert Wine Pairings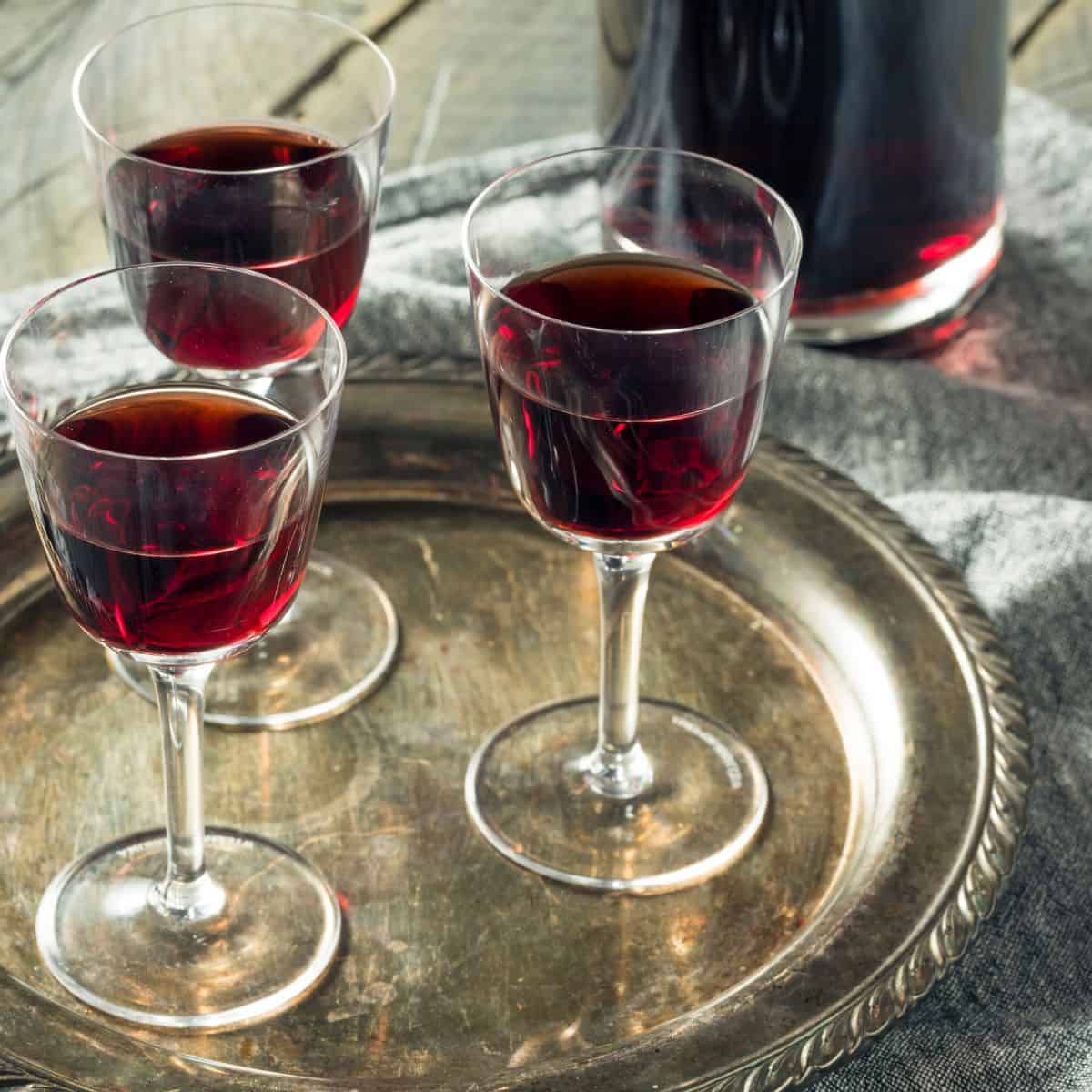 Sauternes
Sauternes is a lovely, full-bodied dessert wine ideal for enjoying after Thanksgiving dinner. With notes of stone fruit like apricots and quince along with baking spice flavors, you can enjoy it with apple or pecan pie.
Port
Port is probably the most well-known dessert wine and is perfect for dessert. The medium tannins in Port provide a good pairing with any chocolate-based dessert or nuts. Port, like Sauternes, can be enjoyed simply as a dessert on its own.
Late Harvest Riesling
Late Harvest Riesling should be included in your wine pairings for Thanksgiving as a good option for a guest who may not want to drink the heavier dessert wines but still wants something sweet to enjoy after dinner.
Unlike a dry riesling, the grapes are left on the vine longer before being picked to produce a higher sugar content resulting in a sweeter wine. Try finding a Finger Lakes region riesling as this is one of the region's specialties.
Thanksgiving Wine FAQs
How much wine should I plan per person?
An easy rule of thumb is one bottle of wine per person for Thanksgiving dinner and most holiday dinner parties.

While your guests may not each drink an entire bottle, approximately four glasses, you won't run the awful risk of running out of wine with this amount! If you have any leftovers, you can always make a holiday sangria, save it for Christmas, or send some home with your guests. 

This is just a rough estimate – ultimately, use your own judgment. If your guests are lukewarm in their love of wine and/or you're serving a selection of other beverages, like cocktails, you can adjust accordingly and maybe scale down to one bottle for every two people.

Also, keep in mind, that alcohol consumption typically slows down the longer the event.
If I'm still trying to decide what to pick, what is a wine that you can't go wrong with at Thanksgiving?
While I've given some great options above, I sometimes just want someone else to choose for me when there are so many options to choose from.

Considering versatility and accessibility, if I had to pick a single wine for someone else's Thanksgiving, I think Pinot Noir is an all-around best bet for red wine.

For white wine, Chardonnay is ideal for its full-bodied versatility and will pair great with most everything.
If I'm not hosting Thanksgiving, what is a good wine to bring the Thanksgiving host as a gift?
It's always great to show up to a dinner party or holiday with a bottle of something to share with your hosts.

For Thanksgiving, I recommend bringing along a bottle of something sparkling, like Prosecco, which is festive and pairs well with food. If you're comfortable spending more money, opt for Champagne to show your hosts you appreciate their hospitality!
More Food and Wine Guides
Did you find these guides or resources helpful?
Let me know in the comments and share on social media!

You can also subscribe or follow along on social media including Pinterest, Instagram, TikTok, and Facebook to get all of my latest and greatest.