These red skin mashed potatoes are exactly what you want – creamy, but just the right amount of texture and flavor from the skins. They are a great option for any night of the week or your holiday meals at Thanksgiving or Christmas.
Where I grew up, it was a "meat and potatoes" kind of place. Potatoes were usually in the form of mashed potatoes, so mashed potatoes are definitely a nostalgic comfort food for me. I typically like them silky smooth, but I like keeping the skins on when I use red skin potatoes. It gives a little extra texture and flavor to the potatoes.
Over the years, I've tried to flavor my mashed potatoes with lots of different things, herbs, garlic, cheese, sour cream, you name it. Adding all of those things are great, but sometimes they can be a little too much.
Don't get me wrong, I love garlic-y mashed potatoes, but have you ever had mashed potatoes where they went a little overboard? Not pleasant. Instead, I like to infuse my mashed potatoes with herbs and garlic.
Sounds fancy, but it's so easy and doesn't take up any additional time because the infusion happens while the potatoes are boiled. Read on for more and how to make these infused mashed potatoes.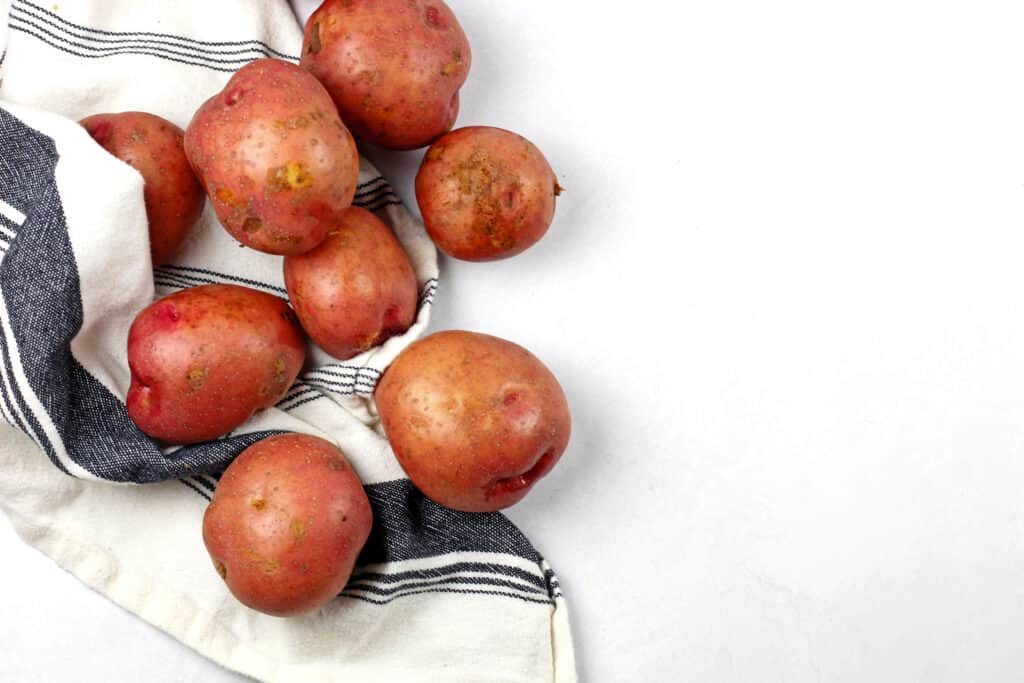 How to Make Red Skin Mashed Potatoes (with Infused Herbs and Garlic)
I'm not particularly eager to fuss with chopping up the potatoes before boiling, so I put in the potatoes in the water whole. Chopping them will cut down on boiling time, but you're also spending more time chopping potatoes – so I'm not sure which is really faster.
Anyway, while your potatoes are boiling, you'll melt butter and milk on low heat and add a couple of smashed garlic cloves and herbs to the pot. You'll let that mixture heat on low while the potatoes cook.
When your potatoes are drained and ready to mash, you'll simply strain the milk and butter mixture from the garlic and herbs. All the flavor is locked into milk and butter without being too overpowering. You'll add some salt and pepper and then mash those potatoes!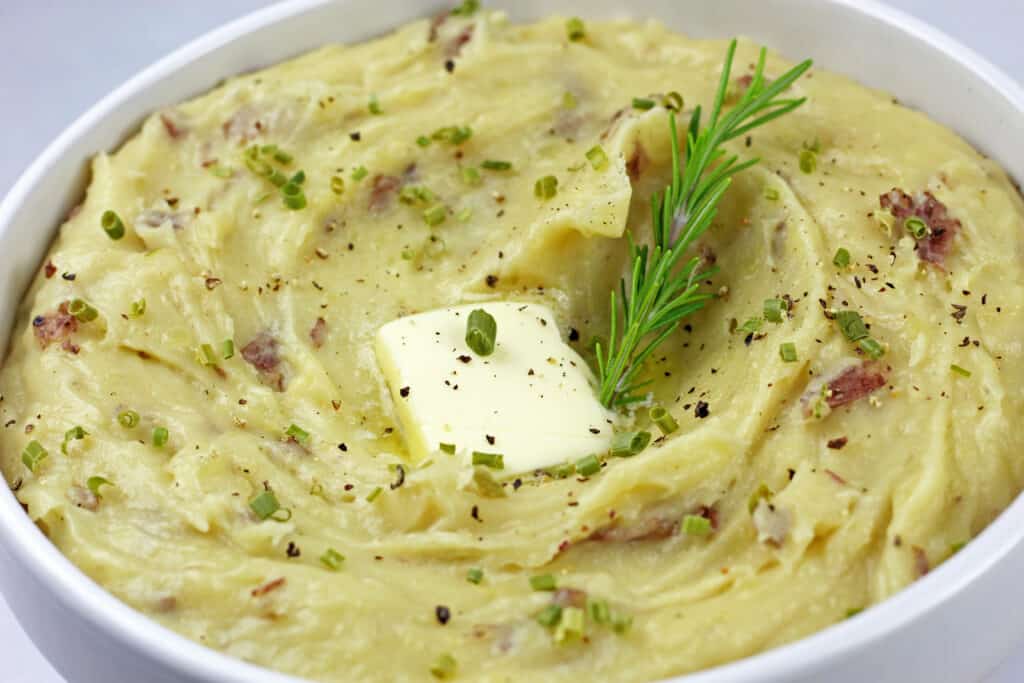 Ingredients
Red skin potatoes: You can use other types of potatoes, but if you're not going to peel them, I would only recommend potatoes with thin skins like red skin potatoes.
Butter: Butter is always best with mashed potatoes. If you're vegan or plant-based, you could use a vegan butter spread instead.
Milk: Use whole or 2% for the best flavor. If you want to use plant-based milk, I would use one with a little bit of fat like coconut but make sure it's plain or unflavored and not vanilla. I'm sure vanilla flavored mashed potatoes wouldn't taste great.
Garlic: You will be straining the garlic out, so just smash a couple of cloves, so they're broken up a bit and throw them in large pieces or chunks, so they strain easily (plus that's less chopping!)
Herbs: My go-to herbs are fresh rosemary and sage. Don't bother mincing them. I wouldn't recommend dried herbs, but you could use fresh thyme as well.
Salt and pepper: I usually salt the water that the potatoes boil in, and then I season with salt and pepper when I go to mash the potatoes.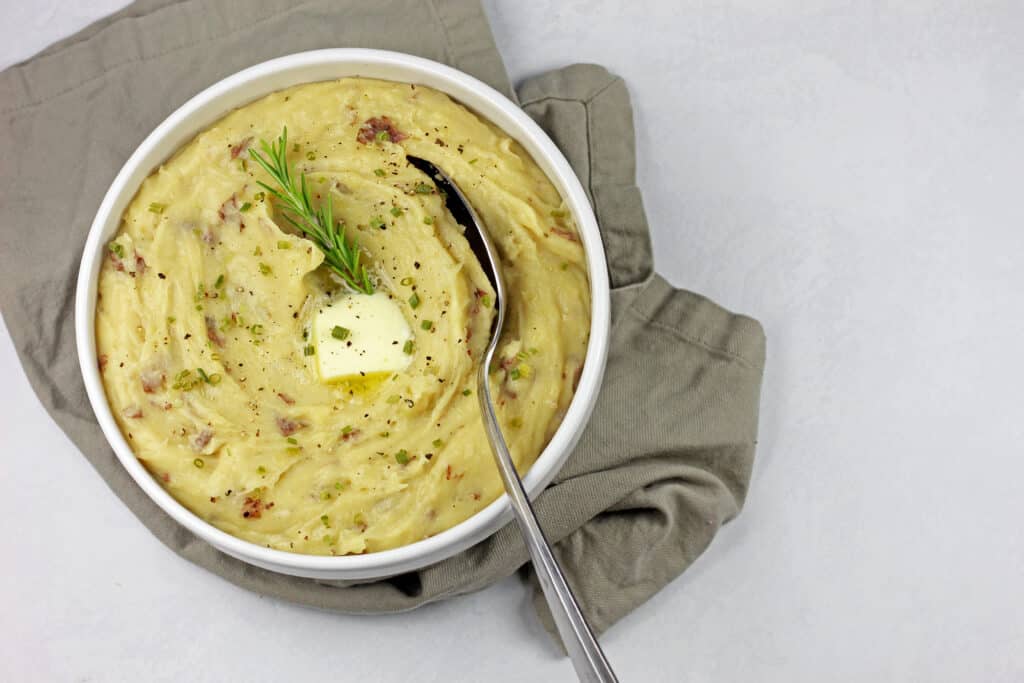 Make-Ahead Tips for Mashed Potatoes
If you want to make these mashed potatoes in advance of a big dinner or holidays like Thanksgiving or Christmas, you can make this recipe a day or two ahead, refrigerate, and reheat just before serving. To ensure that you don't dry them out, you'll put a non-plastic bowl (I use a stainless steel bowl) of the potatoes over a pot of simmering water (double boiler style) and stir them occasionally until they're reheated. If they begin to look a little dry, add in more milk as needed until they're silky smooth again.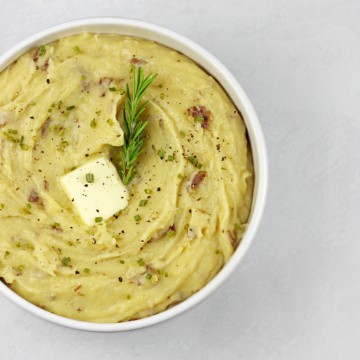 Red Skin Mashed Potatoes
Ingredients
2 ½

lbs.

red skin potatoes

washed and scrubbed

½

stick

butter

(4 tbsp.)

½

cup

milk

ideally whole milk

2

cloves

garlic

peeled and smashed

1

sprig

fresh rosemary

5-10

leaves

fresh sage

Salt and pepper

to taste

Additional butter and herbs for garnish and topping

optional
Instructions
Place potatoes in a large pot and cover with cold water by at least 1″. Add salt to the pot and bring to a boil. Reduce heat and simmer until potatoes are tender about 25-30 minutes.

Meanwhile, heat butter, milk, garlic, and herbs in a small pot over low-medium heat. Once butter melted, turn the heat down to the lowest setting, and allow the mixture to sit while potatoes cook.

Drain and mash potatoes while still hot. Strain the garlic and herbs out of the hot milk mixture. Add mixture to the potatoes, whipping with an electric mixer, or using hand masher until potatoes smooth. Season with salt and pepper to taste.

Serve immediately, or make ahead (see notes)
Notes
Reheating instructions:
To make ahead, then reheat, place potatoes in a heat-proof bowl and refrigerate for up to 3 days. When ready to reheat, place the bowl over a pot of simmering water on the stovetop, stirring occasionally. If potatoes look dry, add more milk (about ½ cup or more) as needed until silky and warm.
CLICK TO DISPLAY NUTRITION INFO
Nutrition
Calories:
251
kcal
Carbohydrates:
40
g
Protein:
5
g
Fat:
9
g
Saturated Fat:
5
g
Polyunsaturated Fat:
0.4
g
Monounsaturated Fat:
2
g
Trans Fat:
0.3
g
Cholesterol:
23
mg
Sodium:
330
mg
Potassium:
935
mg
Fiber:
6
g
Sugar:
13
g
Vitamin A:
36588
IU
Vitamin C:
37
mg
Calcium:
101
mg
Iron:
1
mg