Creating a charcuterie board with various accompaniments is an elegant and tasty addition to any party or gathering, so it's critical to pair the right wines to take your board to the next level.
This guide will help you throw your next soiree with the best wine for charcuterie boards.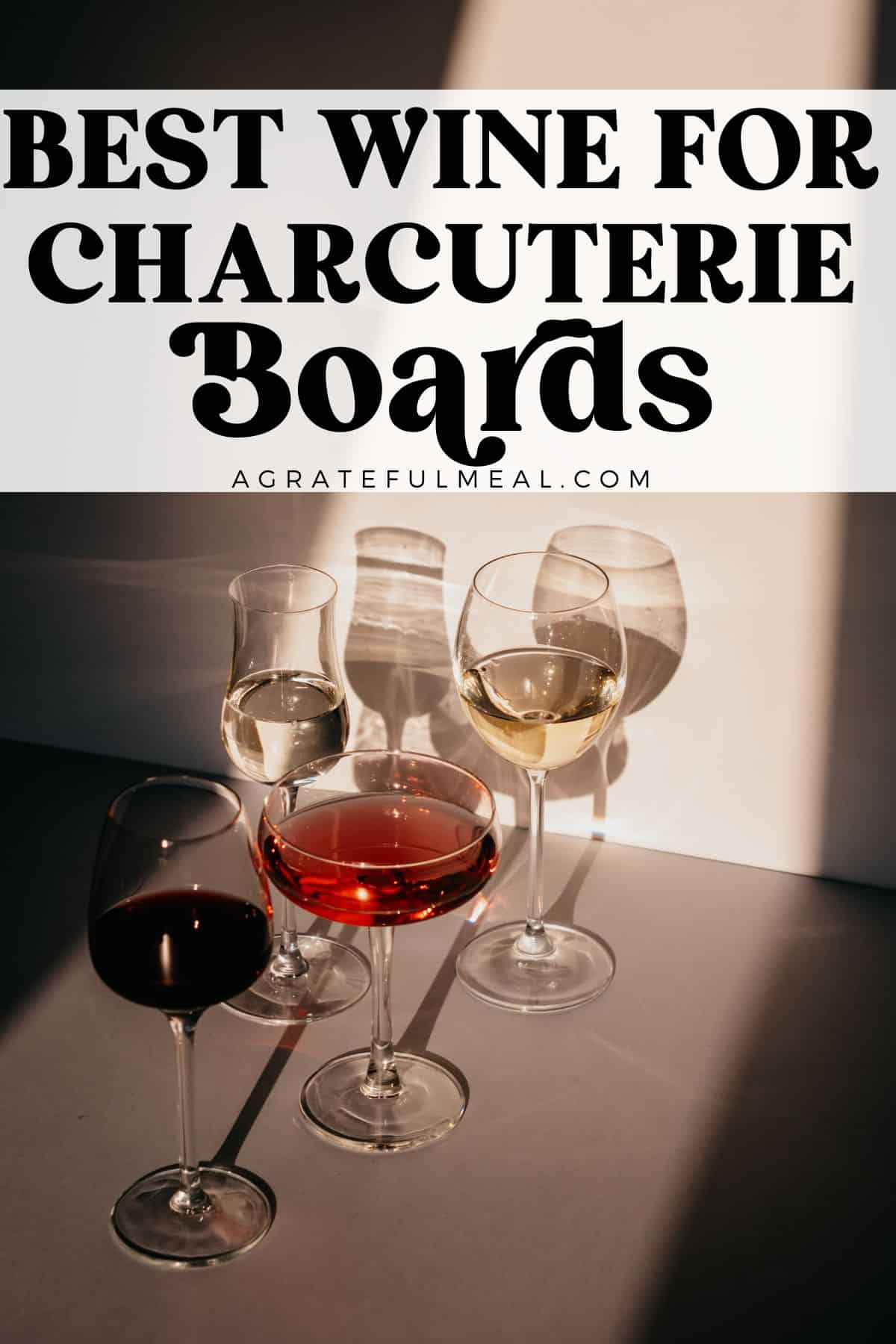 If you love wine, be sure to check out my wine cocktails like this Tinto de Verano Spanish cocktail.
Jump to:
How to Determine Wine Pairings for Charcuterie
Wine and food pairing is a delicate balance of complimenting without overpowering to create an unforgettable experience. When it comes to pairing charcuterie with different types of wine, it's no different.
Before we get into some basic pairing details, let's learn a little about charcuterie and what it is.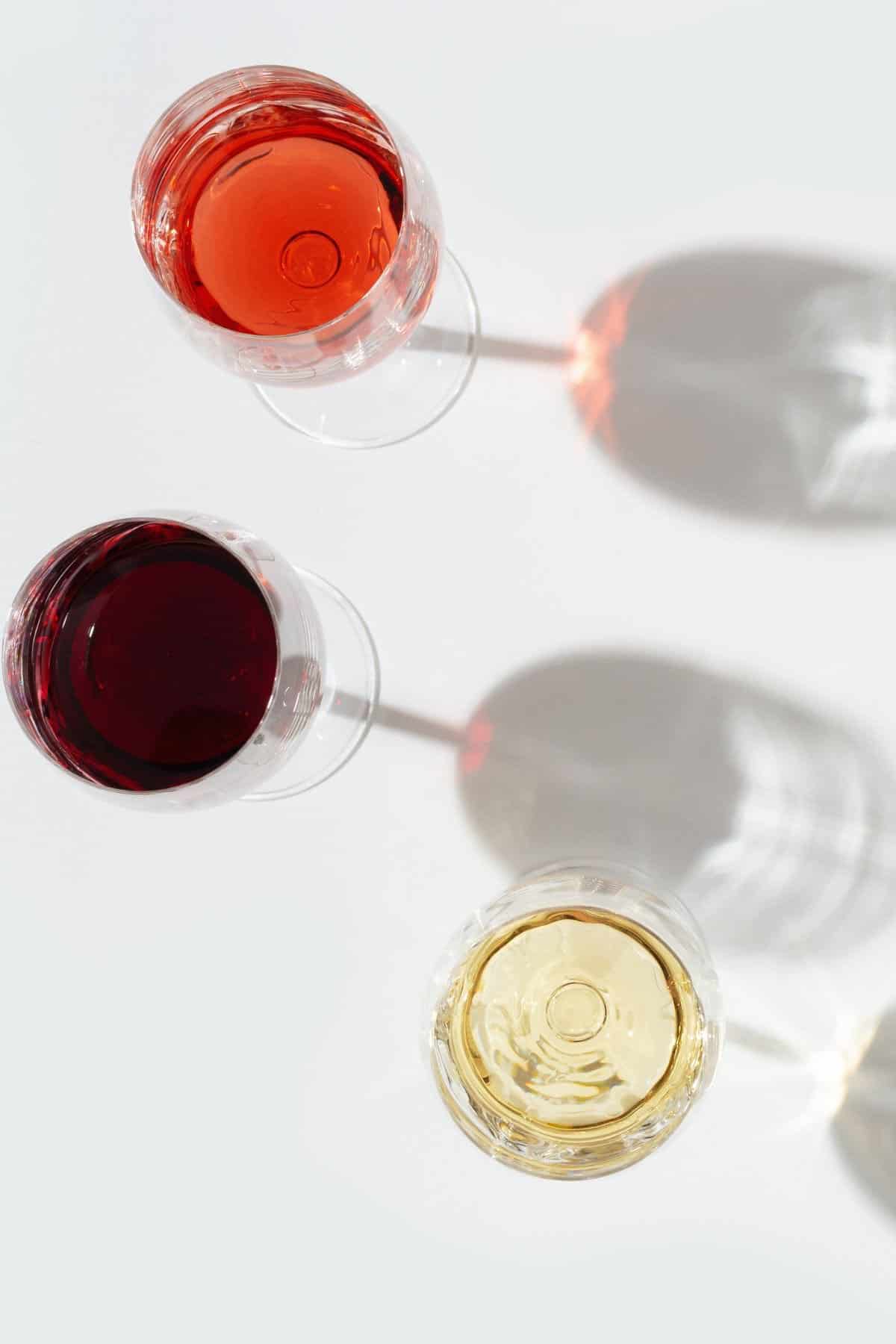 What is Charcuterie?
Charcuterie refers to the preparation of cured and dried meats and, more commonly, refers to just the meat product itself. Charcuterie is a French word that dates back to the 15th century, translating to "flesh" and "cooked" from the French words "chair" and "cuit."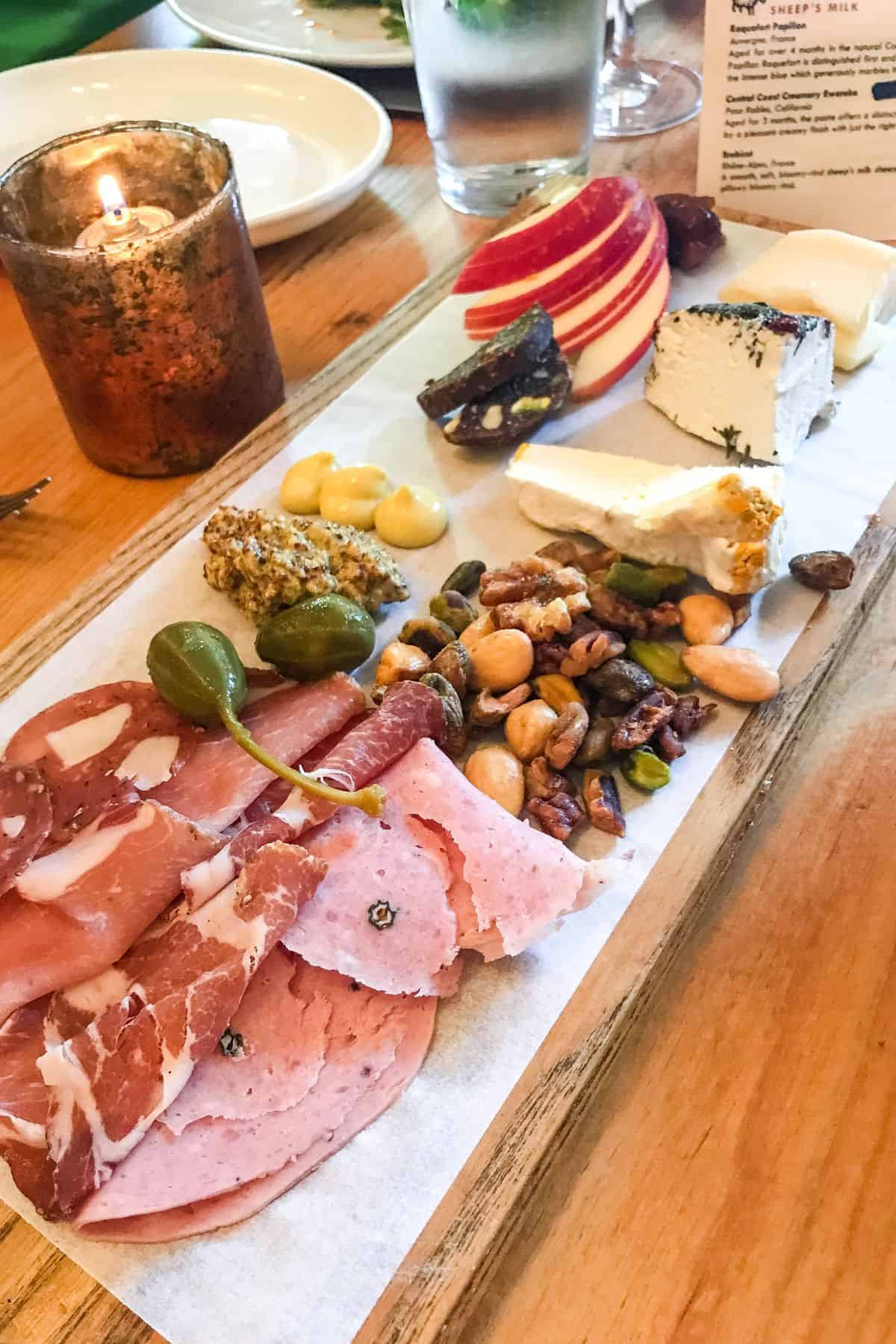 Charcuterie includes everyday items like sausages, bacon, ham, and things less commonplace in the American diet, such as terrines, ballotines, and pates.
Initially, charcuterie was created as a way to preserve fresh meat before the invention of the refrigerator. Today, the range of charcuterie that you can find in grocery and specialty stores provides a little something for any meat-eating human.
These days, the word charcuterie is used more widely when talking about meat, in addition to cheeses and their accompaniments, which are intentionally paired together to complement one another.
To create ideal flavor combinations, you can follow some simple rules as a helpful guide when determining the best wine for charcuterie boards.
The best place to start is to pick out the meats and cheeses first, followed by the wines that will pair nicely with them.
Picking Your Cheeses
For a charcuterie board, I suggest picking at least three different types of cheeses.
Try to include:
one hard cheese
one soft cheese
one fresh cheese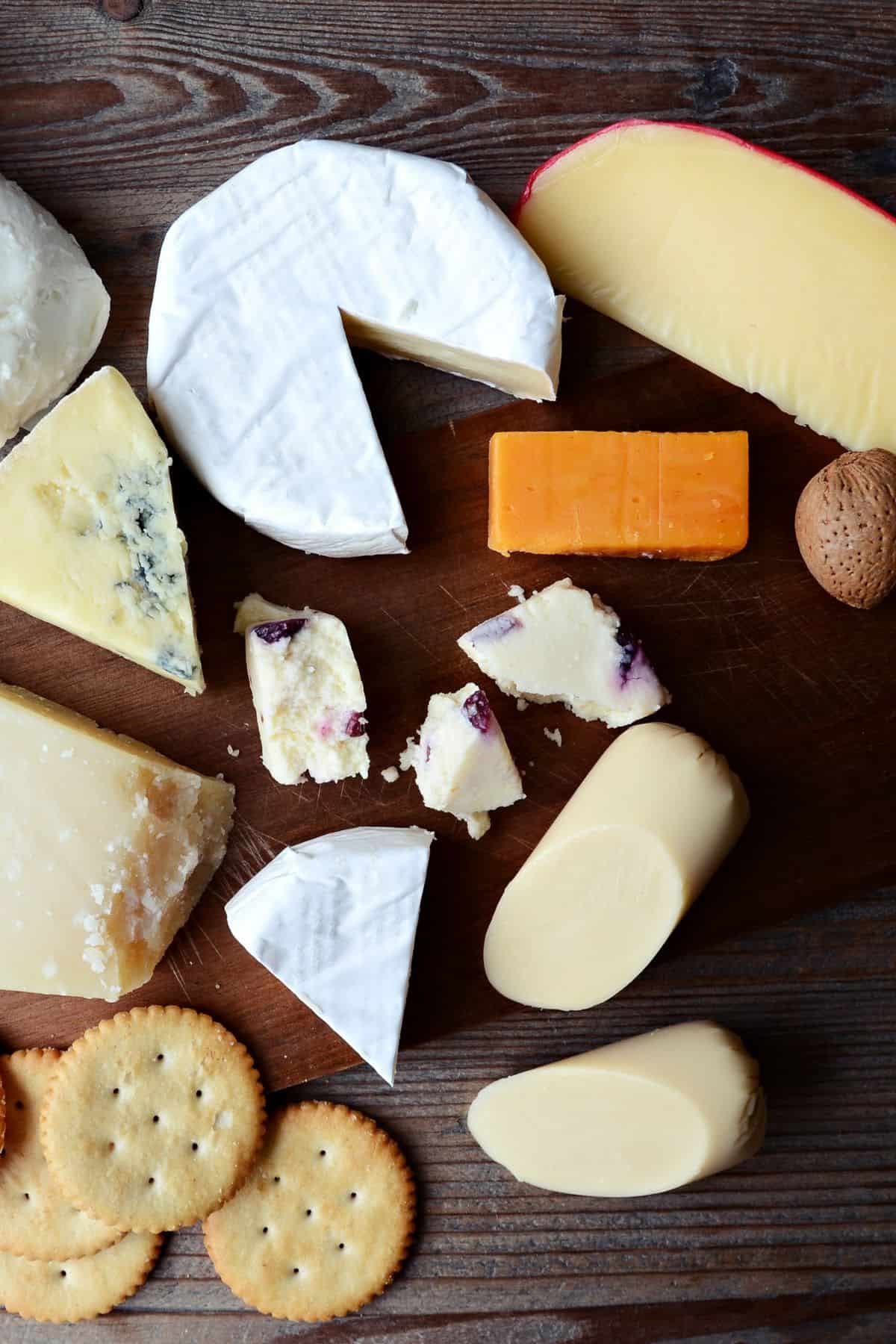 Hard cheese: these tend to be aged, which means that hard cheeses will be saltier and more assertive in flavor. Examples include:
Soft cheese: these usually have a white, bloomy rind with a creamy texture inside that is fatty and rich. Examples include:
Brie (baked brie is especially good!)
Camembert
Cambozola
Robiola
Fresh cheese: these are mild, soft, and sometimes a little tangy because they haven't been aged. Examples include:
Sometimes cheeses include a washed rind or blue cheese, which gives more funk and character (think "stinky" cheese).
Washed rind cheeses can be hard or soft. Gruyere is an example of a hard, washed rind cheese, and taleggio would be an example of a soft, washed rind cheese.
These cheeses are a great choice with meats and accouterments like olives and other pickled vegetables.
Picking Your Meats
As with your cheeses, pick three types of meat for your charcuterie board.
Mild
Medium bold or spicy
Bold and spicy
Including a variety of different kinds of meat will ensure that you have excellent wine and cheese pairings.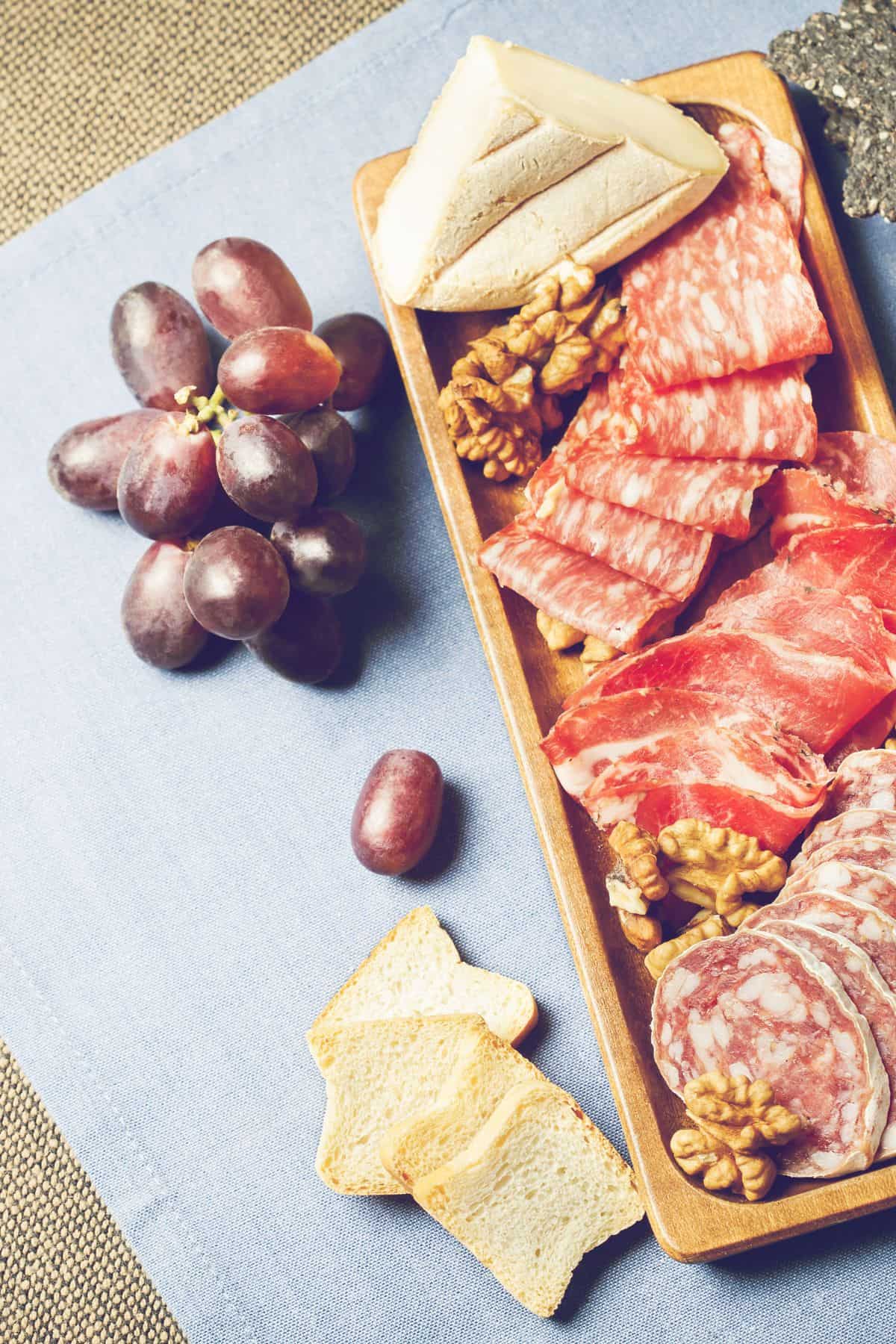 Mild meat choices: these meats are versatile, and their light flavors make them easy to pair with other cheeses and wines.
Prosciutto (my fav!)
Soppressata
Chicken liver pate
Medium/slightly more bold or spicy meats: these meats are not mild but also not too bold to pair with lighter accompaniments. Examples include:
Bold and spicy meats: these have lots of spice and flavor for your third choice to complete the board. Examples would be:
Spicy salami
Bresaola
Jamon Iberico
Peppered country pate
Truffled meats
Pro tip: If you need help with how much cheese or meat to serve per person, check out my post on Mini Charcuterie Board Ideas – it gives proper estimates for both mini (or appetizer) sized and larger (or entree) sized portions of meat and cheese for a charcuterie board.
Once you've selected the meats and cheeses for your charcuterie board, it's time to start thinking about what wines to pair them with.
Pairing Wine with Charcuterie
Select wines that will not overpower but enhance the flavor of your cheese and meat to get the most out of your wine and charcuterie pairings.
If you and your company feel adventurous, you can suggest doing smaller pours to try different wines (like a wine tasting at home) with your charcuterie board.
If you decide to do this, make sure to give your glass a good rinse between tastings to ensure that the flavors of the wine don't co-mingle.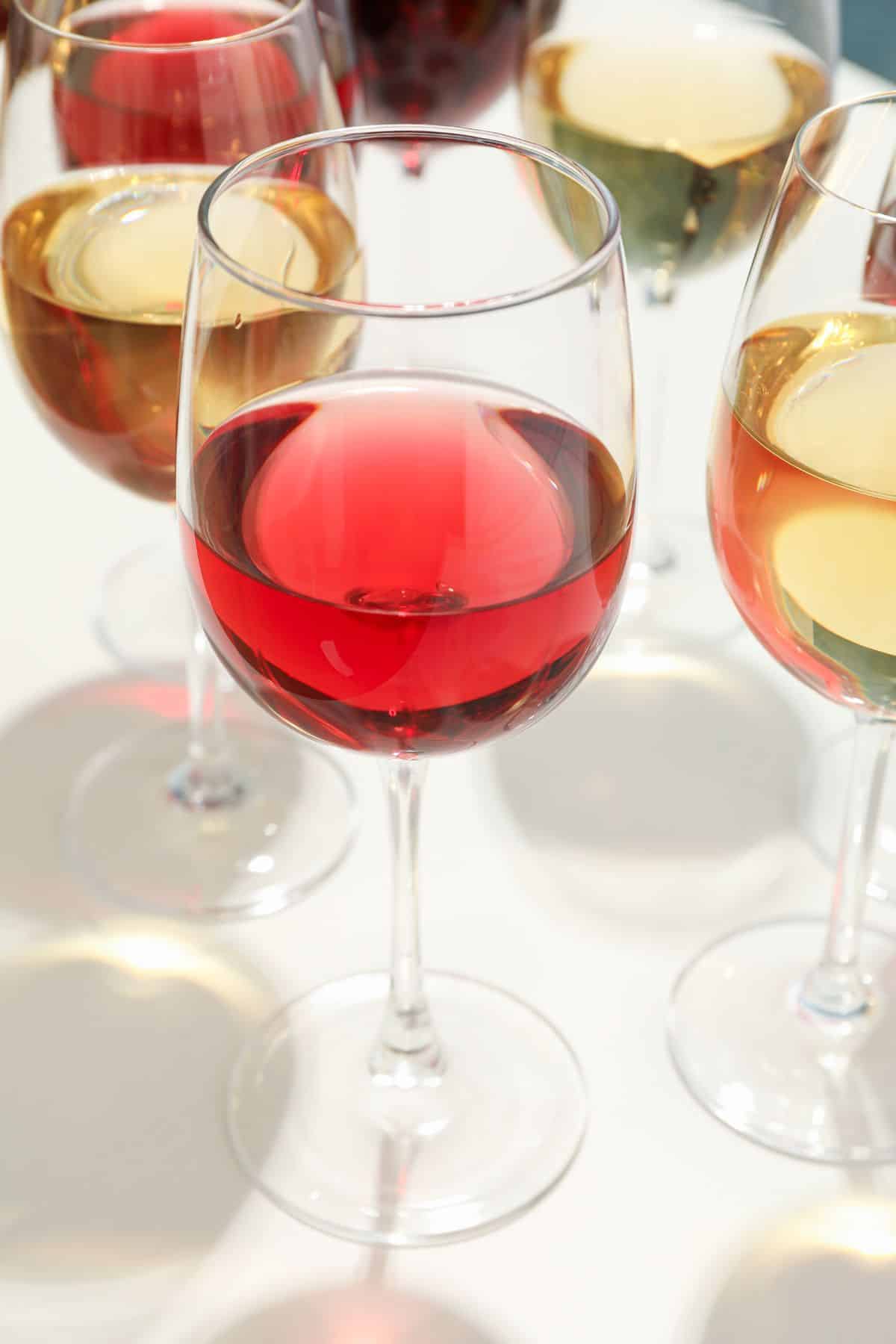 To make your best pairing when it comes to wine with meats and cheeses, consider your foods' fat, salt, and heat characteristics. A few tips for you:
The wine you are serving with your food must always be more acidic. Acidic and crisp white wines will cut through fatty foods by "cleansing the palate."

For red wines consider bolder red wines with lots of tannins that can stand up to lots of fat since high tannins give the bolder reds a dry characteristic. That crisp or tannic flavor helps balance the flavors of the charcuterie board.
While it is essential to serve the wines you love, make sure you don't choose wines that may "disappear" amongst the potentially big flavors of your charcuterie board.

Match the boldness of your wine with the boldness of your food, or, if you are going with lighter cheeses and meats, stick with delicate and lighter wines that will still come across when paired with the food.
Wine pairings with Fresh Cheeses and Light Charcuterie
Pick a delicate red and white to enjoy alongside lighter charcuterie items. Fresh cheeses are very mild, with tangy notes, while milder meat tends to have less salt and little heat or spice.
Red wines that pair well with these types of meat and cheese will have low tannins that don't interrupt the flavor of the food. Grenache and Cinsaut are red wines low in tannins but still with some light acidity.
For lighter-bodied white wines, try something like a sauvignon blanc or pinot gris.
Sparkling and rosé wines are good options for fresh cheeses and mild charcuteries since they can be slightly fruit-forward. The acidity of these wines pairs well with some of the high salt content from the charcuterie.
Muscadet (melon), from the Loire Valley of France, is another great option among light-bodied whites with plenty of acidity that pairs well with pickled vegetables. It's considered a great "palate cleanser."

It's typically paired with seafood, so it's even better if you are adding smoked fish, seafood pate, oysters, or my personal favorite, pickled shrimp to your board.
Note: Muscadet is not sweet – don't confuse it with muscadine or moscato wine.
Pro tip: If you can find a bottle of muscadet that says "sur lie" on the label, you'll find it might have a yeasty, fresh bread flavor. Sur lie translates to "on the lees" – which means it was aged with old, inactive yeast cells.

Yeasty bread is one of my favorite wine-tasting notes. And we all know that good bread is a critical part of the perfect charcuterie platter.
Wine pairings with Soft Cheeses and Medium Bold Meats
Don't choose a wine that will completely take over your taste buds, preventing you from enjoying the charcuterie.
Fruity reds such as Pinot Noir and Beaujolais are flavorful without overpowering, perfect for a creamy cheese with some character from the rind.
For dry sparkling wine, pairing it with creamy cheeses and medium charcuterie is an excellent match. Not only does the effervescence from the bubbly clear the creaminess from your palate, but it also cuts through the fat content of the meat.
Wine pairings with Hard/Aged Cheeses and Big-Flavored Meats
These meats and cheeses will be balanced out by bolder wines that can stand up to flavor.
Full-bodied red wines like petite Sirah or a jammy Zinfandel are excellent for hard cheeses and spicy meats.
For full-bodied whites, go with an oaked Chardonnay or Viognier. Oaked chardonnays tend to be from California, Chile, Spain, and Argentina.
A dry riesling is an aromatic wine that does well with both spice and higher fat content meats.
What Else to Include With Your Charcuterie Board
A beautiful charcuterie board can be an appetizer to a meal or the grand attraction of the evening. Since you can add so much variety to make your board exciting and delicious, the possibilities for pairing are endless.
Other good options to include:
Dried and fresh fruits
Salted and raw nuts
Jams
Honey
Pickles
Raw vegetables
Dips (hummus, pimento cheese spread, tapenade, pesto, etc.)
Bread and crackers
Pro tip: You can purchase baguettes from your local bakery and slice them to make crostinis in the oven. Use olive oil, salt, and some raw garlic rubbed on the crisped bread to offer another vehicle for enjoying the charcuterie.
With all the different colors and textures going on, it's easy to make charcuterie boards beautiful by creating different interesting patterns with your ingredients.
Sticking to some simple rules, you will look like a real expert to your guests. Most importantly, always enjoy your good food and wine with great company!
Wine and Charcuterie FAQ
How do you pair wine and charcuterie?
Match the boldness of your wine with the boldness of your food, or, if you are going with lighter cheeses and meats, stick with delicate and lighter wines that will still come across when paired with the food. 
What other items pair well with wine and charcuterie?
For lighter charcuterie meats and cheeses, try dried apricots, peaches, and honey.
For medium bold meats and soft cheeses, add fresh fruit and unsalted nuts.
For strongly flavored cheeses and bold meats, add full-flavored extras like salty nuts, briny olives, and acidic pickles. 
How much wine and charcuterie should I plan per person?
Most bottles of wine contain about 4-5 glasses of wine (give or take depending on how heavy your hand is!) I recommend estimating 1.5 glasses of wine per person per hour.*

So for a get-together of 4 people lasting about 2 hours, that would be about 2.5 – 3 bottles of wine ([# of people x # of hours x 1.5 glasses]/4 or 5).

It's never a bad idea to have an extra bottle or offer cocktails or beer as a backup just in case the get-together runs longer than expected or guests drink more than anticipated.

*1.5 glasses is just a rough estimate – ultimately, use your own judgment. Depending on how much your guests love wine, you want to adjust accordingly. Also, keep in mind, alcohol consumption typically slows down the longer the event.

For charcuterie estimates, you'll want to check out my post on estimating meat and cheeses for charcuterie.
More Guides for Wine and Charcuterie
More Ways to Explore Wine
Did you find these guides or resources helpful?
Let me know in the comments and share on social media.