Charcuterie boards aren't just for large parties, here are some mini charcuterie board ideas that you can have for any meal or snack and any day of the week.
Meat and cheese lovers unite under the great invention that is the charcuterie board. Honestly, there isn't a way that you can "mess up" a simple charcuterie board because you get to choose what goes on your board based on what you like to eat.
If sharp cheddar is your go-to cheese, then add it to the collection. Gouda too? Perfect. For those that may not know, a charcuterie board is a mixture of cured meats, cheeses, crackers or bread, nuts, dipping sauces, and different kinds of fruits elaborately placed on a decorative wooden board.
The word Charcuterie (shar-KOO-te-REE) was originally used for how cured meats are prepared but now we use it in reference to the gorgeous and colorful meat and cheese plates that we have come to know and love.
Jump to:
Large vs. Mini Charcuterie Boards:
The reason we love these glorious boards so much is not only because it's delicious but also because they are so versatile. You can make make a plate just for you, prep them for snacks during the week, or you can even have individual plates for the next party you host. The creative options are never-ending!
Since charcuteries are great for a large group of people it has become the perfect appetizer for parties. But, let's be real, sometimes we just need a few mini charcuterie board ideas just for ourselves to enjoy at home on a weeknight.
A smaller charcuterie platter is a favorite meal or snack in my house. You do not have to reserve charcuterie boards for special occasions. We can definitely create a small charcuterie board while still keeping it fun and fancy.
There are a few keys to the perfect charcuterie board (whether you choose big or small boards) that I will outline here.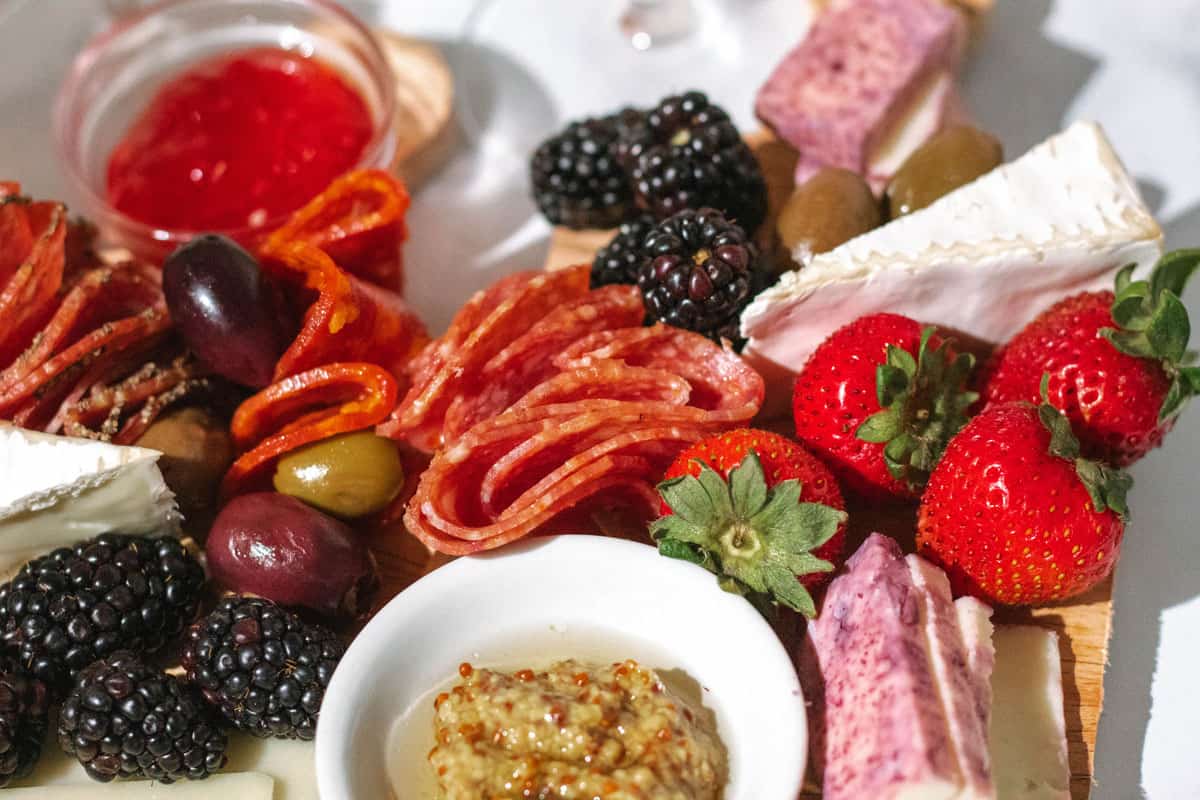 How to Create Charcuterie Boards:
A good charcuterie board is quite simple – the staples that you will need are meat, cheese, crackers/bread, and extra flavors. The star of the show of course is the meat and cheeses.
Start by laying down the sauces or condiments in ramekins.
Add cheeses around the board.
Then add the meat products – you can get fancy by folding and rolling them for fun.
Add your extras in empty spaces with things like crackers, fruit, nuts, olives.
You can also garnish the board with some fresh herbs if you're feeling extra fancy.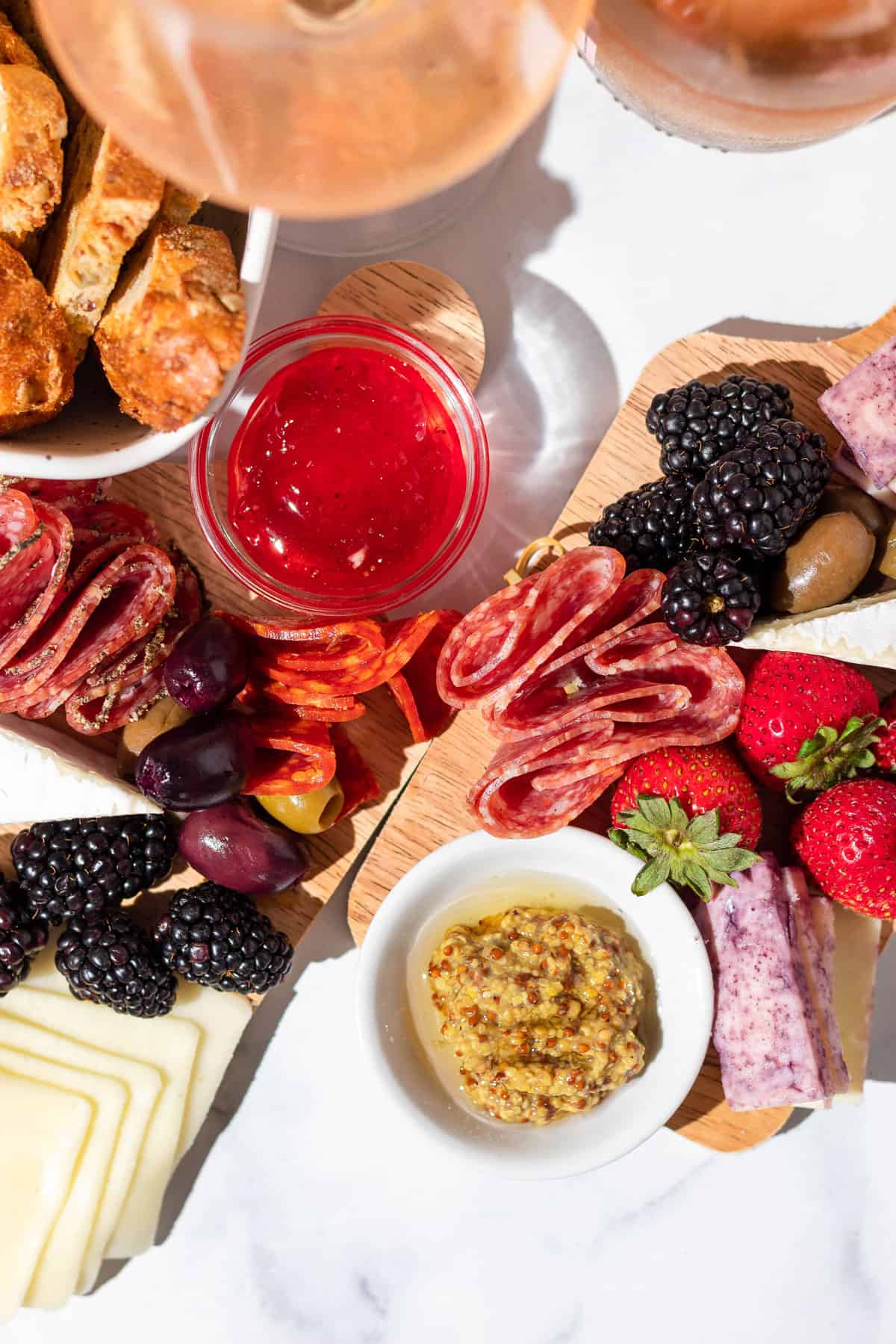 Choosing Cheeses:
There are so many kinds of cheeses to choose from. They usually fall into two categories – either hard or soft cheeses.
Examples of hard cheeses:
Gruyere
Pecorino
Cheddar
Parmesan
Colby
Examples of soft cheeses:
Then, of course, there are semi-hard cheeses that are in the middle such as manchego. It's a good idea to pair at least one soft cheese and one hard cheese together since different types of cheese can give different textures and flavors.
If your favorite cheeses aren't suggested, then just go with your favorite things! This is completely adaptable to what you like.
Choosing Meats:
Next, you'll need an assortment of meats. For meat, you can never go wrong with thin slices of salami, prosciutto, or some good quality pepperoni. Here are some of my favorites:
Proscuitto
Salami
Chorizo
Sopressata
Mini Charcuterie Board Ideas for How Much Meat and Cheese to Serve
Whether you are making a large board or a small, individual board – here are a few guidelines that will help you determine how much meat and cheese you need for the amount of people you want to serve:
Aim for 2-3 oz. of meat per person and 2-3 oz. cheese per person for an appetizer. For a 2-3 person board, that would be 4-6 oz. meat and 4-6 oz. cheese.
Double the portion of meat and cheese if it will be served as a main course. For a 2-3 person board, that would be 8-12 oz. meat and 8-12 oz. cheese.
Choosing Crackers and Other Items:
When it comes to crackers, you can be as creative as you want to with different shapes, consistencies, and flavors. I like to also use baguette slices that I've toasted. If you go the cracker route, here are a few that are staples in my house:
Now, the extras and other items can really make a board shine. Adding these will level up your charcuterie experience and are a great addition to any board. A few mini charcuterie board ideas to get you started:
Seasonal fruit – in the summer this could be any sort of berry or melon. You can't go wrong with fresh fig in the fall.
Nuts – almonds and pecans are my personal preference. You can also experiment with different flavored nuts like smoked almonds or candied pecans.
Jam or jellies – buy your favorite fruit jam or you can explore sweet and spicy combinations. One of my favorite jams is a strawberry jalapeno jam that I buy from a local seller.
Mustards – you can go with honey mustard, tangy mustard, or spicy mustard. My favorite is stone-ground mustard.
Pickled vegetables – olives, cornichons (tiny pickles), pickled okra or red onions are all great options.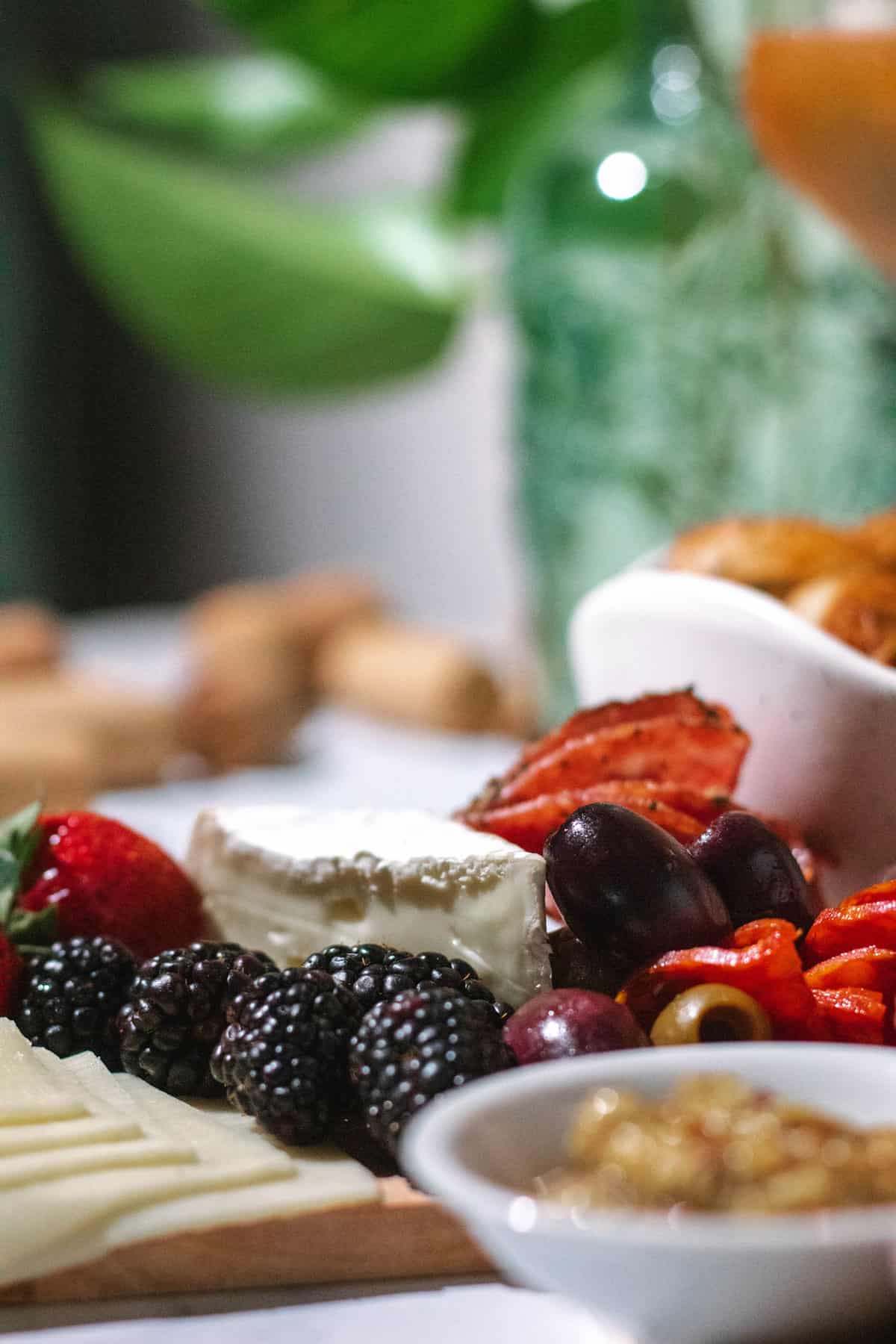 Whether you prefer sweet or savory, get creative and enjoy your personalized board. Some examples of combining the different accompaniments:
Fresh blackberries and goat cheese on a cracker with a drizzle of honey on top will have you dreaming about it at night.
Grab a slice of fontina, add a dried apricot, top off with candied pecans and prepare to have your taste buds explode.
You can obviously find charcuterie meats and cheeses at your local grocery store, but they can be pricey sometimes. Here are a few places where you can find affordable options for meat and cheese:
Costco – Costco has charcuterie "kits" where a variety of cheeses come in one package so you don't have to think about which cheeses to pair with which. You can also buy larger quantities if you need a larger board. They always have variety packs of meats as well.
Trader Joe's – TJ's will never steer you wrong when it comes to affordable cheeses. They also have a great selection of charcuterie meats.
Aldi's – They have both a great cheese and meat selection. I will say sometimes Aldi goes a little over the top with cheese flavor combos (I once saw an eggnog goat cheese, which was not my thing), but I've also seen a lot of good quality traditional cheeses and meats like brie, blue cheese, proscuitto, etc.
Tools for Charcuterie Boards:
The best part of creating a charcuterie board is that you don't need to have a whole bunch of fancy things to make it. All you need are cheese knives for slicing your cheese, ramekins or small bowls for holding jams and honey, a honey dipper, and lastly, a beautiful charcuterie board to place everything on.
I have larger wooden boards that I use, but I really like these smaller sizes of charcuterie boards that I found in the Target Dollar Spot for my personal charcuterie boards. Here are a few of my favorite charcuterie board tools:
Storage and Food Safety: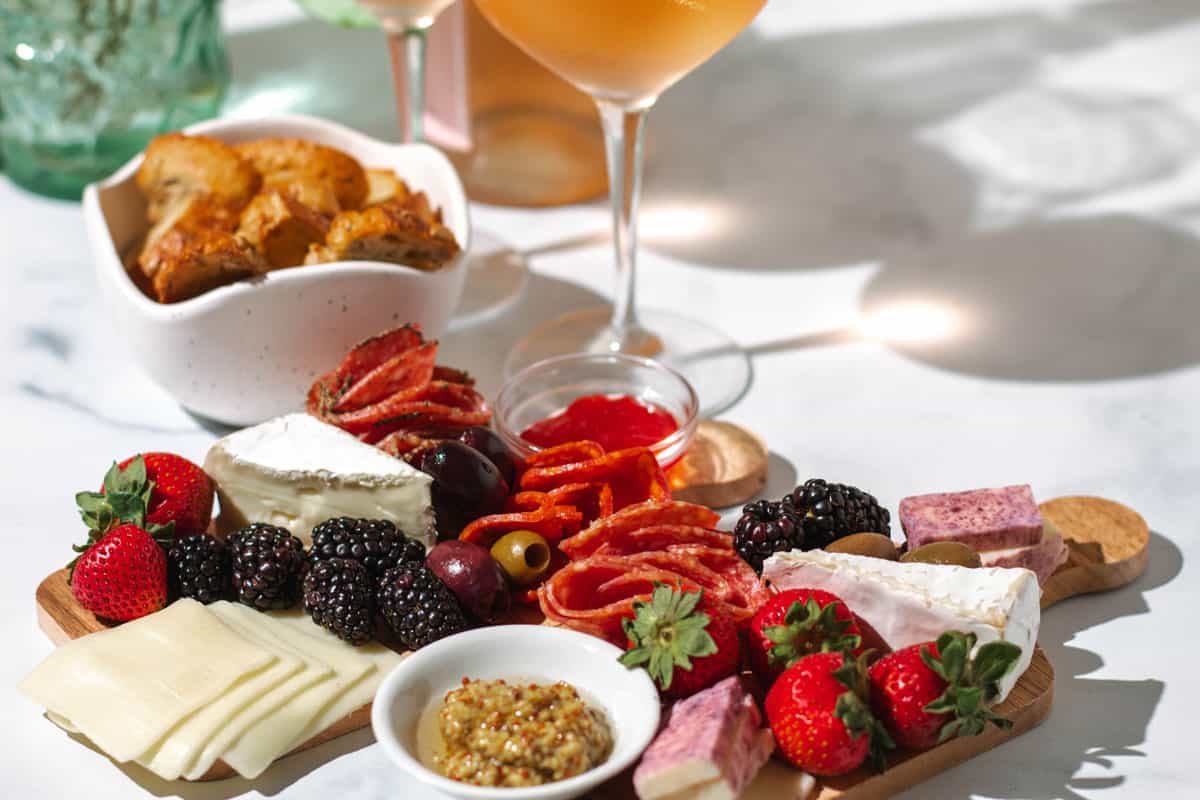 Whenever you make a charcuterie board that may be sitting out at room temperature for a while – you don't want to leave the meat and cheeses out for more than 2 hours. After 2 hours, it can be a recipe for food-borne illness.
It's so easy to store leftovers for another day. Since most of the meats and cheeses are cured and aged all you have to do is place them in airtight containers and leave them in your refrigerator.
A ziplock bag is recommended but any airtight container works as well. They also make cheese paper bags for cheese storage, which gives cheeses extra freshness.
If you have fruits and nuts left over, you can decide whether to toss them or just add them to a separate airtight container. Sometimes things like berries or apples have a tendency to brown and sometimes aren't great for leftovers.
Pairing Drinks and Wine with Charcuterie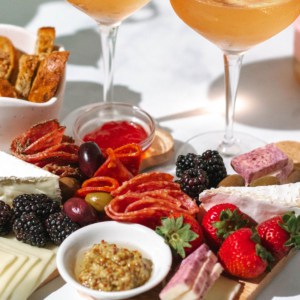 Mini Charcuterie Board Ideas
To calculate meat/cheese per person:
Aim for 2-3 oz. of meat per person and 2-3 oz. cheese per person for an appetizer. For a 2-3 person board, that would be 4-6 oz. meat and 4-6 oz. cheese.
Double the portion of meat and cheese if it will be served as a main course. For a 2-3 person board, that would be 8-12 oz. meat and 8-12 oz. cheese.
Ingredients
Honey and/or jam

to taste

Stoneground or grainy mustard

add honey for extra flavor, to taste

2

or more types of cured meats of choice

2

or more types of cheese*

1-2

types of fruit

Baguette slices or crackers of choice

to taste**
Instructions
Add sauces and condiments in ramekins to the board.

Add cheeses to boards in varying locations.

Add meats - either fanned or folded.

Add the fruit, honey and/or jam, mustard, etc. in the remaining empty spaces. 

Include baguette slices or crackers on the side. 
Notes
*Aim for varying textures, soft, semi-soft, and/or hard cheeses for the best variety.
**Always provide more crackers or bread than you think need - this typically runs out first.