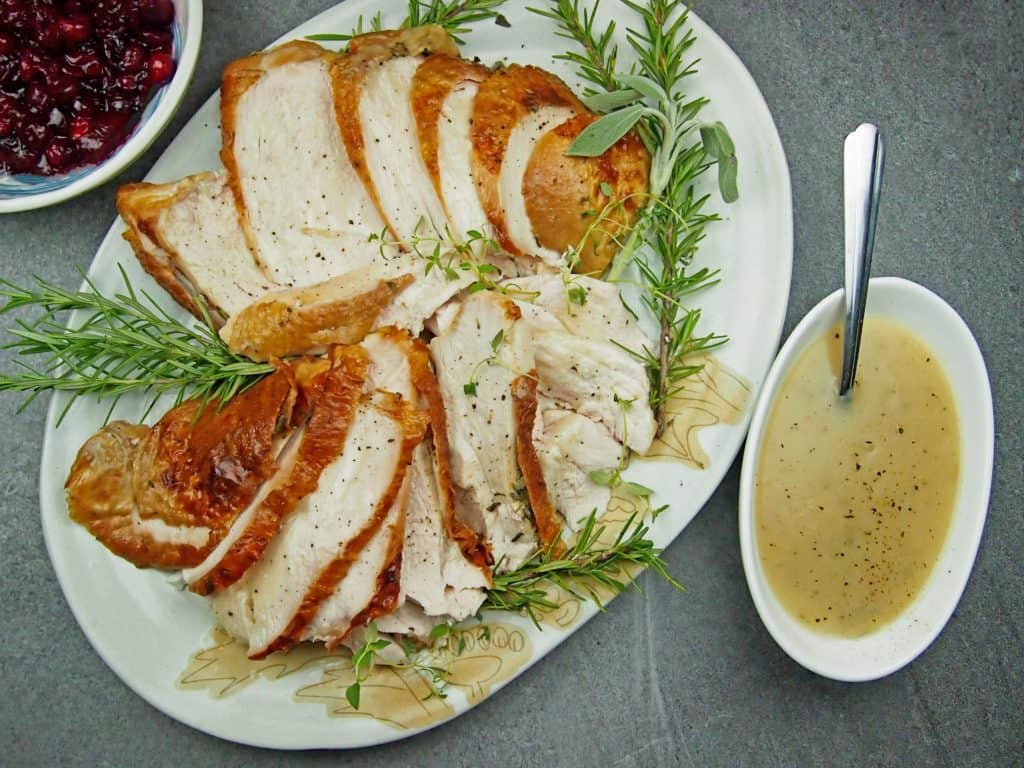 There are so many large turkeys out there in the supermarket. I just don't know how people cook those things without drying it out. To roast a bird that size, it's practically guaranteed to dry out. To combat the dried out bird, I always recommend a smaller bird and brining in advance. Both of these techniques used together make for the most delicious and juicy roasted turkey.
What exactly is brining anyway? There are actually two types of brining, dry and wet brining. We're going to focus only on wet brining. In a nutshell, brining allows more moisture to be retained inside the roasted turkey. If we want to get super nerdy about it, the salt dissolves myosin (a muscle protein) in the meat, which prevents it from tightening it. As Serious Eats would describe it, this means "less tightening = less moisture loss = juicier meat."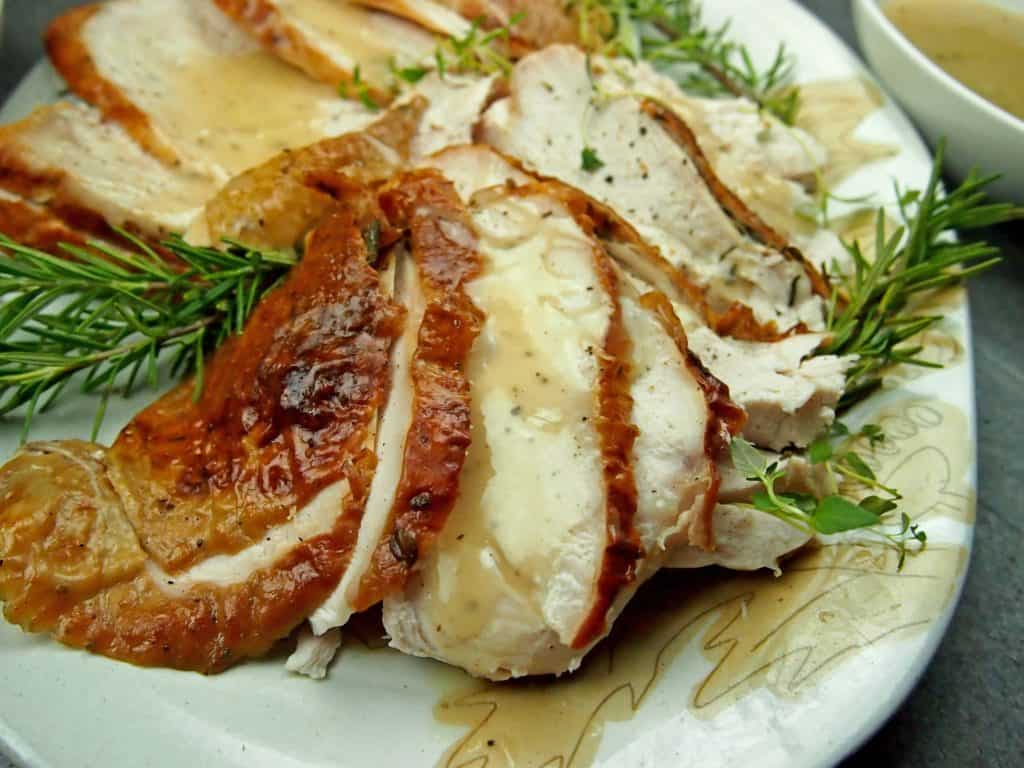 Brining won't single-handedly save you from a dried-out bird, I also recommend either purchasing a smaller bird or roasting the turkey in its separate parts. My favorite food science textbook from college (On Food and Cooking by Harold McGee – which is a very approachable and practical book for all you food nerds out there!) puts it best when describing the challenges of roasting whole birds, "Perfectionists cut the bird up and roast legs and breasts separately." Today, I chose just to roast the breast, but you could easily add in a couple of legs to round out the meal and make all the dark meat lovers happy.
You might be asking, "but doesn't all that salt make the turkey too salty?" That's a great question, but keep in mind that not all the salt will end up in the roasted turkey, and I doubt that you'll be eating the entire bird by yourself in one sitting. If you're curious about how much salt from brines end up in the foods, Cooks Illustrated has a quick and very informative article on this topic.
This turkey is all dressed up in a delicious brine complete with chardonnay wine. I used half a bottle in the brine and saved the rest for the gravy (and drinking, let's be real). The smell was just heavenly. My husband came home while I was cooking and thought I was baking bread. And since we taste through our sense of smell, you know it tasted amazing with herbs, butter, and with a touch of fruit thanks to the wine.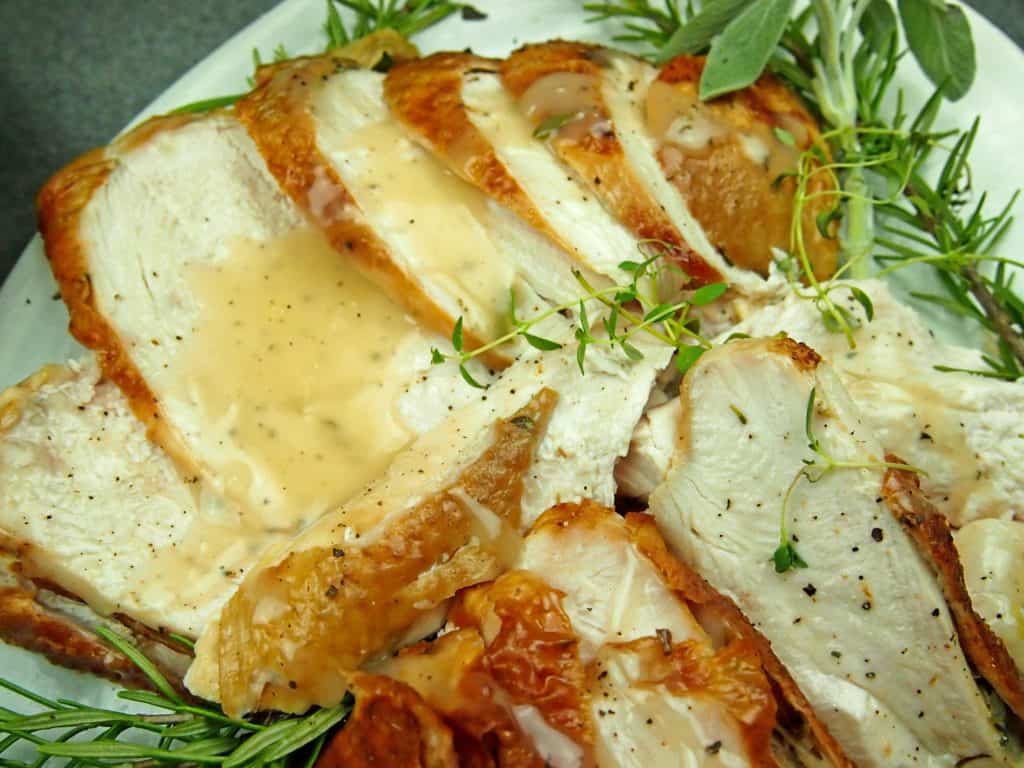 And full disclosure, I want to let you in on a little secret. I actually overcooked this bird. Yep, I didn't set my probe thermometer (which I love!) like I should have, but guess what? It was still flavorful and super juicy! THAT is the power of smaller turkeys and brining! It's no-fail! And, frankly, we all could use a no-fail Thanksgiving. Sign up for my newsletter for all the exclusive tips and updates on making the holidays as easy and fun as possible!
P.S. No matter what recipe you use this Thanksgiving, I highly recommend two kitchen tools that are 100% worth the money and will save you lots of frustration during the holidays (and other times of the year!) First, invest in a probe thermometer with a temperature alarm. This will allow you to not worry about how long to set the timer while the bird is in the oven. It also helps protect against any foodborne illness, and you won't dry out your turkey by repeatedly poking it with a thermometer at random times, letting the juices leak out. You'll thank me later.
The second tool is a roasting pan with a roasting rack. Life is just so much easier when you can lift your bird out of the rack to pour off the drippings instead of burning yourself while trying to maneuver a 165-degree bird. Again, you're welcome.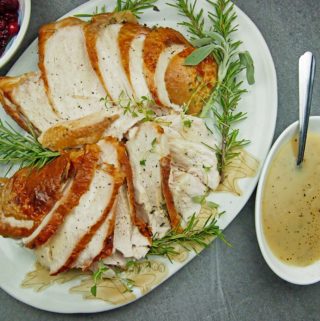 Roasted Turkey Breast with Chardonnay Gravy
Ingredients
1

quart

low sodium vegetable stock

¾

cup

kosher salt

5

whole bay leaves

1

tbsp.

whole black peppercorns

1

tbsp.

whole mustard seeds

4-5

sprigs rosemary

4-5

sprigs thyme

4-5

cloves

garlic

whole, smashed

1

medium onion

quartered

1

bottle

chardonnay

(750 ml bottle) divided

1

whole bone-in turkey breast

5-6 lbs, approx

water to cover the turkey breast

4

tbsp.

butter

softened, divided

2

tbsp.

oil

light in color like light olive oil or canola

4

tbsp.

fresh sage

minced, divided

1 ½

cups

chicken or turkey stock

2

tbsp.

all-purpose flour
Instructions
Heat the vegetable stock, salt, bay leaves, peppercorns, and mustard seeds large stockpot on the stove over medium-high heat. Bring to a boil, stir occasionally until salt is dissolved. Cool to room temperature (throw in some ice to cool faster if needed).

Add herbs, garlic, onion, and half bottle of chardonnay (~11 oz.) to the pot. Place turkey breast into the pot, breast down. If turkey is not fully submerged, add enough cold water to cover. Store in refrigerator overnight or at least 12 hours.

Preheat oven to 425 degrees F. Once ready, remove turkey breast from brine and pat dry. Place breast in roasting pan (recommend one with a roasting rack), breast side up. Mix together 2 tbsp. butter, oil, and 2 tbsp. fresh sage and rub all over turkey breast including under the skin. Place a probe thermometer with a temperature alarm (highly recommended) into the thickest part of the breast. Set the thermometer alarm to 160 degrees F.

Roast turkey breast at 425 degrees F for 15 minutes and lower the oven temperature to 350 degrees F for the rest of the cooking duration. Continue roasting until probe thermometer alarm goes off when the turkey breast is 160 degrees F. A 5-6 pound turkey breast will likely take between 1 ½-2 ¼ hours. Once turkey breast has reached 160 degrees F. Allow to rest at room temperature for at least 15 minutes or until thermometer reaches 165 degrees F before carving.

While turkey is resting, add drippings to a large glass measuring cup (or degreasing cup) and skim off the fat to reserve the drippings. Add the drippings, the stock, ½ cup of chardonnay to a small pot, and 2 tbsp. minced sage (or other minced herbs of your choosing like thyme and/or rosemary) to a small pan and bring to a boil. Lower heat and simmer for about 5-7 minutes or until mixture has reduced. In a separate, small bowl mix together 2 tbsp. soften butter and all-purpose flour into a paste. Add butter-flour paste to simmering stock mixture and boil until gravy thickens. Season with salt and pepper to taste.
CLICK TO DISPLAY NUTRITION INFO
Nutrition
Calories:
759
kcal
Carbohydrates:
18
g
Protein:
93
g
Fat:
38
g
Saturated Fat:
13
g
Polyunsaturated Fat:
2
g
Monounsaturated Fat:
6
g
Trans Fat:
0.3
g
Cholesterol:
265
mg
Sodium:
15749
mg
Potassium:
185
mg
Fiber:
2
g
Sugar:
3
g
Vitamin A:
684
IU
Vitamin C:
4
mg
Calcium:
75
mg
Iron:
2
mg