This Aperol Soda cocktail is a super easy 3 ingredient drink and is full of bittersweet citrus flavors. Plus, it only takes a few minutes to make to whip up this tasty cocktail!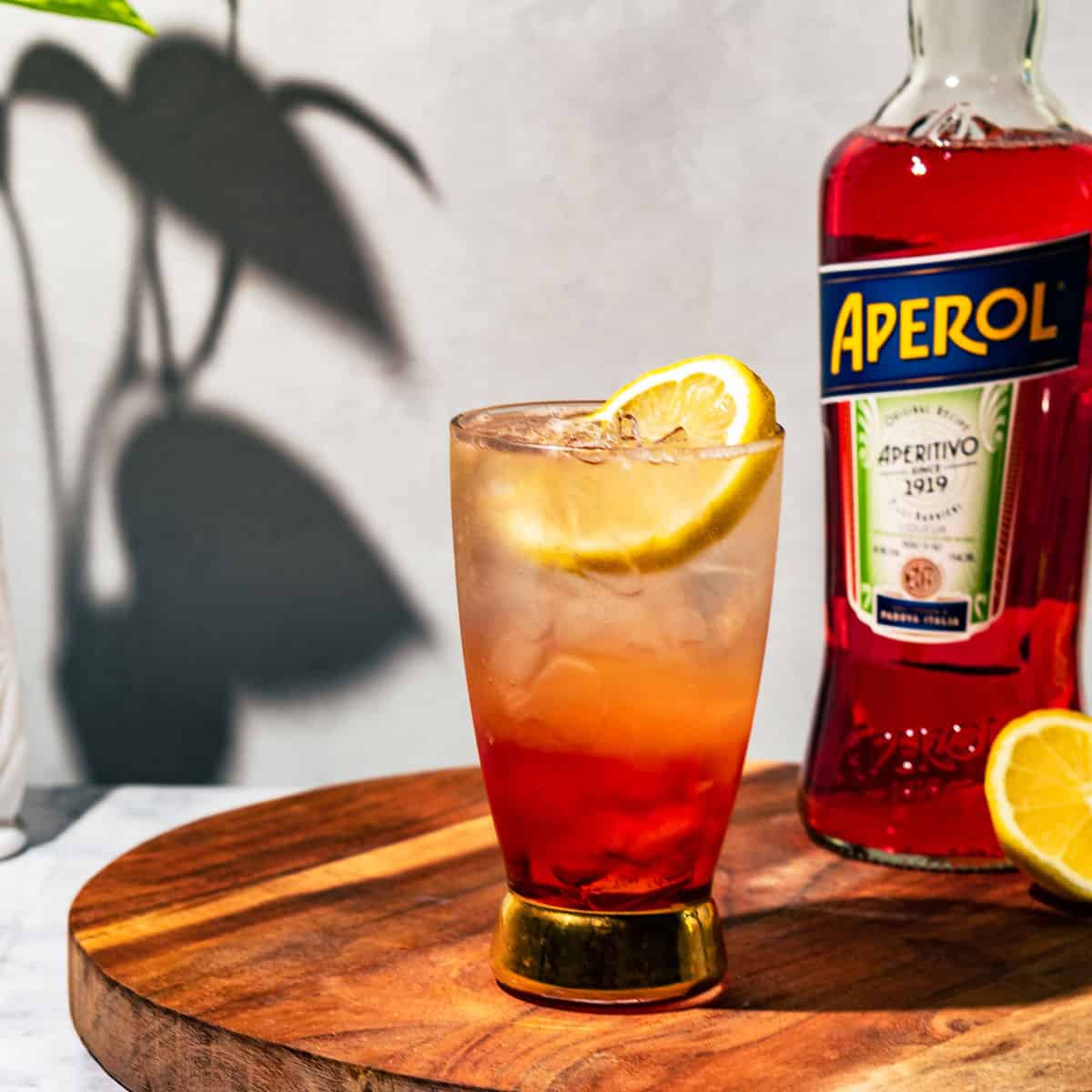 I love Aperol cocktails, so I recommend checking out my other simple cocktail recipes featuring the sweet and bitter flavors of Aperol including my Aperol Negroni, Aperol Sour, and Rosé Negroni. Or, if you want another effervescent variation, try my Aperol Mule.
Jump to:
Why This Recipe Works
Simple and quick – You need just 3 ingredients and less than 5 minutes to make this Aperol Soda. Plus, no fancy equipment or cocktail shaker required!
Perfectly balanced – This refreshing cocktail has a harmonious sweet-bitter balance with sour lemon and bubbly soda water.
Beautiful – Aperol Soda cocktails are quite eye-catching and look fancy.
What is Aperol?
It is a classic Italian aperitif with a sweet flavor and bitter edge that is a beautiful orange color. Italian aperitifs are typically consumed at the beginning of meals to stimulate appetite. Aperol makes some of the most delicious pre-dinner drinks prior to a big meal.
It shouldn't be confused with Aperol's close Italian aperitif cousin, Campari, which is much more on the bitter side. Aperol has a similar bitter orange flavor but much sweeter and more mellow than Campari. 
The most famous Aperol cocktail is the classic Aperol Spritz, which is made of Aperol, prosecco, and a splash of soda water. This Aperol Soda is a good substitute for the Aperol Spritz if you want something a little less boozy or don't care for prosecco.
In addition to mixing well with soda water and prosecco, you can also enjoy Aperol with Tonic Water as well.
Ingredient Notes
You just need a few simple ingredients from your local liquor and/or grocery store.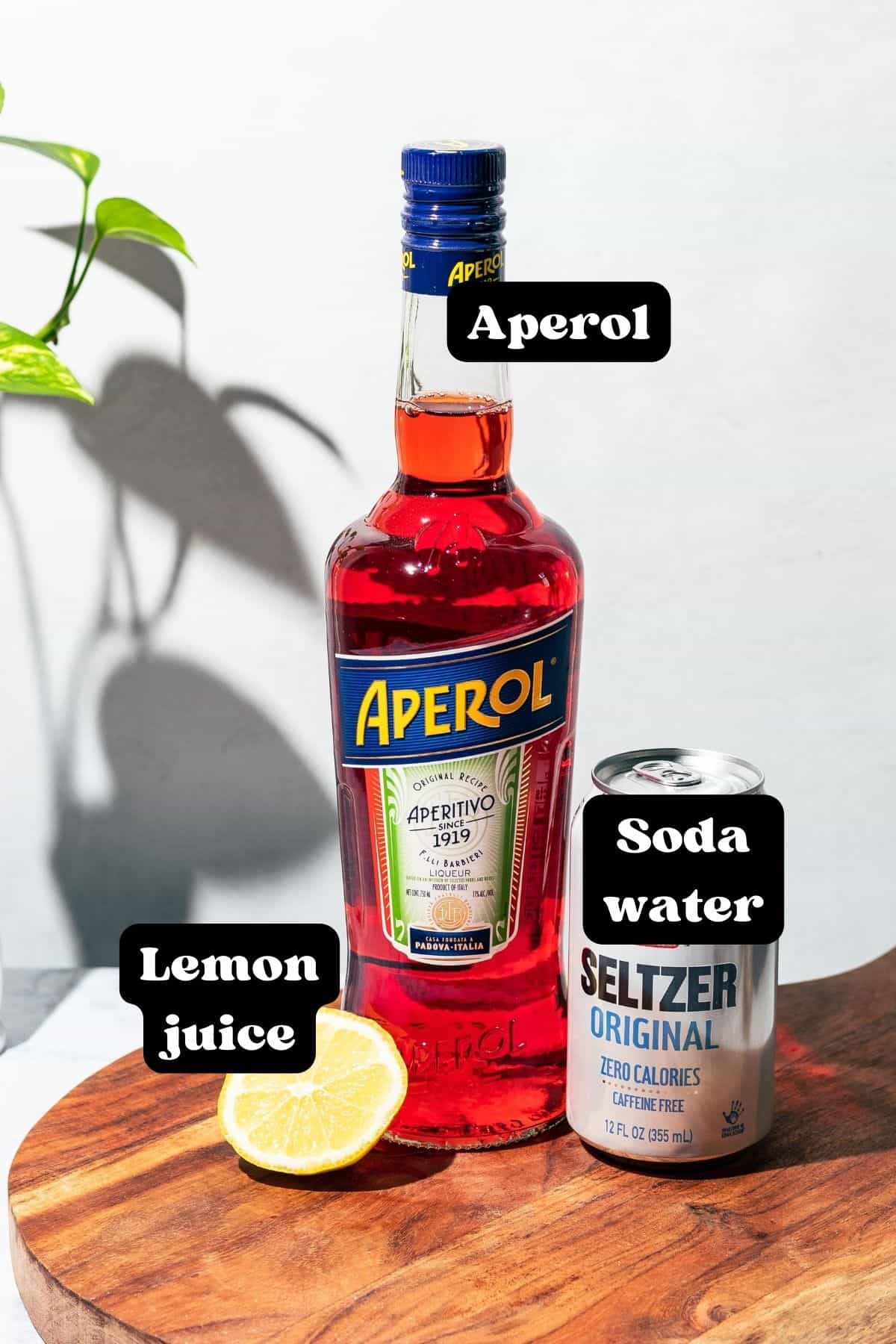 Aperol – With the popularity of Aperol Spritz cocktails, a bottle is fairly easy to find at most liquor stores.
Lemon juice – Fresh lemon juice will always taste best, but if you must use bottled juice go for 100% juice and avoid the stuff from concentrate.
Soda water – I normally make soda water in my SodaStream, but I was out of carbon dioxide and I ended up using canned seltzer. Club soda or sparkling water are both fine to use.
Garnishes – I used a lemon slice to give an extra citrusy aroma. A slice of orange (from regular or blood oranges) would be a nice addition too!
Step-by-Step Instructions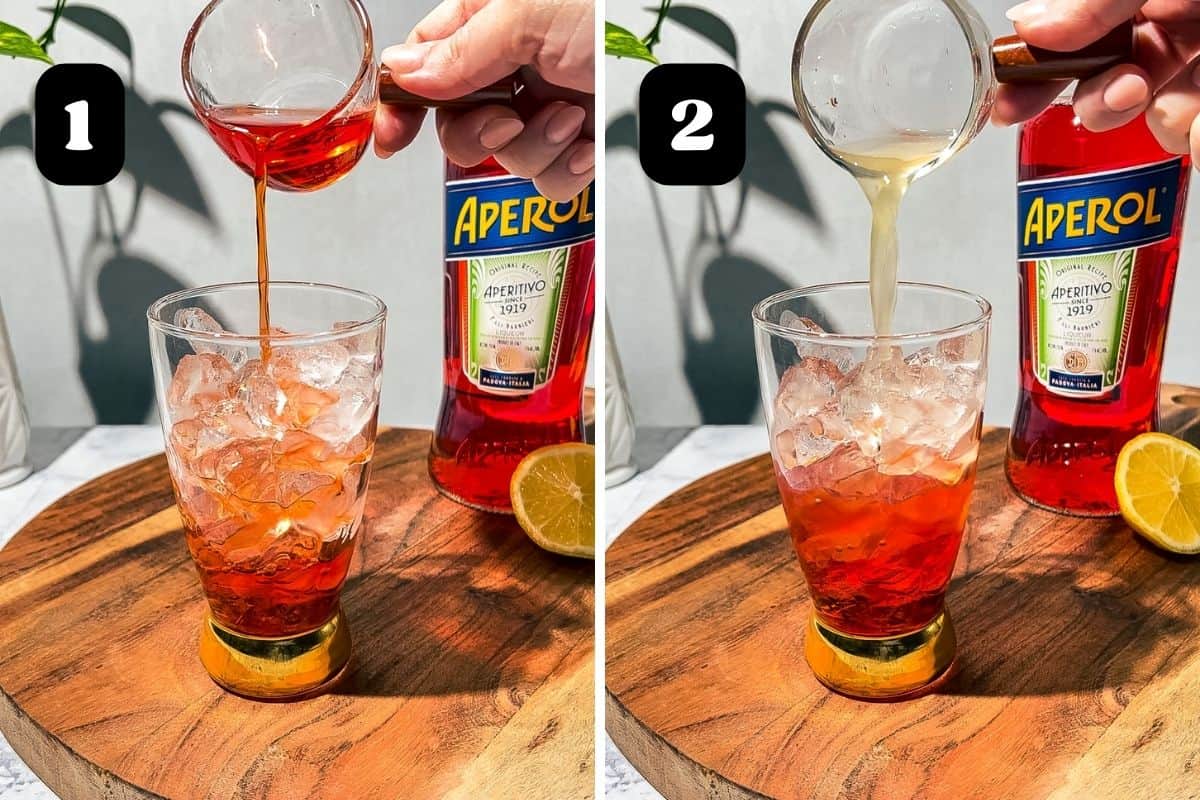 Step 1: Add the Aperol to a cocktail glass or large wine glass filled with plenty of ice.
Step 2: Add the lemon juice.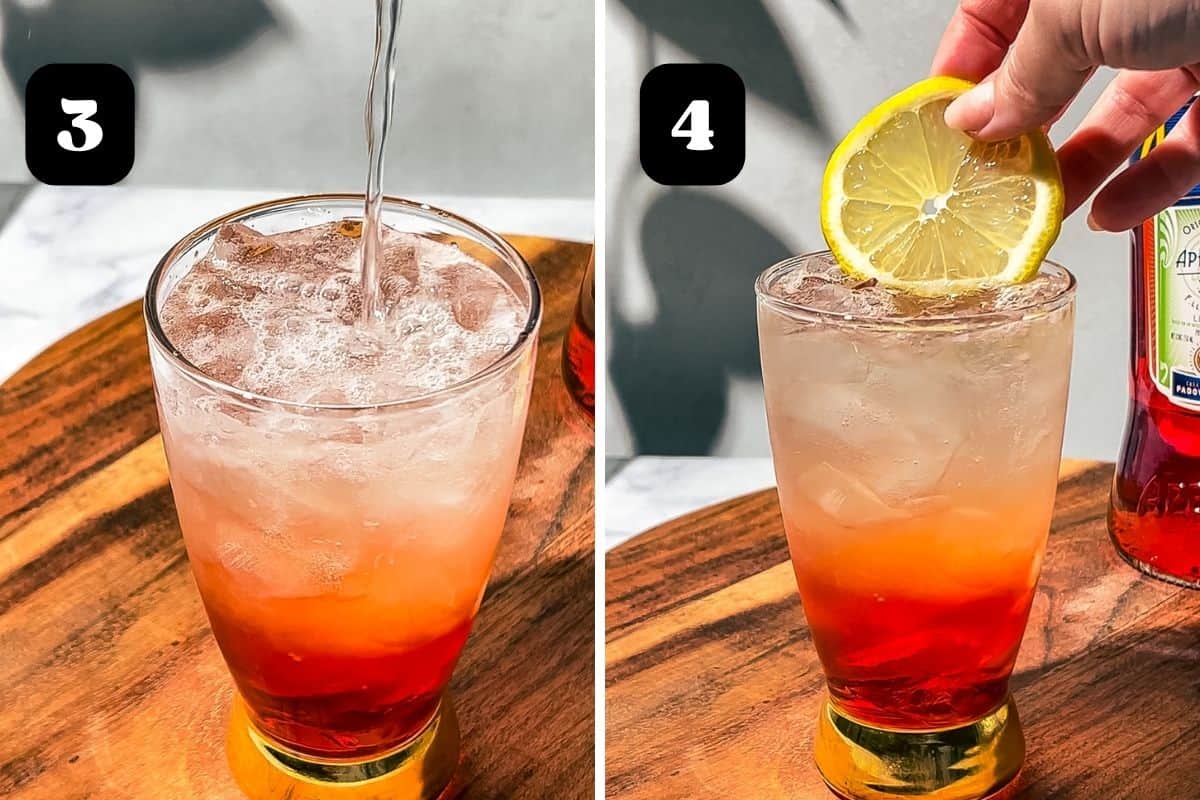 Step 3: Top with soda water.
Step 4: Garnish if desired. Gently stir prior to drinking.
Tips and FAQ
Pro Tip: When you are stirring cocktails, move your spoon up and down while you're stirring to ensure that the flavors of the cocktail are evenly distributed.
Is Aperol high in alcohol?
No, it has a low alcohol content. It clocks in at 11% ABV (alcohol by volume), which is lower than the average wine. By contrast, Campari is about double the ABV of Aperol, and spirits like gin, vodka, etc. usually have around a 40% ABV.
How do I store Aperol?
You can get away with storing it at room temperature as long as it is in a cool, dark place.
But low-alcohol spirits (such as Aperol) and wine-based spirits (like vermouth, Lillet, etc.) will keep much longer refrigerated – at least 3 months and maybe more. The concern isn't so much with safety but rather the quality of the liqueur.
I always recommend the golden rule of food safety – "When in doubt, throw it out."
Can Aperol be drunk alone or straight up?
Yes, it is much more palatable for most people to sip on straight over something like Campari. The sweetness mellows the bitter orange flavor to make for an enjoyable drink.
What else can you mix with Aperol?
It goes great in many cocktails. Aside from the common mixers, soda water and prosecco, other mixers and spirits that go well include sweet vermouth, tonic water, citrus juices, bourbon, Amaro, rosé wine, gin, ginger beer, and so much more.
Basically, if you think something would pair well with a bittersweet orange flavor, try it and see how it goes!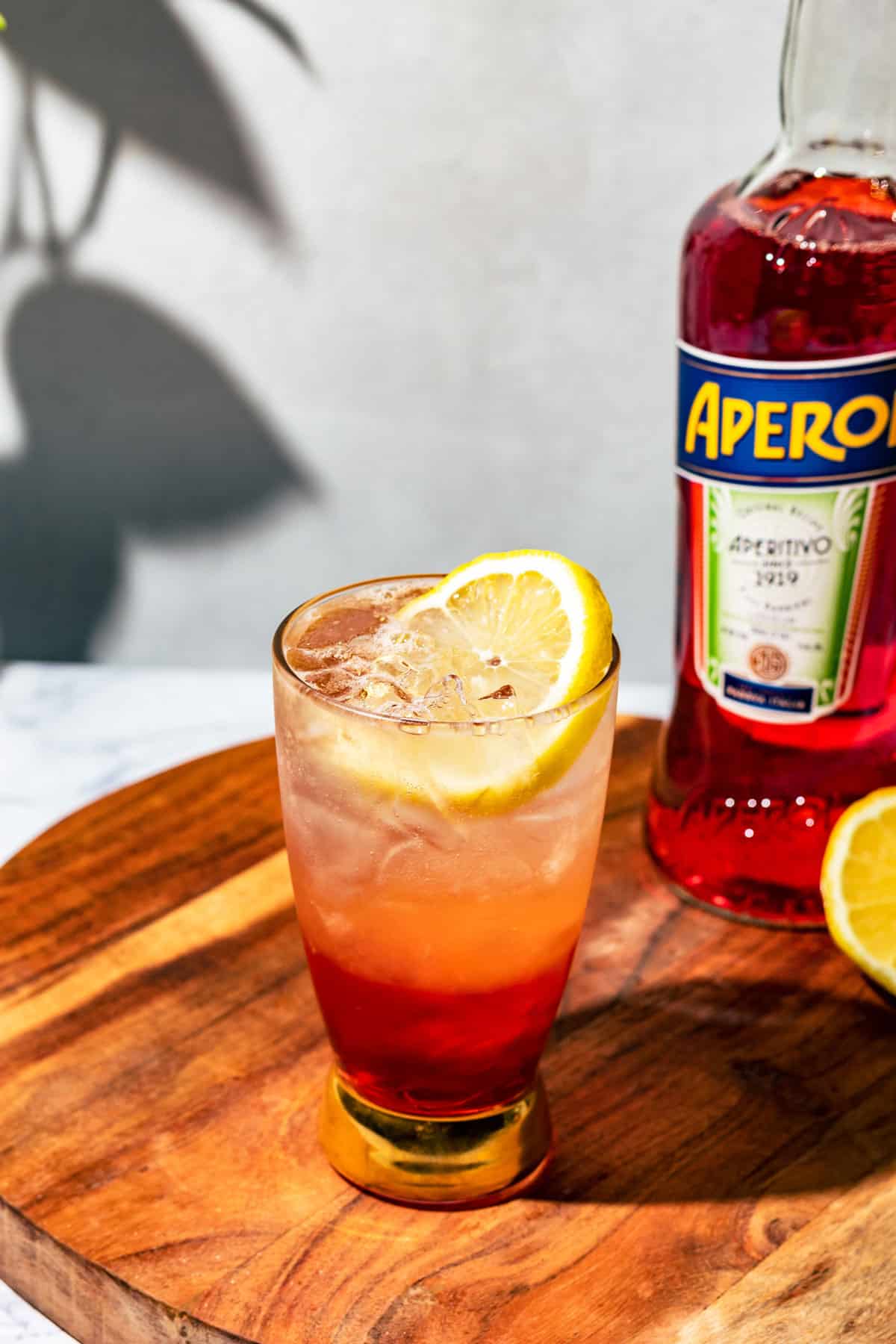 Related Recipes
Did you love this cocktail?
Please leave a 5-star 🌟🌟🌟🌟🌟 rating & review in the comments below.
Reviews will help others find this recipe!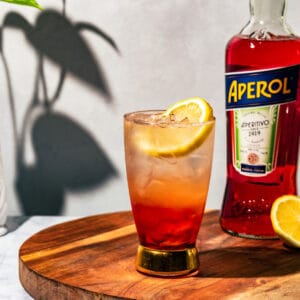 Aperol Soda Cocktail Recipe
This Aperol Soda cocktail is a super easy 3 ingredient drink and is full of bittersweet citrus flavors. Plus, it only takes a few minutes to make to whip up this tasty cocktail!
Ingredients
2

ounces

Aperol

½

ounce

lemon juice

3-4

ounces

soda water

Lemon slice for garnish

(optional)
Instructions
Add the Aperol to a cocktail glass filled with ice. 

Add the lemon juice and top with soda water.

Gently stir, moving the spoon up and down to evenly distribute the flavor.
Notes
Garnish options:
Lemon slice or wedge
Cocktail cherries (Luxardo preferably) 
Lemon peel
CLICK TO DISPLAY NUTRITION INFO
Nutrition
Calories:
139
kcal
Carbohydrates:
21
g
Protein:
0.1
g
Fat:
0.03
g
Saturated Fat:
0.01
g
Sodium:
19
mg
Potassium:
17
mg
Fiber:
0.04
g
Sugar:
20
g
Vitamin A:
1
IU
Vitamin C:
5
mg
Calcium:
5
mg
Iron:
0.02
mg
Don't forget to follow along on social media for alerts on new recipes!
You can catch me on Instagram, TikTok, Pinterest, and Facebook.