These Smashed Brussels Sprouts are roasted until crispy, drizzled with balsamic glaze, and topped with pepitas and dried cranberries. It's the perfect side for any fall-inspired meal or holiday gatherings like Thanksgiving or Christmas.
If you had asked me to try brussels sprouts when I was a kid, I would have fought you tooth and nail never to allow those cute little sprouts to cross my lips. Now, as an adult, I think brussels sprouts are underrated! Especially when they're roasted to crispy perfection.
I've talked a lot about how roasting vegetables does something magical to them. It's not really magic; it's merely that the carbohydrate found in vegetables (yes, all plant-based foods contain some degree of carbohydrates, and it's not to be feared) goes through a process called caramelization. We tend to think only of pure sugar (carbohydrate) going through this process to make caramel candies, but this actually can happen to all carbohydrates. Since there is a small amount of carbohydrate in the brussels sprouts, roasting them makes them slightly sweeter and caramelized. That's why roasted vegetables taste so good. I wish I had more vegetables prepared this way when I was younger. I may have actually appreciated vegetables a little bit more.
Anyway, back to these brussels sprouts – I went a step further on the flavor profile and topped them off with a little bit of balsamic glaze, crunchy, salted pepitas (pumpkin seeds), and tart, dried cranberries. The combination of crunchy, sweet, tart and salty is simply heaven.
Why would you smash your brussels sprouts?
It's because there is more surface area to caramelize. This can apply to roasting any other vegetable as well. When you flatten the vegetable, you're more likely to caramelize a larger amount of the vegetable. Obviously, brussels sprouts are round and hard, so they have to be parboiled first, then blanched in cold water to stop the cooking process before you can smash them into round disks using a large, heavy-bottomed cup or glass. It's challenging to get sprouts that are all the same size, so don't be alarmed if you can't get some of them as flattened as others.
Ingredients for Smashed Brussels Sprouts
Fresh brussels sprouts: When you buy fresh brussels sprouts, you can buy them on the stalk or already chopped from the stalk. Most of the time, you will find the latter. Make sure they are firm and don't give much when you press on them. After washing, make sure to trim the ends. Also, remove any blemished outer leaves, if necessary.
Olive oil: Since we are roasting these brussels sprouts on high heat in the oven, I recommend using the "light tasting" olive oil, which is much lighter and more gold in color than the extra virgin. The lighter colored olive oil has a higher smoke point, so it won't burn at high heat as extra virgin would.
Parmesan cheese This will give the brussels sprouts a salty and savory flavor. I used some on top before roasted and topped the sprouts with more after roasting. More cheese = more happiness, right?!
Balsamic glaze: You can find this in most grocery stores now. It's just a more concentrated, thicker, and sweeter version of regular balsamic vinegar. If you've never used it before, you're missing out.
Roasted pepitas: Again, most grocery stores carry these now. Pepitas are pumpkin seeds. They used to be harder to find. I chose the salted to help balance the sweetness from the balsamic glaze, but you can get unsalted if you prefer. If pepitas aren't readily available, you can use any type of nut for some added crunch.
Dried cranberries: The tartness from the dried cranberries is really great. You can also sub in dried cherries – they would have the same effect. Dried cranberries seemed very seasonal for this fall-inspired dish.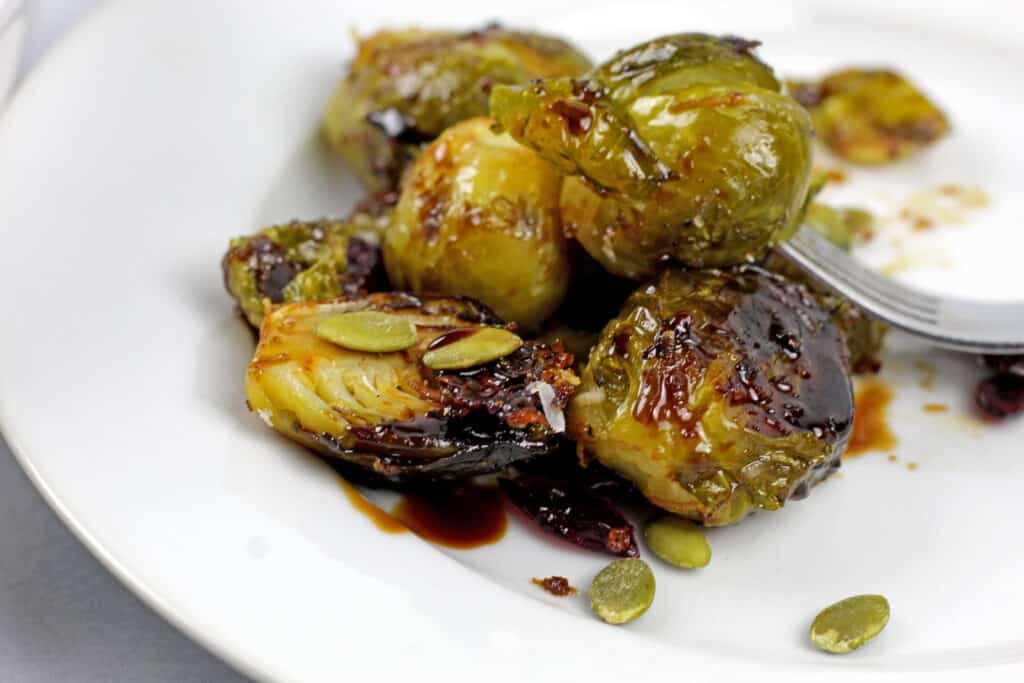 How to Make Smashed Brussels Sprouts
Like I mentioned above, you start by parboiling the sprouts and then blanching them in an ice bath, which stops the cooking process. You don't want to boil them for so long that they are completely cooked; you want them a little raw still.
After you blanch them, make sure that they are very dry by patting them with a kitchen towel. The more water left on the sprouts, the less caramelization you'll get. The water will end up steaming them rather than the dry heat caramelizing the sprouts.
You'll then use a heavy-bottomed cup or glass to press the sprouts on the baking sheet gently. Be careful; they can be slippery if you aren't able to get them super dry. The smaller ones are very easy, but a couple of the bigger ones might require you to make a little slit in them with a knife in order to press them down. They don't have to be completely flat.
After they are pressed, you'll toss on the sprouts in the olive oil, parmesan cheese, and season with salt and pepper, and pop them in the oven for roasting. After they'll fully roasted, serve them with the drizzle of balsamic glaze, pepitas, and dried cranberries. And of course, you can always add a little extra parm on top!
How to Serve
This makes a great side dish for the fall and winter months, as that is when brussels sprouts are in season. You can serve them with anything, but they would make a great Thanksgiving side dish or as part of your Christmas dinner. You can serve them right off the sheet pan, but I put them in a serving bowl so that I can fully coat the sprouts in the glaze for more flavor.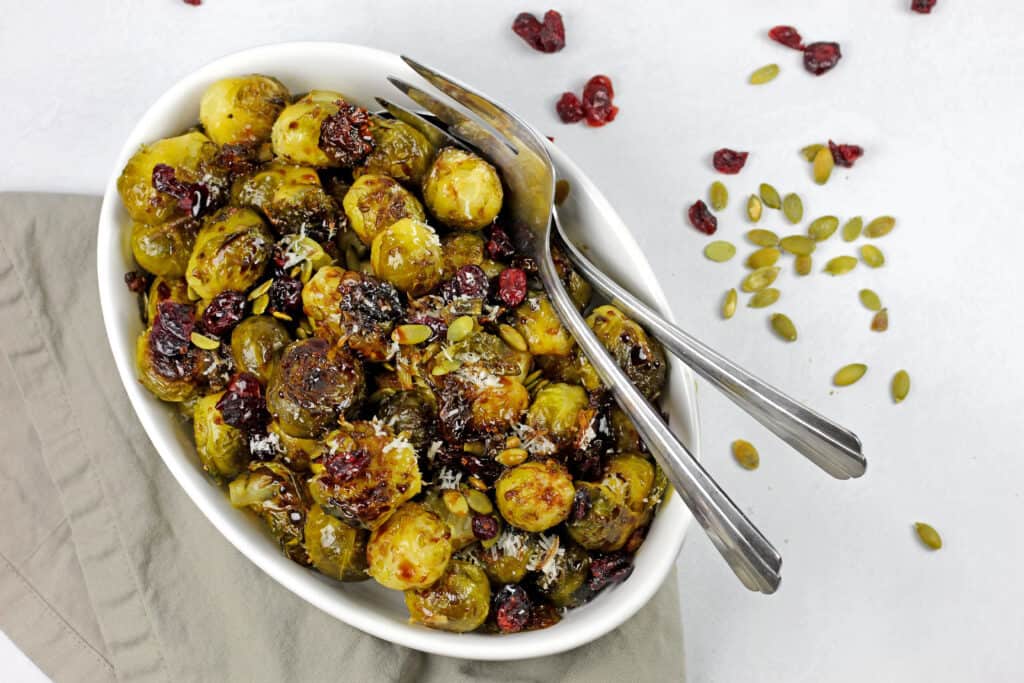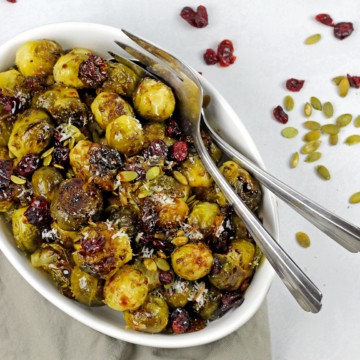 Smashed Brussels Sprouts with Balsamic Drizzle, Pepitas, and Cranberries
These Smashed Brussels Sprouts are roasted until crispy, drizzled with balsamic glaze, and topped with pepitas and dried cranberries. It's the perfect side for any fall-inspired meal or holiday gatherings like Thanksgiving or Christmas.  
Ingredients
2

lbs.

of fresh brussels sprouts

trimmed

2

tbsp.

olive oil

¼

cup

parmesan cheese

Salt and pepper

to taste

2

tbsp.

balsamic glaze

¼

cup

of roasted pepitas

¼

cup

of dried cranberries
Instructions
Fill a large stockpot with enough water to submerge the sprouts. Add 1 tbsp. of salt to the water. Bring to boil and carefully add brussels sprouts – cook for 15 minutes.

Preheat oven to 425. While sprouts are boiling, prepare an ice bath in a large bowl. Once sprouts are done, submerge sprouts into an ice bath and allow to cool for 1 minute. Drain sprouts and pat dry on a kitchen towel.

Transfer sprouts onto a baking sheet lined with parchment paper With the bottom of a heavy-bottomed cup or glass and gently press down on each sprout until slightly flattened. You may need to cut a small slit in the top for larger sprouts so that it flattens easier—toss sprouts with olive oil and parmesan cheese, and season with salt and pepper.

Roast for 10 minutes, remove from oven and flip each sprout – roast again for another 5 minutes.

Once done cooking, drizzle with balsamic glaze and top with pepitas and dried cranberries. 
CLICK TO DISPLAY NUTRITION INFO
Nutrition
Calories:
247
kcal
Carbohydrates:
31
g
Protein:
11
g
Fat:
12
g
Saturated Fat:
2
g
Polyunsaturated Fat:
2
g
Monounsaturated Fat:
7
g
Trans Fat:
0.003
g
Cholesterol:
5
mg
Sodium:
458
mg
Potassium:
930
mg
Fiber:
9
g
Sugar:
12
g
Vitamin A:
1765
IU
Vitamin C:
193
mg
Calcium:
153
mg
Iron:
4
mg