Happy Summer!
Technically, summer hasn't officially started, however it is officially blazing hot in Charleston so I'm calling it. Summer has already started creeping into my cooking. I'm using my grill several times per week. I'm making tasty burgers. Now I'm moving on to sweet summer corn with a little smoke on the side with my caramelized corn and green beans skillet with cumin. To make these flavors pop, I used two simple techniques – blooming and caramelizing.

Bloom and Caramelize!
Before I added the corn, I "bloomed" the cumin spice and red pepper flake in a cast iron skillet. "Blooming" is a technique of adding spices to oil in the pan and allowing them to deepen their flavor before adding in additional ingredients. It makes a big difference in this dish and boosts flavor instantly. In this dish, the flavor boost added some extra smokey, spicy, and toasty flavors. Take a couple of minutes to add the spices at the beginning and you'll notice a difference.
Next up, caramelization brings on the nutty and toasty sweetness. Caramelizing is simply browning sugar, but the flavor is anything but simple. Corn has a characteristic sweetness that lends perfectly to this dish. Make sure to scrape the bottom of the pan with a wooden spoon often during cooking to capture as much sweetness as possible.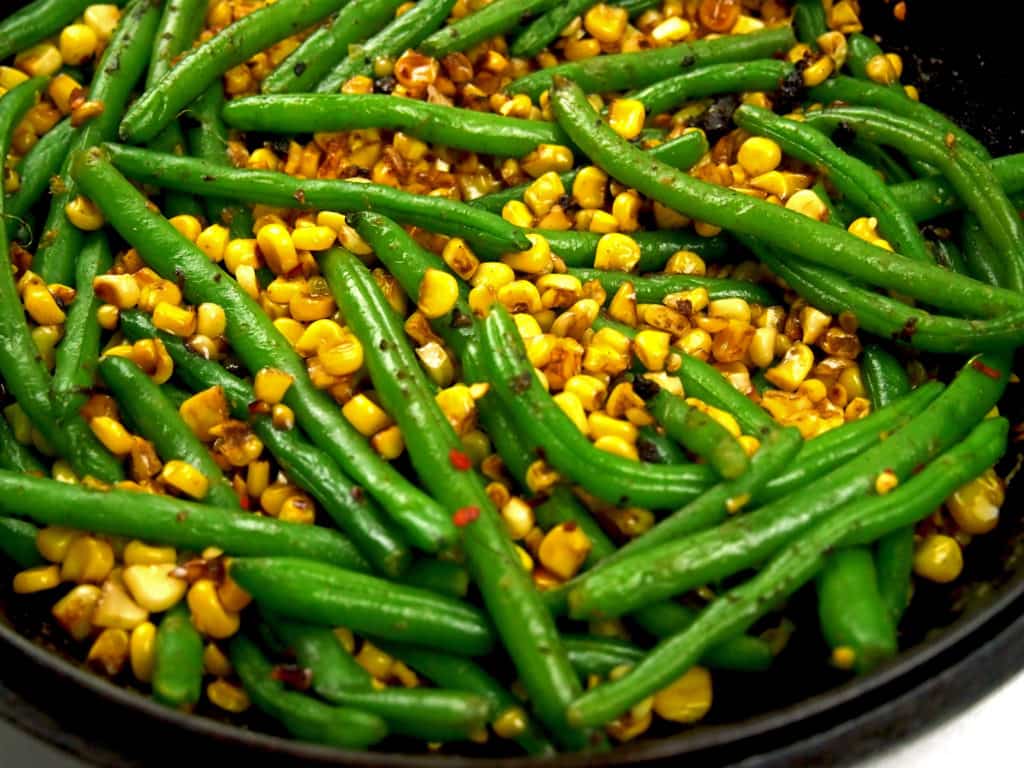 Blooming + caramelizing = huge flavor bonuses. Master these techniques and you'll be set.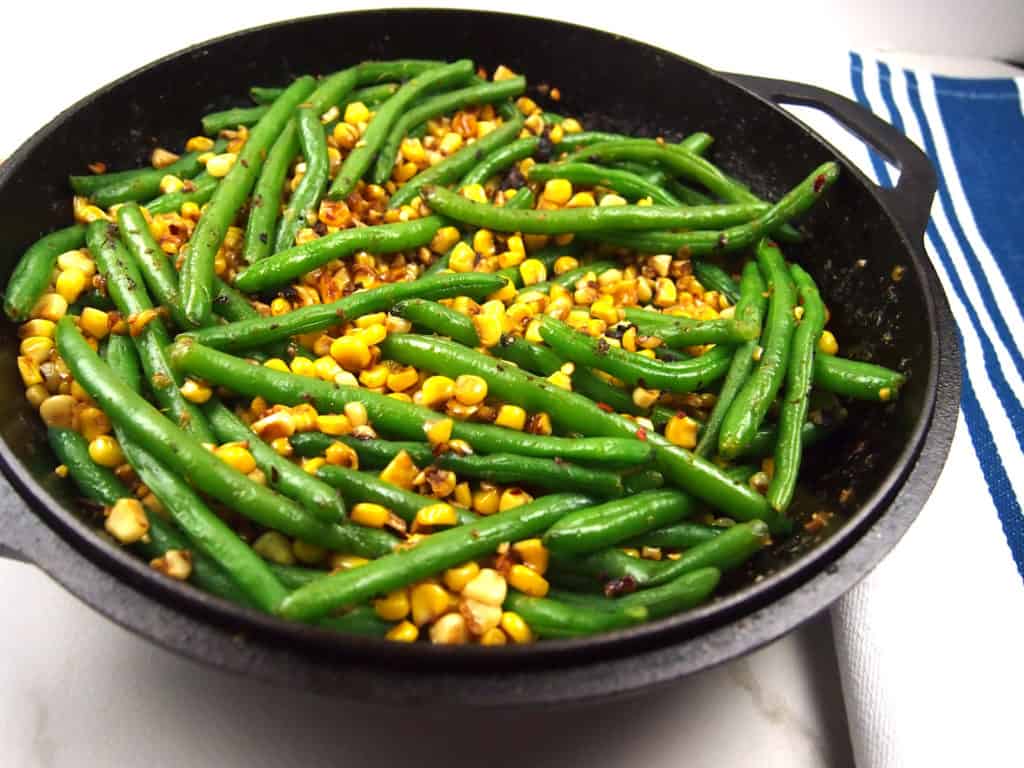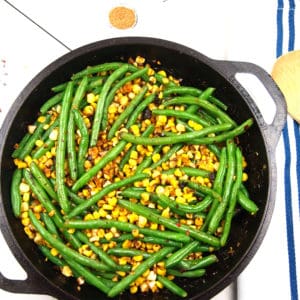 Caramelized Corn and Green Bean Skillet with Cumin
Ingredients
4

quarts

water

divided (3 quarts for boiling, 1 quart for ice bath)

1 ½

tsp.

salt

divided (1 teaspoon for boiling water, ½ teaspoon for seasoning corn)

1

lb.

green beans

trimmed

2

tbsp.

butter

2

tsp.

cumin

¼

tsp.

red pepper flake

or more if more spice is desired

4

ears

corn

shucked, kernels cut off the cob
Instructions
Bring 3 quarts of water to boil. Add 1 tsp. of salt and green beans. Cook for about 3 minutes. Transfer beans into ice cold water and allow to cool.

Melt butter in heavy bottomed skillet (like a cast iron). Once melted and starting to foam, add in cumin and red pepper flake and saute until fragrant. Careful not to burn spices.

Add in corn kernels. Lower heat to low-medium and cook for 15-20 minutes or until corn is caramelized or browned. Stirring often and scraping bottom of pan to prevent burning.

Drain green beans and add to skillet. Cook until beans are warmed through.

Season with remaining salt or to taste.
CLICK TO DISPLAY NUTRITION INFO
Nutrition
Calories:
176
kcal
Carbohydrates:
26
g
Protein:
6
g
Fat:
8
g
Saturated Fat:
4
g
Polyunsaturated Fat:
1
g
Monounsaturated Fat:
2
g
Trans Fat:
0.3
g
Cholesterol:
16
mg
Sodium:
841
mg
Potassium:
534
mg
Fiber:
5
g
Sugar:
9
g
Vitamin A:
1258
IU
Vitamin C:
20
mg
Calcium:
98
mg
Iron:
3
mg
Shop the tools: