These Air Fryer Smashed Potatoes are super crispy, crunchy, and easy to make. They're a great side dish for any meal!
Crispy fried potatoes are probably my favorite food. If I had to choose the most perfect meal, you can bet there will be crispy potatoes – preferably doused in truffle oil and parmesan cheese. I think it's illegal to not like or include potatoes at every meal where I grew up. Western Pennsylvania is definitely a meat and potatoes kind of place.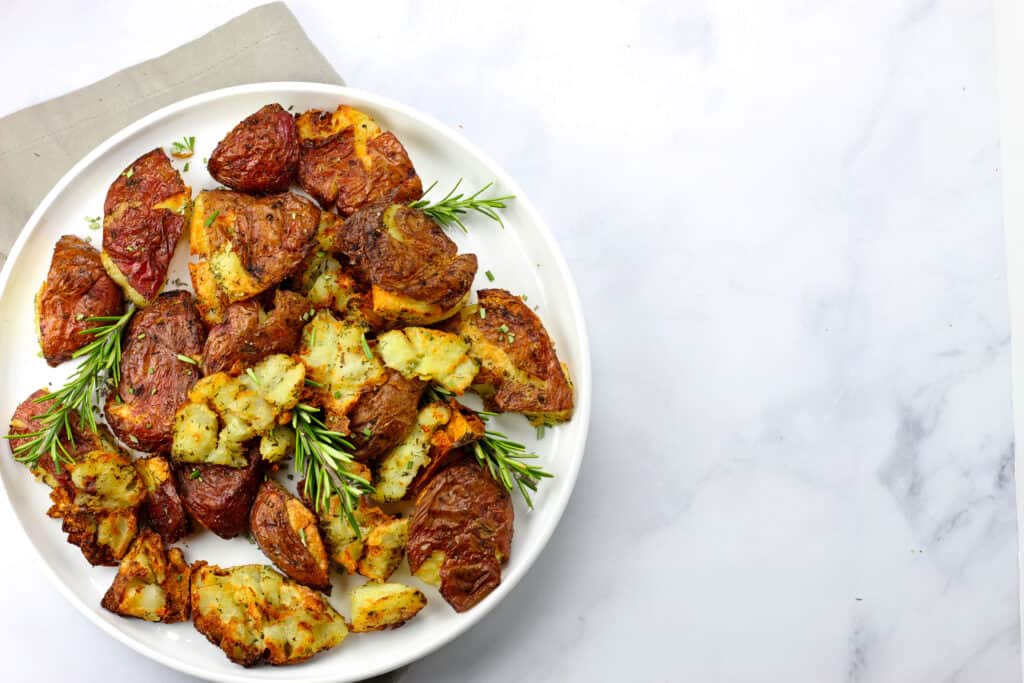 Why would you smash your potatoes?
It's because there is more surface area to caramelize. This can apply to roasting any other vegetable as well. I've done it before with brussels sprouts too. When you flatten the vegetable, you're more likely to caramelize a larger amount of the vegetable. Obviously, potatoes are round and hard, so they have to be parboiled first, then allowed to dry briefly before you can smash them into round disks using a large, heavy-bottomed cup or glass.
Ingredients
Potatoes: You can use baby potatoes or you can buy larger red or golden potatoes and quarter them. Both will work great.
Oil: I like to use a little bit of a light-colored oil in the air fryer just to give it a little extra crispiness. I use light-colored oil because it has a higher smoke point and is less prone to burn. I specifically used light-tasting olive oil.
Seasonings: Garlic powder, dried dill, salt, and pepper are my go-to seasonings for just about anything. Not only do they go well on potatoes, but I've used this combo on everything from vegetables to salad dressings. Sometimes if I'm feeling a little crazy, I'll add a dash of cayenne pepper for some heat.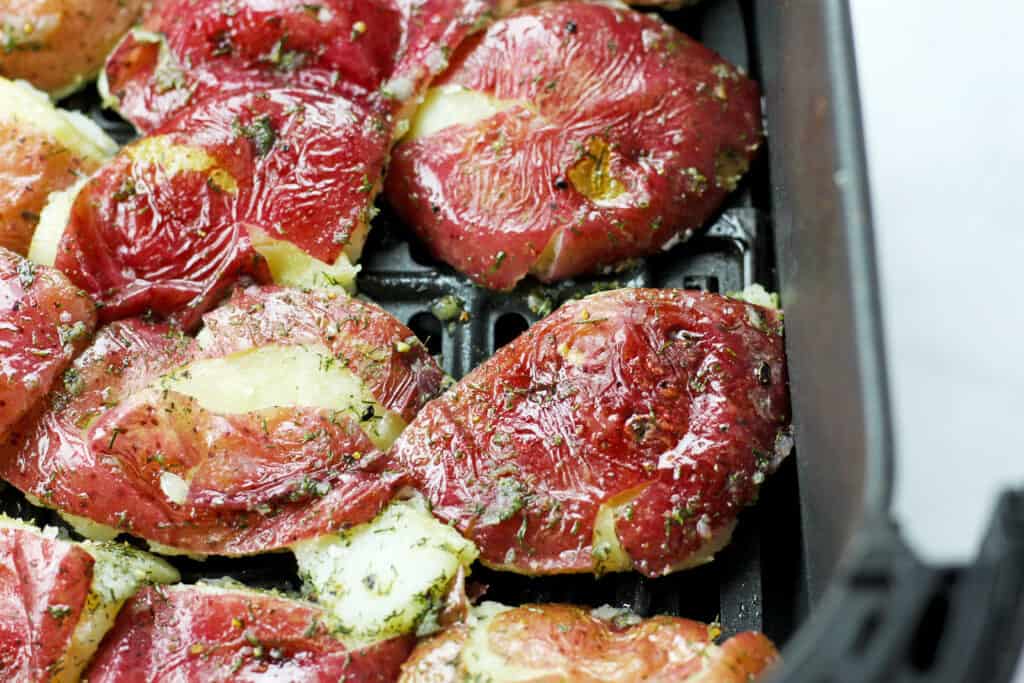 How to Make Air Fryer Smashed Potatoes
Like I mentioned above, you start by parboiling the potatoes and allowing them to dry slightly. You don't want to boil them for so long that they are completely cooked; you want them a little raw still so they don't fall completely apart.
After they are pressed, you'll toss on the potatoes in the olive oil, seasonings, and pop them in the air fryer. You'll then use a heavy-bottomed cup or glass to press the potatoes in the air fryer basket gently. They don't have to be completely flat.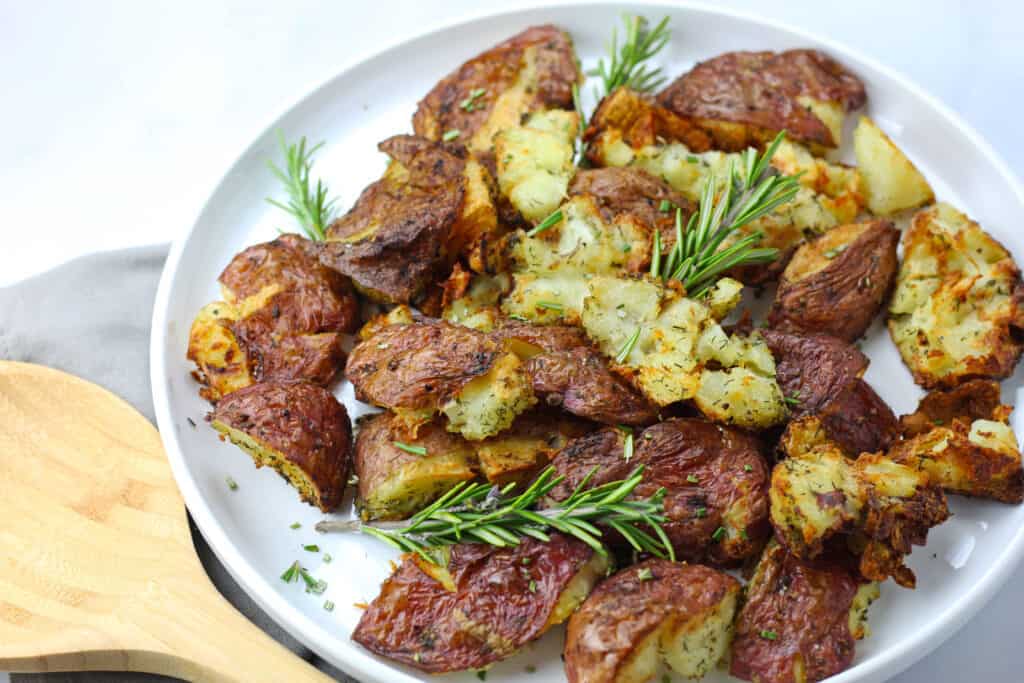 How to Serve Air Fryer Smashed Potatoes
Air Fryer Smashed Potatoes make a great side dish any time of year. You can serve them with anything, but they would make a great Thanksgiving side dish or as part of your Christmas dinner. I love to make them as breakfast potatoes as well.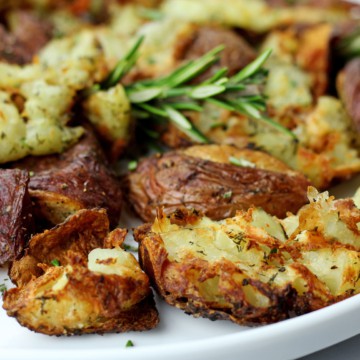 Air Fryer Smashed Potatoes
Ingredients
2 ½

pounds

of baby potatoes

or medium potatoes, quartered

2

tbsp.

light-tasting olive oil

½

tsp.

garlic powder

1

tsp.

dried dill

Salt and pepper

to taste
Instructions
Place potatoes in a large pot and cover with cold water by at least 1″. Add salt to the pot and bring to a boil. Reduce heat and simmer until potatoes are tender but not cooked all the way through about 20 minutes.

Drain the potatoes and allow to dry in the colander for about 5-10 minutes. Meanwhile, preheat air fryer to 400 degrees.

Toss potatoes with olive oil, garlic powder, dried dill, salt, and pepper. Lay out in a single layer in the air fryer. Using the bottom of a heavy glass, gently press on each potato until slightly flattened.

Air fry for about 15 minutes or until potatoes are soft on the inside and crispy on the outside. Serve immediately.
Notes
If you have a small air fryer, I would suggest cooking the potatoes in batches. You can keep the smashed potatoes that are cooked warm in a regular oven at around 200 degrees until all batches are cooked.
CLICK TO DISPLAY NUTRITION INFO
Nutrition
Calories:
282
kcal
Carbohydrates:
50
g
Protein:
6
g
Fat:
7
g
Saturated Fat:
1
g
Polyunsaturated Fat:
1
g
Monounsaturated Fat:
5
g
Sodium:
309
mg
Potassium:
1206
mg
Fiber:
6
g
Sugar:
2
g
Vitamin A:
20
IU
Vitamin C:
56
mg
Calcium:
39
mg
Iron:
2
mg