This cranberry sauce is THE best ever cranberry sauce. This sweet and tart sauce is made extra special with cinnamon and oranges but comes together in less than 20 minutes. It can be made ahead and refrigerated or frozen for later.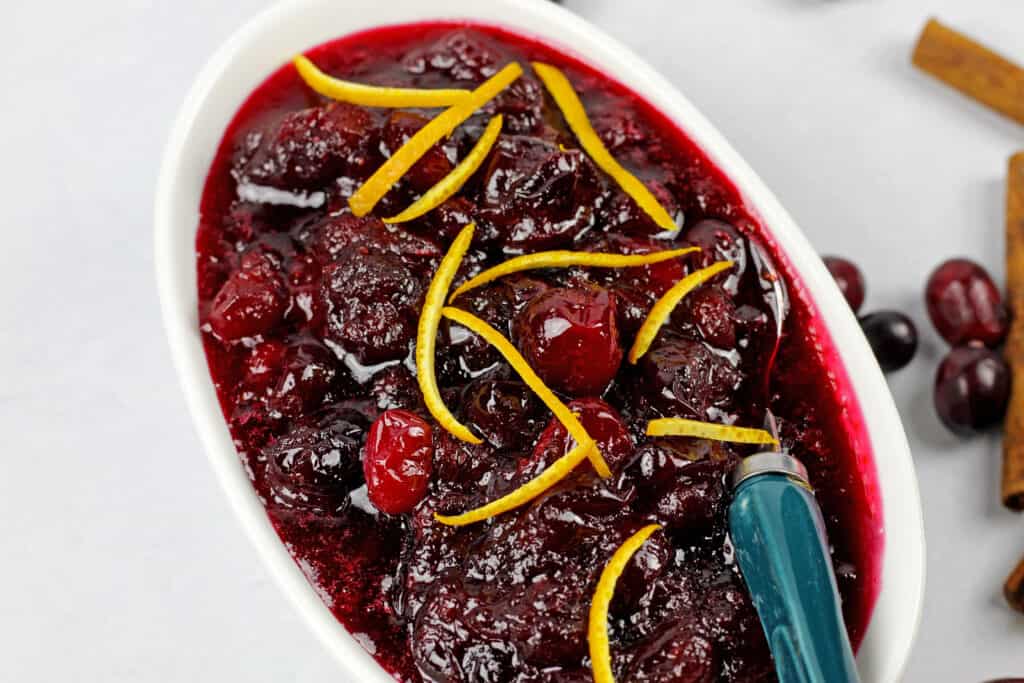 In general, I love just about anything cranberry. I grew up with canned cranberry sauce at holiday celebrations. It might be an unpopular opinion, but I still like that jellied cranberry sauce.
But when I got older, I started experimenting with making my own. I've tried all sorts of cranberry recipes over the years, but this one is the one that I come back to year after year.
Not only is it easy, but with hints of orange and cinnamon – it's the holiday season in a bowl. I usually make it for both Thanksgiving and Christmas. And, you can totally make this ahead of time. It keeps very well in the fridge or freezer.
Ingredient Notes
Orange zest and juice: While zesting the orange might not seem like a super important step, don't skip it! The zest gives far more of a citrusy scent (which impacts our taste) than the juice alone.
Brown sugar: You can use any sugar you like, or even honey, maple syrup, or agave nectar would be fine. I like brown sugar because it has a molasses flavor. Maple syrup would also give a similar flavor.
Cinnamon stick: You can find cinnamon sticks just about anywhere nowadays – even Walmart. You'll use the stick to infuse a light cinnamon flavor and then remove it from the sauce after it is done cooking. Ground cinnamon would be too potent.
Fresh cranberries: I love fresh cranberries; they're so pretty. They're also very easy to find. One bag is all you need for most gatherings, but if your family is cranberry crazy, you might want to double the recipe and get two bags.
How long does cranberry sauce last in the fridge? And, can you freeze cranberry sauce?
It lasts for 10-14 days in the fridge, so you can totally make this the week ahead and have one less thing to worry about on the day of the holiday. For freezing, it can last up to a year in the freezer.
Like any frozen food, it tastes best if used within a few months (less potential for freezer burn), so you can totally make a double batch the week before Thanksgiving and keep half for Thanksgiving and freeze the rest for Christmas. To thaw, I would pull it out of the freezer and thaw in the fridge for about 2-3 days before the big day.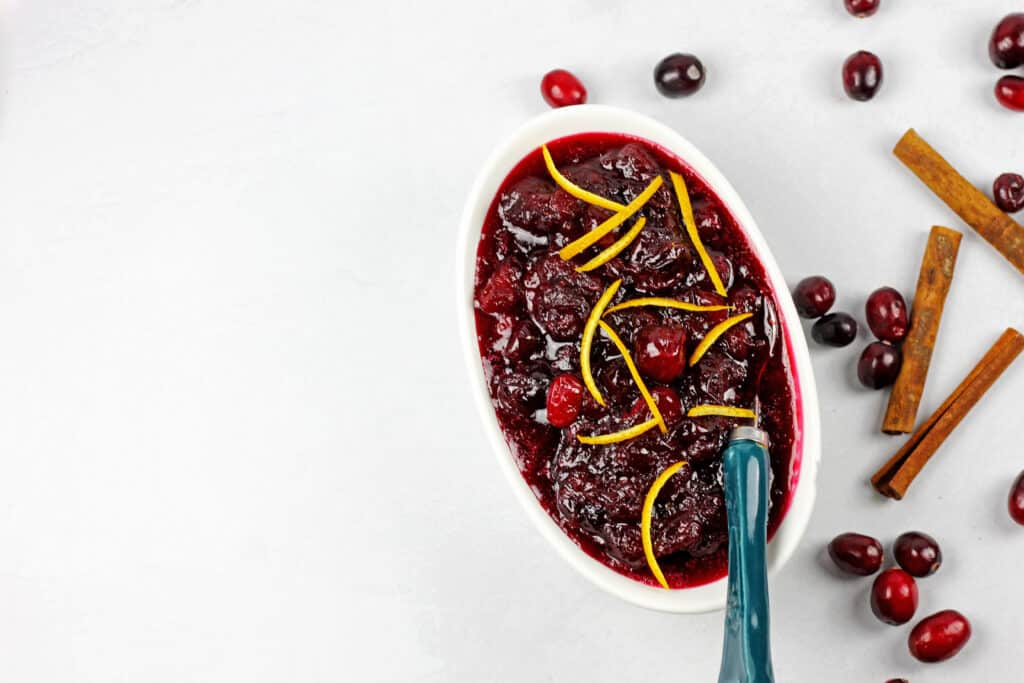 Leftover Cranberry Sauce Recipes and Ideas
If you end up with any leftover of this best ever cranberry sauce, I've rounded up a few recipes and ideas to use up the rest of the cranberry sauce – whether you use homemade or not. I've included a recipe of mine, but I've added a few links to a few of my fellow dietitians' recipes.
You can replace the fig jam with cranberry sauce in this Baked Brie recipe and serve for an appetizer at your next holiday party.
You can use cranberry sauce on this Thanksgiving Charcuterie Board.
Spicy Cranberry Shrimp is a recipe that uses leftover cranberry sauce and kicks it up a notch with jalapeno to make a marinade for shrimp. The shrimp can be used as an appetizer or entrée. It's perfect for a holiday gathering or Feast of the Fishes on Christmas Eve.
Cranberry Goat Cheese Flatbread with Thyme can be used as an appetizer or main entrée. Plus, it only uses five ingredients!
Cranberry Orange Cornbread Trifle can be used to use up leftover cranberry sauce AND leftover cornbread. It makes for a great breakfast OR dessert! Win, win!
Cranberry-Orange Cheesecake Cups are a simple and delicious holiday dessert. Cranberry sauce, layered with a graham cracker crust and cream cheese? Yes, please.
Overnight Oats – I love incorporating leftover cranberry sauce in my breakfast, and these vanilla overnight oats are the perfect vehicle.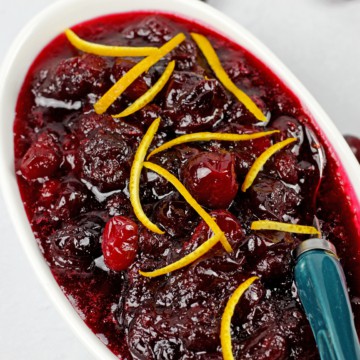 Best Ever Cranberry Sauce
Ingredients
zest of 1 large orange

¼

cup

orange juice

1

cup

brown sugar

1

cinnamon stick

1

bag

fresh cranberries

(12 oz.)
Instructions
Heat orange zest, juice, brown sugar, and cinnamon stick over medium-high heat in a saucepan until sugar dissolves.

Add in cranberries and simmer for about 15 minutes or until most of the cranberries have popped and sauce is thickened. Cool and serve or keep in the fridge for up to 14 days.
CLICK TO DISPLAY NUTRITION INFO
Nutrition
Calories:
130
kcal
Carbohydrates:
34
g
Protein:
0.3
g
Fat:
0.1
g
Saturated Fat:
0.01
g
Polyunsaturated Fat:
0.03
g
Monounsaturated Fat:
0.01
g
Sodium:
9
mg
Potassium:
92
mg
Fiber:
2
g
Sugar:
29
g
Vitamin A:
50
IU
Vitamin C:
12
mg
Calcium:
34
mg
Iron:
0.4
mg