These Vanilla Overnight Oats are creamy and silky with a classic vanilla flavor and make for the perfect easy and quick breakfast. They can be topped off with your favorite toppings.
Overnight oats have become a big thing in the last several years, and I can see why. Breakfast is a meal most of us struggle with, especially those of us (including me!) that aren't morning people.
I love taking my time with breakfast on the weekends, but I often need and want something a little quicker during the week. These Vanilla Overnight Oats are literally just assembly, no cooking or heating required.
The liquid is soaked up in the oats overnight, doing the work to soften the oats that cooking them on the stovetop in the morning would normally do. I like to eat them cold, but if cold breakfasts aren't your thing, you can certainly microwave it a bit in the morning just to take the chill off.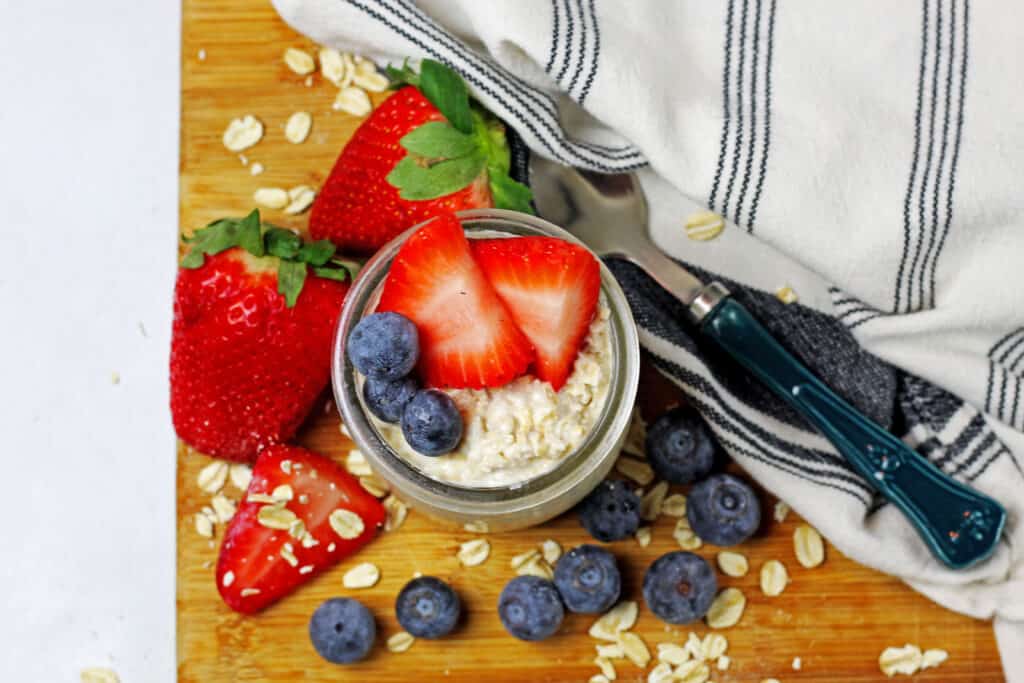 Ingredients
Vanilla kefir: Kefir is a probiotic (healthy bacteria) drink that is essentially fermented milk. It is similar to a drinkable yogurt (which you can substitute if you have trouble finding kefir).
However, kefir typically contains a lot more probiotics than yogurt. I love the vanilla flavor since I can really customize my toppings for the overnight oats, but feel free to try a different flavor if you'd like.
Old-fashioned rolled oats: This is my preferred choice for oats. You can use other types, but there are drawbacks. Instant oats may get too soggy, and steel-cut may remain a little chewy. Oats are also a great source of fiber, which is a prebiotic – more on that later.
Vanilla extract: This obviously will give it just a touch more vanilla flavor. As always, use the real stuff; the imitation version may give it a slightly off-flavor.
Honey: This is optional if you have a very sweet kefir. I find most kefir to be pretty low on the sweetness, so I like to add a touch extra sweetness for flavor and satisfaction.
Toppings: For the photos I used berries, but feel free to customize. I like to make sure that my breakfast has a combination of carbs, protein, and fats for adequate satiety and satisfaction to fuel my day.
The kefir has some protein, but you can boost this by adding nuts or nut butters like peanut butter, almond butter, etc. Nuts are a great source of fat as well.
The oats have fiber-rich carbs, but I like to round it out a bit more with some fresh fruit.  You can also add in some other fun ingredients for toppings like chocolate chips, shredded coconut, or jam (like this chia seed jam, which is rich in omega-3s and fiber).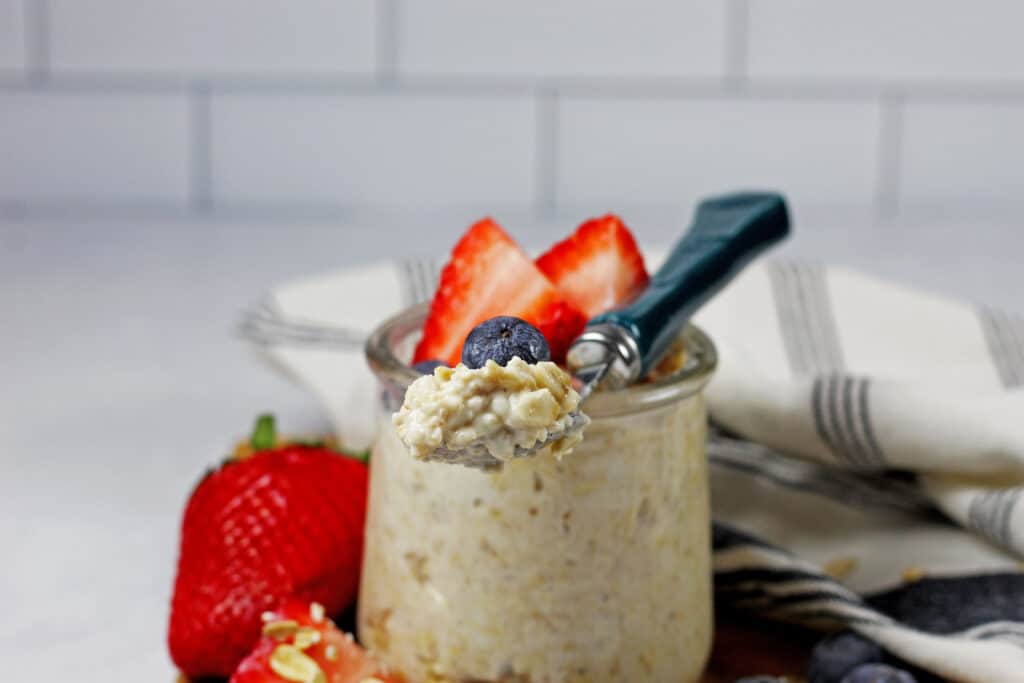 Benefits of Combining Probiotic and Prebiotic Foods
One of the best things about this recipe is that it combines probiotic (healthy bacteria from the kefir) with prebiotic foods (fiber from the oats). We need good bacteria to populate our guts for a healthy immune system and digestion, and prebiotic foods like the fiber from the oats help feed the good bacteria.
Both of these can help keep our digestive systems regular and functioning well. Probiotics and prebiotics are the perfect symbiotic relationship.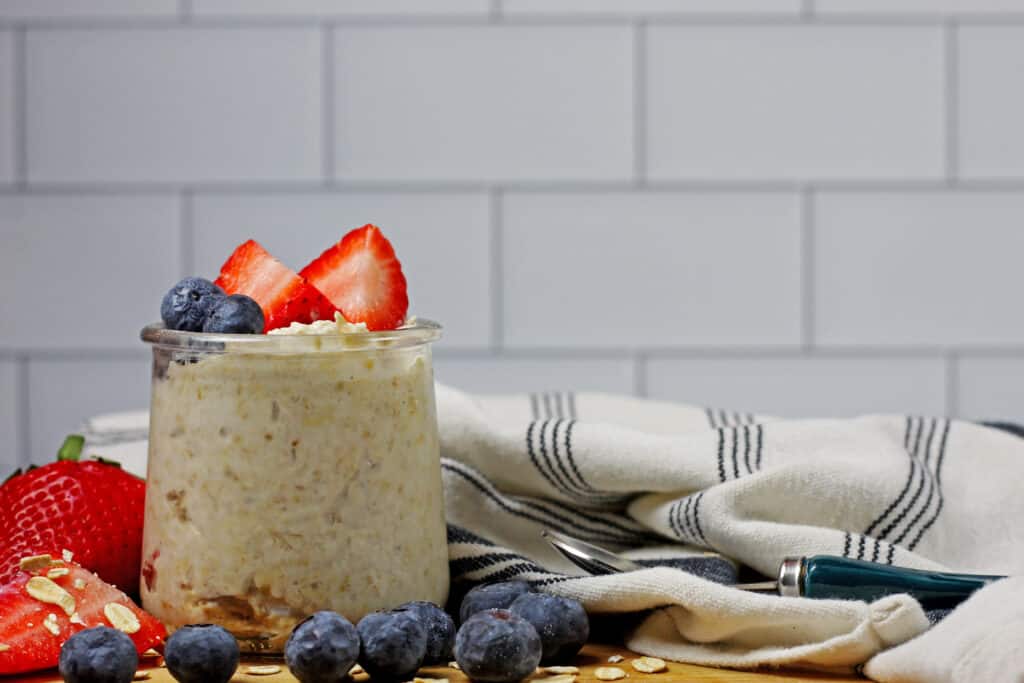 How to Make Vanilla Overnight Oats
This section will be short and sweet because there isn't much to it. Simply mix all of the ingredients in a container. I like to use old jars with lids.
Then refrigerate overnight. In the morning, top off with your favorite toppings, and off you go. It's okay to leave the jar for an extra day or so; just know that it'll be a little soggier, but then again, it is oatmeal, and that's basically its texture.
If it looks a little dry when you remove it from the fridge, you can always add a little bit of milk or more kefir and stir it up until it is your preferred consistency.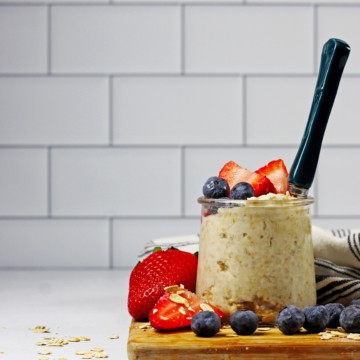 Vanilla Overnight Oats
These Vanilla Overnight Oats are creamy and silky with a classic vanilla flavor and make for the perfect easy and quick breakfast. They can be topped off with your favorite toppings.
Ingredients
½

cup

vanilla kefir

or yogurt drink

½

cup

old-fashioned rolled oats

¼

tsp.

vanilla extract

2

tsp.

honey

optional

Toppings: fruit

shredded coconut, chocolate chips, seeds, nuts, and/or nut butters
Instructions
In a jar or container with a lid, mix together all of the ingredients except for the toppings.

Refrigerate overnight (or at least a few hours), then serve cold with your favorite toppings. 
CLICK TO DISPLAY NUTRITION INFO
Nutrition
Calories:
262
kcal
Carbohydrates:
42
g
Protein:
9
g
Fat:
7
g
Saturated Fat:
3
g
Polyunsaturated Fat:
1
g
Monounsaturated Fat:
1
g
Cholesterol:
15
mg
Sodium:
65
mg
Potassium:
154
mg
Fiber:
4
g
Sugar:
15
g
Vitamin A:
246
IU
Vitamin C:
0.1
mg
Calcium:
172
mg
Iron:
2
mg