This Confetti Pancakes recipe is made for the ultimate birthday breakfast or really any old morning breakfast. Bursting with colorful sprinkles, these fluffy funfetti pancakes are the perfect spin on classic pancakes. They'll be a huge hit for the entire family.
This confetti pancake recipe is such a fun and delicious breakfast – they are bursting with rainbow sprinkles and birthday cake flavor. They're the perfect way to celebrate a birthday morning, the first day of school, or a regular old Saturday morning. I know I would love to wake up to these birthday pancakes. Instead of using funfetti cake mix as a lot of other recipes, I like making these fluffy pancakes from scratch to make these fluffy cake batter pancakes. The recipe uses pretty simple ingredients though – no weird ingredients here. Personally, I think this is a better way. This basic recipe is super versatile and can easily be doubled or tripled for feeding a crowd. In this post, you will also get tips for storing your pancakes and freezing them for later, so you won't need birthday celebrations to enjoy them.
Jump to:
Ingredients for Confetti Pancakes Recipe
All-purpose flour: You can substitute white whole wheat flour if you want, but I would avoid flours like almond flour, coconut flour, or oat flour – these will likely not turn out well as it would throw off the dry to wet ingredient ratio in the recipe.
Sugar: This recipe only uses a small amount, but you can substitute it with maple syrup, honey, or agave nectar if you prefer.
Baking powder: Make sure your container isn't expired.
Milk: I like using regular milk, but you can use any plant-based milk if you want.
Eggs: These are the binding agents in pancake making – they also help prevent the pancakes from sticking to the pan or griddle. I never have good results if I skip the egg in pancakes.
Unsalted butter: I use unsalted melted butter in making pancakes, so I can best control the flavor. Some people like to use vegetable oil in their pancakes, but real butter gives a ton more flavor in my opinion.
Vanilla extract: Almond extracts could also be used if you prefer, but vanilla extract is classic.
Sprinkles: Obviously, no birthday cake pancakes are complete without sprinkles, especially rainbow funfetti sprinkles. Without sprinkles, these would not be very fun pancakes.
Toppings of choice: Obviously, there's always maple syrup and butter, but I also like fruit, whipped cream, chocolate chips, etc. For mine, I opted for homemade whipped cream. Powdered sugar would be great too. If you're a sprinkle fan (which I assume you are if you're making this recipe), you can always add extra sprinkles too.
Instructions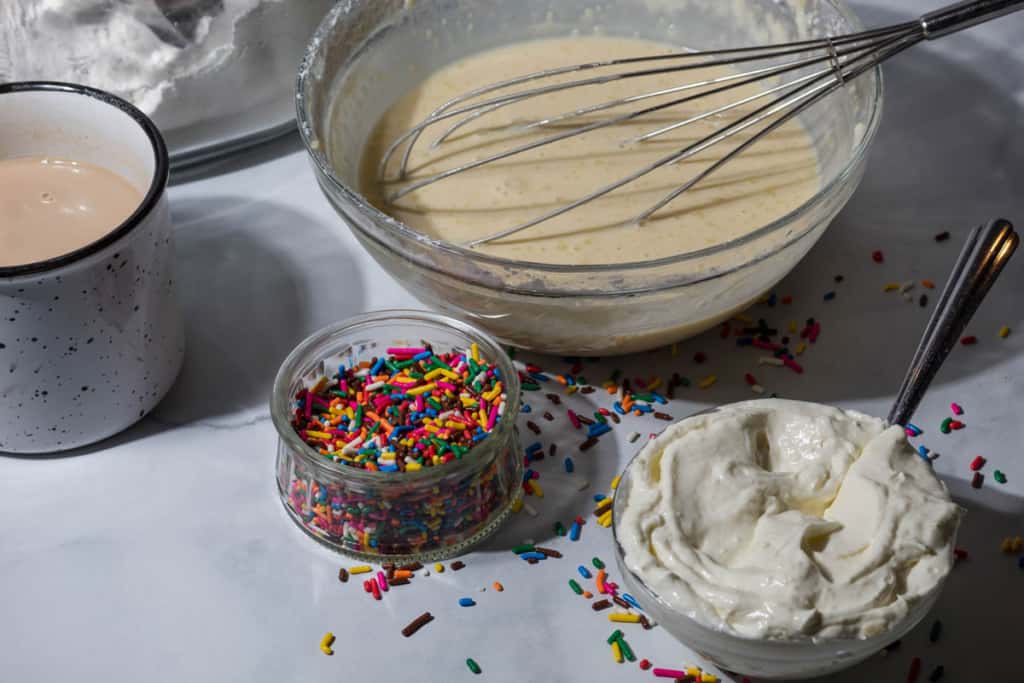 To make these pancakes, you'll mix together the dry ingredients in a mixing bowl, then the wet ingredients in a separate bowl. Once they are mixed individually, then combine them together in a large mixing bowl. Setting that aside, you'll need to heat up a large non-stick pan (which is what I do) or flat top electric griddle over medium-high heat. If it's not a non-stick pan, make sure you use cooking spray to prevent sticking. I like to always test a bit (about a quarter-sized amount is fine) of the pancake batter on the hot griddle or pan to make sure it's hot enough to make the outside crispy but the inside fluffy. You'll know it's hot enough when you see the top of the batter start showing air bubbles.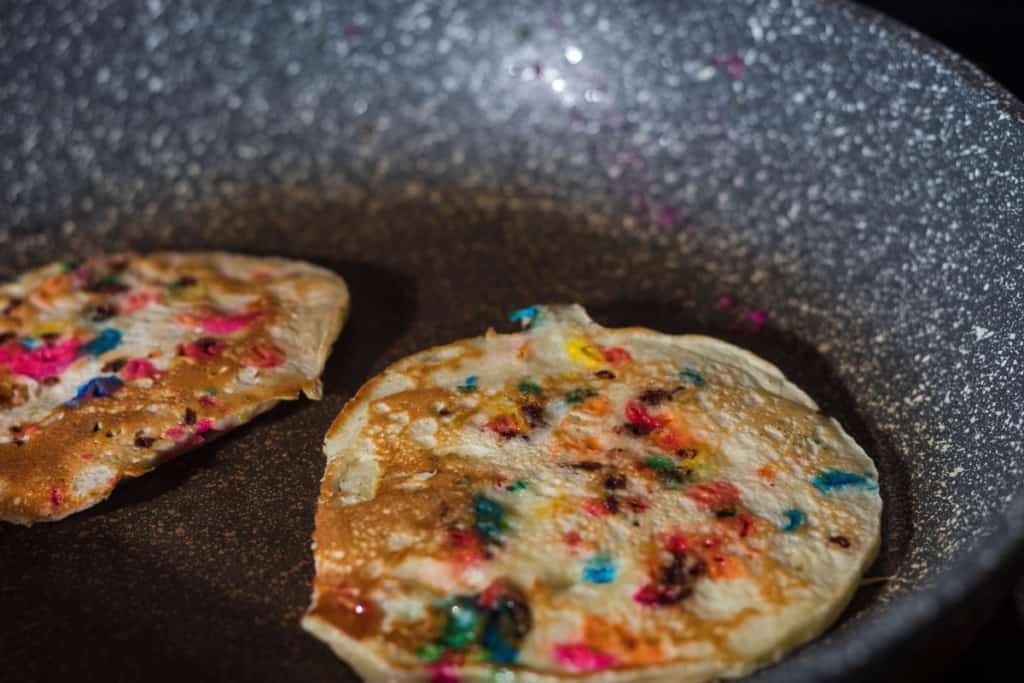 Typically, I use a ¼ cup measuring cup to pour pancake batter into the pan and make (at least somewhat) uniform pancakes. As the pancakes cook, add sprinkles to the uncooked side of the pancake. When you see bubbles on the top surface, you need to flip and cook for another few minutes or until golden brown. Continue this process until all of the pancake batter is cooked.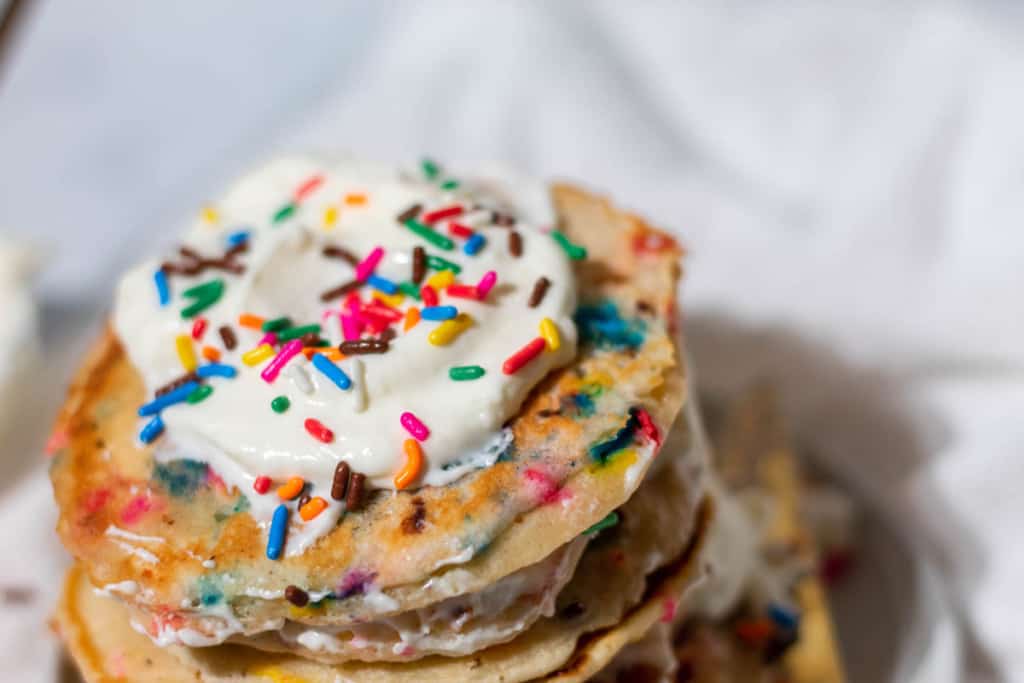 How to Store Leftover Confetti Pancakes
You can store confetti pancakes in the fridge in an airtight container or ziplock bag for up to 3 days. To freeze for use later, you'll need to freeze the pancakes in a single layer on a baking sheet. Once they are frozen solid put them into a freezer bag for up to 3 months. Freezing them in a single layer first will keep them from sticking together as they freeze.
To reheat leftover pancakes:
In an oven, spread the pancakes in a single layer on a baking sheet then cover the baking sheet with foil. Heat at 350 degrees for about 5-10 minutes.
To reheat frozen pancakes in the oven, add an additional 5-7 minutes.
In an air fryer, arrange in a single layer in your air fryer basket and heat on 325 degrees for about 2-3 minutes.
To reheat frozen pancakes in the air fryer, add an additional 2-3 minutes.
In the microwave, heat pancakes in a single layer on a microwave-safe plate on high heat for about 10-20 seconds for 1-3 pancakes and 30-60 seconds for 4+ pancakes.
To reheat frozen pancakes in the microwave, heat 1-3 pancakes for 20-30 seconds and 45-60 seconds for 4+ pancakes.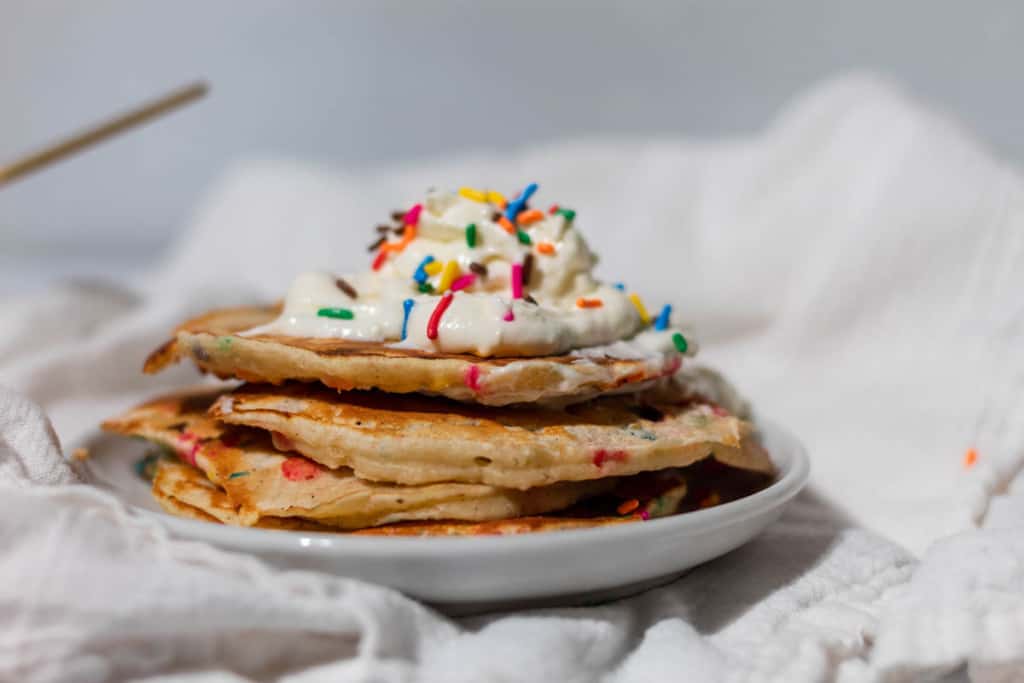 More Breakfast Recipes
If you enjoyed this confetti pancake recipe, you'll probably also like these recipes: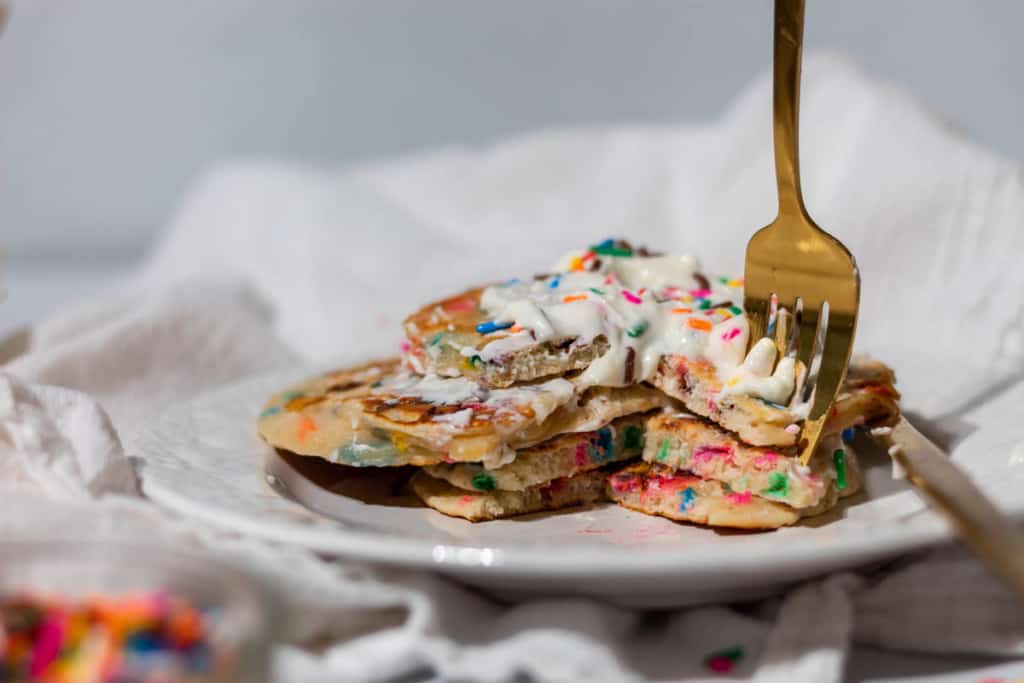 Print
Confetti Pancakes Recipe
Author: Melissa
Prep Time:

5 minutes

Cook Time:

20-25 minutes

Total Time:

25-30 minutes

Yield:

6

–

8

servings

1

x
Category:

breakfast
2 ¾ cups

all-purpose flour

1 tablespoon

sugar

4 teaspoons

baking powder
Pinch of salt

1 ¼ cups

milk

2

eggs, beaten

3 tablespoons

unsalted butter, melted

1 teaspoon

vanilla extract
Sprinkles, to taste
Favorite pancake toppings (such as more sprinkles, fruit, jam, coconut, maple syrup, butter, whipped cream, nuts or nut butter, chocolate chips, yogurt, etc.)
Instructions
In a large mixing bowl, whisk together flour, sugar, baking powder, and salt. In a separate bowl, whisk together milk, eggs, butter, and vanilla extract. Then mix the wet and dry ingredients together and mix until just combined.
Heat a large non-stick pan over medium-high heat. Spray with oil or butter the pan if needed/desired. Using ¼ or ½ cup measuring cups (depending on the desired size), pour the batter into the pan, spreading the batter flat.
Sprinkle the sprinkles on the uncooked side of the pancake in a single layer. Cook until you see bubbles on the outer corners. Flip and cook for another 1-2 minutes or until brown. Repeat until all batter is completely used.
Serve with your favorite toppings and Enjoy!
Keywords: breakfast, pancakes, brunch, birthday