This Sourdough French Toast is everything you want in a French toast recipe but with extra flavor thanks to sourdough bread.
Breakfast is one of my favorite meals, so let's talk French toast. With French toast, you want warm spiced, crispy on the outside, custardy in the middle, and this recipe has all of that and more.
Making French toast with sourdough bread helps make the taste just a little more complex. You won't taste a super-strong tangy taste, but more of a milder, complex flavor to the French toast.
Judging by how many people were swept away by making sourdough during quarantine, I'm willing to bet there's a lot of people out there with a surplus of sourdough bread. So, here's a great way to use it up!
Plus, you can still use this French toast recipe for other types of bread. I like to use bread that is a little on the stale side that I wouldn't want to make a sandwich with, but making it into French toast gives it new life.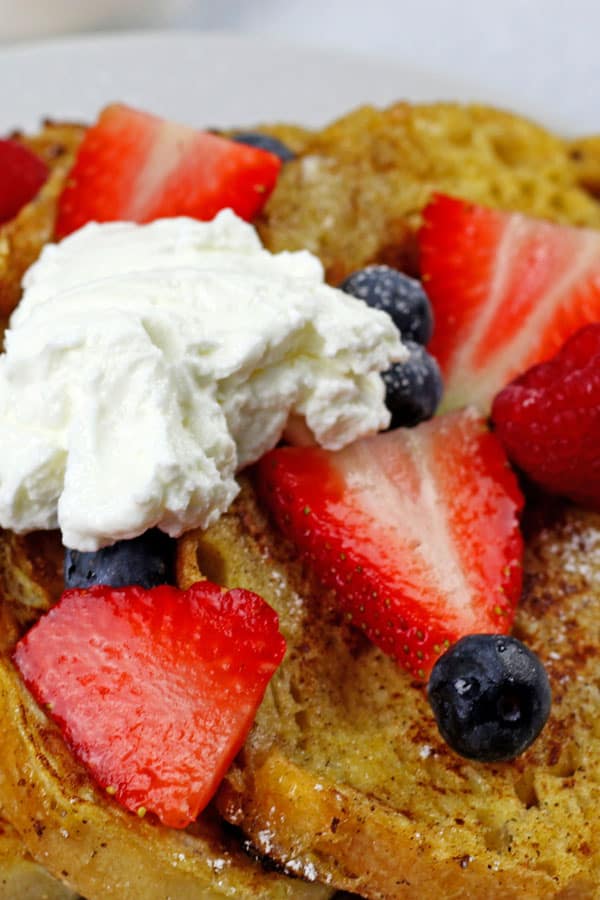 Ingredients
Milk: I used cow's milk, but I recommend using whatever milk you like best. If you use plant-based milk, opting for a flavored one like vanilla can give a little extra flavor. Using one with a little bit of fat also helps with the French toast's flavor and texture.
Eggs: This is what helps make that custard-like center of the French toast.
Spices and flavors: Cinnamon, nutmeg, vanilla extract, and a pinch of salt are needed for this recipe, but feel free to adjust to your preference.
Any warm baking spices would work like pumpkin pie spice, clove, cardamom, etc. Use what you have on hand; just be mindful that the more strongly smelling (like clove) the spice, the less you'll want to use. If you're feeling a little extra, you can sub in bourbon or hazelnut flavored liquor instead of the vanilla extract.
Maple syrup: Putting just a touch of sweetness from maple syrup into the soaking batter really brings out the flavor. I used maple syrup since I planned on eating the syrup on top later but feel free to substitute other sweeteners like honey, agave nectar, or regular old sugar.
Sourdough bread: As I mentioned above, I really like the flavor that sourdough provides, but you can substitute other types of bread if you'd like or if it's what you have on hand.
Tips and How to Make Sourdough French Toast
Sourdough French toast is relatively easy to make. It merely involves whisking your eggs, milk, spices, and flavorings together and allowing the bread to soak in the mixture, followed by a sear on each side of the bread in a pan.
One of the best tips is to make sure that the middle part of your bread really takes in the egg mixture. The drier your bread, the longer you'll want to soak it. My bread was a little on the drier side, so I let it soak for a few minutes.
Other recipes don't really focus on this part, but I think it's key to getting that custardy center characteristic of French toast. If your bread is on the softer side, you won't have to soak it for long.
I usually poke the center of the bread while it is soaking to see if the middle is saturated. Once it feels like the center is thoroughly soaked, I pop it in the pan for cooking.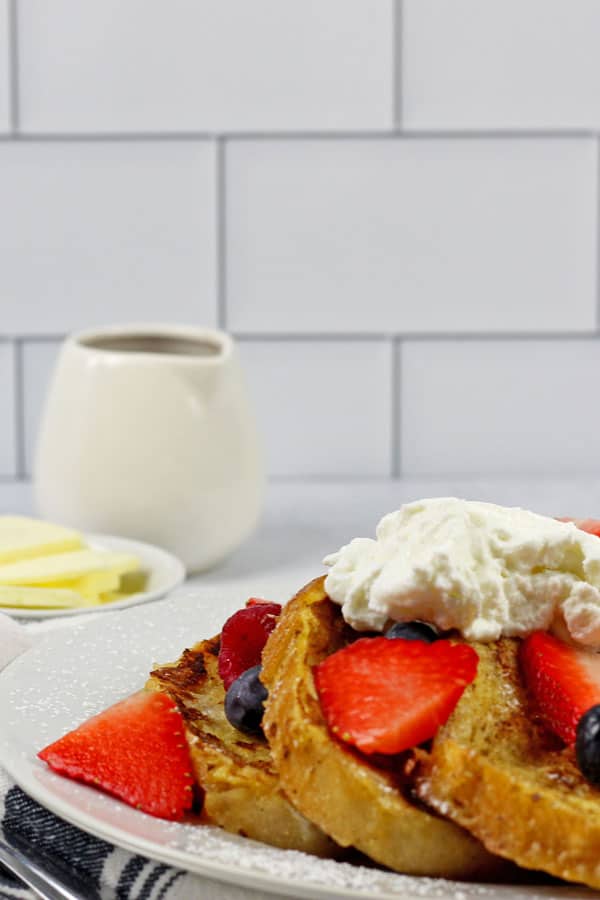 Topping Ideas for French Toast
The toppings are one of my favorite parts of French toast. I've listed a few options in the recipe that you can try, but here are a few different flavor combinations to add on top of your French toast:
Peaches and Cream – peaches topped with a bit of vanilla yogurt
Chocolate and strawberries – chocolate chips with fresh strawberries
Tropical – mango chunks with coconut shreds
Banana nut – bananas with maple syrup and pecans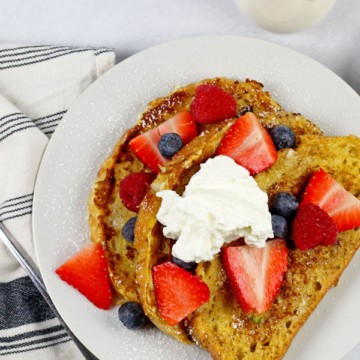 Sourdough French Toast
This Sourdough French Toast is everything you want in a French toast recipe but with extra flavor thanks to sourdough bread.
Ingredients
⅓

cup

milk of your choice

4

eggs

½

tsp.

cinnamon

⅛

tsp.

nutmeg

1

tbsp.

maple syrup

1

tsp.

vanilla extract

Pinch

of salt

Butter or a neutral-tasting oil for cooking

like avocado, canola, etc.

8-10

slices

of sourdough bread

Toppings of your choice: maple syrup

butter, yogurt, fruit, coconut, nut butter, powdered sugar, etc.
Instructions
Whisk together the milk and eggs until smooth in a shallow baking dish. Add cinnamon, nutmeg, maple syrup, vanilla extract, and a pinch of salt. Whisk until completely incorporated.

Heat a skillet over med-high heat. Coat skillet with butter, oil, or cooking spray to prevent sticking. Soak both sides of bread slices in egg mixture until middles are saturated.

Fry bread slices in skillet until golden on each side (about 3 minutes per side). Serve warm with your favorite toppings.
CLICK TO DISPLAY NUTRITION INFO
Nutrition
Calories:
232
kcal
Carbohydrates:
35
g
Protein:
10
g
Fat:
5
g
Saturated Fat:
2
g
Polyunsaturated Fat:
1
g
Monounsaturated Fat:
1
g
Trans Fat:
0.1
g
Cholesterol:
87
mg
Sodium:
437
mg
Potassium:
128
mg
Fiber:
2
g
Sugar:
5
g
Vitamin A:
180
IU
Vitamin C:
0.01
mg
Calcium:
64
mg
Iron:
3
mg