Pumpkin Cold Brew Coffee is a delicious way to enjoy fall and all things pumpkin spice. It's the perfect drink for fall lovers!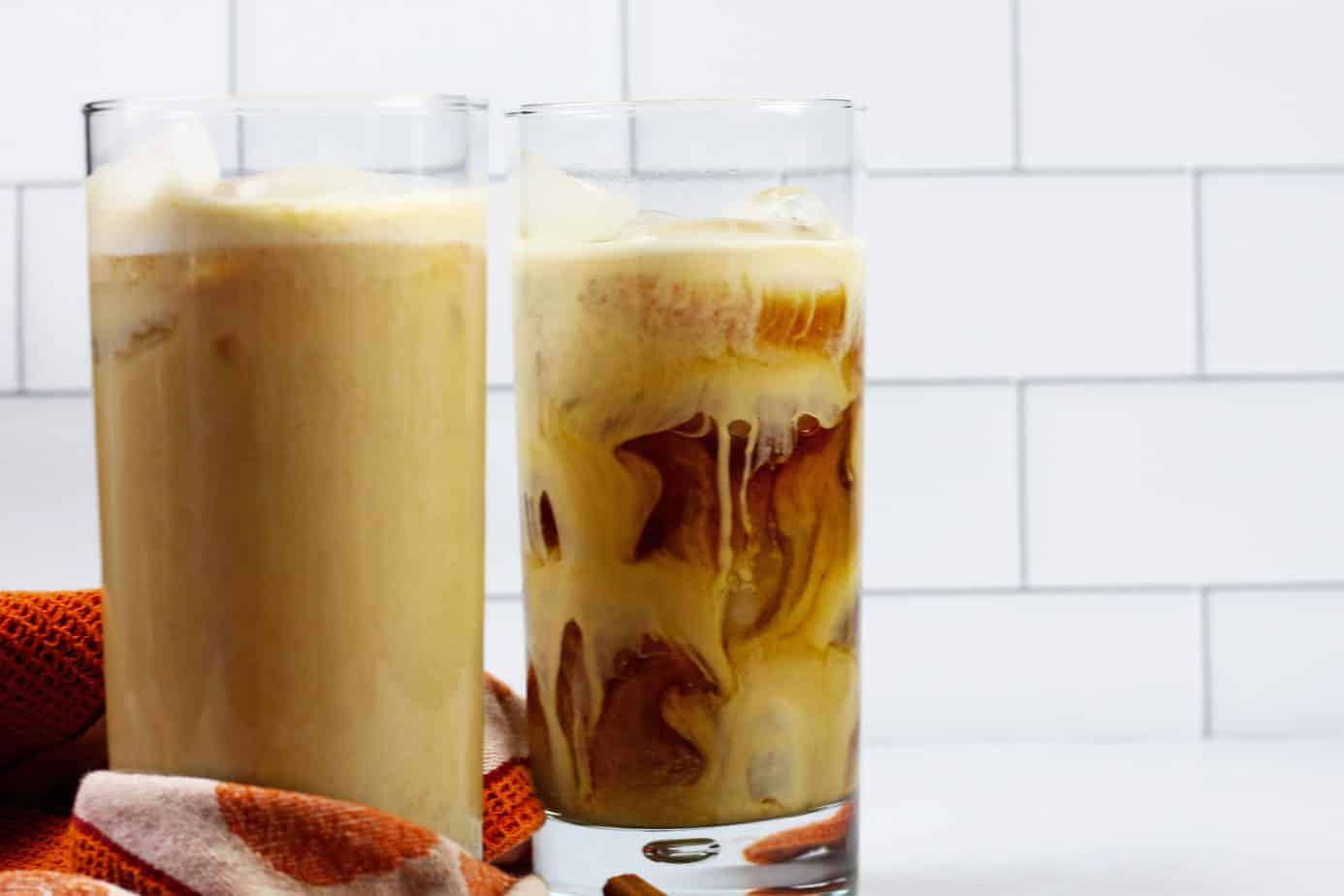 Pumpkin Cold Brew is a must if you live in a hot climate as I do. South Carolina doesn't really get fall weather until late October or early November, even though I'm ready for all things pumpkin spice by Labor Day.
And, I'm not usually ready for hot coffee until well past Labor Day. Plus, Starbucks Pumpkin Cream Cold Brew isn't cheap! If you want to enjoy your pumpkin spice without shelling out the cash, then this recipe is definitely for you. 
Coffee is typically brewed through a process that involves both infusion and heat. The heat speeds up the infusion of the coffee into the water. In cold brew, you don't use heat and because of that, you have to allow the cold brew to "brew" for several hours (ideally overnight) since you don't have heat speeding up the process. Some studies have shown that cold brew may be less acidic than hot coffee, which is good news for folks with sensitive tummy issues or acid reflux. 
Cold brew coffee is strong, so some like to dilute it with milk or water for a smoother taste. So it really gives a great flavor when a creamy pumpkin foam is added to the coffee.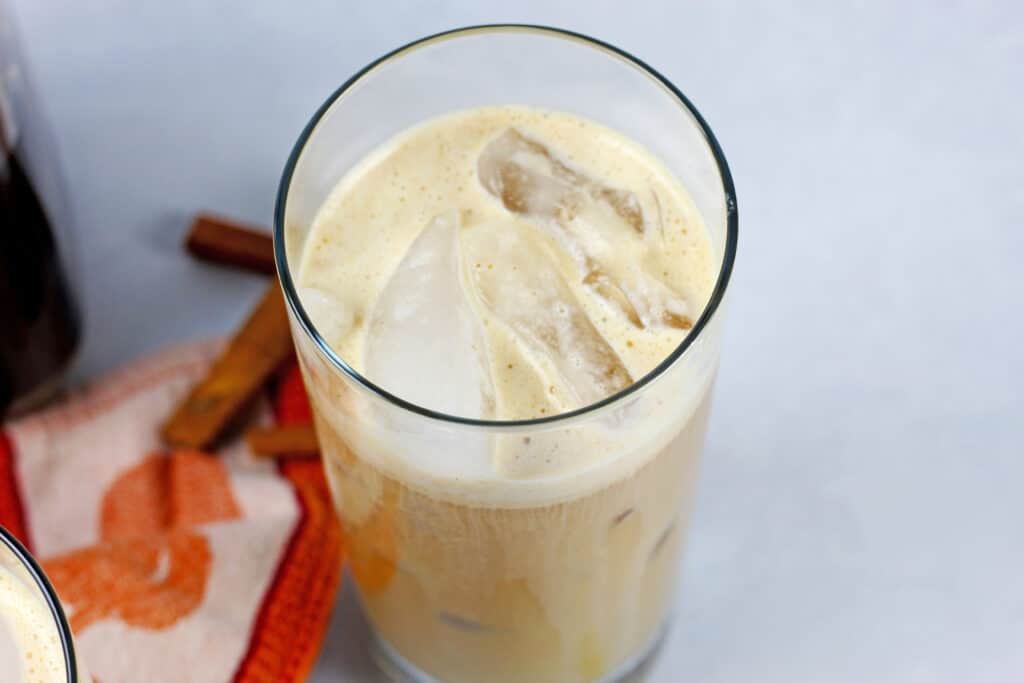 Ingredients for Pumpkin Cold Brew
Brown sugar: You can use other types of sweetener, but I like using brown sugar because it gives off an extra fall vibe from the taste of molasses. 
Pumpkin puree: Use the canned stuff – it works perfectly. Just make sure that you get the 100% pumpkin, not the canned pumpkin pie puree – it's completely different. 
Pumpkin pie spice: Really pumpkin pie spice is a blend of several warming spices. Typically it contains cinnamon, ginger, nutmeg, allspice, and cloves. You can buy it ready-made in the store, or blend your own. 
Half and half: I prefer half and half, but if you want to substitute plant-based milk I would recommend one that contains fat so that the cold brew will have a creamy mouthfeel. 
Evaporated milk: Evaporated milk is a great ingredient to use in flavored, creamy coffees because evaporated milk is concentrated and slightly caramelized, which results in a creamy and slightly sweet taste. 
How to Make Pumpkin Cold Brew
First, you'll make a pumpkin syrup using brown sugar, pumpkin puree, pie spice, and a bit of water. This recipe makes just enough for one cold brew, but feel free to double, triple, quadruple the syrup if you want to use it for other purposes or have it ready for more pumpkin cold brew later in the week. 
After, you'll make the foam for the cold brew by frothing together the half and half, evaporated milk, and the pumpkin syrup. Then you can top your cold brew with the frothy pumpkin foam. If you don't own a frother, I have a few ideas for you in the next section.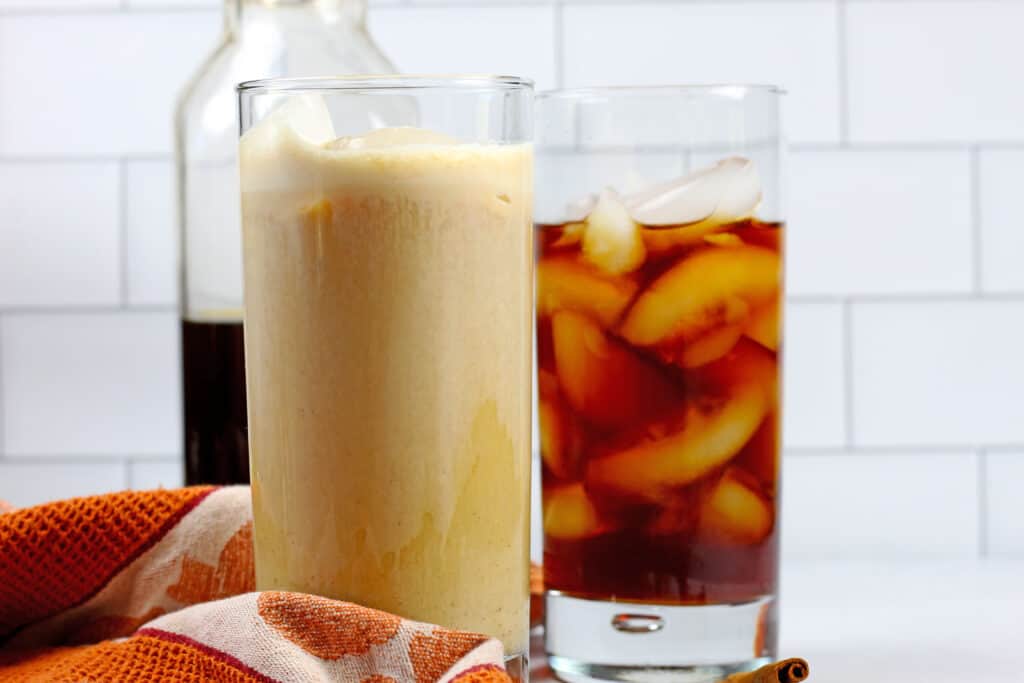 Recipe Notes and Tips
There are several ways you can froth the milk. One of the obvious ones is buying a milk frother like this one. But you might be able to just use what you already have available at home. Personally, I used an immersion blender, but you could use a regular old blender.
Another alternative would be using a french press. To use the french press method, you would add the half and half, evaporated milk, and pumpkin syrup to the carafe and then use the plunger lid to push up and down repeatedly until the pumpkin foam forms.
You can keep the half and half cold and the evaporated milk at room temperature to create a cold foam, which makes the most sense when making a cold brew. But, you could heat the milk products a bit in the microwave before frothing if you want a warm/cold sensation when drinking the cold brew.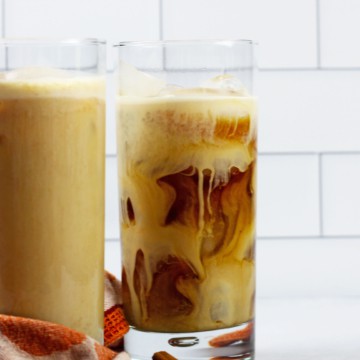 Pumpkin Cold Brew Recipe
Ingredients
¼

cup

brown sugar

2

tbsp.

pumpkin puree

⅛-1/4

tsp.

pumpkin pie spice

3

tbsp.

water

½

cup

half and half

½

cup

evaporated milk

48

oz.

cold brew

homemade or store-bought
Instructions
Make the pumpkin syrup by combining brown sugar, pumpkin puree, pie spice, and water in a small saucepan. Stir and warm on the stove until sugar is melted and dissolved. Remove from heat to cool. You can pour into a heat-proof container and pop in the fridge or freezer to cool down faster. You can also double or triple the syrup depending on how much sweetness you like or to use throughout the week. 

Make the foam by blending together the half and half, evaporated milk, and pumpkin syrup using either a frother, immersion blender or French press (see recipe notes). Depending on your desired sweetness you can increase or decrease syrup to your liking. 

Divide the cold brew into 4 glasses. Top each with the sweetened cold foam.
Notes
To make the cold foam you can use a milk frother, immersion blender, or regular blender to blend all of the foam ingredients together. 
Additionally, you can use a french press by adding the cold foam ingredients to the carafe, and then use the plunger lid to push up and down repeatedly until the pumpkin foam forms. 
CLICK TO DISPLAY NUTRITION INFO
Nutrition
Calories:
101
kcal
Carbohydrates:
20
g
Protein:
4
g
Fat:
1
g
Saturated Fat:
0.3
g
Polyunsaturated Fat:
0.02
g
Monounsaturated Fat:
0.2
g
Cholesterol:
3
mg
Sodium:
78
mg
Potassium:
368
mg
Fiber:
0.2
g
Sugar:
19
g
Vitamin A:
1306
IU
Vitamin C:
1
mg
Calcium:
142
mg
Iron:
0.4
mg