If you're a coffee drinker, and you must be if you're reading this, you probably enjoy an occasional deviation from your daily cup of joe. To me, enjoying hot lattes doesn't seem as appealing on a hot day. Instead, why not try making this iced caramel latte recipe at home?!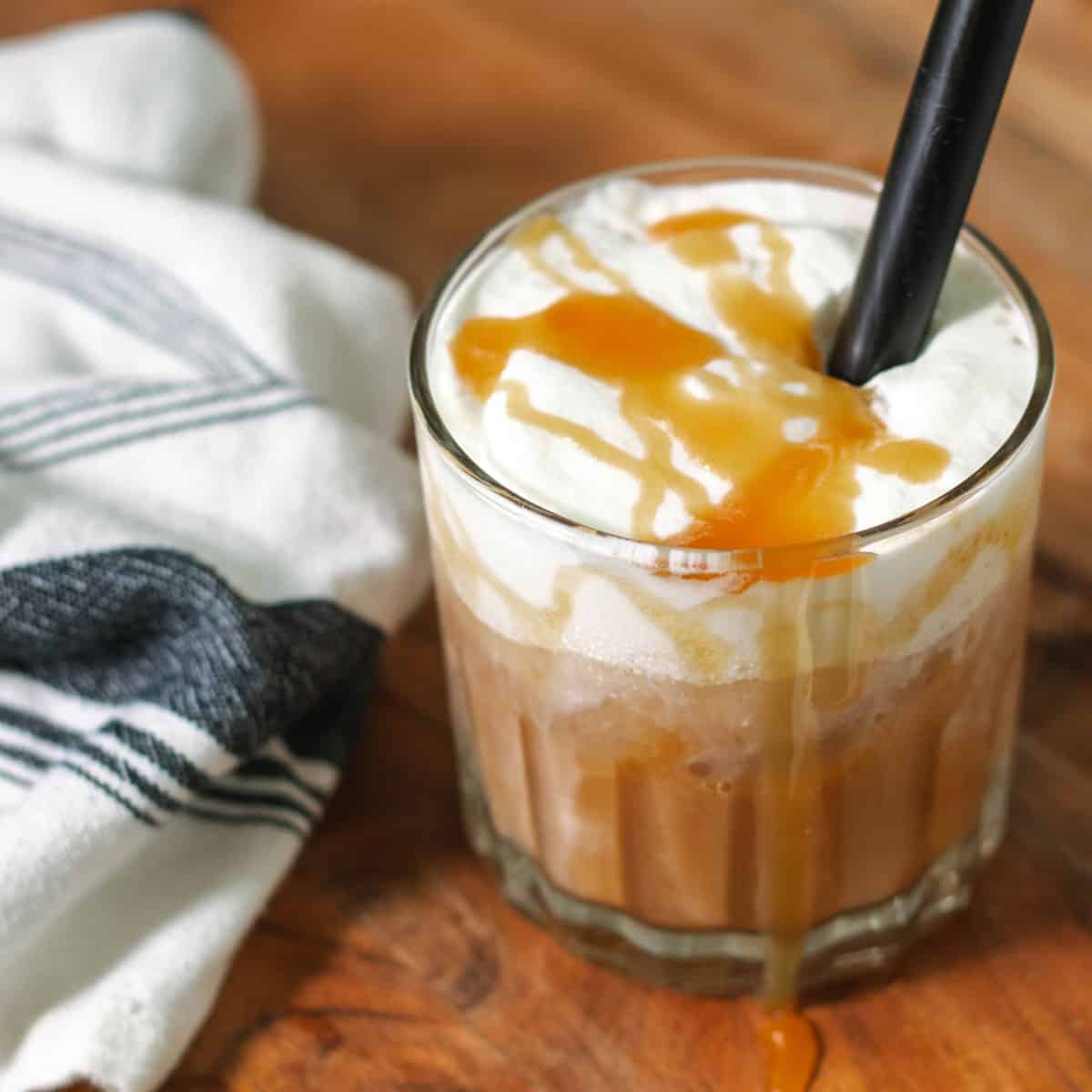 This iced caramel latte is slightly sweet, depending on how much caramel sauce you use, and deliciously refreshing. It just uses a few basic ingredients; espresso shots (or strong coffee), caramel chocolates, caramel sauce, milk of your choice, and ice. That's all it takes to recreate an iced latte just like your local coffee shop makes for a fraction of the price.
Jump to:
Ingredients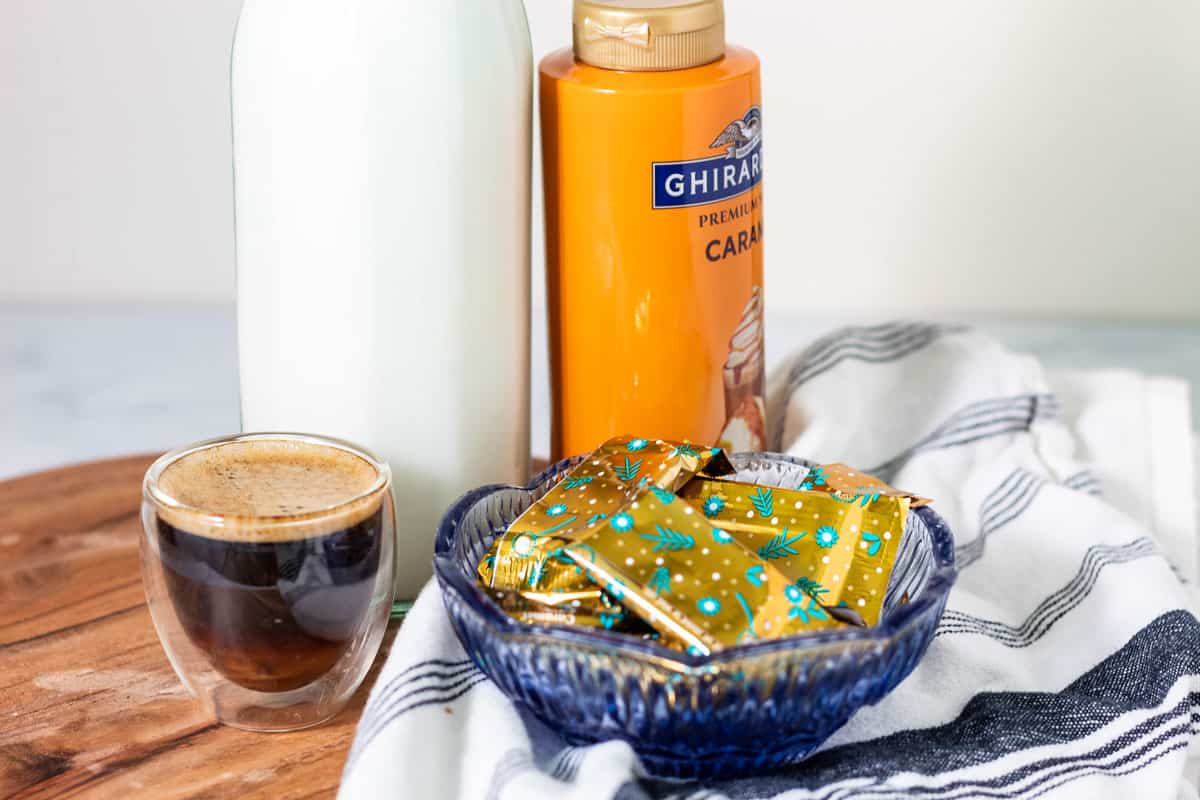 It doesn't take many components to make a great-tasting iced caramel latte. Simple ingredients commonly in your refrigerator come together to create this fancy-tasting beverage. It isn't necessary to use expensive machinery or the highest quality coffee to make an iced caramel latte, just some caramel sauce, caramel chocolates, espresso, milk, and ice.
Caramel chocolates: A good caramel flavor is essential for this iced caramel latte. My easy recipe calls for caramel chocolates to be melted right into the espresso. This step adds more caramel goodness and chocolatey richness to the drink.
Several brands of caramel chocolates can be found in the grocery store's candy aisle if you don't already have a stash of them at home. Alternatively, you can leave the chocolates out if you're trying to keep the amount of sugar down.
Espresso shot(s): A couple of shots of espresso give this iced caramel latte a much-needed caffeine bump. Espresso is made using the same coffee beans as brewed coffee, but it is ground finer and brewed using highly-pressurized hot water.
A one-ounce shot of espresso contains less caffeine than an eight-ounce cup of coffee, even though it is more potent and concentrated. Espresso contains 64 mg of caffeine per shot versus 95 mg per cup of coffee.
You don't need a big espresso machine to brew; instead, you can opt for small, more portable options. The AeroPress or Moka pot are affordable and take up much less space than a countertop espresso machine. This recipe will also work with strongly brewed coffee if espresso is not your thing or if that's all you have available to use.
Milk: The trick to a good latte, hot or cold, is frothed milk poured over espresso. Protein and fat content in milk contribute to its flavor and ability to foam. Milk with high-fat content, such as whole milk, is ideal for a delicious frothy finish.
Whole milk also contains a good balance of protein and fat, making it easier on the stomach than using heavy cream or half and half. There are several alternatives if you don't prefer the taste of cow's milk or you can't do dairy.
Some milk alternatives or "mylk" may work better than others for frothing before adding to your iced caramel latte. Milk alternatives containing extra stabilizers and thickeners are usually labeled "barista blend" and are ideal for lattes. Oat milk, almond milk, and coconut milk are great non-dairy milk alternatives for their high fat and fiber contents.
Caramel sauce: The last ingredient in this iced caramel latte is caramel sauce. Caramel sauce adds most of the caramel flavor to your iced latte and gives the drink a nice appearance as it is drizzled on the cup's inner walls.
Homemade caramel sauce can be made by adding granulated sugar and water into a small saucepan over a medium flame. Allow the sugar to melt, and continuously stir it while it begins caramelizing.
Whisking butter and cream into the caramelized sugar creates a squeezable and spreadable texture that will work well in your latte. I have made my own caramel, but I will often use caramel sauce from the grocery store.
Grocery store caramel sauce is available from several brands in different varieties, such as salted caramel.
Instructions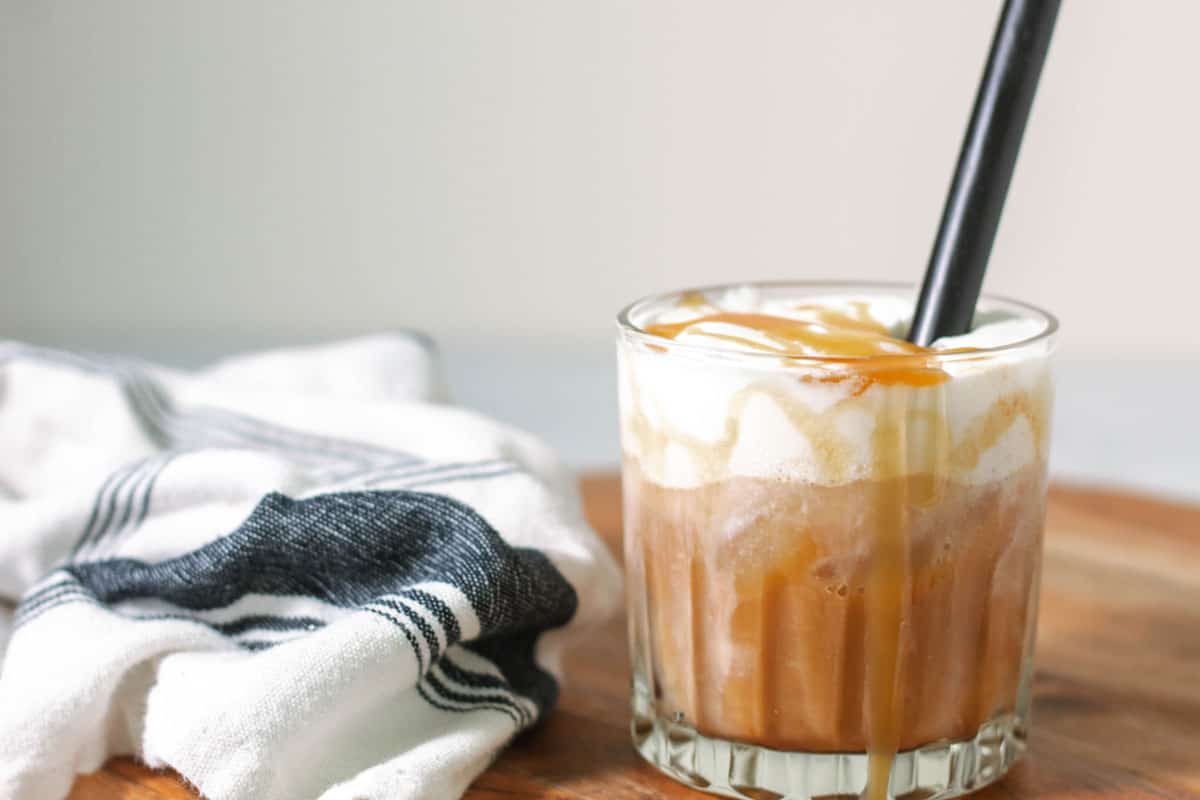 Gather all of your ingredients and prepare to make and enjoy your delicious latte. You will need a mug, two glasses, some ice cubes, and a straw to sip up every last drop, in addition to the components for your recipe.
Brew your shot of espresso or strong coffee, using whatever method you choose. Add the coffee to a mug and melt one to two chocolate caramels into the hot liquid, stirring to ensure it dissolves completely.
In a different glass (not the one you will use for your latte), add your milk of choice to be frothed. There are several different ways you can get milk foam for your latte. If you have an electric wand frother, that is an easy way to get a bubbly foam.
Alternatively, if you have a french press, add your cold milk and using short plunges into the milk. Work on it for about 30 seconds or until you see increasing frothiness. You can also use a glass jar with a lid to shake your milk for 30 seconds to a minute. You are looking for soft peaks of foam to form.
Take your iced latte glass and pour caramel syrup on the inner walls, using as much or as little as you prefer. Fill the glass with ice and pour in your espresso shot(s) or strong coffee. Next, add your frothed milk over top of the coffee. You can always top with more caramel drizzle. Enjoy!
Variations
If you don't like caramel, substitute it with another flavor of coffee syrup, honey, or even chocolate syrup. You can also use chocolate chips instead of caramel chocolates to add to your espresso for a flavor that compliments the richness of coffee. For another boozy cold coffee drink, try the Kahlua Espresso Martini.
For some hot latte inspiration, check out my Blue Mermaid Latte or the boozy Snickers Irish Latte.
If you liked this recipe, you might also like: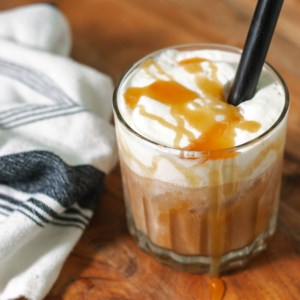 Iced Caramel Latte Recipe
Made with caramel chocolates, espresso, milk, and caramel sauce, this iced caramel latte is slightly sweet and deliciously refreshing.
Ingredients
1-2

individual caramel chocolates

1-2

shots of espresso

or very strong coffee

¼ – ⅓

cup

of milk of choice

Caramel sauce

to taste
Instructions
Melt caramel chocolates with hot espresso. Stir until the chocolate is dissolved.

Froth milk with an electric frother, or whichever method you choose, to make cold foam.

Drizzle caramel sauce on the inner wall of your glass.

Fill with ice and pour in espresso or coffee.

Top the espresso with cold foam, and enjoy!
CLICK TO DISPLAY NUTRITION INFO
Nutrition
Calories:
160
kcal
Carbohydrates:
23
g
Protein:
5
g
Fat:
6
g
Saturated Fat:
4
g
Polyunsaturated Fat:
0.2
g
Monounsaturated Fat:
1
g
Cholesterol:
18
mg
Sodium:
138
mg
Potassium:
272
mg
Fiber:
0.1
g
Sugar:
22
g
Vitamin A:
256
IU
Vitamin C:
0.2
mg
Calcium:
194
mg
Iron:
0.1
mg