All devoted coffee lovers have their go-to way to get their daily caffeine boost. Enter the iced latte and iced coffee. Cold coffee drinks are popular year-round for a delicious rush of bold coffee poured over ice – they aren't just for a hot summer day. If you're wondering what the difference between these two beverages is, read on to learn more about the iced latte vs iced coffee.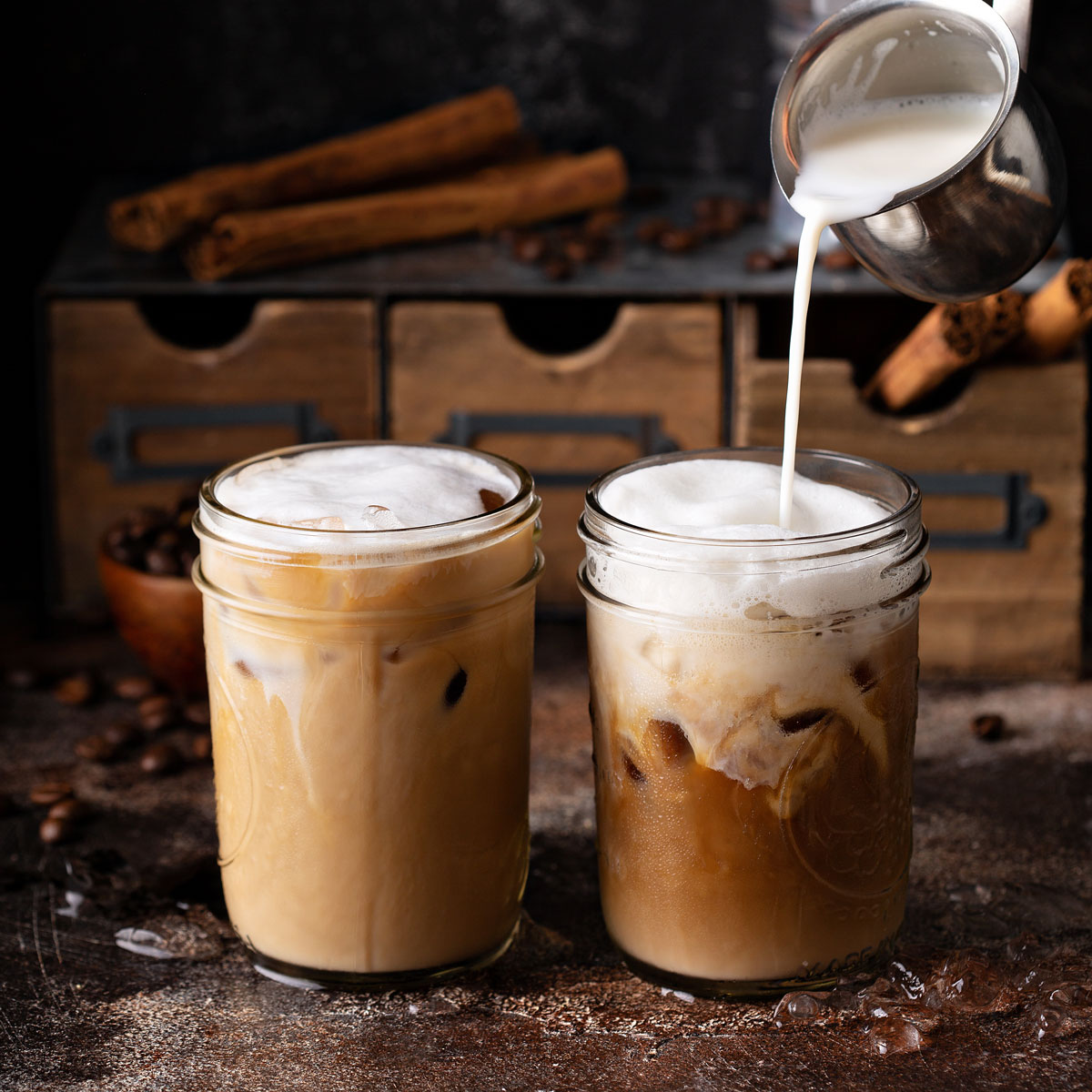 Jump to:
What is an Iced Latte vs an Iced Coffee?
Both iced drinks are made using coffee beans with a few slight key differences. Iced coffee is made using cooled-down brewed coffee and can be served black or with a splash of milk. Iced lattes are made using a strong shot of espresso, poured over ice cubes with a large amount of milk foam added to the drink to finish it off. Let's break the difference down a little more.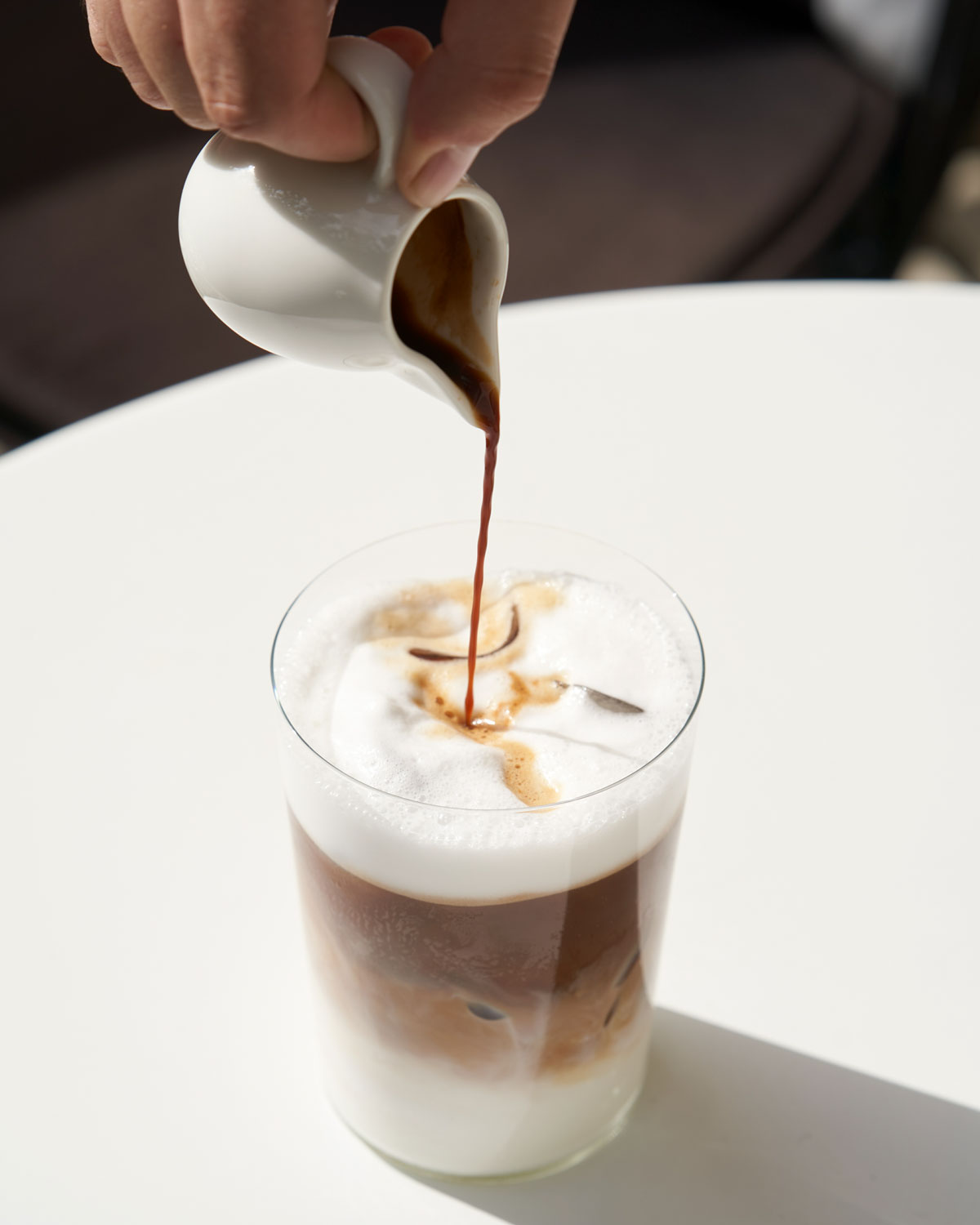 What is Espresso?
Before I go into the details of an iced latte, we should learn a little bit more about the main ingredient; espresso.
An iced latte is made using espresso beans, which have been roasted longer at a higher temperature, becoming darker, richer, and stronger flavor-wise than regular coffee beans. This process allows for the oils in the beans to be extracted, lending to its bold flavor.
The dark-roasted coffee beans are ground very finely before being used in the espresso machine. Espresso does not relate to the actual beans used but rather to the process by which the ground coffee is brewed. No specific coffee bean is best used for espresso, but the Arabica bean is most common.
Making espresso shots involve passing high-pressure hot water through very finely ground coffee beans. This process is most commonly done with an espresso machine but can also be done with an Aeropress or a stovetop Moka pot. The result is a single shot of robust coffee with a light brown foam or "crema" on top.
What is an Iced Latte?
Now that you know and understand the espresso component of an iced latte, we can look at the rest of the ingredients.
An iced latte is an espresso drink that combines a single shot, or sometimes more, of freshly brewed espresso poured over ice with foamed milk. A sweetener such as simple syrup, agave, maple syrup, or granulated sugar is optional.
The amount of espresso you choose to put in your iced latte depends on how much caffeine you prefer, but the general ratio is one to two ounces of espresso to eight to fifteen ounces of milk. These ratios will depend on the size of your iced latte and the amount of caffeine you prefer.
Unlike a hot latte that has steamed milk in it, an iced latte uses frothed or foamed milk. You can make frothed milk by shaking it in a jar or using a small handheld battery-operated milk frother.
The best type of milk to use for an iced latte is whole regular milk, as it has the most flavor and highest fat content. The fat content is essential because it helps the milk to froth and holds onto its foam while you're enjoying the drink. If you are vegan, oat milk or coconut milk is a good option for an iced latte.
What is An Iced Coffee?
Iced coffee is a beloved drink for devoted caffeine fans who may not prefer a hot drink to start their day. Iced coffee can be made with any variety of coffee beans as well as types of roast.
The coffee used for iced coffee has been brewed hot, extracting the oils in the beans and creating deep flavors. Coffee can be brewed using different methods, but the most popular is a countertop coffee machine. French press and Aeropress are alternate methods for brewing coffee for iced coffee. 
Once the coffee is brewed, it is poured over ice to create iced coffee. If you prefer milk in your coffee, whole milk, 2% milk, or skim milk can be added. Using sweetener in your iced coffee is also an option, just like with an iced latte. If you are vegan, oat milk, soy milk, or coconut milk can be used.
Be sure not to confuse iced coffee with cold brew coffee, as they are two different methods. Cold-brew is made when coffee grinds are steeped in cold water for twelve to twenty-four hours, creating a concentrated coffee beverage that can be diluted with ice and milk. Since the coffee grinds are never in contact with hot water, the oils from the beans are not released. This makes for a less acidic drink that is higher in caffeine and uses a lot more coffee grinds.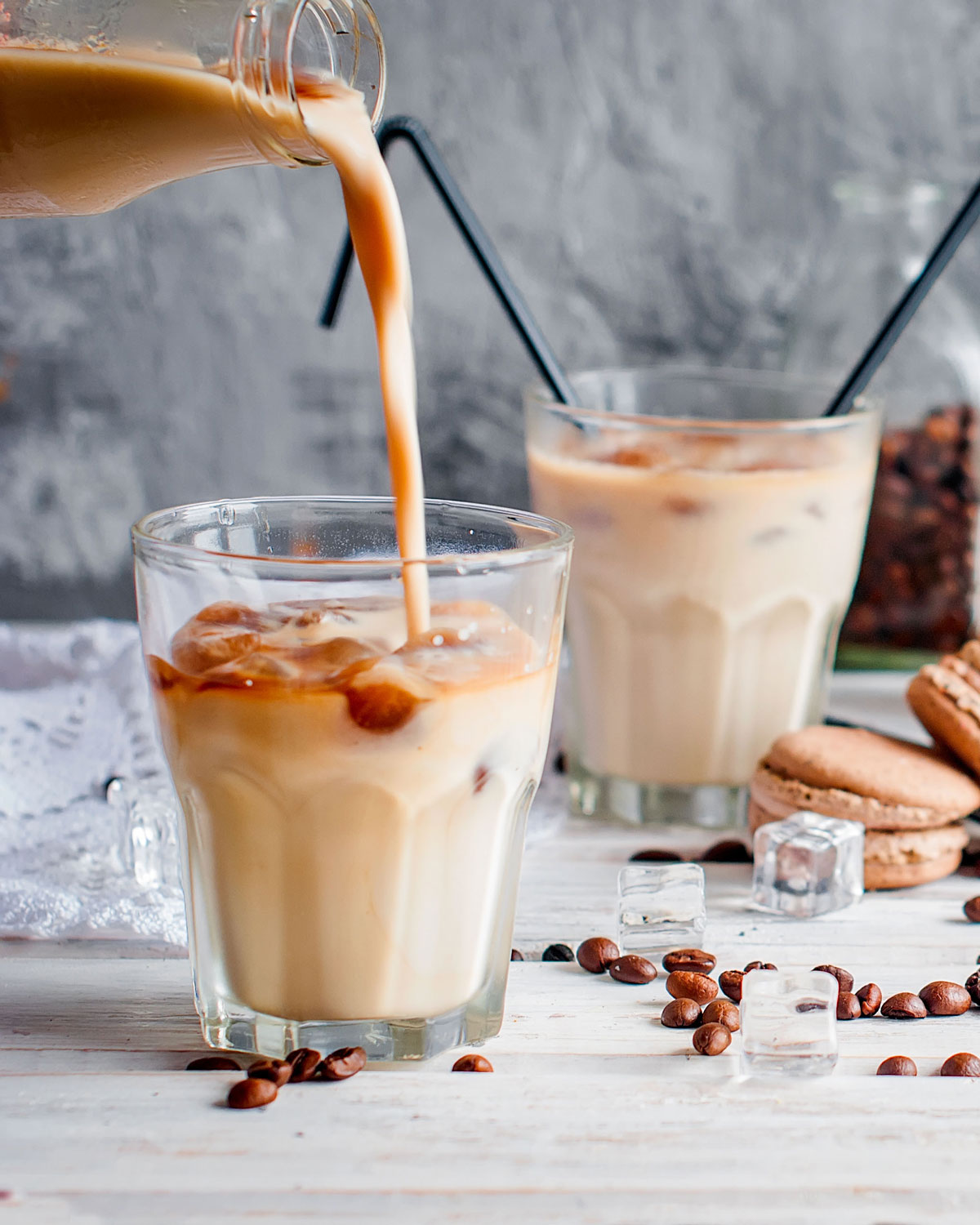 What Do Iced Coffee vs Iced Lattes Have in Common?
Now that we've broken down each drink, you may be wondering what these two icy beverages have in common. There are two consistent similarities between an iced latte and an iced coffee, the beans and the ice used to make both drinks.
As I said earlier, Arabica beans are the most commonly used in coffee and espresso. The beans for espresso are roasted longer and at higher temperatures, resulting in a more robust flavor. Beans for brewing coffee can also be dark roasted, as well as medium or light roasted. Dark roasted beans will be more acidic and bitter, so sticking with a medium or light roast is best if you like a smoother taste.
Since both drinks are cold, the iced latte and iced coffee will both contain ice. Iced coffee may require slightly more ice, as the hot liquid tends to melt ice quickly and water down the coffee. Since an iced latte is mainly made of cold milk, there will be less melting and, therefore, less watering down of the drink.
What are the Differences Between Iced Coffee and Iced Lattes?
There are a couple of differences between the iced latte and iced coffee, starting with the amount of caffeine in each drink. One cup of coffee has around 95 mg of caffeine, while one ounce of espresso has a whopping 64 mg of caffeine.
You may think this makes an iced latte much lower in caffeine than an iced coffee, right? Since an iced latte is mostly milk and usually only one shot of espresso, there will be less caffeine. If you opt for double shots of espresso and less milk, your iced latte becomes higher in caffeine than an eight-ounce serving of iced coffee.
The amount of caffeine in either an iced coffee or an iced latte will come down to the amount of coffee or espresso you have in your drink. Generally, an iced latte will have a lower caffeine content due to the amount of milk to espresso ratio in the beverage.
The main difference between an iced latte and an iced coffee is the amount of milk in either drink. While the iced latte is mostly milk, iced coffee can contain no milk at all. Depending on the drinker's preference, iced coffee may be enjoyed black or with only a little bit of milk. An iced latte must have more milk than espresso to be considered a latte, regardless of whether you add a double shot of espresso to your iced latte.
Do You Need Special Appliances or Tools to Make Either?
You do not have to have special equipment to make an iced coffee or an iced latte. However, you may prefer the taste of a specific brewing method over others when making the drinks.
An espresso machine is an excellent tool for making a shot of espresso, but it takes up lots of room on your counter and can come with a high price tag. Instead, you can opt for a simple Aeropress, which will take up less space, is easy to travel with, and makes a consistently good espresso or coffee drink.
A more traditional option is a Moka pot, which sits on your stovetop and takes up very little room. While the Moka pot will not create as much pressure as a countertop espresso machine, it makes a comparable espresso shot and is fine when making iced lattes at home.
A countertop coffee machine with a twelve-cup carafe is often used to make morning coffee. While this is the most common, it is not the only way to brew coffee for an iced coffee.
Using a french press to brew your coffee is an excellent option for those who don't have the space or want to spend the money on a coffee maker. As well as making espressos, an Aeropress can be used to brew a single cup of coffee at a time, making it an ideal choice for one person making an iced coffee in the morning.
Whichever method you choose for iced latte vs iced coffee, you are sure to enjoy it before starting your day or anytime you need an extra caffeine boost to keep going.
If you like iced lattes or coffee, you might also like:
Pumpkin Cold Brew with Cold Foam