These Air Fryer Tortilla Chips are incredibly easy and delicious – they are warm, crunchy, and taste just like restaurant-style tortilla chips, but without all the fuss and excess oil.
We all know what happens when we go to Mexican restaurants. They bring the basket of chips, and before you know it, 3 baskets have come and gone before the food even gets to the table. There is just something about those crunchy, warm, and salty chips that make us all powerless.
Tortilla chips at home just aren't the same. If you buy the bagged, the taste isn't right. I don't like frying foods at home, and baking tortilla chips don't quite get the texture right. These Air Fryer Tortilla Chips are the right answer for a healthy homemade alternative that mimics the restaurant-style chips.
Ingredients
For this recipe, you'll need:
Corn tortillas: You could use flour, but corn tortillas give the best flavor for chips. I used the six-inch round corn tortillas.
Light-colored oil or spray oil: I usually brush the tortillas after cutting them with light tasting olive oil. You could also use avocado oil. If you have spray oil, that works just as well. The bottom line is to make sure that the oil is light in color. The lighter the color, the less likely the oil will burn.
Seasonings: I sprinkled the chips with salt, fresh cracked pepper, and a squeeze of lime juice. If you really want to mix it up, try seasoning with cumin or chili powder – both would taste great.
How to Make Air Fryer Tortilla Chips
You'll need to cut the tortillas into wedges like a pizza shape. I actually use a pizza cutter and cut them in stacks of 3-4 tortillas at one time. Once you have your shapes, it's just brushing (or spraying) with oil and seasoning them before tossing them into the air fryer.
One of the key techniques with air fryers is to arrange the food in a single layer so that the hot air circulates and cooks the food evenly. You don't have to worry about that with tortilla chips in the air fryer. The first time I turned the air fryer on with the chips, I heard this clinking noise coming from my air fryer. Turns out, the chips are so light that the air circulating around the chips tosses them around while they cook. Long story short, TLDR: just dump all the seasoned tortilla wedges into the air fryer – don't worry about putting them neatly in a single layer. After cooking them for about 3 minutes, I still go ahead and open the air fryer to toss them around to make sure they are evenly cooking. All that's left is to cook another 2 minutes, and boom – serve them up with some salsa and gauc.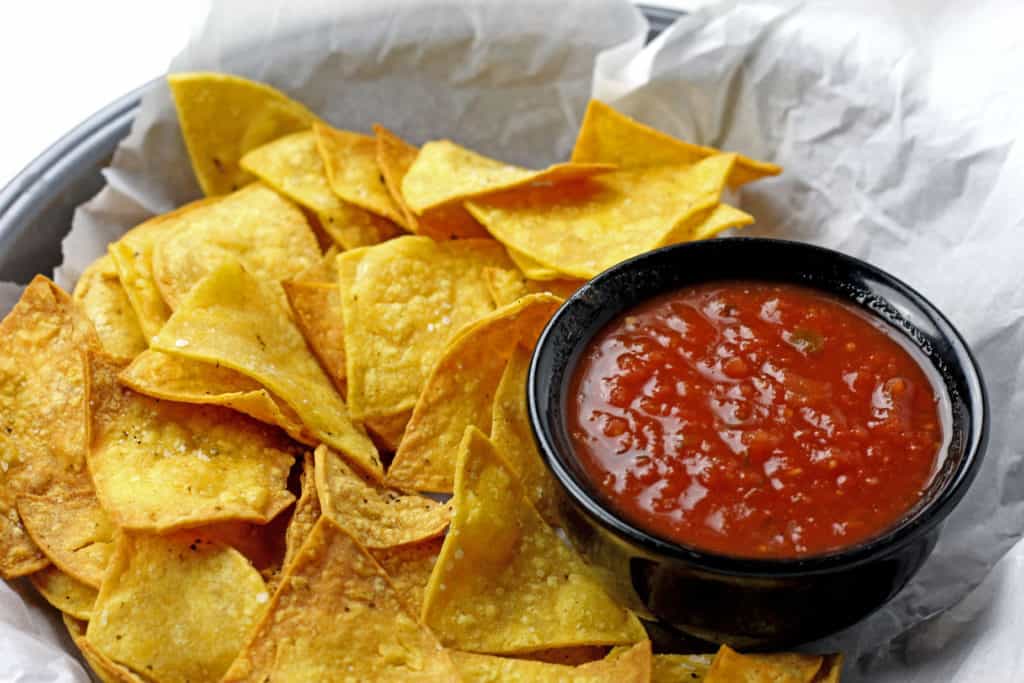 How to Serve
I really don't need to tell you what to serve with tortilla chips, but if you're looking for some recipes to accompany your chips – I got you covered with the following:
Healthier Bang Bang Shrimp Tacos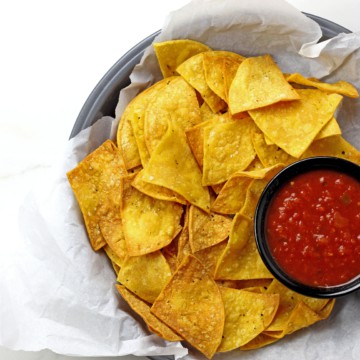 Air Fryer Tortilla Chips
Ingredients
12

corn tortillas

6 inch, cut into wedges

Light-colored oil or spray oil

light tasting olive oil or avocado works well

Salt and pepper

to taste

1

lime

optional
Instructions
Preheat air fryer to 360 F. Brush oil or spray oil on to tortilla wedges. Season with salt, pepper, and a squeeze of lime juice (if using).

Put all the wedges in the air fryer (it doesn't matter if they are in a single layer) and air fry for 3 minutes. Then shake the air fryer basket to redistribute, then cook for an additional 2 minutes or until golden all over. Best served immediately. 
CLICK TO DISPLAY NUTRITION INFO
Nutrition
Calories:
181
kcal
Carbohydrates:
35
g
Protein:
4
g
Fat:
3
g
Saturated Fat:
0.4
g
Polyunsaturated Fat:
1
g
Monounsaturated Fat:
1
g
Trans Fat:
0.01
g
Sodium:
326
mg
Potassium:
149
mg
Fiber:
5
g
Sugar:
1
g
Vitamin A:
3
IU
Vitamin C:
1
mg
Calcium:
64
mg
Iron:
1
mg