This cilantro garlic sauce is light, fresh, and citrusy, making the perfect sauce that you can use as a salad dressing or drizzle on just about anything.
I'm always looking for a good sauce or dressing to liven up my meals. Especially during the summer months, I'm looking for sauces that taste light, fresh, and citrusy. This Cilantro Garlic Sauce is the perfect combination of all three qualities.
Made with ingredients that I almost always have on hand, it's easy to whip up at a moment's notice to jazz up a boring meal. Plus, if you're like me, you buy cilantro for recipes but have a hard time using it all up before it goes bad.
This sauce will use up all of that leftover cilantro that you have hanging out in your vegetable crisper.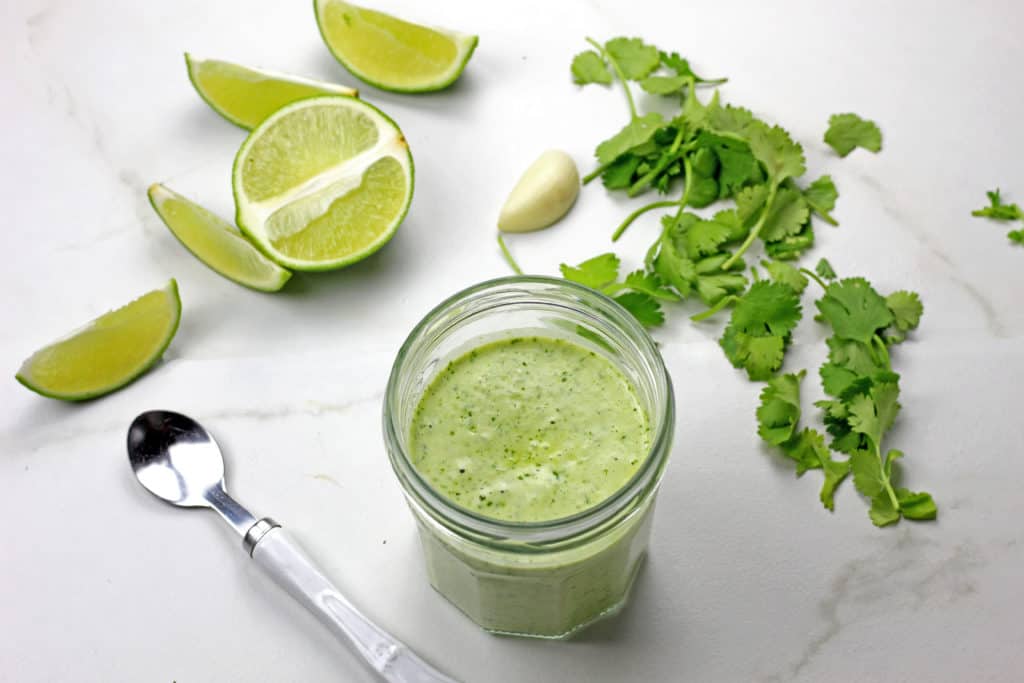 Ingredients for Cilantro Garlic Sauce
Plain yogurt: Plain yogurt adds a little sour tang to the sauce or dressing. You can use Greek or regular yogurt; it doesn't matter. I used Greek yogurt. But it is essential to get the PLAIN yogurt – you don't want to add vanilla yogurt to this sauce accidentally. That would not be good.
Garlic clove: Raw garlic is super pungent, so I found that adding just one small-medium clove is a perfect balance. If you have a larger clove, I would only use half. 
Lime juice: Just like cilantro, lime juice adds a fresh flavor and vibe to anything. I prefer fresh, but if you only have bottled, it'll do. 
Olive oil: When you blend everything in the food processor or blender, adding a little fat from olive oil emulsifies the sauce making it extra creamy and rich. A little goes a long way, so this recipe only calls for two tablespoons. 
Seasonings (salt and cayenne): A pinch of salt goes perfectly with the cilantro, lime, and garlic. I like a little heat, so I used ⅛ teaspoon of cayenne pepper. It's just the right amount to give a kick without being all out spicy.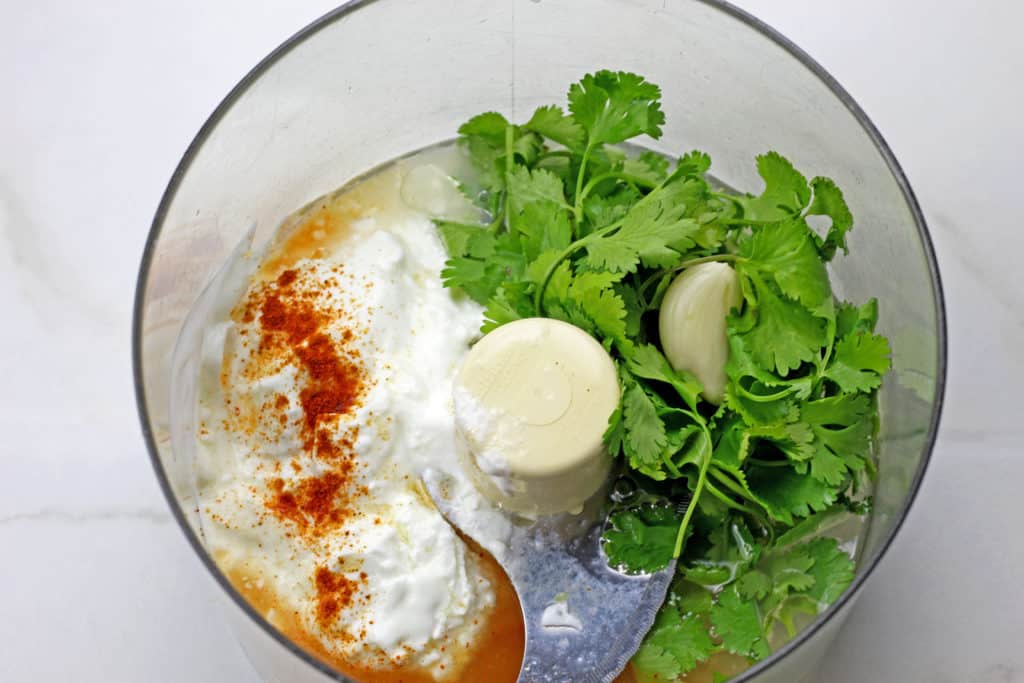 How to Make the Sauce
If you can push a button, you can make this sauce. Everything is added directly into the food processor or blender bowl and pureed until entirely smooth.
Once you're done, inspect the sauce to ensure that the garlic is chopped very finely, so you don't end up taking a big bite of raw garlic later. If you want to be sure that the garlic is fully pureed, try mincing the garlic before blending. 
How to Use the Sauce
While this recipe is called a cilantro garlic sauce, I like to use it as a dressing as well. If you're looking for a fresh, tangy dressing to use on salads, this is the ticket. I like blending this up on Sundays when I do some meal prep to use throughout the week. You can use it for:
Drizzling on tacos or burrito bowls – it's an absolute must for my Instant Carne Asada
Tossing salads
As a dipping sauce
As a marinade for meats
The possibilities are endless!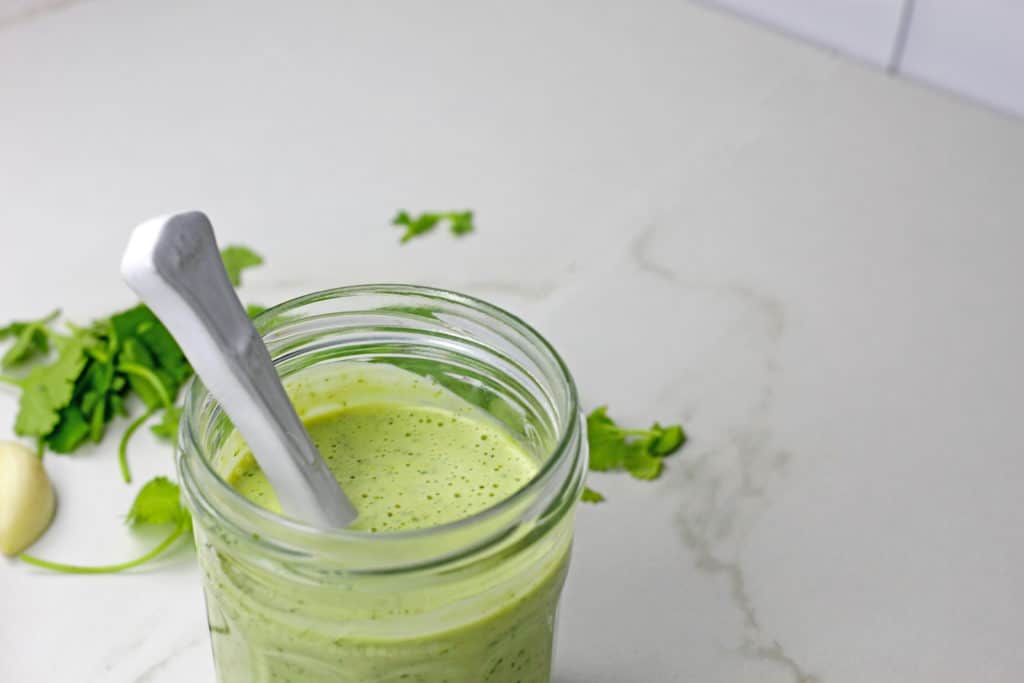 Did you love this recipe?
Please leave a 5-star 🌟🌟🌟🌟🌟 rating & review in the comments below.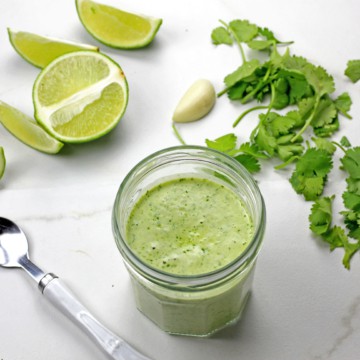 Cilantro Garlic Sauce
This cilantro garlic sauce is light, fresh, and citrusy, making the perfect sauce that you can use as a salad dressing or drizzle on just about anything. 
Ingredients
½

cup

chopped cilantro stems removed

½

cup

plain yogurt

1

clove

garlic

Juice of 2 limes

Pinch

salt

2

tablespoon

olive oil

⅛

tsp.

cayenne

optional for spice
Instructions
Blend all of the ingredients together in a food processor or blender until smooth. Serve or refrigerate for up to 1 week. 
Notes
When storing in the fridge for up to 1 week, mild separation may occur. Simply shake or stir until re-incorporated. 
CLICK TO DISPLAY NUTRITION INFO
Nutrition
Calories:
331
kcal
Carbohydrates:
10
g
Protein:
11
g
Fat:
29
g
Saturated Fat:
4
g
Polyunsaturated Fat:
3
g
Monounsaturated Fat:
21
g
Trans Fat:
0.01
g
Cholesterol:
5
mg
Sodium:
42
mg
Potassium:
274
mg
Fiber:
1
g
Sugar:
4
g
Vitamin A:
829
IU
Vitamin C:
21
mg
Calcium:
131
mg
Iron:
1
mg
Don't forget to follow me on social media for more!
You can catch me on Instagram, TikTok, Pinterest, and Facebook.