This Instant Pot Apple Butter has all the tastes and smells of fall. And with just five ingredients and 20 minutes, it couldn't be any simpler or quicker.
Who doesn't love apples in fall? This is the time of year I usually bring my favorite two apples, McIntosh and Honeycrisp, home with me after visiting my family in Western Pennsylvania. When I get home, the apples that survived the car ride home, I'll make into festive apple desserts. I could not make the trip this year thanks to corona, but I wanted to make something with spiced apple. Apple butter is probably one of the easiest things to make with apples, and it's also great to use up bruised or damaged apples that you don't want to eat raw.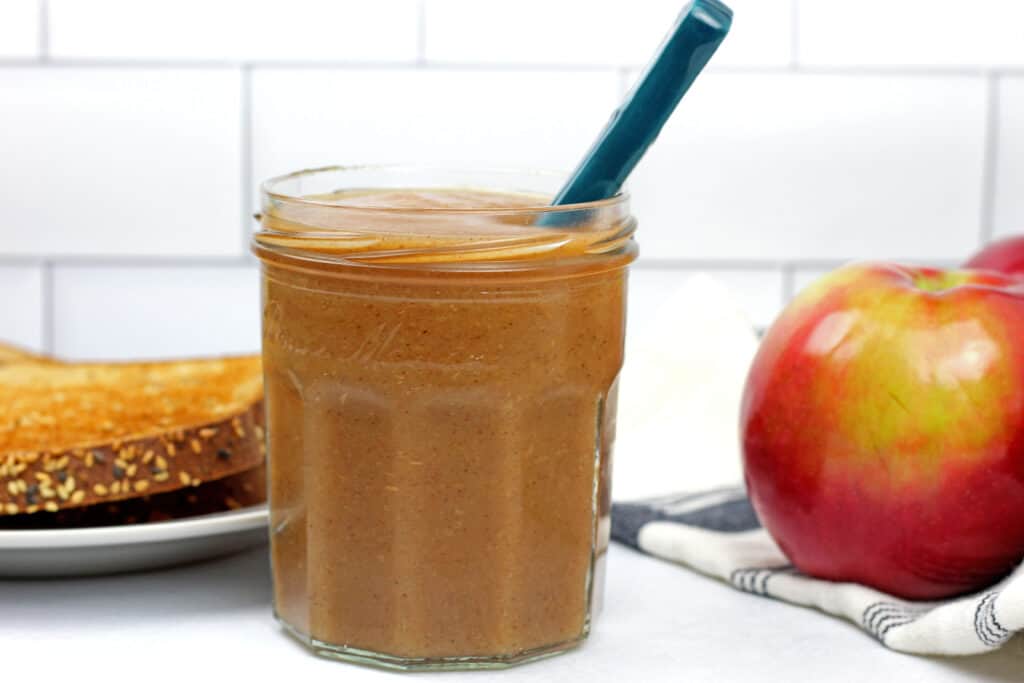 What is Apple Butter?
Apple butter is simply cooked, spiced, and pureed apples. Contrary to its name, it doesn't contain any butter or oil. It is very spreadable and works perfectly in place of jams or jellies. My favorite ways to enjoy apple butter are on my morning toast or swirled into some plain yogurt for a fall twist.
Apple butter vs. applesauce
You might be asking, so what's the difference between apple butter and applesauce? Not much. It comes down to how much water is in the puree and how long you cook the apples. Apple butter is a more concentrated version of apple sauce. Since applesauce tends to be more watery, apple butter is cooked longer and has that spreadable consistency I mentioned above. If your apple butter comes out more like applesauce, you can switch the instant pot setting to the sauté feature and let it comes to a boil to evaporate off more of the water. Be careful, though – it will burn quickly on the bottom, so make sure you stir it frequently to prevent scorching.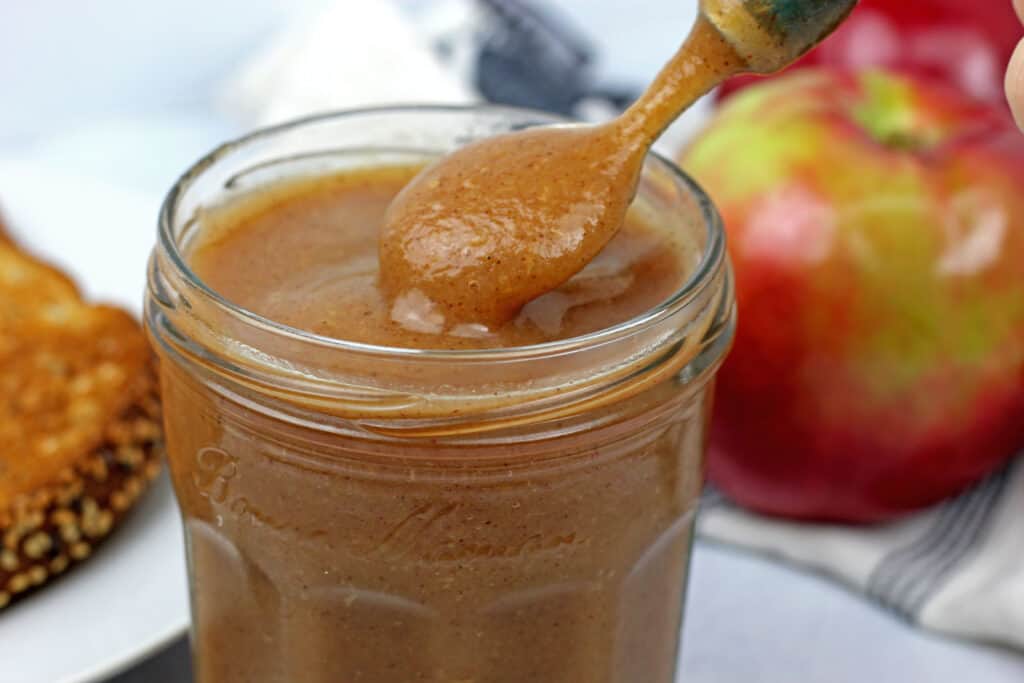 Ingredients for Instant Pot Apple Butter
Apples: That's an easy one. According to several articles, the best apples to use are softer varieties, such as one of my favorites, McIntosh. However, since you're using an Instant Pot, which uses heat and pressure to break down the apples, it's pretty safe to use whatever apple you enjoy.
Water or apple cider: To prevent scorching in the Instant Pot, it is a good idea to add just a little bit of liquid so it doesn't burn before the apples have a chance to release their juices. For the best flavor, I prefer to use apple cider or apple juice as the liquid.
Spices: I used a combination of ground cinnamon, ginger, and cloves. If you want to make it super easy, use pumpkin pie spice, which contains all of those fall-like, warming spices.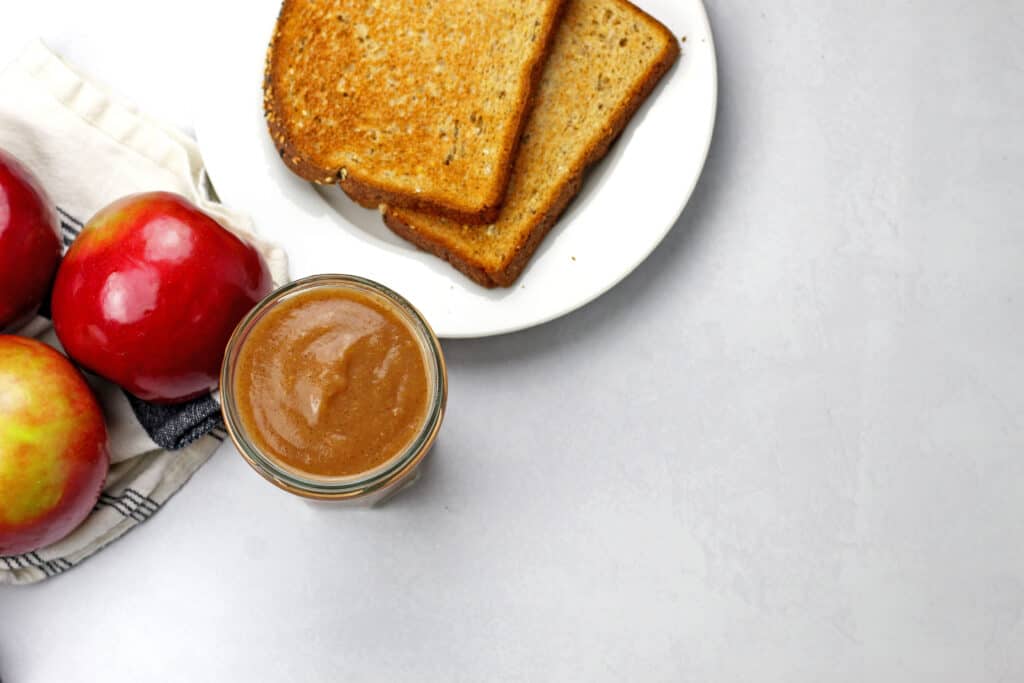 How to Make Apple Butter in the Instant Pot
This recipe is a set it and forget it type of recipe with very little hands-on time. You start by slicing and coring the apples. You keep the peel on the apples. Keep the slices about the same size – about a half-inch across. You'll then cook the apples on high pressure for 18 minutes in the Instant Pot. Once complete, you release the steam and cool a bit before transferring the apples into a blender or using a stick blender to puree the apples until smooth.
Like I mentioned above, if the apple butter is a little too watery for your liking, you can return the apple butter to the Instant Pot and cook on the saute feature, continually stirring until more water is removed (about 5-10 minutes depending on how much water your apples contained). You can also use a large soup pot on the stove to cook the water out of the apples some.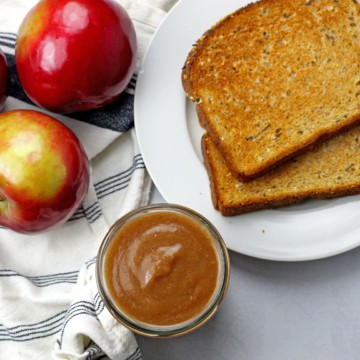 Instant Pot Apple Butter
Ingredients
3

lbs.

of apples

cored and cut in large chunks (keep the skin on) – about 10 small apples

¼

cup

water or apple cider

1

tsp.

cinnamon

1

tsp.

ground ginger

¼

tsp.

cloves
Instructions
Put all of the ingredients into the instant pot. Cook on high pressure for 18 minutes using the manual feature. Quick-release steam valve. Let cool for about 10 minutes with the lid off.

Blend apples with a stick blender or transfer to a regular blender to blend. Serve immediately or keep in a container in the fridge for up to 2 weeks or 1 year in the freezer.