This Lemon Lime Syrup is a simple syrup that can be used for a wide variety of drinks, baked goods, and so much more. It works perfectly as a Homemade Sweet and Sour Mix to make mixing cocktails a cinch and tastes a million times better than the store-bought, neon-colored sour mix.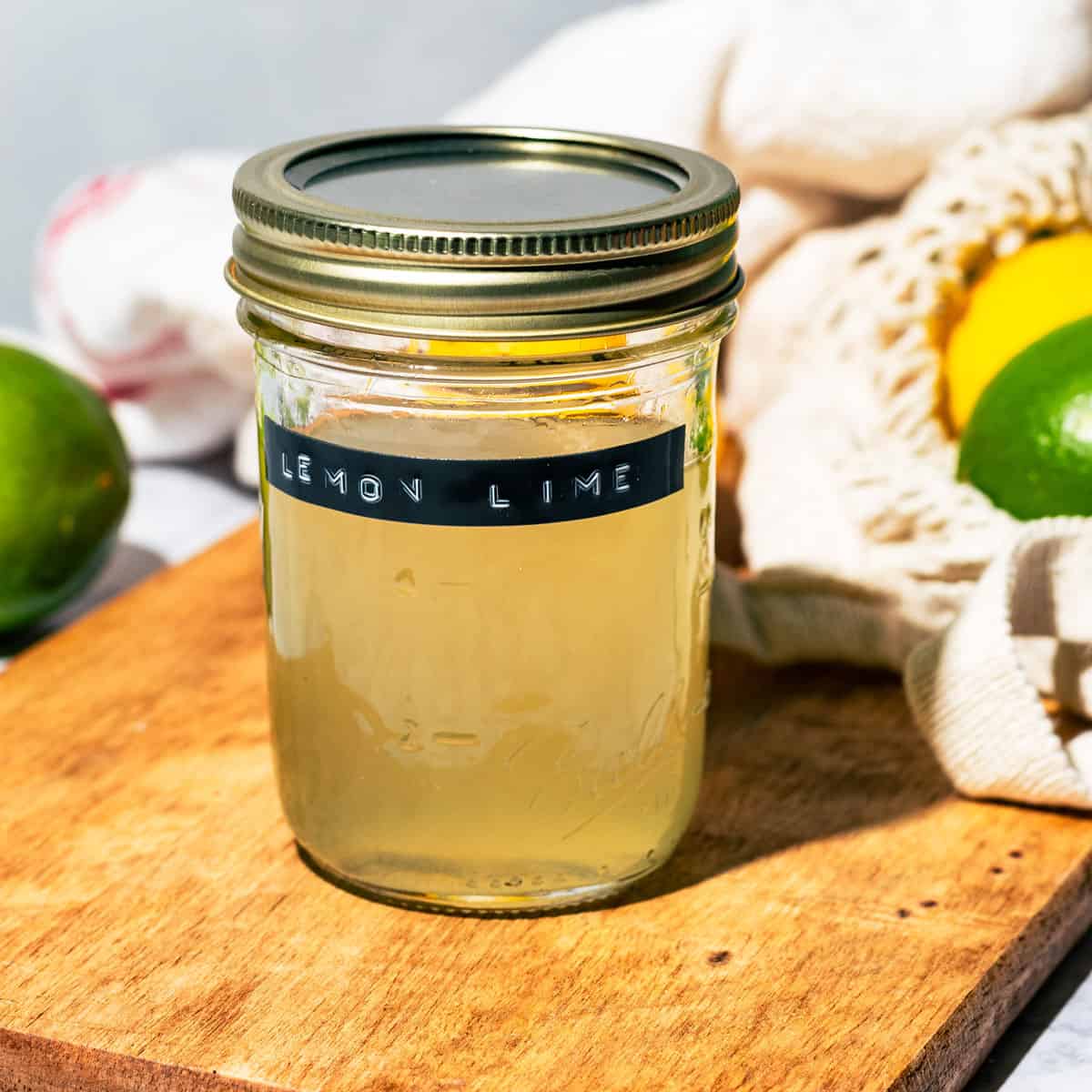 Jump to:
Why You'll Love This Recipe
Taste – the flavor is so much more potent and vibrant than any store-bought sour mix you find at the grocery or liquor store.
Easy – this recipe only requires a few ingredients and very minimal effort.
Adaptable – if you find the recipe too tart or sweet for your liking, it can easily be adjusted by changing the ratios of citrus juice to sugar.
What is simple syrup vs. sweet and sour mix?
Simple syrup is a liquid sweetener that is made by dissolving equal parts water and sugar in a heated saucepan or in the microwave. It's used prominently for sweetening beverages. You can make all sorts of infused simple syrups – everything from elderflower syrup to a rosemary infused syrup and everything in between.
Sugar doesn't dissolve well in cold liquids, but simple syrup dissolves seamlessly in cold liquids compared to plain sugar. The simple sugar syrup creates a smooth mouthfeel for the drink and avoids making the drink gritty from sugar crystals.
Sweet and sour mix is a typical mixer for cocktails that combines citrus juices and a sweetener together, similar to a simple syrup. It is used to streamline and make drinks less complicated. This mix can replace sweetener and lime/lemon juice in many classic cocktails, such as a margarita or whiskey sour.
Over the years, it has morphed into a neon-colored, pre-mix that is available at many grocery and liquor stores. Because of the low-quality ingredients, it generally does not taste nearly as good as a homemade option such as this recipe.
Ingredient Notes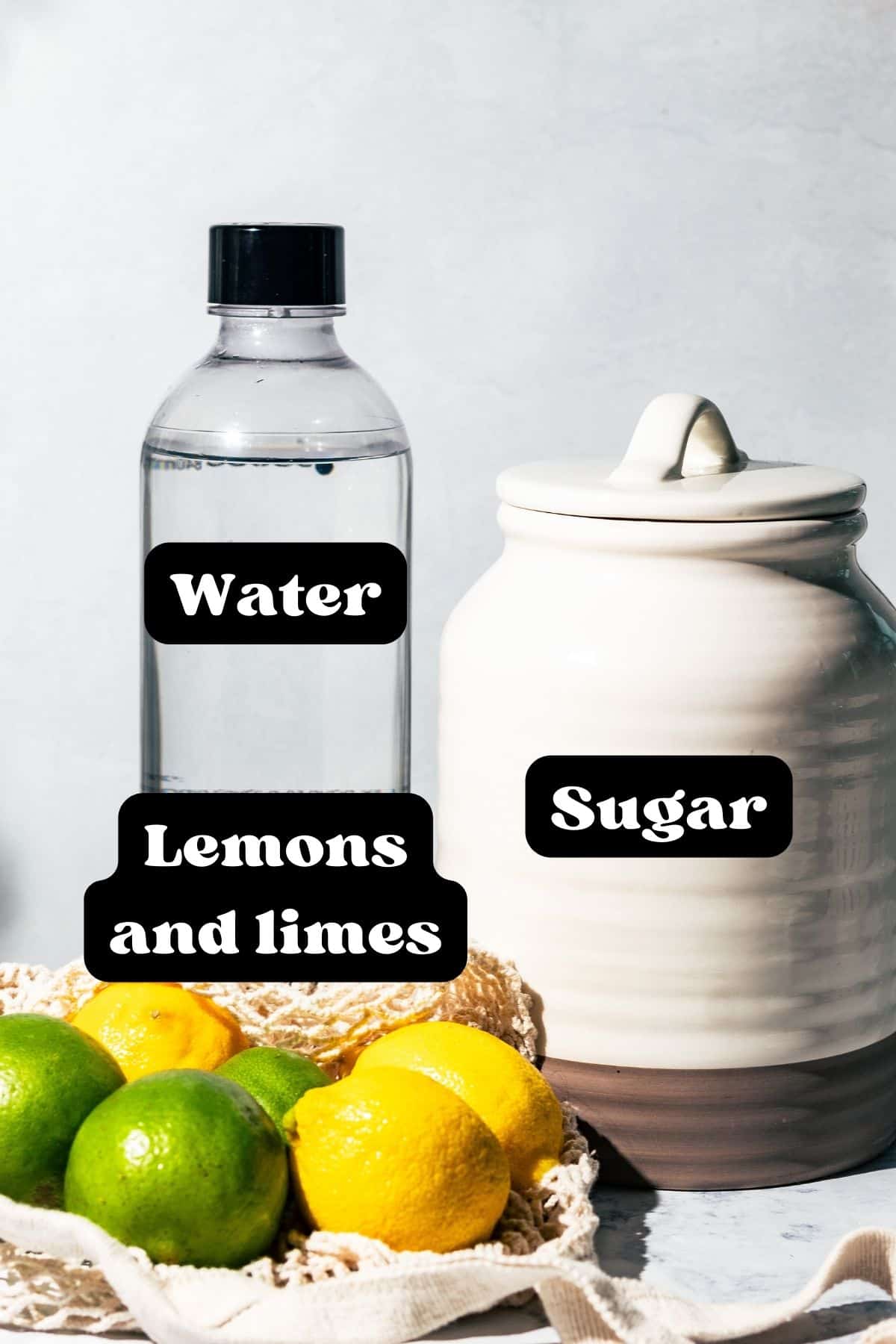 Lemon and lime juices – freshly squeezed juices are always advised for best results. If you must use bottled juices for whatever reason, make sure to get one that is 100% juice and not from concentrate.
Sugar – plain, white, granulated sugar works best in this recipe.
Full ingredients and measurements are provided in the recipe card below.
Step-by-Step Instructions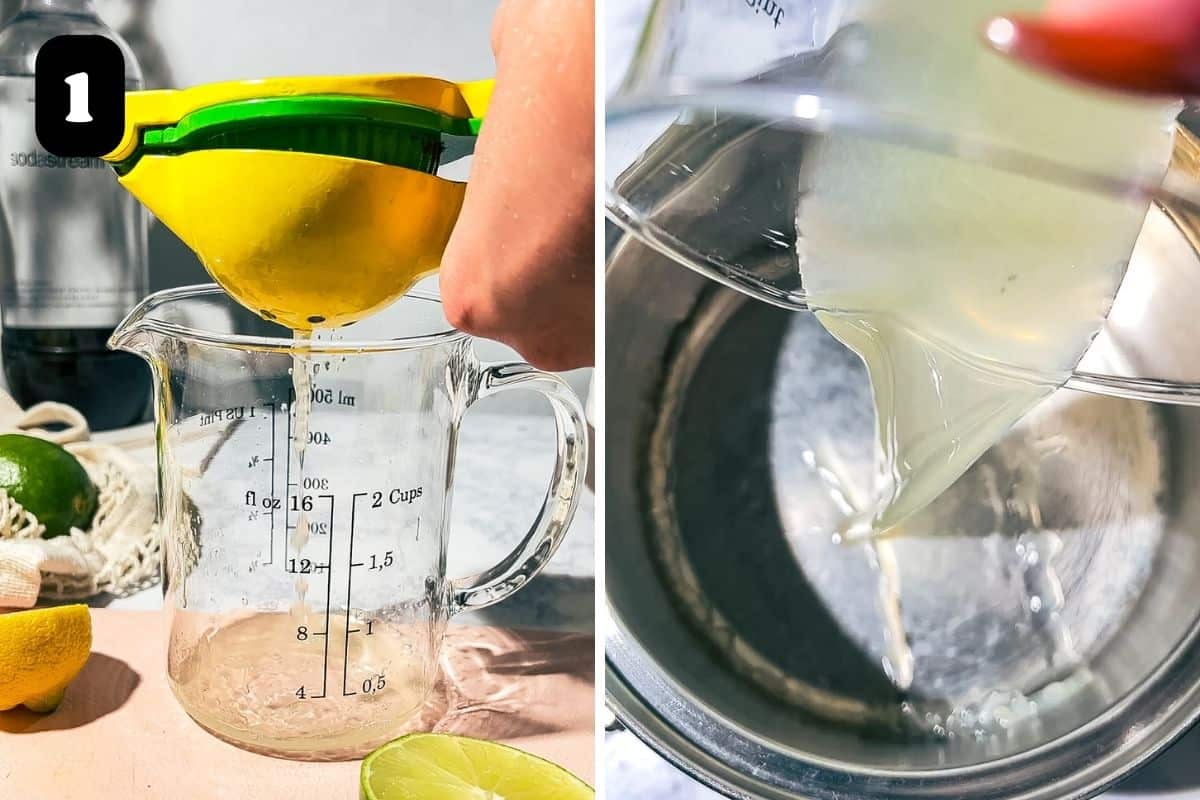 Step 1: Squeeze your fresh lime juice along with your lemon juice with a handheld citrus squeezer or electric juicer. Add the juices to a small saucepan.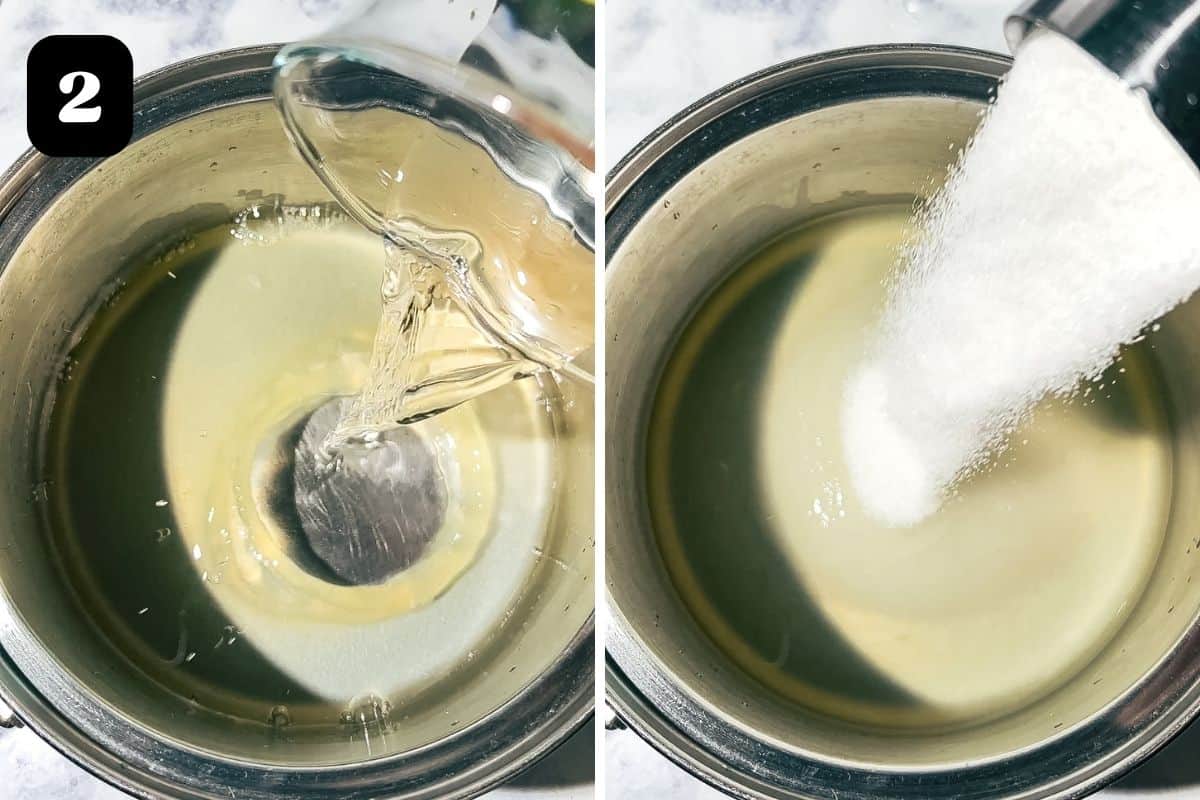 Step 2: Add the water and the sugar to the saucepan. Heat over medium heat, stirring occasionally, until the sugar dissolves.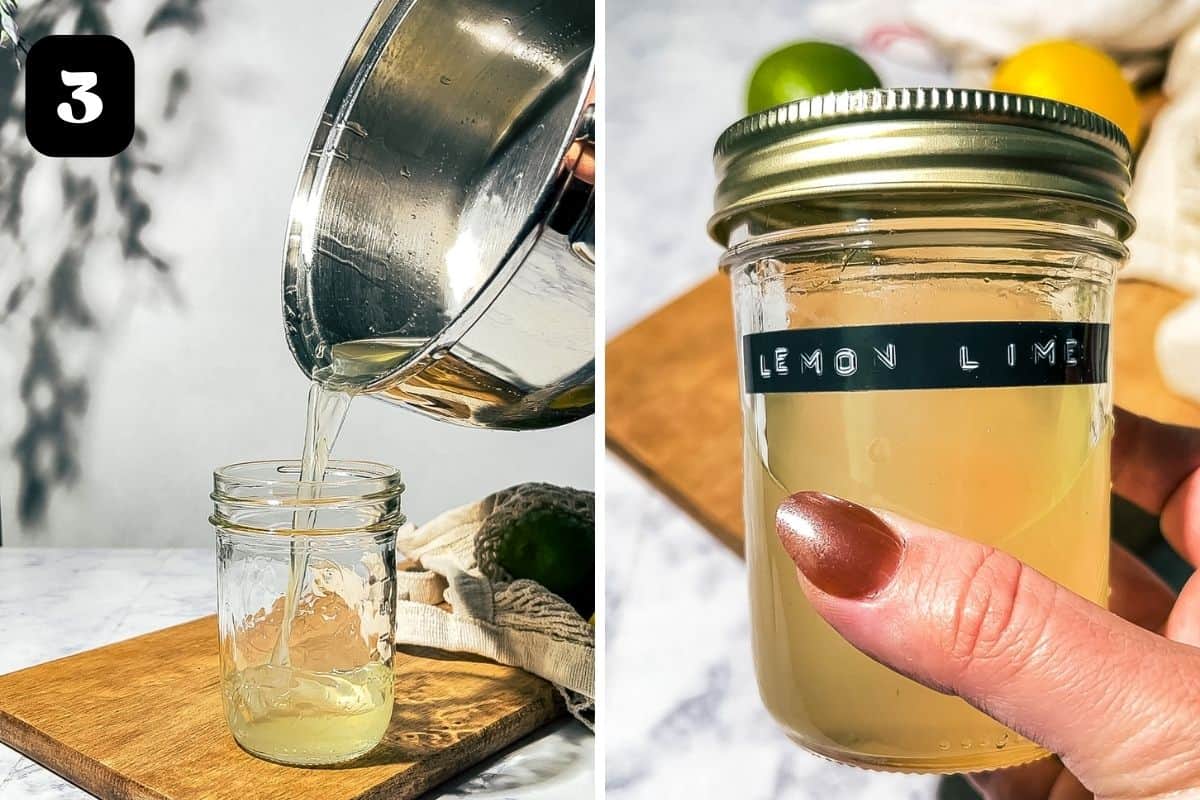 Step 3: Remove from heat and allow to cool completely. Decant into a mason jar and store the citrus syrup in the fridge for up to 3 weeks.
Expert Tips and Variations
For an extra burst of citrus flavor, grate some zest into the saucepan when it is heating. Allow the zest to sit in the syrup while it cools, but strain through a fine-mesh strainer before bottling and storing to avoid the zest becoming bitter while in storage.
Add more lime juice to make the syrup more tart.
Add more sugar to make the syrup sweeter. You can also replace a little bit of the lemon juice with orange juice to sweeten it up a bit.
FAQ
What can I do with this lemon lime simple syrup?
You can use it to make homemade lemon lime soda. Other uses include replacing the lime/lemon juice and sweetener in cocktails, sweetening iced tea or other non-alcoholic drinks, brushing on cakes to help keep them moist before icing, or you can toss fruit salad in the syrup to prevent browning and give a pop of sweet citrus flavor.
How do you store this lemon lime syrup?
Store in the fridge for up to 3 weeks in an airtight container, like a mason jar. You can also freeze it for up to 3 months. If you want to freeze it, I recommend pouring the syrup into an empty ice tray, freeze until solid, and then put the cubes in a ziplock bag to store in the freezer. That way, you can thaw out just a few cubes instead of an entire batch as you need it.
Can I use other sweeteners instead of regular sugar?
Yes, you technically can, but if you want to use liquid sweeteners like maple syrup or honey, it could throw off the liquid ratio. If you want to use another sweetener, the next best option would be to use brown sugar in the same amount. For extra sweetness, pack the brown sugar tight, and for less sweetness, pack it lighter when measuring.
Is sweet and sour mix the same as margarita mix?
Sweet and sour mix and margarita mix are non-alcoholic cocktail bases, but their ingredients vary: the former contains citrus and sugar, and the latter often adds orange flavor to mimic triple sec. For the most accurate flavor, it's best to use the mix specified in your recipe.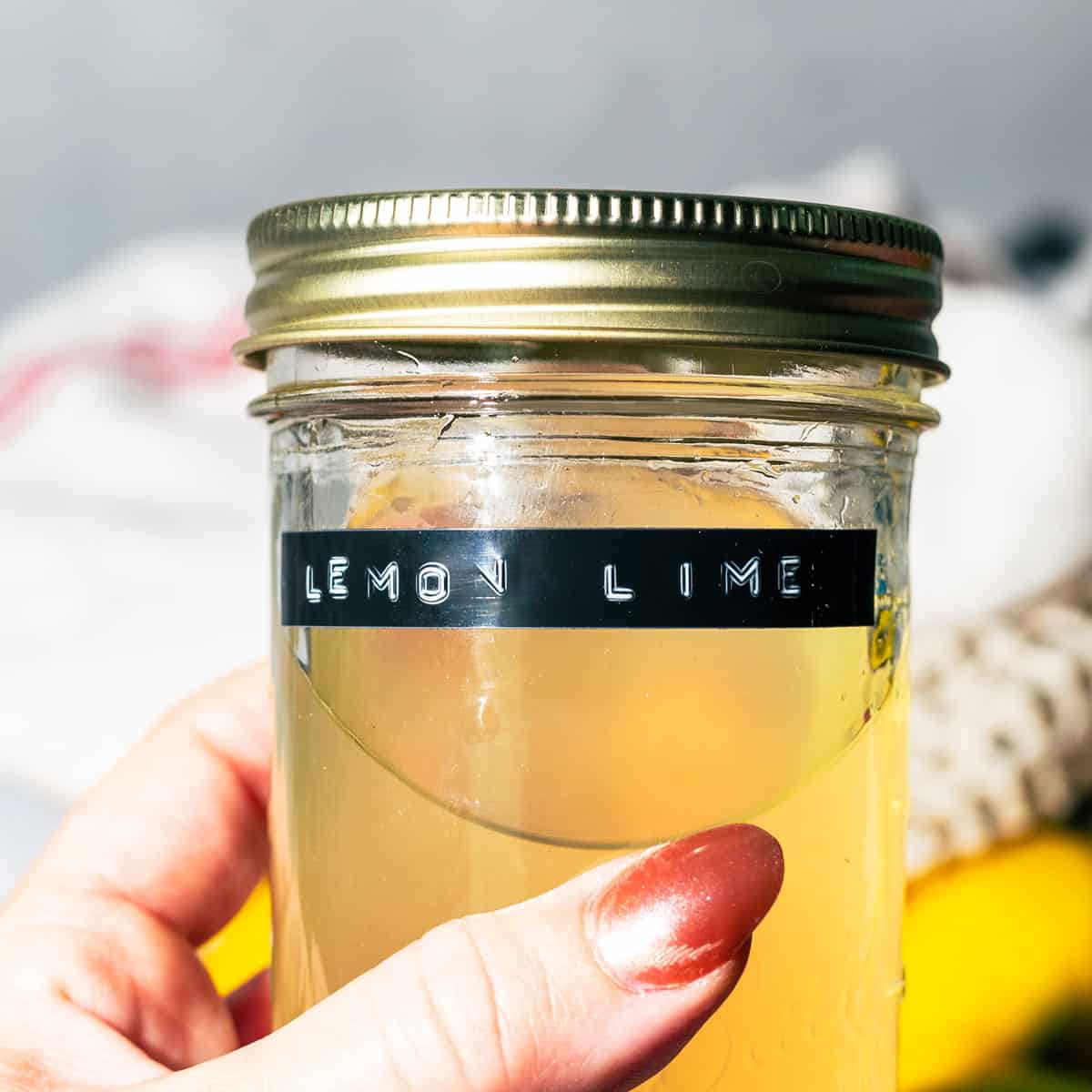 Related Recipes
Did you love this cocktail?
Please leave a 5-star 🌟🌟🌟🌟🌟 rating & review in the comments below.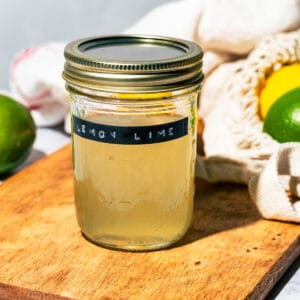 Lemon Lime Syrup Recipe
This Lemon Lime Syrup is a simple syrup that can be used for a wide variety of drinks, baked goods, and so much more. It works perfectly as a Homemade Sweet and Sour Mix to make mixing cocktails a cinch!
Ingredients
¾

cup

lemon juice

⅓

cup

lime juice

¾

cup

water

1

cup

sugar
Instructions
Add the juice, water, and sugar to a small saucepan over medium heat.

Heat the mixture while stirring occasionally until the sugar is completely melted.

Remove from heat and allow to cool completely.

Decant into a mason jar or bottle. 
Notes
Tips:
Use fresh juice for optimal flavor.
Store in the fridge for up to 3 weeks or in the freezer for up to 3 months. 
CLICK TO DISPLAY NUTRITION INFO
Nutrition
Calories:
59
kcal
Carbohydrates:
16
g
Protein:
0.1
g
Fat:
0.1
g
Saturated Fat:
0.01
g
Polyunsaturated Fat:
0.004
g
Monounsaturated Fat:
0.001
g
Sodium:
1
mg
Potassium:
20
mg
Fiber:
0.1
g
Sugar:
15
g
Vitamin A:
4
IU
Vitamin C:
7
mg
Calcium:
2
mg
Iron:
0.02
mg
Don't forget to follow along on social media for alerts on new recipes!
You can catch me on Instagram, TikTok, Pinterest, and Facebook.