This Instant Pot Carne Asada is full of fresh flavors like citrus, cilantro, garlic, jalapeño, and is SUPER easy to make.
I love carne asada. Carne asada means grilled beef in Spanish. While I usually would grill my steak to make carne asada, I'm taking a slightly different approach and not using my grill.
Instead, I decided to try making Instant Pot Carne Asada for those times that I don't feel like firing up the grill, or the weather isn't grilling-friendly.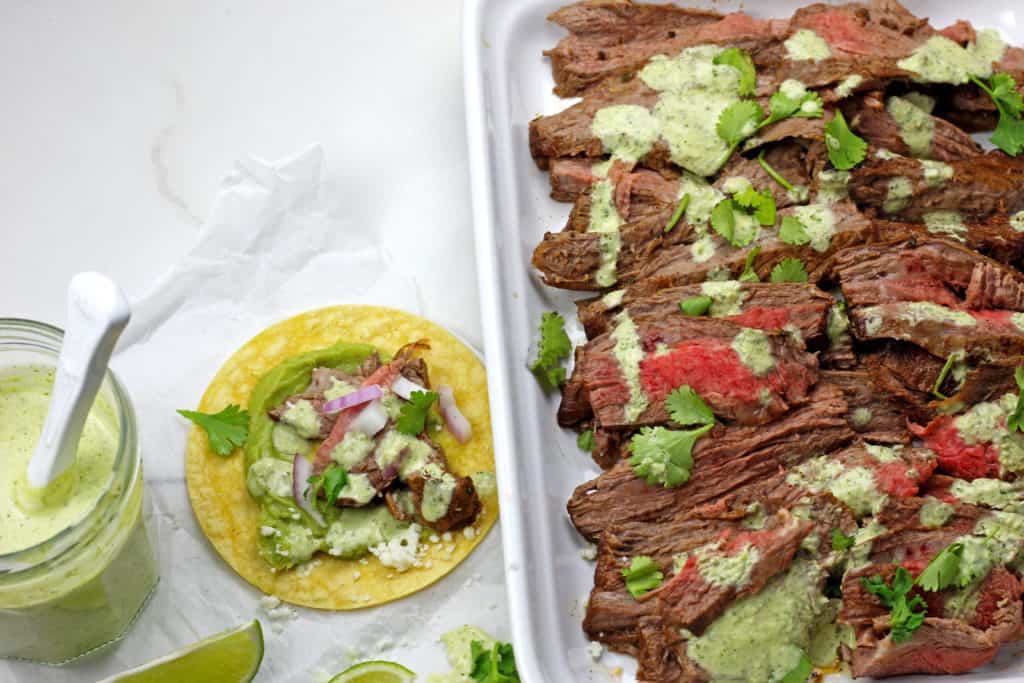 This recipe is super easy. It involves making a quick marinade, then cooking quickly in the Instant Pot under high pressure. The marinade helps tenderize and flavor the meat, and the high pressure from the Instant Pot helps tenderize and cook quickly.
Carne Asada Ingredients
For this recipe, you'll need:
Lime and orange juice: The acid in the citrus juice helps tenderize the meat. Plus, the sweetness from the fruit balances the acid. 
Worcestershire sauce: Worcestershire has an umami flavor similar to beef, which makes it perfect for including in a beef marinade. 
Olive oil: This gives the steak a nice coating of oil to help prevent sticking in the Instant Pot. Plus, flank steak can be lean, so the fat helps with flavor. 
Jalapeño: A hot pepper for a little heat. If you're heat adverse, you can skip the seeds to ease up on the spiciness factor. 
Cilantro: Cilantro adds a fresh burst of flavor to the marinade. 
Garlic cloves: You can leave the garlic cloves whole if you'd like to make it easier or you can mince them. If you use them whole, just give them a little smash before throwing them in the marinade. 
Seasonings and spices: A little chili powder, oregano, salt, and pepper round out the Latin-inspired flavors. Flank steak: Flank steak can be a bit tough, so that's why this recipe marinates the steak for a few hours before cooking. Also, you'll need to make sure to cut the steak into pieces that will fit in your Instant Pot – see below.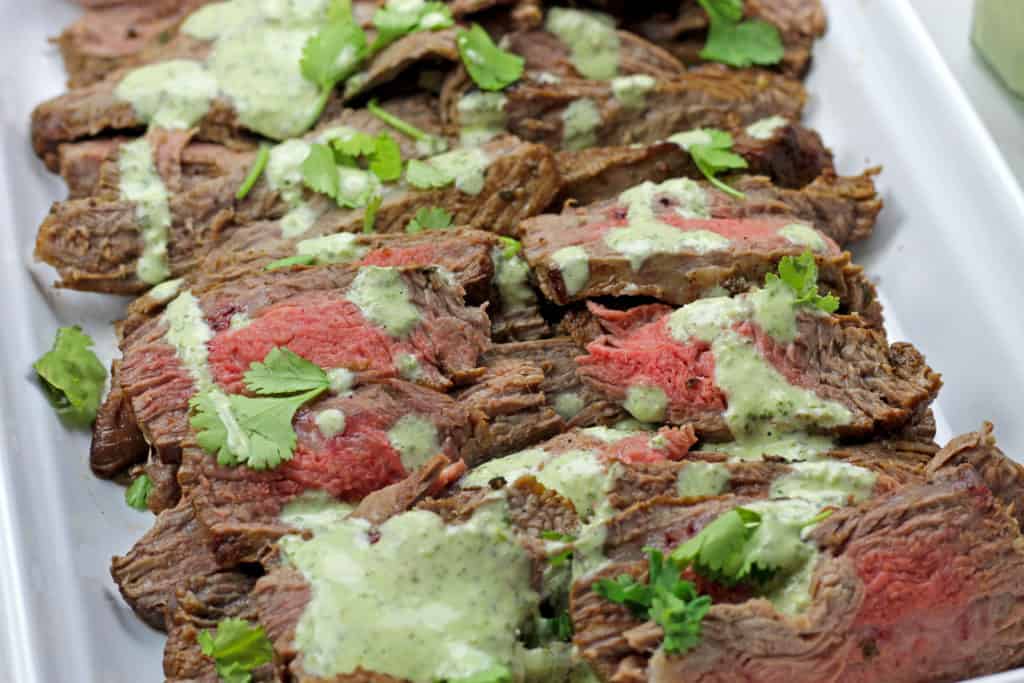 How to Make Instant Pot Carne Asada
First, you make the marinade by combining all of the ingredients except for the steak into a large shallow dish that can be covered or a large ziplock bag.
Before putting the flank steak into the marinade, make sure that the steak is cut into pieces small enough to fit the length of your Instant Pot. For example, I used a little less than 2 lbs. of steak, and I only had to cut my steak into two pieces before cooking. 
Once you've marinated the steak for at least 4 hours, you'll sear the steak in the Instant Pot using the sauté feature. Note: don't discard the marinade!
After the steak is browned on all sides, you'll add the marinade to the Instant Pot and cook on high pressure for about 4-5 minutes for a medium-well steak (3-4 minutes should get you medium). Use the quick release to depressurize the Instant Pot. 
Allow the steak to rest for about 10 minutes before thinly slicing against the grain, meaning slice in the opposite direction of the muscle fibers. This helps break up the tough muscle of the flank steak, making it more tender and easier to eat. If you're going to use the carne asada for tacos, you definitely want nice thin strips of meat rather than big tough chunks. 
After you're done, you'll want to drizzle some of my cilantro garlic sauce on the steak. You can check out the link or the recipe card has a link as well. It technically could be optional, but really, it's not optional. At least in my opinion.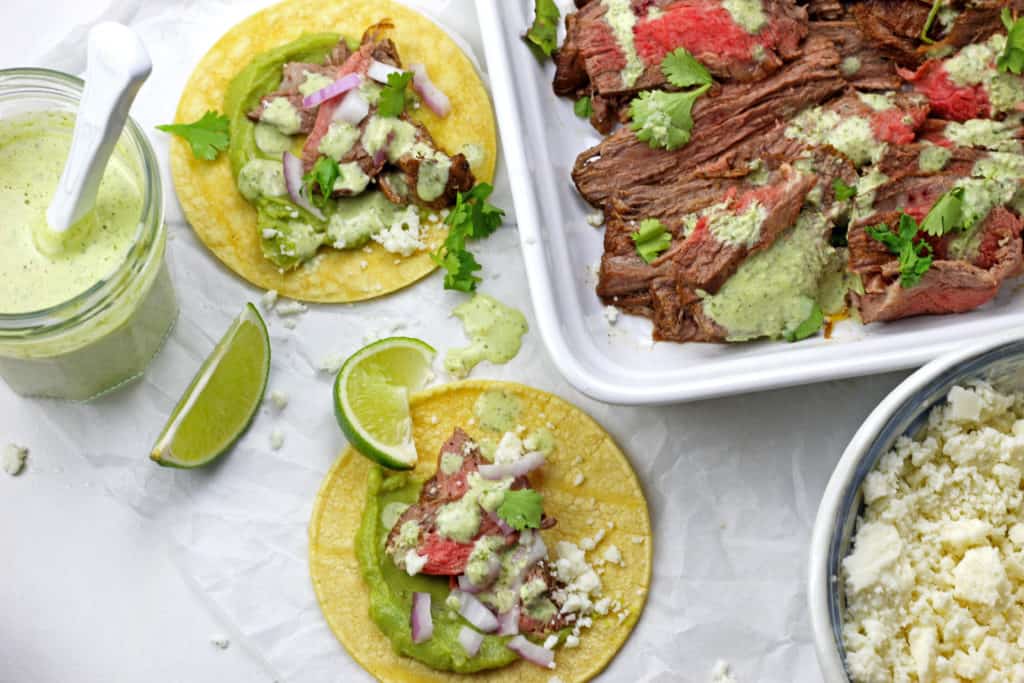 How to Serve Carne Asada
Tacos are my favorite vehicle for this Instant Pot Carne Asada. I've included my favorite taco toppings in the notes section of the recipe. But, this steak recipe would be equally good served up on a burrito bowl, salad, or just by itself with a side of rice and beans. You really can't go wrong any which way you eat it.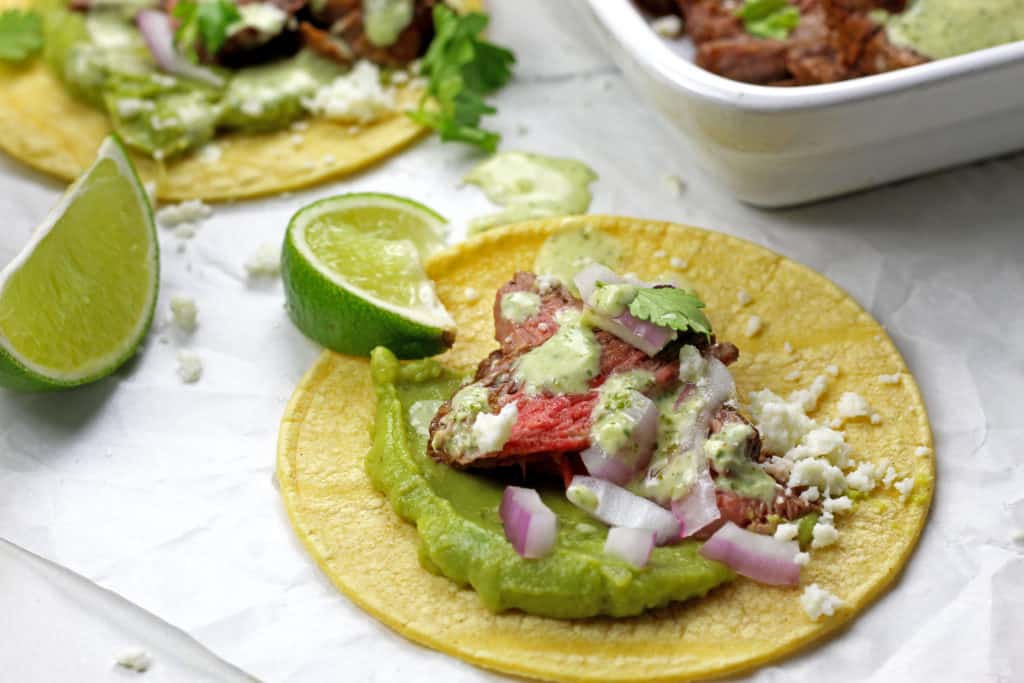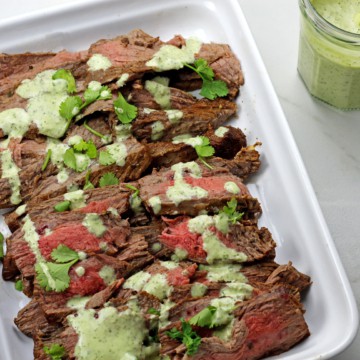 Instant Pot Carne Asada
Ingredients
juice of 2 limes

juice of 1 orange

3

tbsp.

Worcestershire

½

cup

olive oil

1

jalapeño

chopped (with or without seeds)

½

cup

packed cilantro

3

garlic cloves

whole or minced

1

tbsp.

chili powder

1

tsp.

oregano

salt/pepper

1 ½ -2

lbs.

flank steak

cut into pieces that will fit into your Instant Pot

cilantro garlic sauce

for topping (optional)
Instructions
Combine all marinade ingredients together in a shallow dish or ziplock bag. Add steak and allow to marinate for 4 hours in the fridge.

Preheat Instant Pot on the sauté feature. Sear steak on all sides in Instant Pot (save marinade). Add marinade to Instant Pot to deglaze. Cook steak in the marinade on high pressure for 4-5 minutes for medium-well steak, then quick release Instant Pot valve. 

Allow steak to rest on cutting board for 7-10 minutes. Slice against the grain. Serve with 

cilantro garlic sauce

. 
Notes
To aim for a medium-well steak, aim for 4-5 minutes on high pressure for thicker steaks.
If your steak is thinner, decrease the time to 3 minutes for medium-well. 
If you're making carne asada tacos – try the following toppings/fixings:
Extra cilantro, in addition to 

the cilantro garlic sauce

Red onion

Guacamole or avocado

Crumbled queso fresco or cojita cheese

Corn or flour tortillas 
CLICK TO DISPLAY NUTRITION INFO
Nutrition
Calories:
367
kcal
Carbohydrates:
6
g
Protein:
29
g
Fat:
25
g
Saturated Fat:
5
g
Polyunsaturated Fat:
2
g
Monounsaturated Fat:
16
g
Cholesterol:
79
mg
Sodium:
368
mg
Potassium:
627
mg
Fiber:
1
g
Sugar:
2
g
Vitamin A:
899
IU
Vitamin C:
15
mg
Calcium:
64
mg
Iron:
3
mg