This Instant Pot Chicken and Pancake Mix Dumplings with Winter Greens recipe is creamy, cozy, and so easy to make. It is comfort food at its finest.
Instant Pot Chicken and Pancake Mix Dumplings with Winter Greens are a great option for an easy, nutritious meal. The pancake mix makes super fluffy dumplings, and the Instant Pot cooks it to perfection in less than an hour. Plus with minimal dishes, clean-up is super easy. And, we can all use immune-supporting nutrients this time of year from the addition of winter greens.
It also makes for great leftovers. I love making a big batch and having leftover chicken and dumplings for several meals. There is nothing better than creamy, warm, comfort food.
Jump to:
Can you make dumplings with pancake mix?
Yes, you can use pancake mix to make some of the best dumplings! Pancake mix has leavening ingredients that make dumplings "rise" or "fluff up" when they cook. The creaminess in this recipe comes from the dumplings cooking and thickening the chicken stock.
I'm sure it goes without saying, but avoid flavored pancake mixes (like blueberry or chocolate chip). The best pancake mix is a buttermilk pancake mix. The buttermilk in the mix makes the dumplings super flavorful and yields a tender texture.
You can also use real buttermilk as the liquid, but I typically will use regular milk with the buttermilk baking mix for pancakes. I don't always have a use for the remaining buttermilk and almost always end up with a half-used buttermilk container in the fridge. I have a couple of suggestions for brands of buttermilk pancake mix below.
Variations
There are a few different types of homemade dumplings that one can make for chicken and dumplings. Using the pancake mix makes a "drop" dumpling, which is exactly what it sounds like – a spoonful of dough is dropped into the hot chicken stock.
Some people also make:
Rolled dumplings – these are the kind that you find at places like Cracker Barrel.
Biscuit dumplings – these are pieces of biscuit dough dropped into the soup.
Drop dough dumplings are my favorite because they are the easy way, and you can control the flavor by adding in fresh herbs or spices if you so choose. I add dried dill to these drop dumplings to give extra flavor and an herby freshness.
Ingredients
Onion, celery, carrots, and garlic: This combination is the basis for pretty much all soups. I'm a huge garlic lover, so I put a little extra in the pot.
Boneless, skinless chicken breast and/or thighs: The recipe tastes best with a combination of both chicken breasts and chicken thighs. But if you have an aversion to one, feel free to use all of one type of meat.
Chicken stock: I've said it once, I'll say it a million times – Kitchen Basics chicken stock is my favorite. It's got a deep rich color and taste that beats all other grocery store chicken broths or stocks. I typically go for low sodium chicken broth because it allows me to better adjust the saltiness of a recipe. You can always add more salt, but you can't take it out.
Buttermilk pancake mix: I've used several different kinds – I've found that Krusteaz Buttermilk Pancake Mix or the Original Bisquick Mix tastes the best in my opinion.
Dried dill: Dill adds a little extra flavor and a herby freshness to the dumplings. If you use fresh dill, cut the measurement in half. It enhances the flavor of your dumplings.
Butter and milk: Since the pancake mix already has buttermilk in it, I typically will add unsalted butter and whole milk to mix up the dumplings. All of this together will yield a great taste and texture to the dumplings.
Kale: This is my favorite winter green, but you could use other winter greens like swiss chard or collards. You can buy kale in a bunch or already chopped in a bag like I do.
Instructions for Chicken and Pancake Mix Dumplings Recipe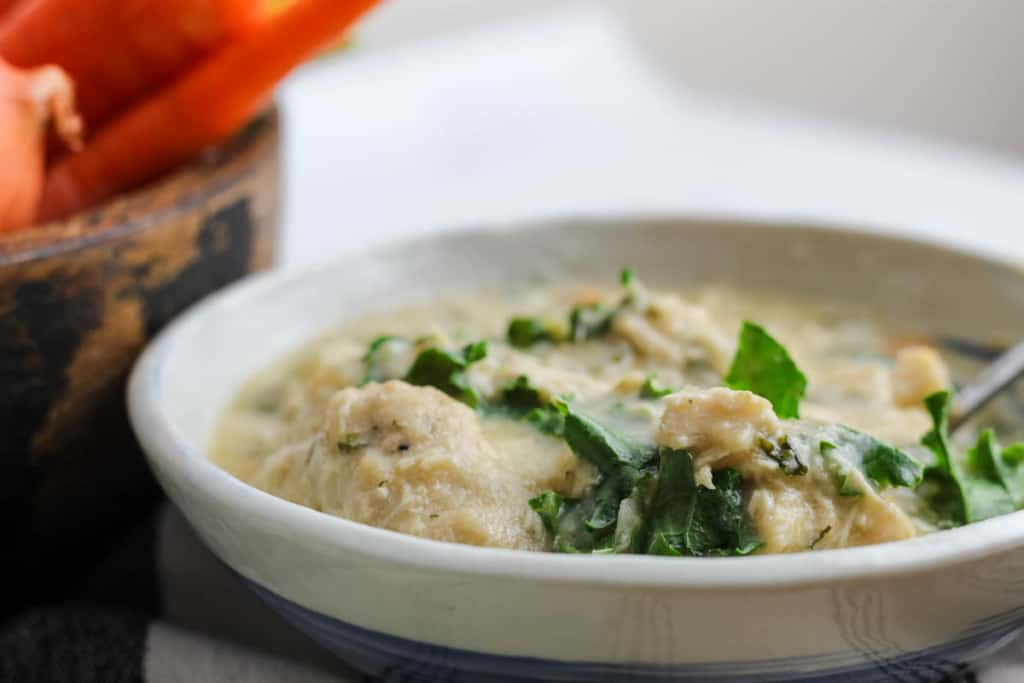 The Instant Pot has a saute function, heat oil and saute the onion, celery, and carrots in oil. Garlic burns easily, so add it after the other veggies have cooked a bit.
Then add the seasoned chicken breasts and/or thighs along with the chicken stock and cook on high pressure for about 13 minutes. It's perfectly fine to quick release the steam or allow a natural pressure release on its own. Then you'll need to pull the chicken out and shred it.
While the chicken is cooking, you can combine pancake mix with the dill, melted butter, and milk in a medium bowl until a soft dough forms. Once the chicken is out and shredded, you can add the greens to the hot stock and start using a spoon to drop spoonfuls of dumpling batter into the pot. You can also use a cookie scoop or small ice cream scoop to drop the dough into the stock. I recommend making them fairly large as they will break up when you stir everything at the end.
The instant pot goes back on high pressure for 8 minutes with a quick release. Then the chicken is added back and ready for serving!
Equipment Needed
An Instant Pot or another brand of multifunction pressure cooker is required to make this recipe. By using a pressure cooker, the time to make this recipe dramatically decreases. If you were to use a stovetop, this type of recipe could take you 2-4 hours, but this one can be made in less than an hour. This one is very similar to my Instant Pot.
How long can you store chicken and pancake mix dumplings in the refrigerator?
Chicken and dumplings keep for up to about 4 days in the fridge. Of course, you'll want to store it in an airtight container.
Can you freeze chicken and dumplings?
Yes, chicken and dumplings can be frozen and kept in the freezer for up to 3 months. When you're ready to serve it, allow it to thaw overnight in the refrigerator, and then warm up on the stovetop for the best flavor and texture.
Freezing tip: Cool the chicken and dumplings in the refrigerator, then once completely cooled, ladle the chicken and dumplings into freezer bags. If you want to freeze in separate bags for a smaller portion that can be taken out of the freezer as needed, you'll want to get freezer bags of your preferred portion. Freeze the bags by laying flat and stacking on each other.
Print
Chicken Soup with Buttermilk Dill Dumplings
This Instant Pot Chicken and Pancake Mix Dumplings with Winter Greens recipe is creamy, cozy, and so easy to make. It is comfort food at its finest.
Author: Melissa
Prep Time:

10-15 minutes

Cook Time:

25-30 minutes

Total Time:

35-45 minutes

Yield:

4

–

6

servings

1

x
Category:

Soup

Method:

Instant Pot
1 tbsp

. oil 

1

large onion, chopped

2

stalks of celery

2

carrots, peeled and chopped

2

garlic cloves

1 ½

lbs. chicken breast and/or thighs, boneless, skinless 

6 cups

of chicken stock

2 cups

of buttermilk pancake mix

1 tsp

. dill

2 tbsp

. butter, melted

¾ cup

milk

1

bunch of kale, chopped, stems removed

salt and pepper, to taste
Instructions
Heat oil in Instant Pot on saute function. Add onion, celery, and carrots to oil and saute for 3-4 minutes. Add garlic and turn off saute function. 
Add chicken to Instant Pot. Season with salt and pepper. Add chicken stock and cook on high pressure for 13 minutes. Quick-release the steam and pressure on the Instant Pot. Remove chicken from Instant Pot and shred meat. Set chicken aside. 
Add kale to the hot chicken stock and stir. Mix together pancake mix and dill in a mixing bowl. Add butter and milk and mix until just incorporated. Take a spoon and drop batter by the spoonful into the hot chicken stock. Seal up Instant Pot and cook on high pressure for 8 minutes. Quick-release the steam and pressure again. 

Add chicken back to soup and serve immediately. 
Keywords: instant pot, chicken and dumplings, pancake mix dumplings