Get ready to delight your taste buds with some of the tastiest and most irresistible creamy cocktails. These delicious concoctions have a velvety texture from a variety of sources, including cream liqueurs, dairy cream, plant-based cream like coconut milk, and even whipped cream vodka. Each has a unique flavor profile and rich mouthfeel, ensuring that every sip is a heavenly experience you won't soon forget.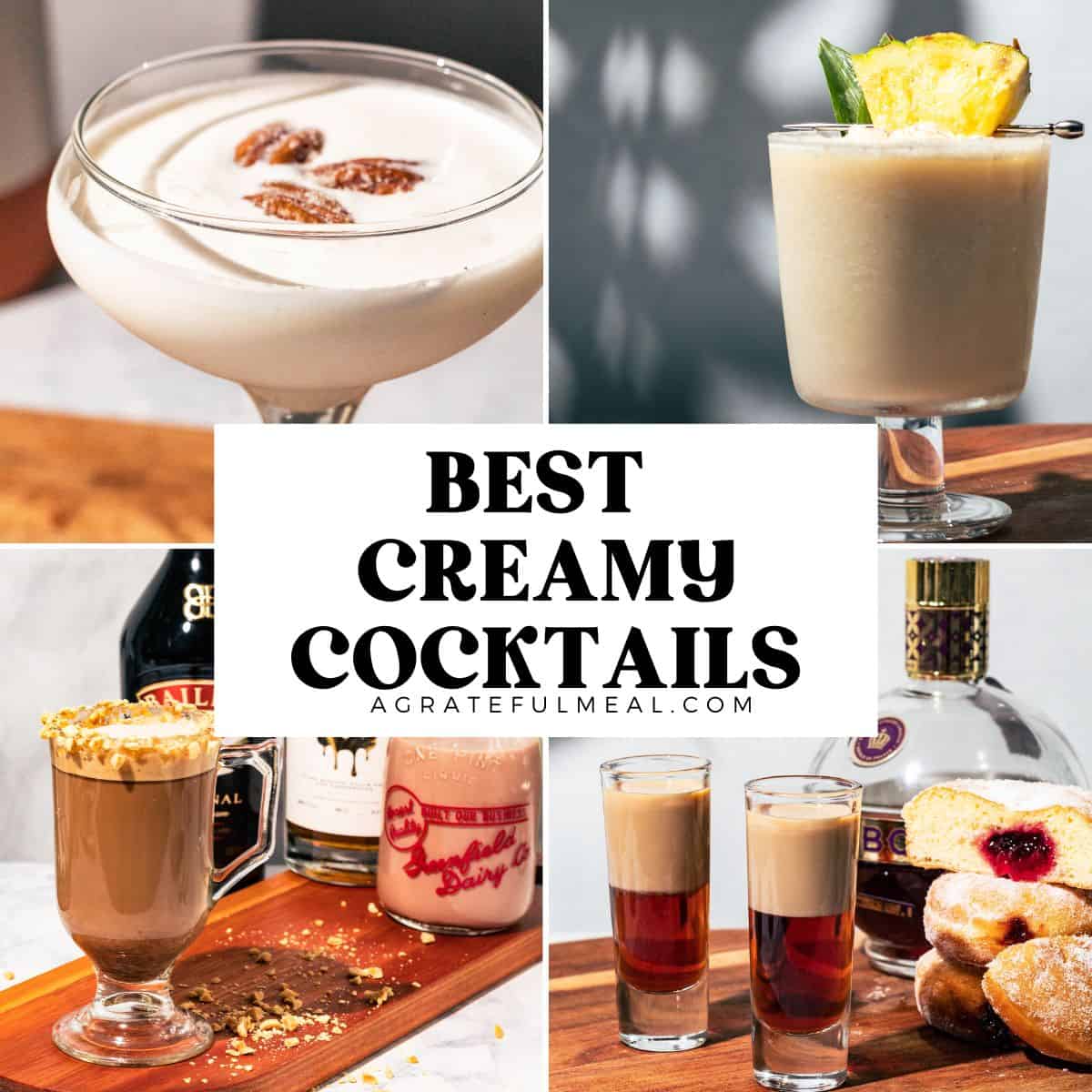 If you love fun and unique cocktails, be sure to check out my post on the Best Glitter Cocktails or Best Colorful Cocktails for more dazzling drink inspiration!
Jump to:
Why You'll Love These Cocktails
Bursting with Flavor: These creamy cocktails combine rich creaminess with the unique tastes of various spirits, resulting in beverages that will delight your taste buds.
Velvety Smooth Texture: These cocktails have a luxurious, velvety-smooth texture that you'll love. Each sip provides a smooth and satisfying sensory experience.
Versatile and Creative: This selection of creamy cocktails offers a diverse range of flavors and ingredients, ensuring there's something for everyone. From an Orange Creamsicle Martini to a Snickers Irish Latte, these creamy cocktails will fit any occasion and mood.
Tips for Making Creamy Drinks
Temperature matters: For the best consistency and flavor, always use chilled cream or plant-based cream when mixing your creamy cocktails. This will help prevent curdling and ensure that your drink stays smooth and delicious.
Shake it well: To achieve that perfect, frothy texture in your creamy cocktails, don't be afraid to give your drinks a really good shake. Use a cocktail shaker with ice cubes and shake vigorously for at least 30 seconds to achieve a well-blended, velvety finish.
Use high-fat creams: Lower-fat creams (dairy or plant-based) are more likely to separate than higher-fat options like heavy cream or regular coconut milk.
Limit high-acid ingredients: While alcohol on its own is acidic, adding a lot of other acidic ingredients, like lemon or lime juice, can easily "break" your cream and cause curdling. A few of the cocktails below contain acidic ingredients but in small amounts.
Creamy Cocktail Recipes
1. Snickers Irish Latte
If you love Irish cream cocktails, you will love this Snickers Irish Latte. It is a twist on the classic Irish coffee and uses Skrewball peanut butter whiskey instead of Irish whiskey. This pairs perfectly with the caramel, chocolate, and coffee flavor that will please passionate coffee lovers.
Check out this recipe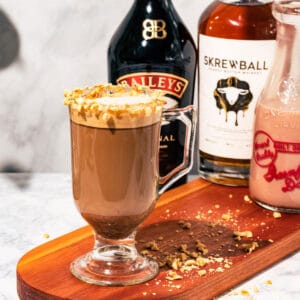 2. Lemon Cheesecake Cocktail
This drink is a dreamy combination of whipped cream vodka, limoncello, fresh lemon juice, and half-and-half cream. It results in a zesty and creamy concoction that delivers the perfect balance of tangy-sweet flavors of a lemon cheesecake. It's the perfect dessert cocktail for any special occasion or just a weeknight happy hour.
Check out this recipe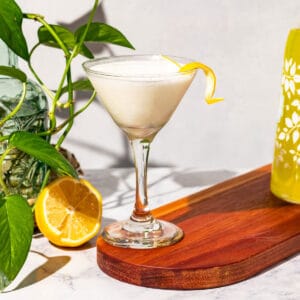 3. Fluffernutter Peanut Butter Whiskey Cocktail
This heavenly Fluffernutter Cocktail is a delightful mixture of Skrewball peanut butter whiskey, toasted marshmallow syrup, Baileys Irish cream liqueur, and an egg white. This creamy drink evokes the nostalgic flavors of a childhood favorite, the Fluffernutter sandwich.
Check out this recipe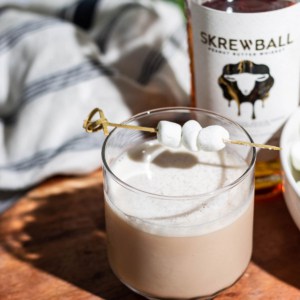 4. Pecan Pie Martini
Treat yourself to a Pecan Pie Martini, a decadent dessert cocktail that is a classic pecan pie in a glass and will satisfy any sweet tooth cravings. It's crafted with pecan cream liqueur, caramel, whipped cream vodka, and heavy cream, creating a velvety-smooth and nutty flavor profile.
Check out this recipe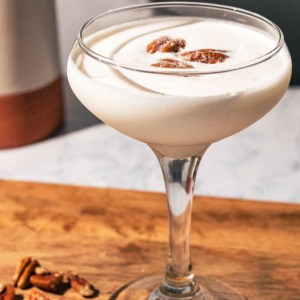 5. Jelly Donut Shots
Experience the delight of a jelly-filled donut in liquid form with these Jelly Donut Shots. Made with Chambord and Baileys Irish cream, these shots are sweet, fruity, and creamy, delivering a burst of flavor reminiscent of a freshly-baked donut.
Check out this recipe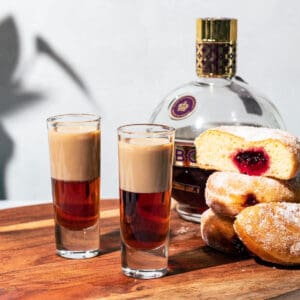 6. Orange Creamsicle Martini
Relive your childhood with this delicious cocktail that is a nostalgic tribute to the classic frozen treat served up in a martini glass. It features whipped cream vodka, triple sec, orange, and lemon juice, creating a vibrant, citrusy flavor that's both sweet and has a creamy texture even though there is no actual cream in the drink.
Check out this recipe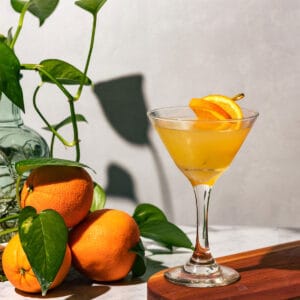 7. Pumpkin Mudslide Cocktail
If you love mudslide recipes, you will absolutely love this Pumpkin Mudslide Cocktail. This variation of a classic mudslide is made with coffee vodka, pumpkin puree and spices, Baileys Irish cream, half and half cream, and topped with a drizzle of caramel.
Check out this recipe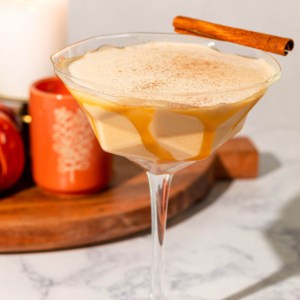 8. Pina Colada Mocktail
Unlike normal Pina Coladas, this alcohol-free Pina Colada is an easy mocktail. Made with coconut milk, cream of coconut, pineapple, orange juice, zesty lime juice, and spiced simple syrup, this creamy and refreshing mocktail is a delightful treat for all ages.
Check out this recipe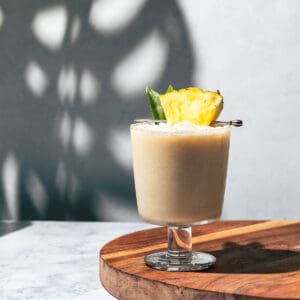 9. Parmesan Espresso Martini
Dare to try the viral TikTok Parmesan Espresso Martini, a unique and surprisingly delicious spin on the classic cocktail. This intriguing beverage is topped with creamy and salty parmesan cheese, creating a delightful contrast of flavors that you never knew you needed. Don't knock it until you've tried it!
Check out this recipe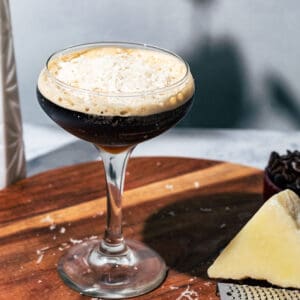 FAQ
Q: Does alcohol make cream curdle?
Yes, alcohol can cause cream to curdle. To prevent curdling, use cold ingredients, mix your cocktails thoroughly, and limit extra acidic ingredients (aside from the alcohol, like lemon or lime juice) to ensure a smooth and well-blended consistency.
Q: What are the best cream liqueur brands?
Liqueur brands like Baileys Irish Cream, Amarula, RumChata, Sugarland Sippin' Cream, and Licor 43 Chocolate Liqueur make some of the best drinks. These brands offer high-quality products with rich and creamy flavors that can elevate any cocktail.
Q: What types of alcohol make good creamy drinks?
Many types of alcohol can be used to create delicious creamy drinks, including cream liqueurs (such as Baileys or RumChata), flavored vodkas (such as whipped cream vodka), and various dessert liqueurs (like Frangelico or coffee liqueur). Additionally, spirits like Skrewball Peanut Butter Whiskey or coffee-flavored vodkas can also complement and enhance the flavors of the cocktail.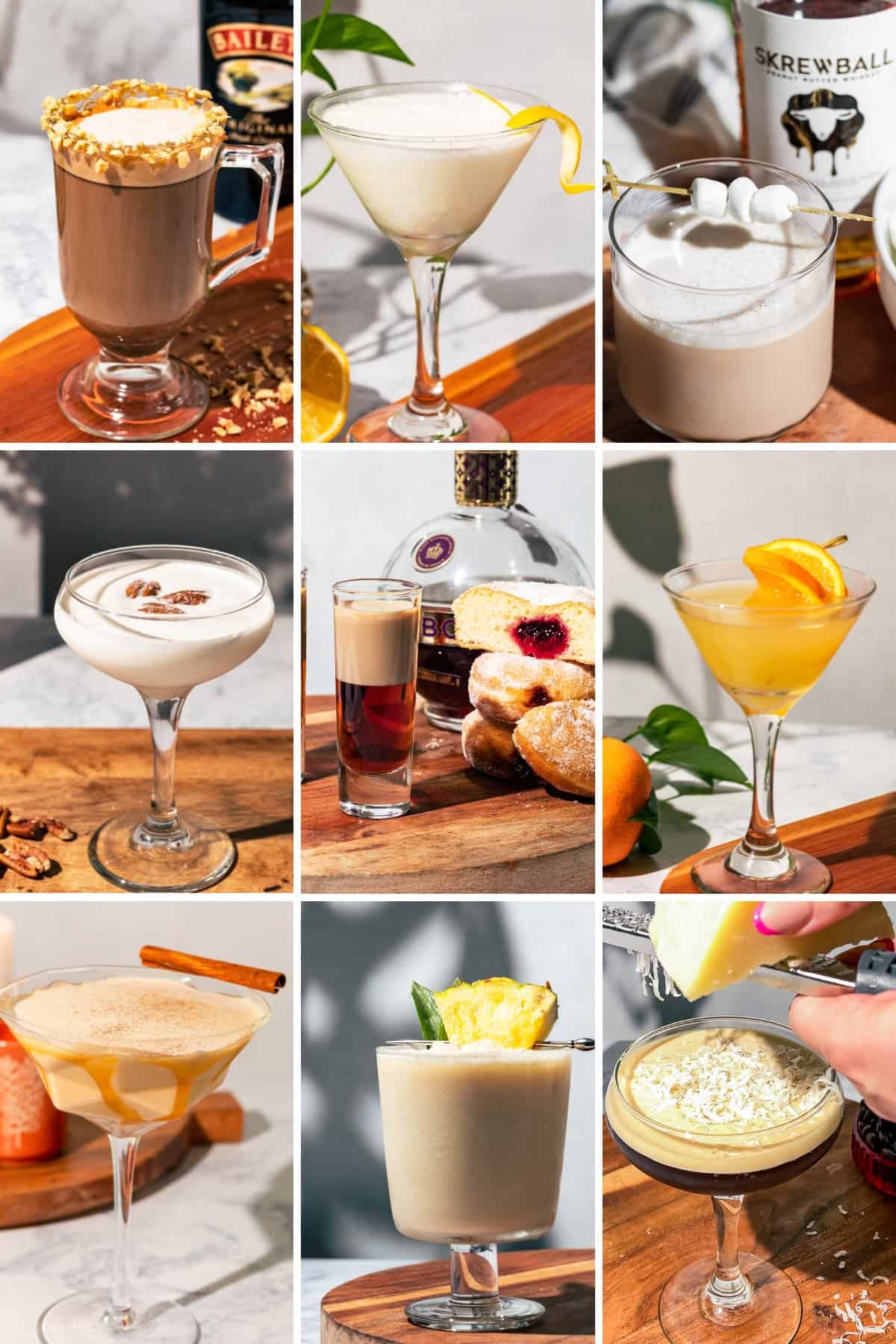 Related Recipes
Did you enjoy these recipes?
Let me know in the comments below what your favorite was!
You can also follow along on Instagram, TikTok, Pinterest, and Facebook.