Have you heard of peanut butter whiskey? This peanut butter lover's dream ingredient for cocktails is sweet and tastes just like a fluffernutter sandwich. With undertones of vanilla and caramel, this liquor mixes well as a main ingredient in this Fluffernutter Peanut Butter Whiskey cocktail.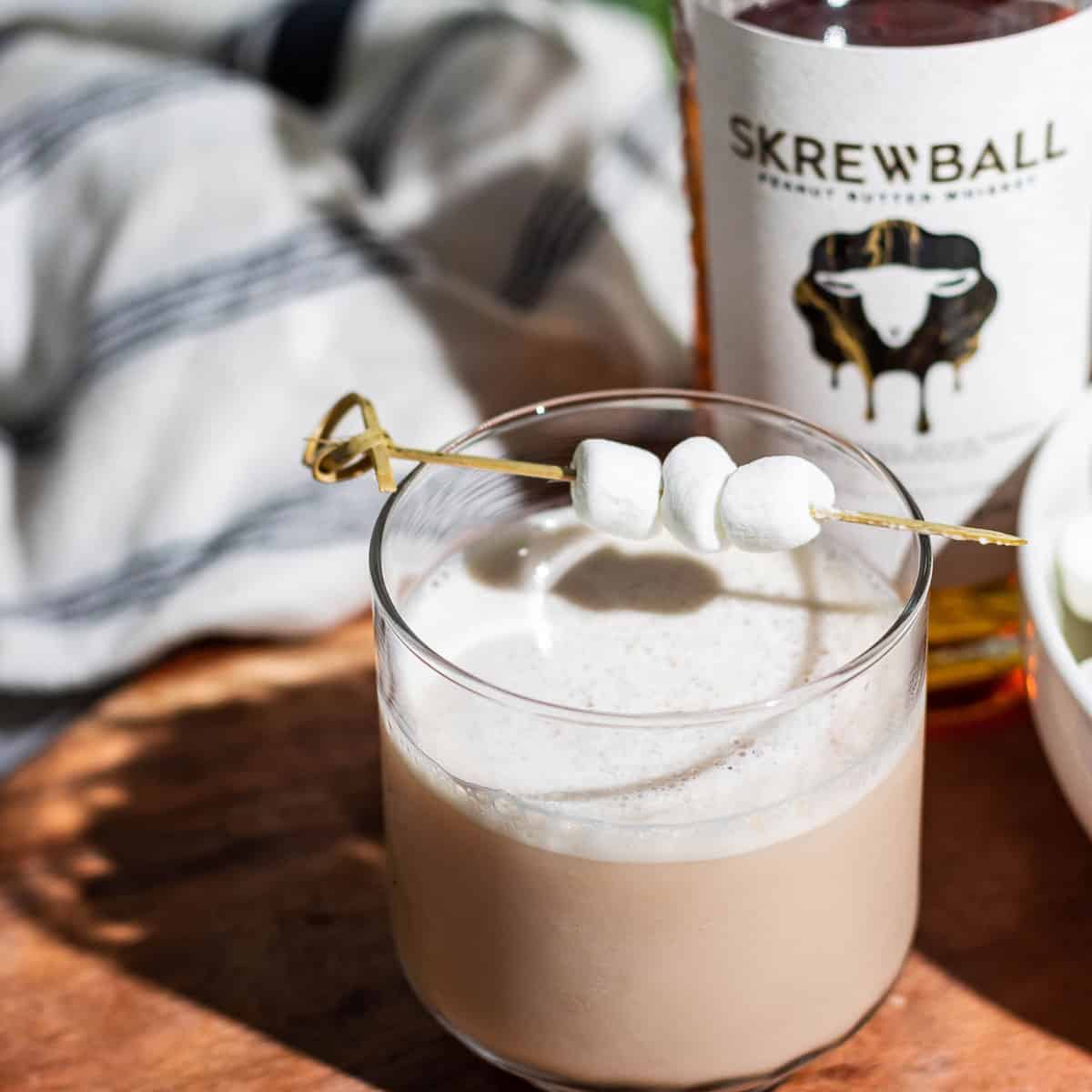 If you're a big fan of dessert or creamy cocktails, you might want to also try my Butter Pecan Pie Martini or Kahlua Espresso Martini. If you like fruity dessert cocktails, try the Lemon Cheesecake Cocktail.
Jump to:
What is Peanut Butter Whiskey?
So what exactly is peanut butter whiskey, you may ask? A flavored whiskey, this peanut butter liquor is made with natural peanut flavors and not actual peanut butter. The first brand to hit the market was Skrewball Peanut Butter Whiskey, invented by a husband and wife duo.
The couple owned a San Diego bar featuring a famous peanut butter whiskey shot made with actual creamy peanut butter and decided to simplify the process. Today several popular brands also make peanut butter whiskeys, such as Skatterbrain and Sheep Dog.
There are so many mixing possibilities with peanut butter whiskey; you blend it up with some vanilla ice cream for a peanut butter whiskey milkshake or add it to your hot chocolate to take it to the next level. I also like to swap peanut butter whiskey for bourbon whiskey to make a Peanut Butter Old Fashioned – a fun, modern twist on a classic cocktail.
Peanut butter whiskey is slightly lower in alcohol than your average whiskey, at around 70 proof or 35% alcohol. Compared to traditional whiskey, which is 80 proof or higher, this is typical of flavored whiskeys.
If you're looking for something with a little extra nutty flavor and character, trying out a peanut butter whiskey drink may surprise you! Even non-whiskey drinkers enjoy peanut butter whiskey.
Ingredients Notes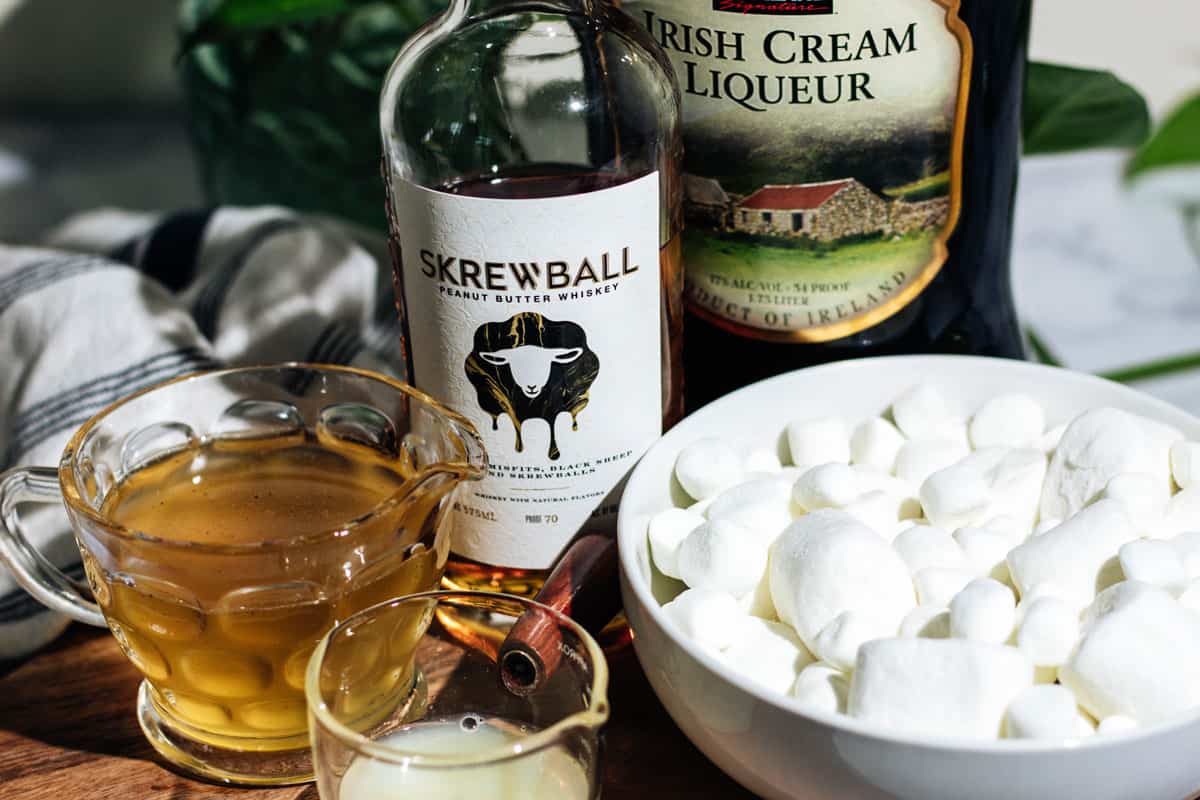 If your interest is piqued by peanut butter whiskey, here's a fun and unique cocktail you can make using just a few ingredients. You probably won't have most of these components on your bar cart, but they are easy to make or find in the grocery store.
This Fluffernutter Peanut Butter Whiskey Cocktail is creamy, rich, and reminiscent of childhood peanut butter marshmallow fluff sandwiches, but for adults. The addition of egg whites gives it a light and airy texture and mouthfeel, while Bailey's adds smoothness to the concoction.
Peanut butter whiskey: You can find peanut butter whiskey in the liquor store, alongside other flavored whiskeys. As I mentioned, there are several different brands, but my favorite is the original, Skrewball whiskey.
The texture of peanut butter whiskey is thick, sticky, and sweet so don't expect the same viscosity as classic whiskey. Peanut butter whiskey is also on the sweet side compared to traditional whiskey, with less of a bite.
Toasted marshmallow simple syrup: The next component in this cocktail is the delicious toasted marshmallow simple syrup. Making this at home is quick and simple and only requires a few extra steps than what it takes to make plain simple syrup.
Regular simple syrup is made by combining equal parts sugar and water in a saucepan, then heating over a medium flame until dissolved, and cooling before using. If you don't want to make this simple syrup from scratch, you can use a store-bought toasted marshmallow syrup.
Bailey's Irish Cream: This classic creamy liqueur is a staple splashed in coffee to make an Irish coffee, commonly mixed into a dessert cocktail, or served over the rocks as an after-dinner treat.
Bailey's is made with cream, cocoa, and Irish whiskey, making it a decadent drink with just a little bit of flavor from the whiskey. Relatively low in alcohol, Bailey's helps round out the peanut butter flavor in this cocktail and adds some richness.
You can find Bailey's in the liquor store, and it keeps best refrigerated once it's been opened. Other Irish cream brands will work just as well in this peanut butter cocktail and may be cheaper, such as Emmet's or Costco's Kirkland brand. Baileys is also super delicious in this Jam Donut Shot.
Egg white: The final ingredient in this cocktail is egg whites, giving the drink volume and desirable mouthfeel. Since this cocktail is relatively sweet and rich, adding egg whites also lightens up the flavor. If you are worried about consuming raw eggs, you can use aquafaba, a vegan alternative made from chickpea liquid.
However, if you want to be extra safe but use an egg white, you can also buy pasteurized egg whites in the carton, which you can find at any grocery store.
Whatever you choose to use, I recommend keeping this component in the cocktail. It is essential to use the dry shake method when using egg whites or aquafaba, shaking the ingredients together before adding ice cubes.
This allows the ingredients to come together without being diluted by ice and incorporates the most air into the mixture, giving it its foamy appearance.
How to Make a Fluffernutter Peanut Butter Whiskey Cocktail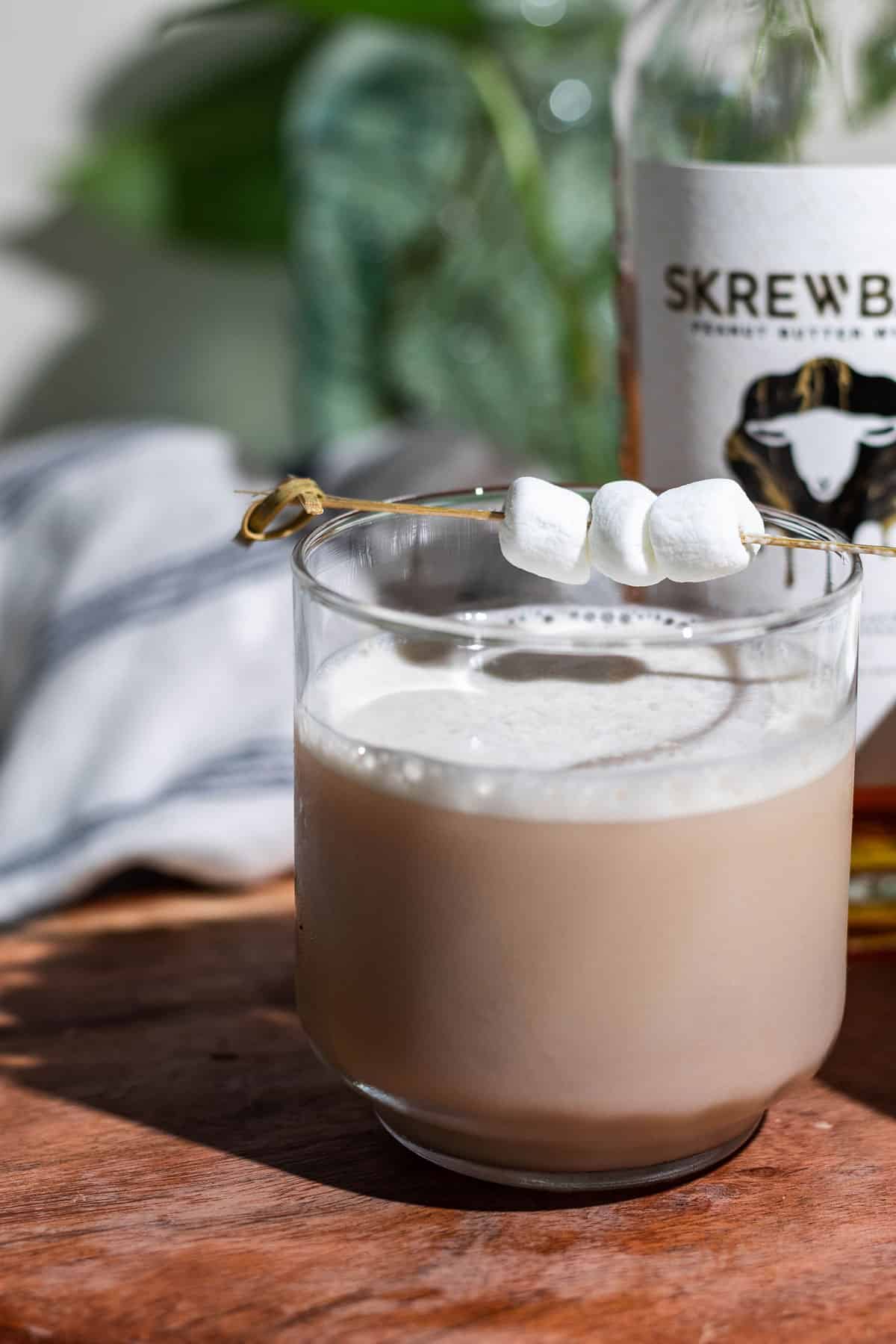 Now that you know the basics of the ingredients for this irresistible cocktail, it's time to shake one up! All you need to make this easy recipe is a cocktail shaker with a strainer, some ice, and a lowball glass. You will need to make a batch of toasted marshmallow simple syrup beforehand or have the store-bought version on hand.
To make the toasted marshmallow simple syrup, start by lightly browning your marshmallow over a flame or under the broiler in the oven to get a toasted rich flavor.
Make your simple syrup as usual, adding the toasted marshmallows into the mix and heating. When everything is dissolved, pour the mixture through a fine mesh strainer to eliminate browned pieces and add a dash of vanilla extract.
Add the peanut butter whiskey, toasted marshmallow simple syrup, Bailey's, and egg whites into an empty shaker. Give the cocktail a generous shake, ensuring the lid is secure on the shaker. Remove the top and add a scoop of ice to the cocktail.
Secure the lid and give it another shake before straining it into the cocktail glass. You can garnish the cocktail with a lightly toasted marshmallow and enjoy!
Variations to This Recipe
I think this cocktail is simply delightful as it is, but if you'd like to try some variations, here are some that will only make this drink better. If you are a chocolate fan, try a drizzle of chocolate syrup inside the walls of the cocktail glass before pouring in your drink.
You can also try adding some chocolate liqueur to the cocktail. You can make this cocktail taste like a peanut butter s'more by dipping the rim of the cocktail glass in chocolate syrup and then crushed graham crackers. If you don't care for egg whites, simply omit them and pour this cocktail over the rocks after you've given it a good shake.
This cocktail can be enjoyed year-round, but I think its warm flavors and richness suit a cool fall evening sitting outside around the fire pit. This would be a great signature cocktail for the holidays as well. You and your friends will love the unique taste of peanut butter and toasted marshmallows with this peanut butter whiskey cocktail!
More cocktail recipes to try
If you liked this Fluffernutter Peanut Butter Whiskey cocktail, you'll definitely want to try these cocktail recipes too:
Did you love this cocktail?
Please leave a 5-star 🌟🌟🌟🌟🌟 rating & review in the comments below.
Reviews will help others find this recipe! Sharing is caring 🙂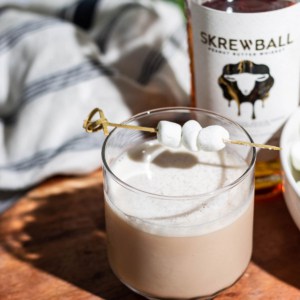 Fluffernutter Peanut Butter Whiskey Cocktail
This Fluffernutter Peanut Butter Whiskey Cocktail is a peanut butter lover's dream and tastes like a peanut butter marshmallow sandwich.
Ingredients
2

oz.

Screwball peanut butter whiskey

½

oz

toasted marshmallow syrup

see notes

1

oz.

Bailey's Irish cream

1

egg white

Extra marshmallows for garnish

optional
Instructions
Add peanut butter whiskey, syrup, bailey's, and egg white to empty shaker.

Shake, then add ice, and shake again. Strain into a cocktail glass and garnish with a marshmallows.
Notes
You can either buy store-bought toasted marshmallow syrup or make it using the instructions below.
Toasted Marshmallow Simple Syrup
6-8 large marshmallows
1 cup sugar
1 cup water
Splash vanilla extract
Instructions:
Toast marshmallows under the broiler or flame.
Add sugar, water to pot and bring to a simmer.
Add marshmallows and cook until completely dissolved.
Strain through a fine mesh strainer
CLICK TO DISPLAY NUTRITION INFO
Nutrition
Calories:
302
kcal
Carbohydrates:
32
g
Protein:
4
g
Fat:
4
g
Saturated Fat:
2
g
Cholesterol:
0.01
mg
Sodium:
58
mg
Potassium:
58
mg
Sugar:
16
g
Calcium:
4
mg
Iron:
1
mg
Don't forget to follow along on social media for new cocktail recipes!
You can catch me on Instagram, TikTok, Pinterest, and Facebook.