It's peanut butter jelly time! If you love the flavor combinations of an old fashioned peanut butter and jelly sandwich, why not try making a peanut butter and jelly drink? This Peanut Butter and Jelly Whiskey Cocktail recipe takes the winning combo and gives it a grown-up spin.
Drinking a peanut butter and jelly cocktail will make you reminiscent of being a kid, with the added bonus of whiskey! With only 3 major, but simple ingredients, it will quickly go to the top of your list of favorite easy cocktails. It's like a liquid form of a PB&J. It was inspired by my recipe for a Fluffernutter cocktail, another liquid version of a favorite sandwich from childhood. If you're looking for other delicious peanut butter whiskey cocktail recipes, you will definitely love this one too. It's also a super easy recipe to boot.
If you've never had peanut butter whiskey, you are in for a unique cocktail experience. Even if you're not a whiskey drinker, you will love the nutty flavor and sweetness of peanut butter whiskey. Not only is peanut butter whisky more on the sweet side than regular whiskey, but it is also a little thicker. These characteristics lend to this sweet and slightly salty peanut butter and jelly cocktail, which is so close to the real thing. You are sure to please your inner child with this easy drink.
Jump to:
Ingredients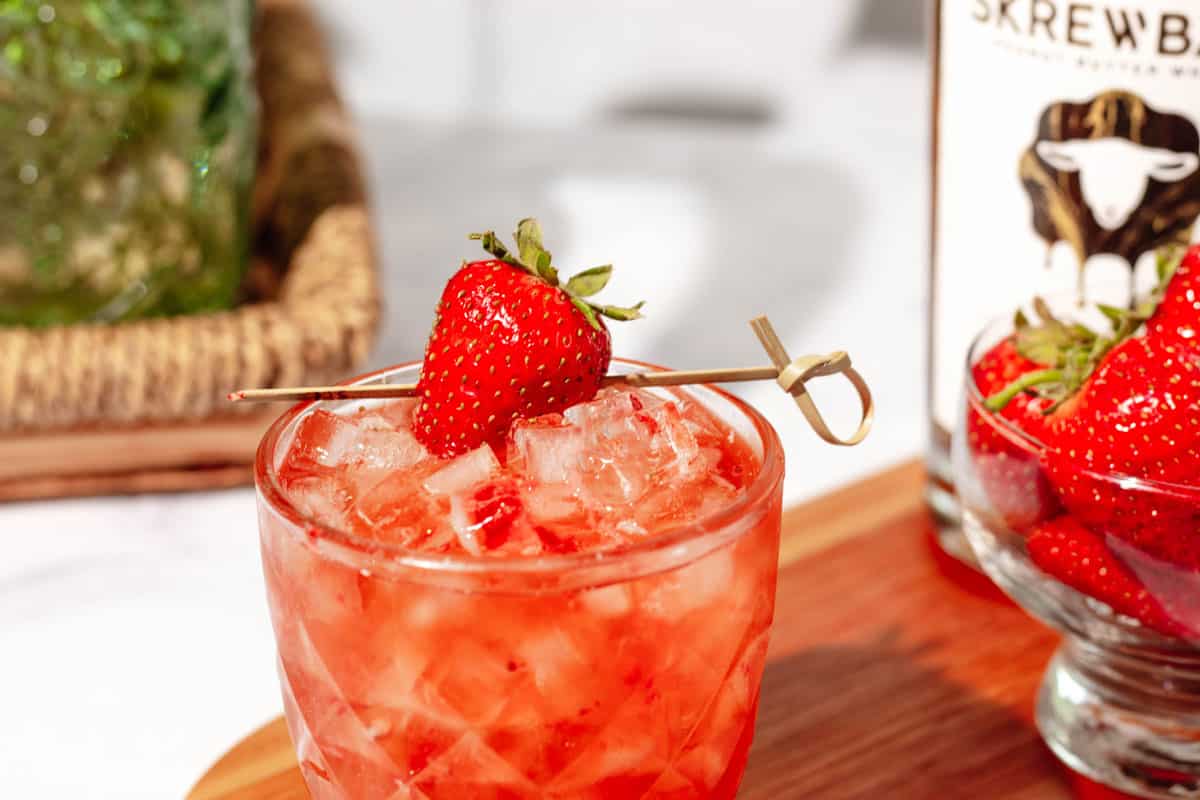 You only need a few ingredients to make a Peanut Butter and Jelly Whiskey Smash. Unless you've already jumped on the peanut butter whiskey train, you will need to visit a liquor store to stock up for this cocktail. Aside from peanut butter whiskey, you will also need fresh strawberries and simple syrup. These uncomplicated ingredients will create an outstanding cocktail you and your friends will love.
Peanut butter whiskey: Peanut butter whiskey is a sweet, flavored whiskey made from natural peanut butter flavors, not actual peanut butter. It's such a fun way to put a twist on your favorite whiskey drinks. Although there are several brands out there, I prefer the original, Skrewball Peanut Butter Whiskey. It's got a weird spelling, a lot of people search Screwball when looking for peanut butter whiskey recipes. Unlike traditional whiskey, Skrewball whiskey is 35% alcohol by volume, which is about 5% lower than the traditional.
Peanut butter whiskey is widely available in liquor stores in the whiskey aisle. Although it is a relatively new product, most liquor stores carry Skrewball or another brand, such as Sheep Dog or Skatterbrain. If you are a peanut butter and whiskey lover, this flavorful whiskey will quickly become one of your favorite new cocktail ingredients. Not only does peanut butter whiskey make delicious cocktails, but it is also delicious poured over ice or served neat.
Strawberries: The next component to the cocktail is the strawberries, to give the smash its fruity flavor reminiscent of strawberry jam. It's best to use strawberries when they're in season to have the best flavor and sweetness for your cocktail. Strawberry season is spring to summer, depending on where you live.
If you want to make this cocktail year-round, it is best to use frozen strawberries. Frozen berries are just as tasty as fresh, and their nutritious value is preserved better. Since you will need to slice the strawberries, if you are using frozen, remove them from the freezer and place them in a covered dish at room temperature for 30 minutes to defrost them. Make sure to give fresh strawberries a good rinse before slicing them to ensure any dirt or bacteria is removed.
Simple syrup is a common ingredient in cocktails that have a sweet element. You can purchase simple syrup from the store, but I find it easier and less expensive to make at home. All you need to make homemade simple syrup is equal parts granulated sugar and water.
If you are making simple syrup, make a little more than you need to have leftovers for more cocktails in the future. Simple syrup keeps well and can be stored in the refrigerator for up to a month in an airtight container.
To make this cocktail ingredient, add equal parts water and sugar to a saucepan and heat over medium temperature until the sugar has dissolved. Once the sugar has dissolved, allow the syrup to cool completely before using it or storing it. Now you have one of the main ingredients to make a Peanut Butter Whiskey Smash, a Mojito, or even a French 75 cocktail.
Optional salt: The last ingredient for this peanut butter and jelly cocktail is salt. Adding a pinch of salt to the cocktail is optional, but it will help bring out the sweetness and give it a salty peanut taste. If you are keeping it low sodium or just don't prefer a salty flavor, your smash will still be delicious without the added salt.
Instructions for a Peanut Butter and Jelly Cocktail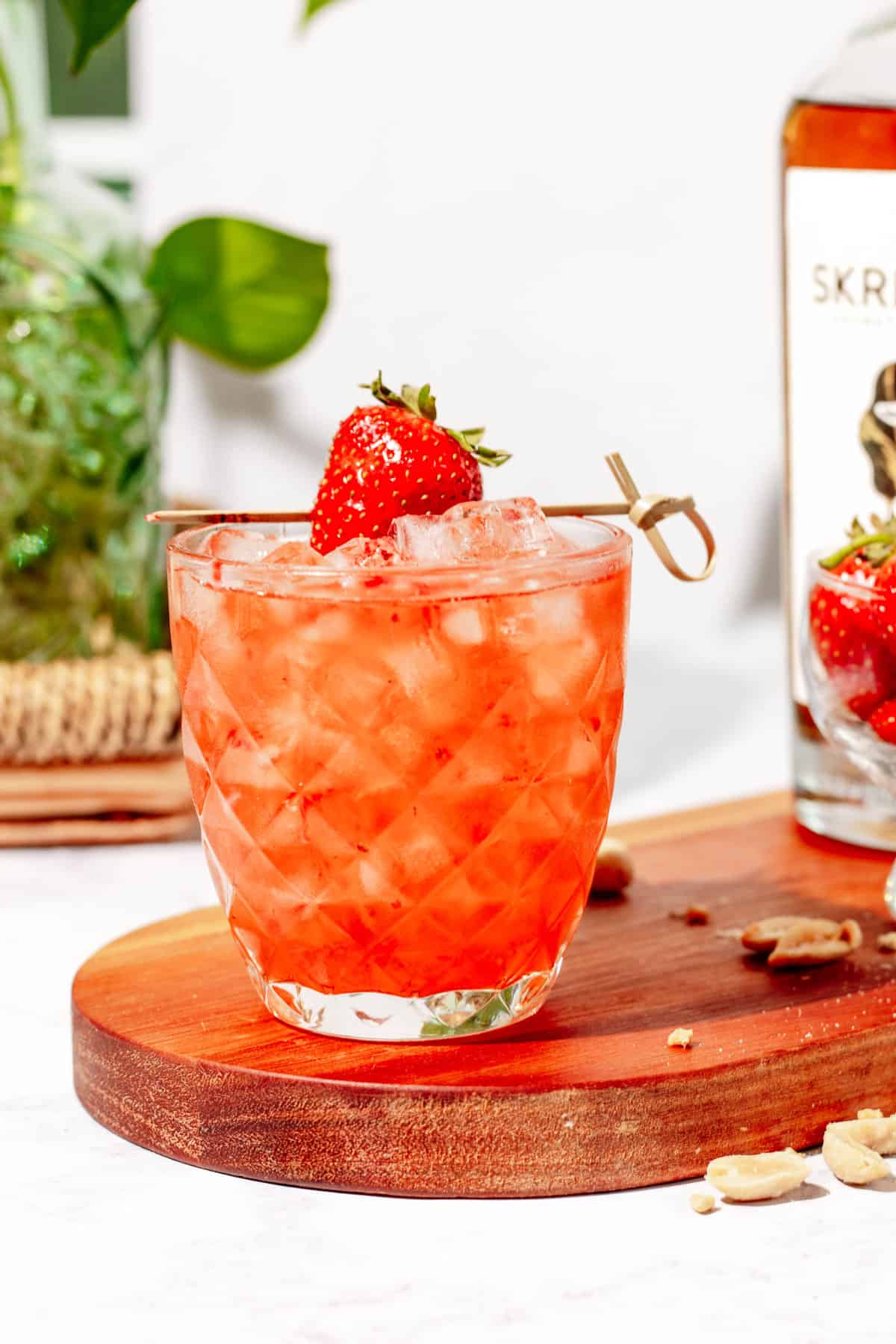 Now that you have all the ingredients for this irresistible Peanut Butter and Jelly Cocktail recipe, it's time to shake one up. You will need a cocktail shaker, muddler, strainer, ice, and cocktail glass to make your cocktail.
Add the strawberries, simple syrup, and a pinch of salt (if you're using it) to your cocktail shaker. Using the muddler or a long spoon, if you don't have one, muddle together the ingredients.
Add the peanut butter whiskey and a scoop of ice to the muddled ingredients in your cocktail shaker. Give the cocktail a good shake to incorporate all of the ingredients. Fill the rocks glass with ice, and strain the Peanut Butter and Jelly Whiskey Smash over the ice. Garnish with some extra strawberries for added aesthetic.
Variations and Serving Suggestions
I think you will love this cocktail as it is, but a few variations can be made to make it even better to suit your taste.
If you don't care for strawberries, you can replace them with other berries such as blackberries or blueberries. The flavor profile will be slightly different and more tart, but it will still be delicious.
If you are a loyal grape jelly and peanut butter fan, you can infuse your simple syrup with grape jelly. Instead of using sugar in your syrup, replace it with an equal amount of grape jelly. However, accompanying this with strawberries will make it a true smash, and the flavors will complement one another.
Add crushed peanuts to the rim of your cocktail glass for even more peanut butter flavor. Place peanuts in a sandwich bag and crush them using a heavy jar or mallet. Coat the edge of your glass with simple syrup, then dip the rim in the crushed peanuts before pouring in your cocktail.
This cocktail is so delightful and really nostalgic for anyone who grew up eating peanut butter and jelly sandwiches. The flavors of this peanut butter and jelly cocktail are warm and comforting and would be great at a winter holiday party. Pair this fun cocktail with desserts like cookies and cake, and enjoy!
Shop my Amazon Must Haves for Kitchen and Home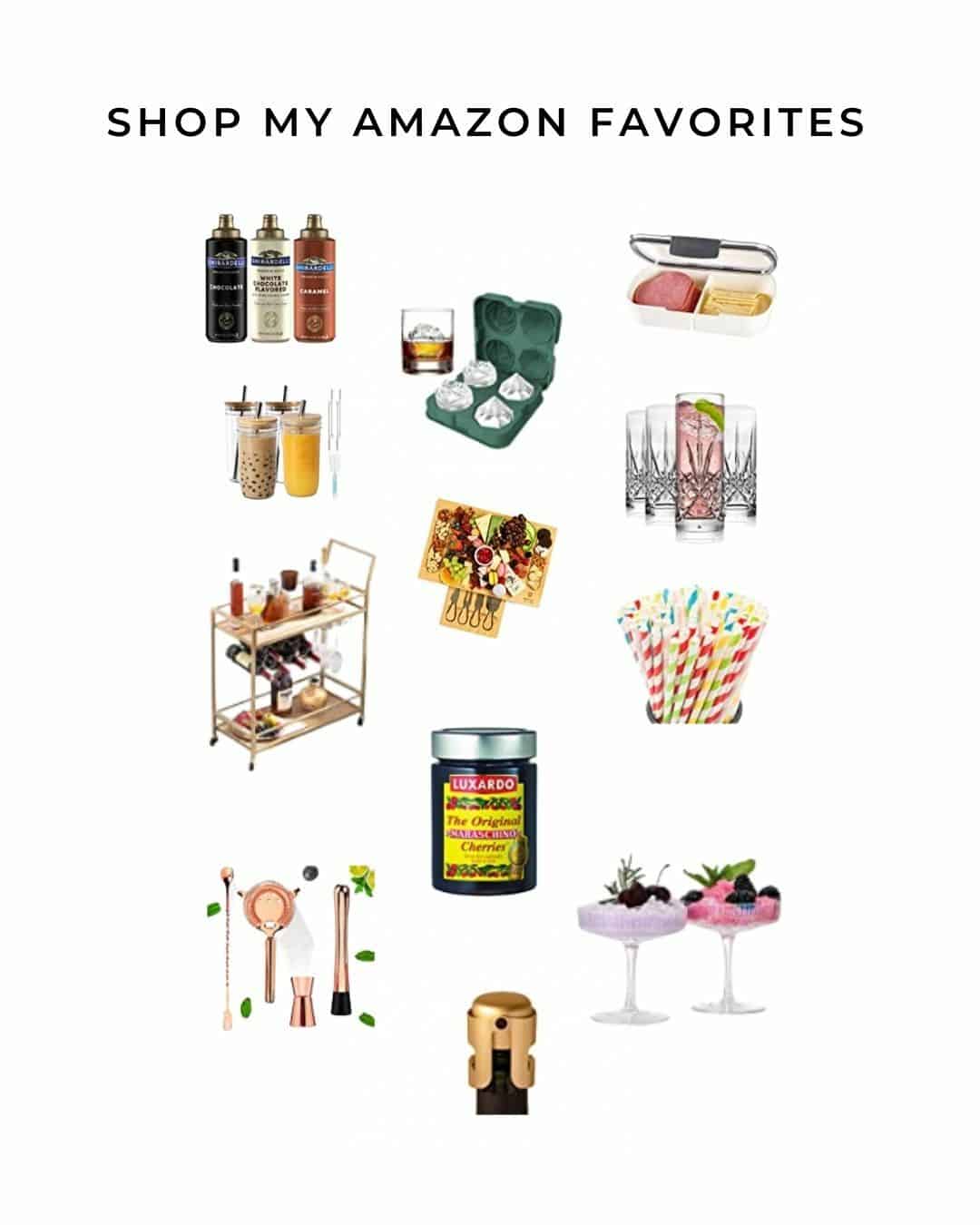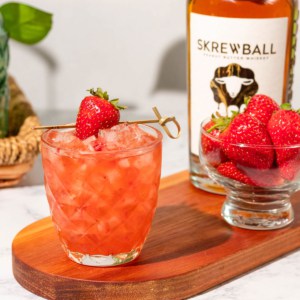 Peanut Butter and Jelly Cocktail
This Peanut Butter and Jelly Whiskey Cocktail recipe takes the winning combination and gives it a grown-up spin.
Ingredients
2-5

strawberries

sliced

¼ - ½

oz

simple syrup

adjust per preferences

Large pinch of salt

optional for a salted peanut taste

2

oz

peanut butter whiskey
Instructions
Muddle strawberries with simple syrup and salt (if using) in the bottom of a cocktail shaker.

Add peanut butter whiskey and ice to the shaker.

Shake well, then strain into a glass filled with ice.

Garnish with extra strawberries if desired.
CLICK TO DISPLAY NUTRITION INFO
Nutrition
Calories:
209
kcal
Carbohydrates:
28
g
Protein:
0.3
g
Fat:
0.1
g
Saturated Fat:
0.01
g
Polyunsaturated Fat:
0.1
g
Monounsaturated Fat:
0.02
g
Sodium:
9
mg
Potassium:
82
mg
Fiber:
1
g
Sugar:
13
g
Vitamin A:
6
IU
Vitamin C:
28
mg
Calcium:
10
mg
Iron:
1
mg