Can you make a mojito with dark rum? Yes! Try this twist on the classic Mojito with dark rum and the addition of blackberries for a burst of fruity flavor.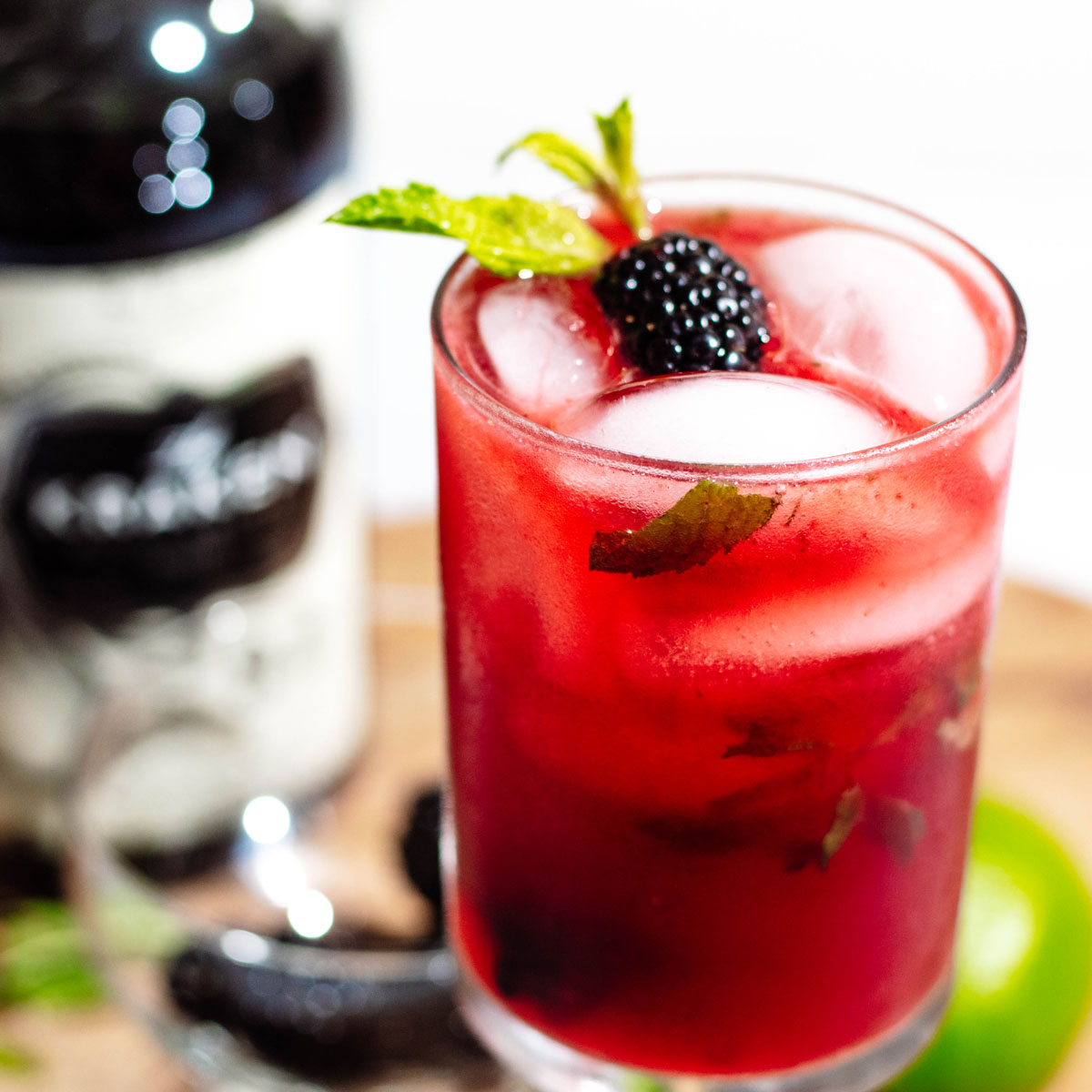 Jump to:
The traditional recipe is made with white rum, the mojito is a Cuban cocktail with pure cane sugar, fresh lime juice, soda water, and muddled mint. Refreshing and simple, the Mojito is a classic cocktail staple on the cocktail list that is a favorite rum cocktail for many.
If you are a fan of the traditional drink, you'll love this mojito with dark rum for a unique twist on the classic. This variation on the classic features dark instead of traditional white rum. (Side note: if you prefer other variations of white rum mojitos, check out my Blue Mojito and Mojito Royale.) Another option for a dark rum mojito is my Black Mojito recipe. Rum is a liquor that is fermented and distilled from sugar cane juice.
The difference between white and dark rum is in the aging process; dark rum is stored in charred oak barrels after distillation, while white rum is stored in stainless steel barrels. This gives dark rum its dark color and smoky, deeper flavor with hints of caramel.
While classic white rum has a lighter, sweet taste. The distinct flavor of the dark aged rum is a fun variation of the classic mojito.
Ingredients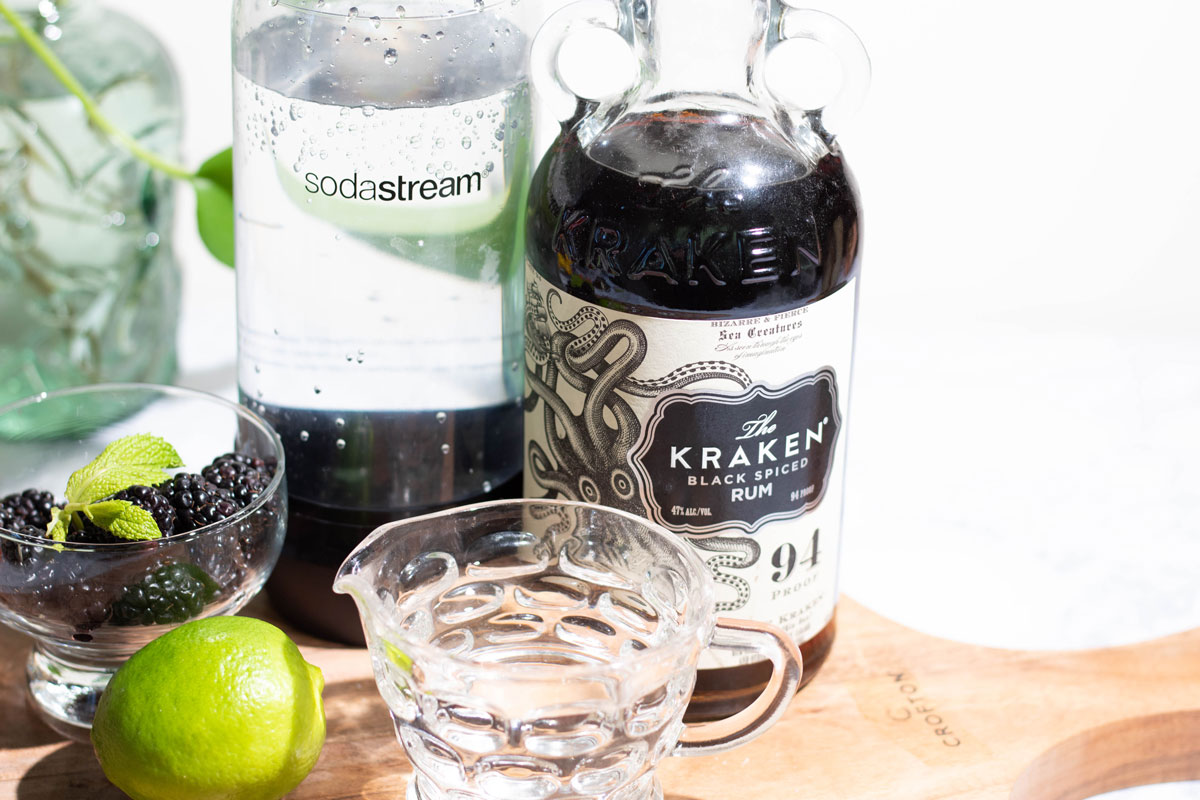 This Mojito cocktail recipe uses simple ingredients to make a deliciously fresh cocktail that you can enjoy poolside on a hot day. The ingredients for this cocktail are easily found in your grocery and liquor store, making this an uncomplicated drink to quickly whip up.
Dark rum: This rum has a smokier flavor than white rum because of its aging in charred oak barrels. Sometimes compared to the taste of whiskey or bourbon, dark rum is not the same as spiced rum.
While both spiced and dark rum is aged for about the same amount of time, spiced rum has additional spices and caramel coloring that is added to it. Several varieties of dark rum can be easily found in the liquor store.
Limes: Good ingredients are key to any recipe, and this cocktail is no different. Freshly squeezed lime juice is best to use in dark rum mojito recipes giving it the most intense and bright flavor.
Cut and squeeze your fresh limes with a handheld citrus squeezer, reamer, or juicer. Bottled lime juice will work in an absolute pinch, but I don't recommend using it since it will not have as good of flavor as the fresh stuff. I like to cut up a few lime wedges or wheels to have as a garnish and muddle together with the mint.
Blackberries: Blackberries give your Mojito a tart and juicy tang that pairs nicely with dark rum's sweet and smoky flavor. If fresh blackberries are in season, you can use them in your cocktail; otherwise, frozen berries are comparable in taste.
In fact, frozen berries have a higher amount of nutrients than fresh berries and less pesticide exposure, making them a healthier option. Don't worry about defrosting your frozen blackberries; they will quickly soften once added to your cocktail shaker.
Fresh mint: Mint lends the Mojito a subtle sweetness and a cooling sensation, perfect for refreshing your taste buds. Use two to four fresh mint leaves from a plant or find it easily in your grocery store's produce section.
Gently muddling the mint leaves together with the blackberries releases the juices and enhances the refreshing cocktail's flavors.
Simple syrup: It can be made or bought at the liquor store to add to your Mojito. Simple syrup requires water and cane sugar and can be made quickly and easily.
Combine equal parts of water and sugar in a saucepan over medium heat and allow the sugar to slowly dissolve. Before adding the simple syrup to your cocktail, ensure it has thoroughly cooled.
If you have space in the refrigerator, make extra simple syrup and store it for later in a tightly sealed jar or squeeze bottle for up to 3 weeks.
Sparkling water or club soda: To make the cocktail bubbly, adding some seltzer or club soda will give it that refreshing effervescence of a classic mojito. I like to make my own sparkling water in my Soda Stream.
If you wanted some flavor to your bubbles, you could also try swapping the seltzer for ginger beer for a nod to another classic rum drink – the Dark 'n Stormy.
Instructions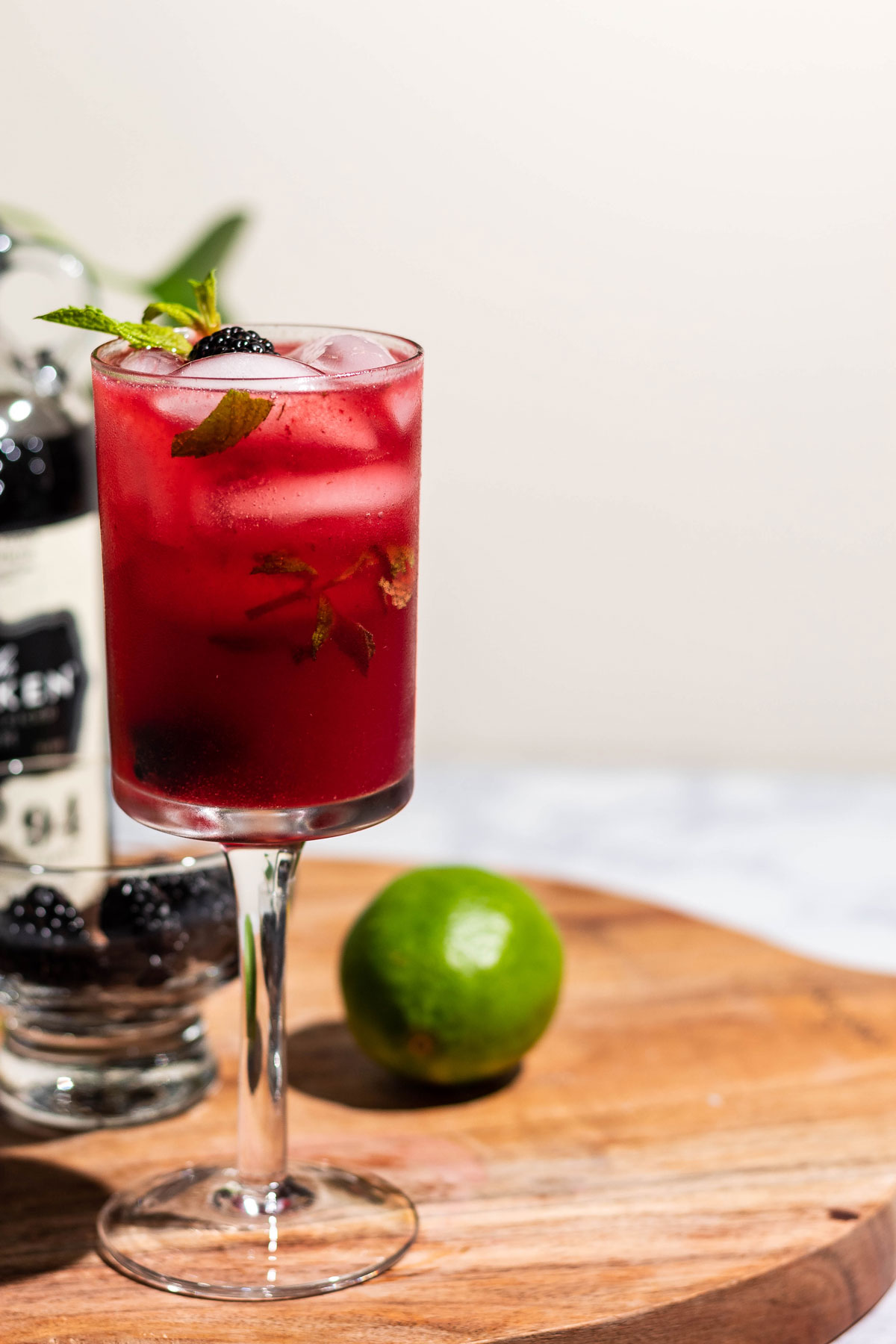 Now that you know a little more about the ingredients for your Blackberry Mojito with Dark Rum, it's time to shake one up. Start by getting out your cocktail shaker with a lid and muddler. A long spoon will work fine if you don't have a muddler.
Add mint, blackberries, simple syrup, and a lime wheel to the cocktail shaker and gently muddle them together to break them up and release their juices. If you don't have a muddler in your bar tools stash, you can also use the handle of a wooden spoon or other utensil.
Next, add a scoop of ice and your dark rum and lime juice to the muddled fruit and mint. Place the lid on your cocktail shaker and give the cocktail a couple of good shakes to combine the ingredients.
Add some fresh ice to a highball glass and pour the strained cocktail over the ice. Give the cocktail a quick stir with a cocktail spoon, and finish your Mojito with lime wedges and extra mint leaves for garnish.
Add a blackberry or two to the tall glass for an additional garnish, if you'd like, to complete the presentation. Enjoy!
Variations for a Mojito with Dark Rum
Several variations can be made to this Mojito with blackberries and dark rum. Instead of dark rum, try white or gold rum, gin, vodka, or tequila in your cocktail. Check out my Gin Mojito for inspiration.
Not a big fan of blackberries? Raspberries, pineapple, coconut, or strawberry are a few substitutes that will pair well with the mint. You can also add one of these to your blackberry mojito with dark rum for an extra layer of flavor.
Instead of using simple syrup made from cane sugar in your mojito, try demerara sugar simple syrup for an added caramel flavor.
If you like this Blackberry Mojito with Dark Rum, you might also like: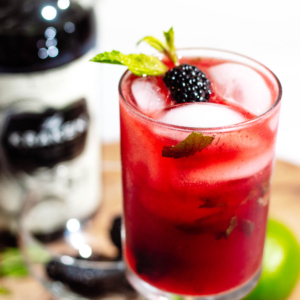 Blackberry Mojito With Dark Rum Recipe
Ingredients
2-4

mint leaves

3-4

blackberries

½

oz.

Simple syrup

2

Lime wheels or wedges

2

oz.

Dark rum

¾

oz.

Lime juice

Seltzer or soda water for topping
Instructions
Muddle mint, blackberries, simple syrup, and one of your lime wheels in a cocktail shaker

Add ice, then add rum and lime juice to your shaker and give a few good shakes to combine.

Add ice to a highball glass, and strain your cocktail over the ice. Give the cocktail a stir, garnish with the other lime wheel and some blackberries, and enjoy!
CLICK TO DISPLAY NUTRITION INFO
Nutrition
Calories:
185
kcal
Carbohydrates:
15
g
Protein:
0.4
g
Fat:
0.1
g
Saturated Fat:
0.01
g
Polyunsaturated Fat:
0.1
g
Sodium:
11
mg
Potassium:
85
mg
Fiber:
1
g
Sugar:
11
g
Vitamin A:
205
IU
Vitamin C:
13
mg
Calcium:
21
mg
Iron:
1
mg
Don't forget to follow along on social media for new cocktail recipes!
You can catch me on Instagram, TikTok, Pinterest, and Facebook.