This Mojito Royale is a sophisticated twist on the classic mojito cocktail, perfect for sipping. Sometimes called the "posh mojito," this sparkling cocktail combines rum, mint, lime, simple syrup, and champagne for a refreshing and effervescent drink that is sure to impress.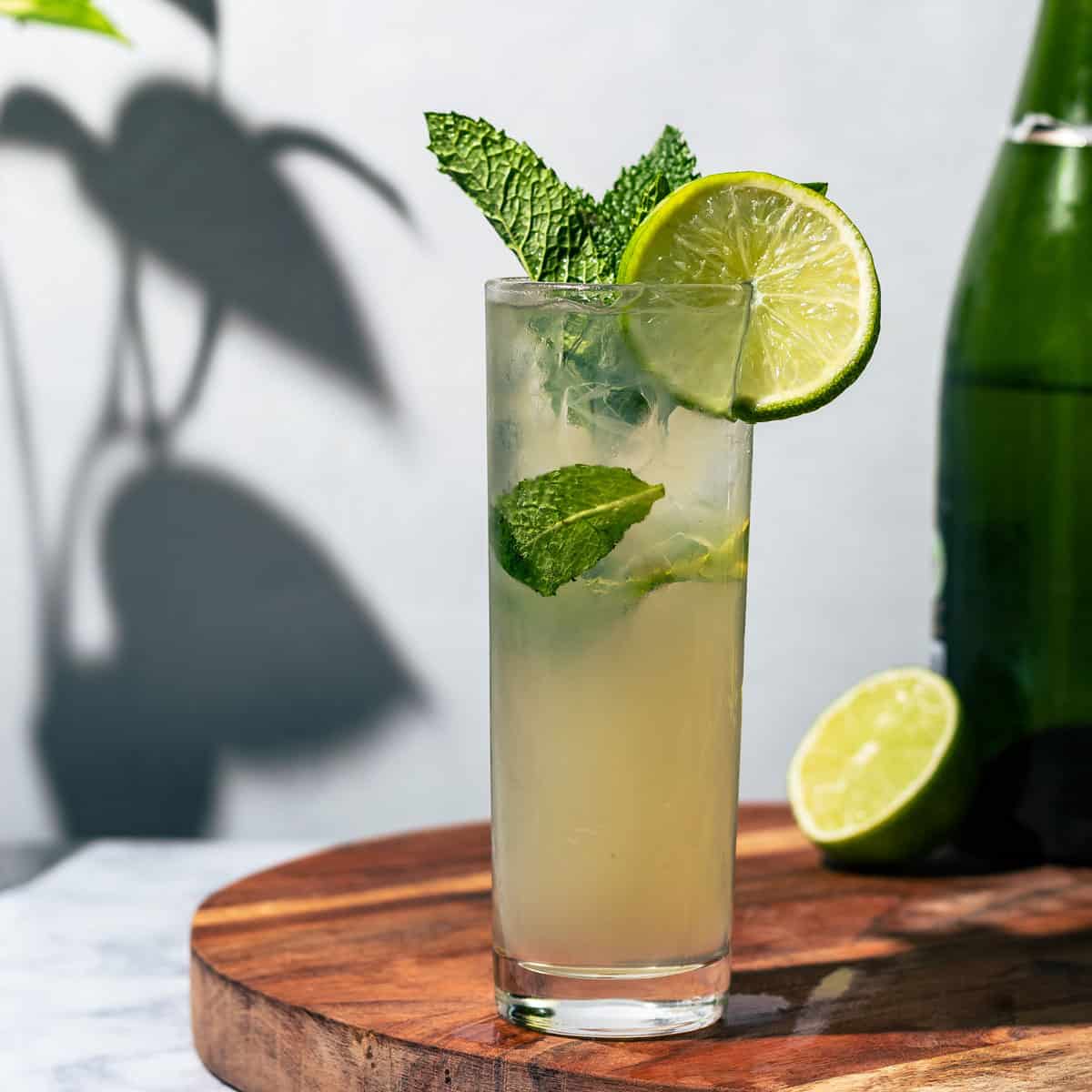 If you're a fan of mojitos and rum cocktails, be sure to check out the rest of my collection! I have a variety of delicious and creative cocktails that are sure to suit your taste and impress your friends.
For more refreshing minty cocktails and mocktails, check out my Martini Royale or mojito-inspired drinks like this Blue Mojito, Blackberry Mojito, or alcohol-free Passion Fruit Lemonade Mojito Mocktail. Or, for something a bit more classic, try my Lemon Daiquiri or Passion Fruit Daiquiri.
Jump to:
Why This Recipe Works
Refreshing flavor: The combination of mint, lime, and simple syrup creates a tangy and refreshing flavor that is perfect for sipping on a warm day.
Sparkling twist: The addition of champagne gives the mojito a light and effervescent quality, making it feel more special and celebratory.
Versatile: This cocktail is suitable for a variety of occasions, from casual get-togethers with friends to more formal events. It can be easily adjusted to suit your taste preferences and is sure to impress your guests.
Ingredient Notes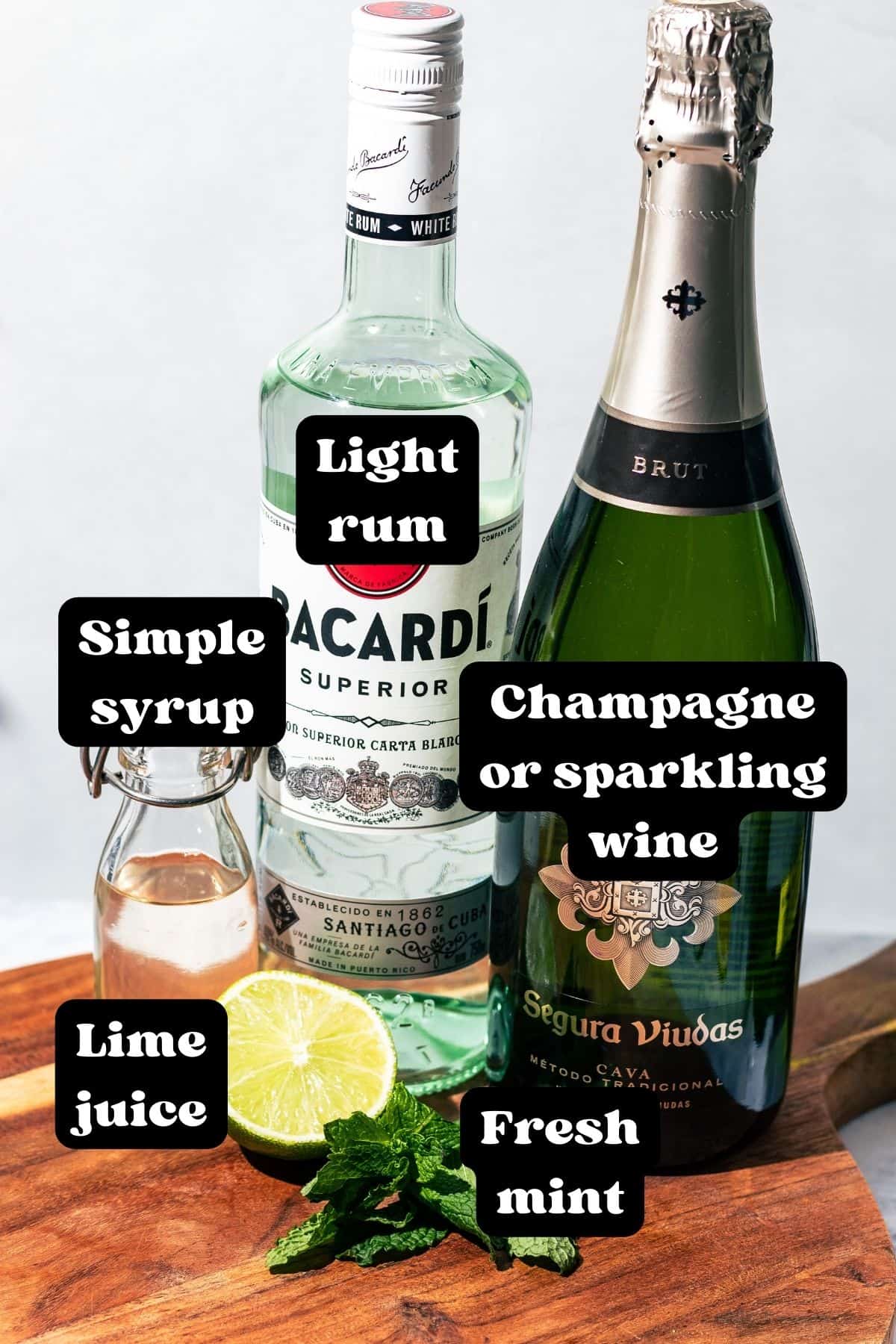 Fresh mint is an essential ingredient in a mojito royale and adds a bright, invigorating flavor to the drink. When buying fresh mint, look for leaves that are deep green and fragrant, and avoid any that are wilted or yellowing.
Simple syrup is used to sweeten the drink. It's made by dissolving sugar in an equal amount of water and heating the mixture on the stove or in the microwave until the sugar has dissolved.
White rum is the primary spirit in a mojito royale, and it provides a light, crisp base for the other flavors in the drink.
Lime juice is a critical component of a mojito royale, providing tartness and bright flavor to the drink. Fresh lime juice will always taste best in cocktails. Freshly squeezed juice will help to ensure that your drink has the brightest, freshest flavor possible.
Champagne is a key ingredient in a mojito royale, providing the bubbles and effervescence that make this cocktail so enjoyable. It is best to opt for a dry or brut variety, as this will help to balance out the sweetness of the simple syrup and lime juice.
Pro tip: You can also use a dry or brut Cava, which is a more affordable Spanish sparkling wine alternative and has a similar crisp and refreshing flavor profile.
I prefer to use real Champagne for drinking straight since it is so much more expensive than sparkling wines like Cava.
Step-by-Step Instructions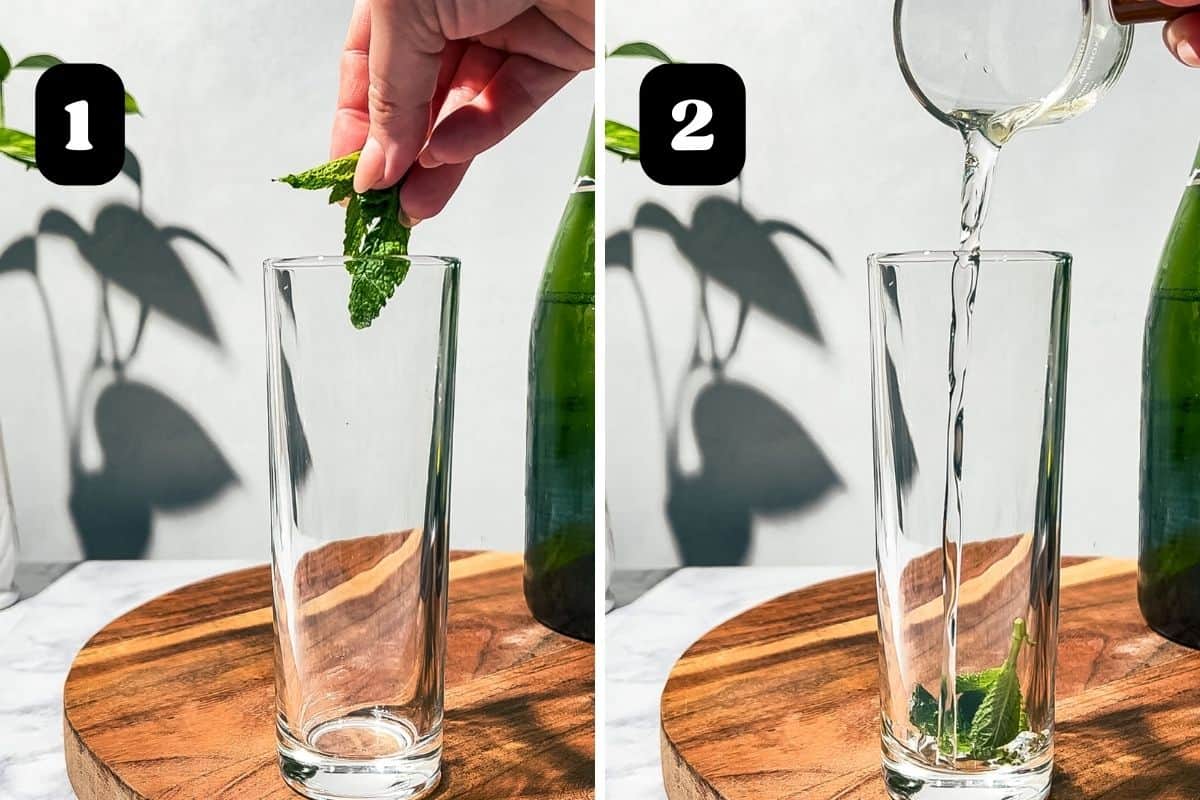 Step 1: Add the mint to a highball glass.
Step 2: Add the simple syrup.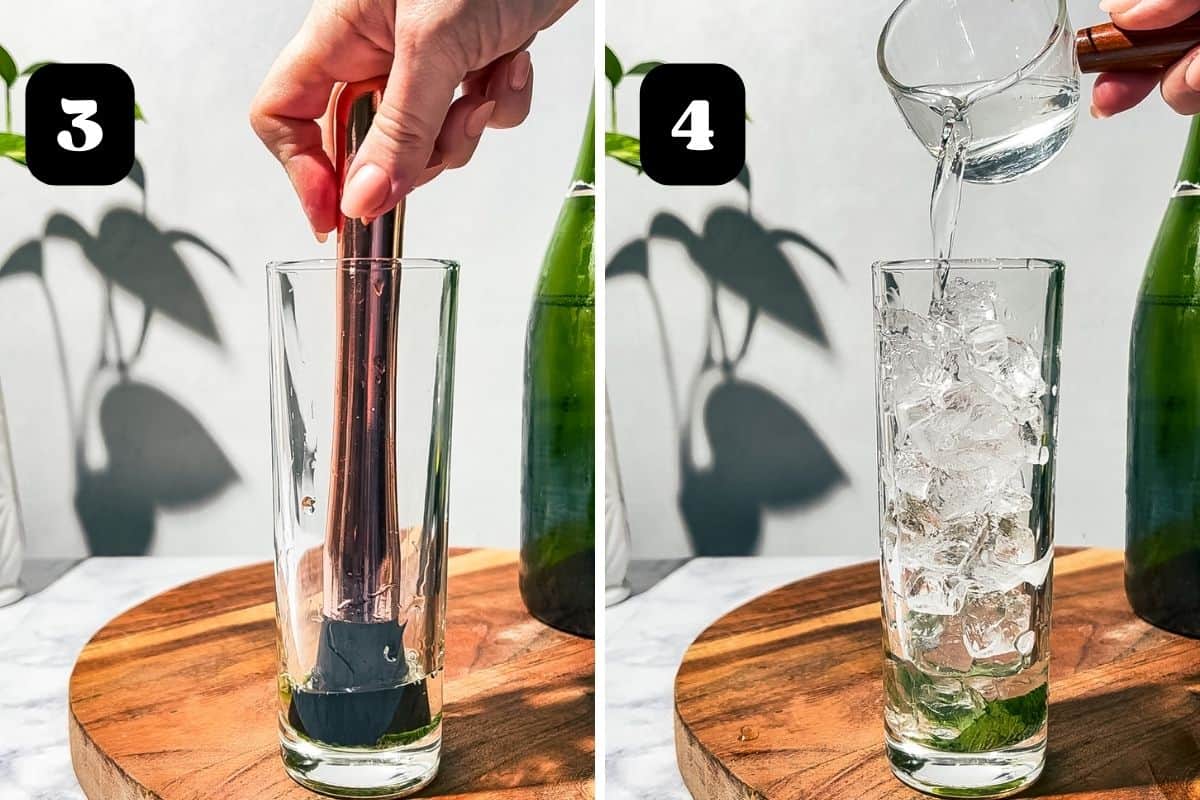 Step 3: In the bottom of the glass, gently muddle the mint in the syrup with a muddler or a wooden spoon.
Step 4: Add ice cubes and the white rum.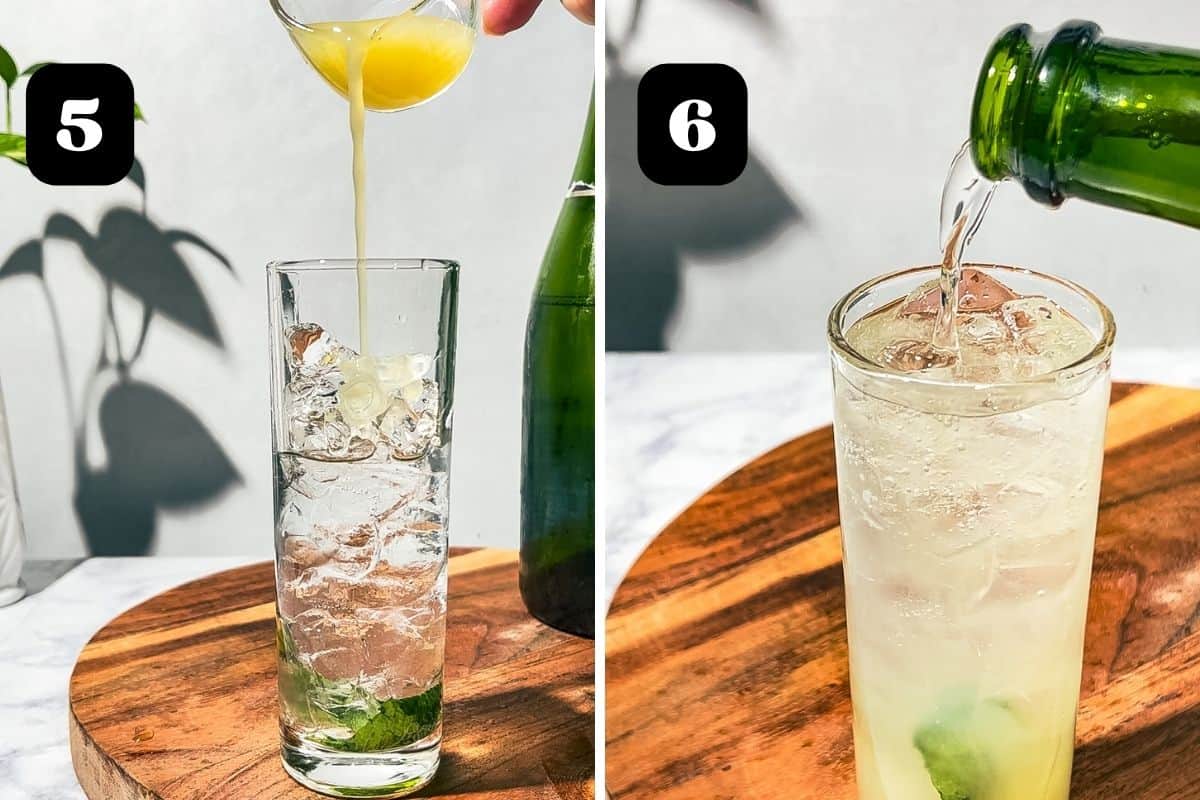 Step 5: Add the lime juice.
Step 6: Top with Champagne or sparkling wine.
Step 7: Stir gently, moving the spoon up and down while stirring to evenly distribute the flavor.
Step 8: Garnish if desired.
Tips and FAQ
What is the difference between a classic mojito vs. mojito royale?
A regular mojito is a classic rum cocktail made with fresh mint, lime juice, simple syrup, and white rum, topped off with soda water. A mojito royale, on the other hand, is made with the same ingredients as a regular mojito, but instead of soda water, it is topped off with champagne or cava, giving the cocktail a sparkling and sophisticated twist.
Can I use dark rum instead of white rum in mojitos?
Yes, you can use dark rum in a mojito, although it may change the flavor profile compared to using white rum. Dark rum has a stronger and deeper flavor profile, and the finished drink will likely have a more pronounced rum taste.
The use of dark rum will also likely change the color of the drink, making it darker than a traditional mojito made with white rum. You can try my Blackberry Mojito if you're wanting to try a dark rum mojito. Or, if you want something altogether different, try this Gin Mojito.
Can I make a batch of Mojito Royale cocktails? Can I make it ahead of time?
Yes, you can make a batch of mojito royale cocktails by muddling the mint and simple syrup in the bottom of a large pitcher or punch bowl, then adding the rest of the ingredients and stirring well. I've included measurements for making this cocktail for a crowd in the recipe notes below.
I advise against making this ahead of time as the mint can turn the drink bitter if left for several hours and the Champagne will go flat. I recommend having your ingredients premeasured and a bottle of Champagne or sparkling wine ready to open to make the process easier.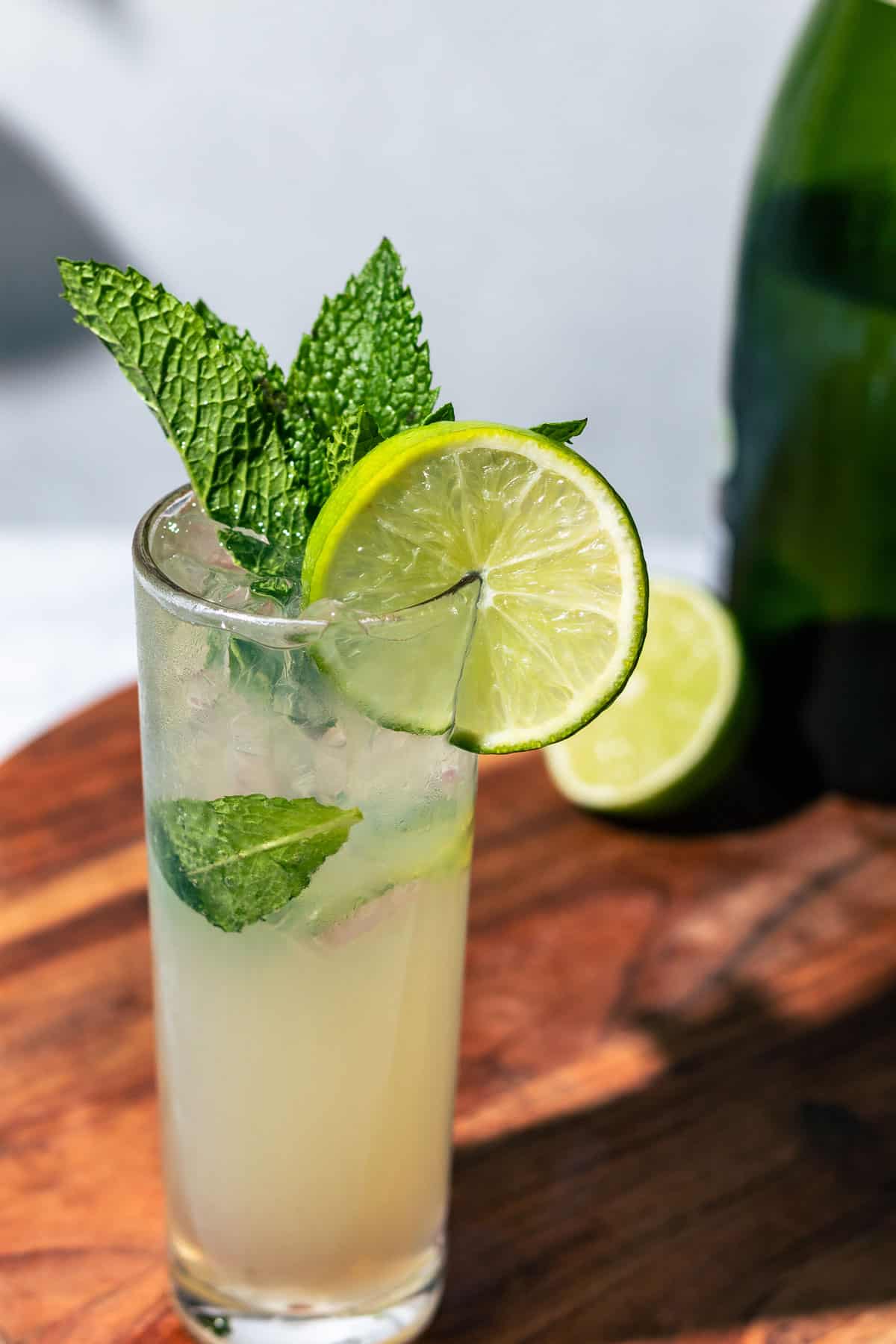 Related Recipes
Did you love this cocktail?
Please leave a 5-star 🌟🌟🌟🌟🌟 rating & review in the comments below.
Reviews will help others find this recipe!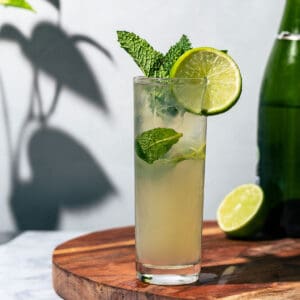 Mojito Royale Cocktail Recipe
This Mojito Royale is a sophisticated twist on the classic mojito cocktail, perfect for sipping.
Ingredients
2-4

leaves

fresh mint

½

ounce

simple syrup

1 ½

ounces

white rum

1

ounce

lime juice

Champagne or Cava to top

Lime slices and/or extra fresh mint sprig for garnish

(optional)
Instructions
Add the mint leaves to a highball glass and then add the simple syrup.

Gently muddle the mint leaves with the syrup.

Add ice to glass. Then, add the white rum and lime juice.

Top with enough Champagne to fill the glass.

Gently stir and garnish, if desired.
Notes
To make a batch of 8 Mojito Royale cocktails:
15-25 fresh mint leaves
½ cup simple syrup
1 ½ cups white rum
1 cup lime juice
1 bottle of Champagne or cava (standard 750 ml bottle)
Lime slices and/or fresh mint leaves for garnish, optional
Add the mint in the bottom of a pitcher than can hold at least 55 ounces.
Add the simple syrup and muddle with either end of a long wooden spoon.
Add the white rum and lime juice to the pitcher.
Top with Champagne and gently stir when ready to serve. 
Tip: Have guests add ice to their cups instead of adding it to the pitcher so that it doesn't melt and dilute the pitcher before being consumed. If you need to keep the pitcher cool, you can chill it in the fridge. 
To make homemade simple syrup:
Combine 1 cup of water and 1 cup of granulated sugar in a saucepan and bring to a simmer.
Whisk the sugar until fully dissolved.
Remove from heat and allow to cool.
Keeps in the fridge for up to 3 weeks. 
CLICK TO DISPLAY NUTRITION INFO
Nutrition
Calories:
171
kcal
Carbohydrates:
13
g
Protein:
0.2
g
Fat:
0.02
g
Polyunsaturated Fat:
0.01
g
Sodium:
13
mg
Potassium:
93
mg
Fiber:
0.1
g
Sugar:
12
g
Vitamin A:
18
IU
Vitamin C:
9
mg
Calcium:
11
mg
Iron:
1
mg
Don't forget to follow along on social media for alerts on new recipes!
You can catch me on Instagram, TikTok, Pinterest, and Facebook.