Elevate your cocktail game with this refreshing and delightful Martini Royale cocktail. Featuring fresh mint, lime, Martini Bianco, and Prosecco, this bubbly spritz is perfect for a sunny day, a special celebration, or simply unwinding after a long day.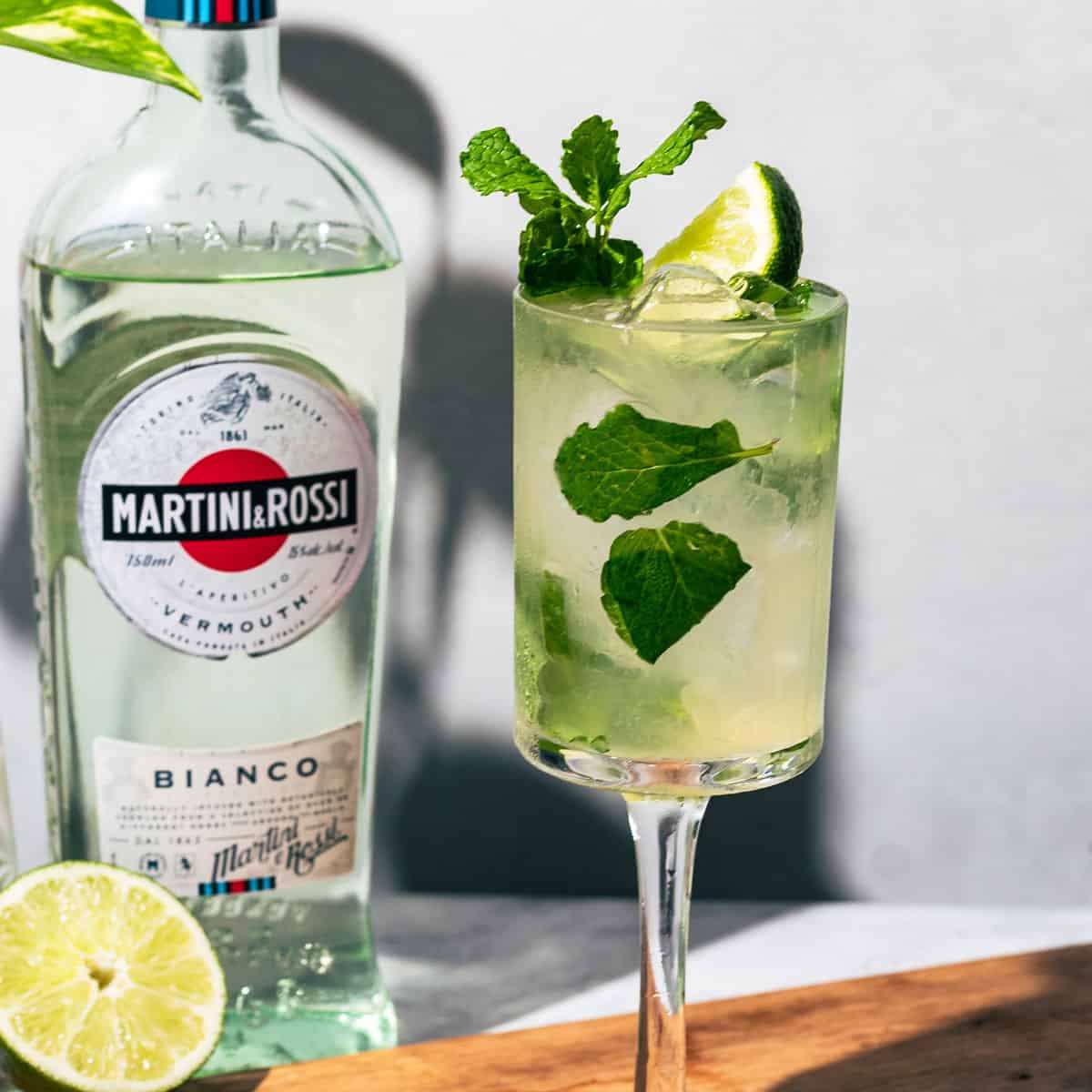 If you're looking for more refreshing Martini Bianco or fresh mint-based cocktail recipes to try, don't forget to check out this Martini Bianco Spritz or my Mojito Royale.
Jump to:
Why You'll Love This Recipe
Refreshing and invigorating: The combination of fresh mint, lime juice, and bubbly prosecco makes this Martini Royale a delightful and uplifting drink that's perfect for warm weather.
Easy to prepare: With just a few simple ingredients, you can whip up this sophisticated cocktail in no time, making it perfect for impromptu gatherings or as a go-to recipe for parties.
Perfect for celebrations: The addition of prosecco gives this Martini Royale a festive and celebratory feel, making it an excellent choice for a special occasion or simply toasting to a great day.
Ingredient Notes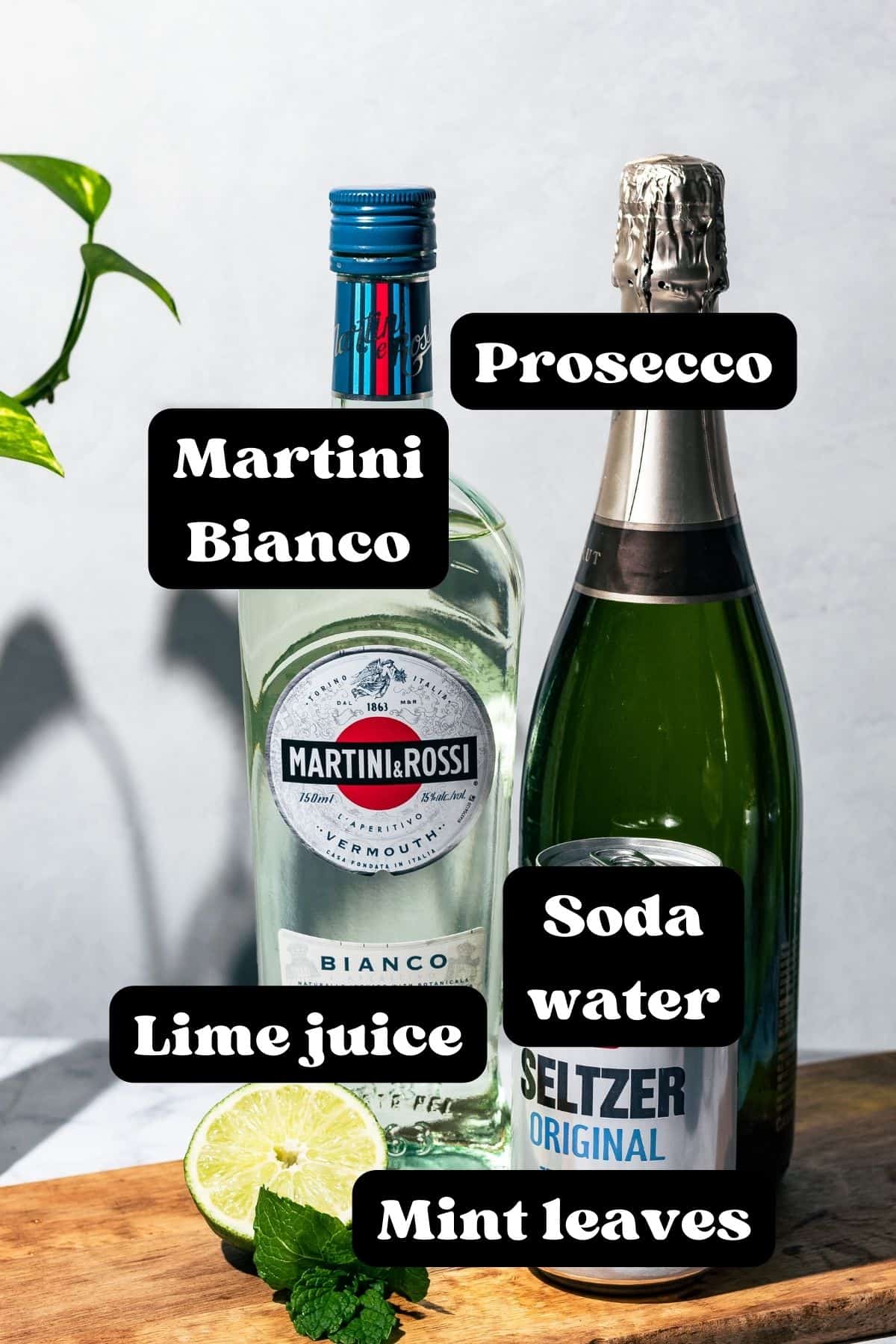 Fresh mint leaves: Mint adds a refreshing and cooling flavor to the cocktail, creating a perfect balance with the other ingredients. Be sure to use fresh mint for the best results, as dried mint will not provide the same flavor or aromatic qualities.
Lime juice: The lime juice brings a zesty, tangy element to the Martini Royale, enhancing the flavors of the other ingredients and providing a bright and lively character to the drink. Always opt for freshly squeezed lime juice for the best taste.
Martini Bianco: This semi-sweet, aromatic Italian vermouth is a key component in the Martini Royale, adding depth and complexity to the cocktail. You can find Martini Bianco in the vermouth or fortified wines section of the liquor store.
Prosecco: The bubbly, effervescent quality of prosecco elevates this cocktail to a sophisticated and festive spritz.
Soda water: You can use club soda, seltzer, or tonic water for your soda water. Keep in mind, tonic water will result in a sweeter cocktail.
Substitutions and Variations
If you'd like a sweeter Martini Royale, consider adding a touch of simple syrup to the mix. You can make simple syrup by dissolving equal parts sugar and water in a saucepan, then let it cool before use.
For an extra burst of citrus flavor, try adding a splash of orange or grapefruit juice to the cocktail.
If you're not a fan of mint, you can experiment with other fresh herbs, such as basil or thyme, for a unique twist on the Martini Royale.
Swap out the prosecco for different sparkling wines, such as Champagne or Cava, to add variety and explore different flavor profiles.
Step-by-Step Instructions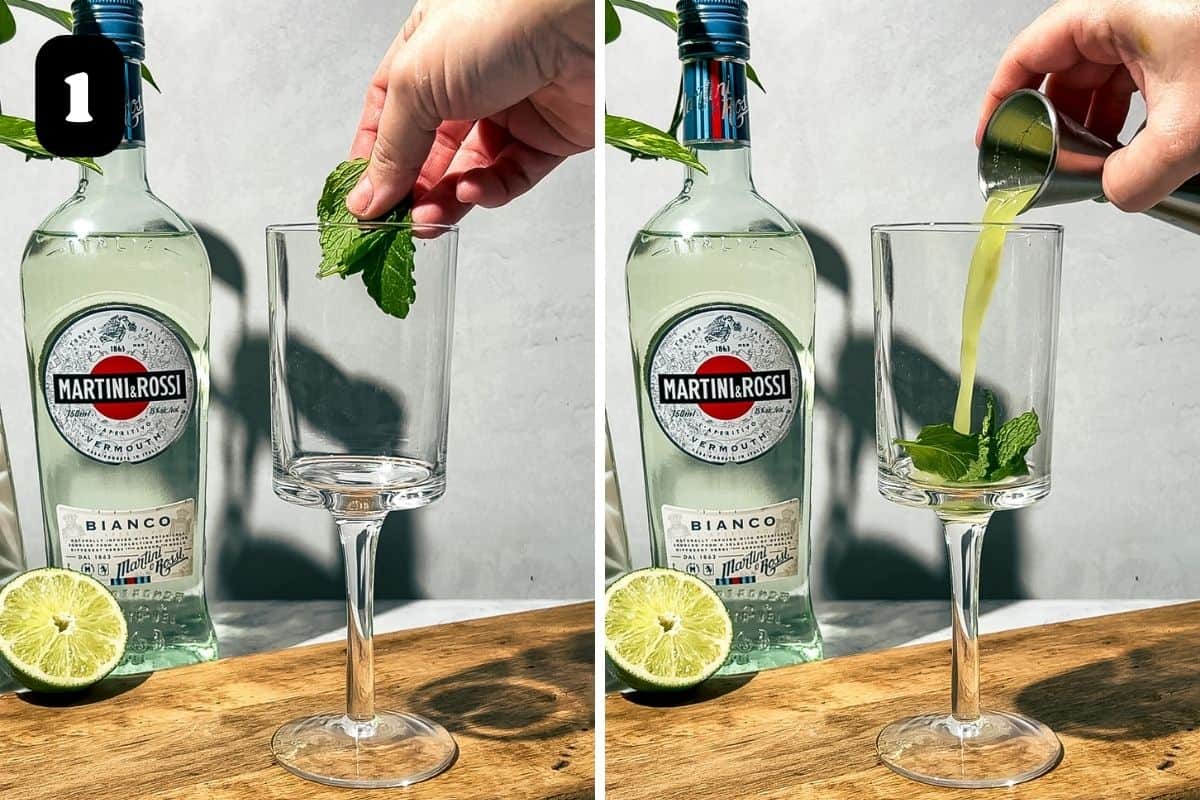 Step 1: Add the fresh mint and lime juice to the bottom of a wine glass.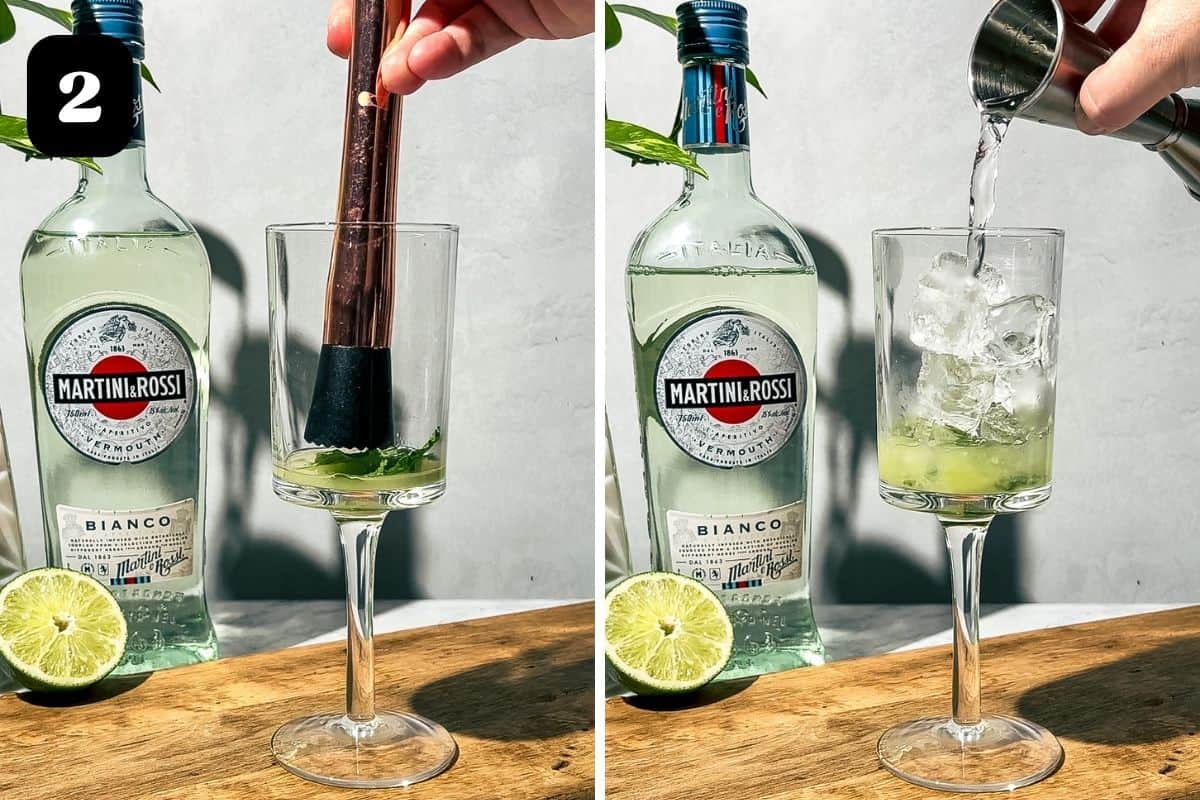 Step 2: Gently muddle the mint with a muddler (or wooden spoon) in the bottom of the glass to release the fresh minty and delicate fruity aroma. Then, add the Martini Bianco.
Step 3: Top with prosecco and soda water.
Step 4: Gently stir and garnish with extra fresh mint and/or lime slices.
Expert Tips and Serving Suggestions
Be careful not to overmuddle your mint as it can turn bitter.
Chill your prosecco and soda water beforehand to ensure your cocktail is crisp and refreshing. You can also chill your serving glasses for an even more enjoyable drinking experience.
FAQ
What is Martini Bianco vermouth?
Martini Bianco is a type of semi-Italian vermouth, a fortified wine infused with various botanicals such as herbs, spices, and fruits. It's considered sweeter than a dry vermouth but less sweet than a red sweet vermouth.
Can I make a batch?
Yes, you can easily make a batch of Martini Royale cocktails to serve at parties or gatherings. Simply multiply the ingredients by the number of servings you require and combine them in a large pitcher or punch bowl. You can muddle the mint leaves with a long wooden spoon. I've included pre-calculated measurements for serving 8 Martini Royale cocktails in the recipe notes below.
Can I make a batch in advance?
To avoid your cocktails going flat and the mint leaves turning bitter, I recommend making this right before serving. To prep ahead, you have everything ready to go and measured out so you can whip it up at a moment's notice.
How do I muddle mint for cocktails?
Start by placing the fresh mint leaves in a glass or cocktail shaker. Then, gently press and twist the leaves using a muddler or wooden spoon to release their oils and aroma. Be careful not to over-muddle to prevent bitterness.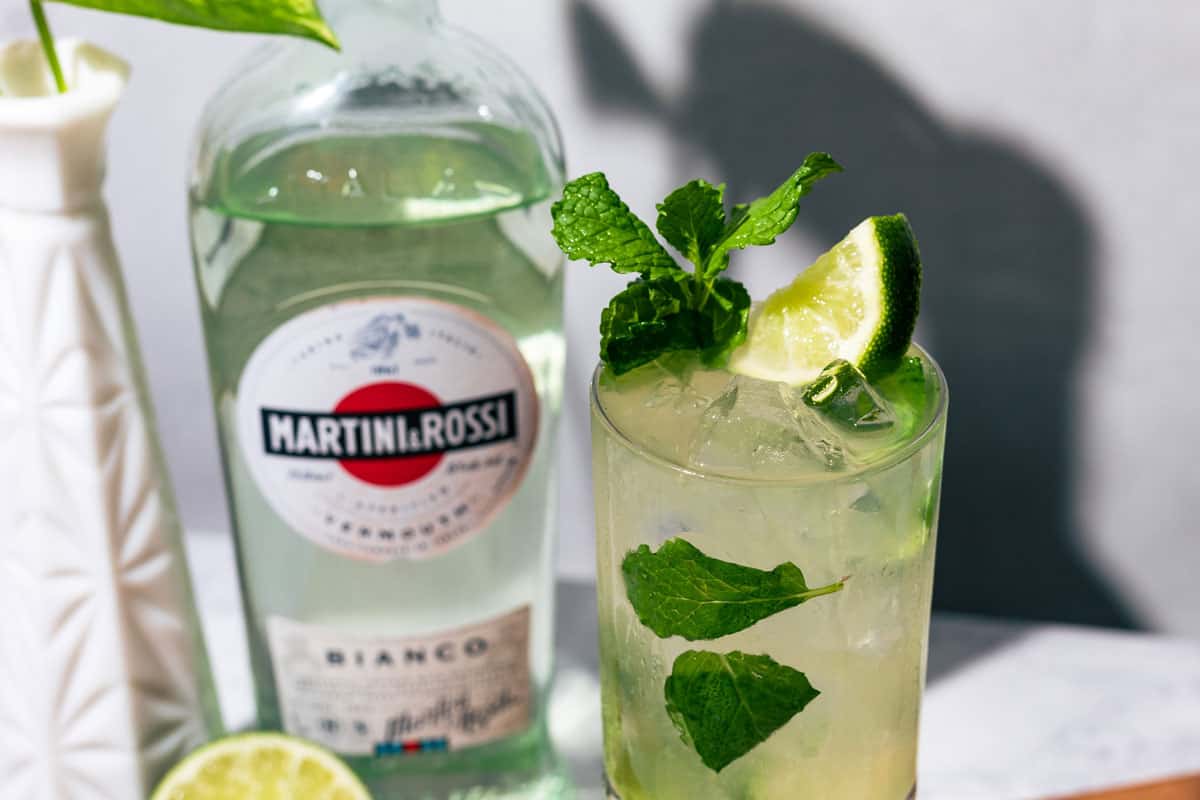 Related Recipes
Did you love this cocktail?
Please leave a 5-star 🌟🌟🌟🌟🌟 rating & review in the comments below.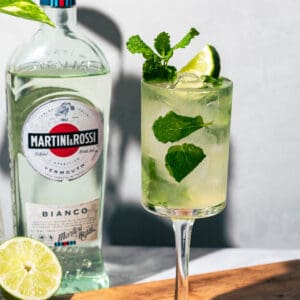 Martini Royale Cocktail Recipe
Elevate your cocktail game with this refreshing and delightful Martini Royale cocktail, featuring fresh mint, lime, Martini Bianco, and prosecco.
Ingredients
3-4

leaves

fresh mint

½

ounce

lime juice

1 ½

ounces

Martini Bianco

3

ounces

prosecco

1

ounce

soda water

Extra lime slices and/or fresh mint for garnish

(optional)
Instructions
Add the fresh mint leaves to a large empty wine glass.

Add the lime juice and gently muddle with a muddler or wooden spoon.

Add Martini Bianco, prosecco, and soda water.

Gently stir and garnish with extra mint and/or lime slices, if desired.
Notes
Measurements for 8 cocktails:
25-30 fresh mint leaves
½ cup lime juice
1 ½ cups Martini Bianco
1 bottle prosecco (750 ml bottle, dry or brut)
1 cup soda water 
Extra mint leaves and/or lime slices for garnish, if desired. 
Instructions and tips for making a batch:
Muddle the mint leaves in the bottom of a large pitcher with a long wooden spoon. Add rest of ingredients, stir, and serve immediately over ice. 
Avoid adding ice to the pitcher or making it in advance as it can get diluted and/or go flat easily. 
However to get ready ahead of time, you can have everything chilled and ready to add to a pitcher at a moment's notice for easy serving.
CLICK TO DISPLAY NUTRITION INFO
Nutrition
Calories:
119
kcal
Carbohydrates:
8
g
Protein:
0.1
g
Fat:
0.01
g
Sodium:
17
mg
Potassium:
135
mg
Fiber:
0.1
g
Sugar:
4
g
Vitamin A:
13
IU
Vitamin C:
4
mg
Calcium:
15
mg
Iron:
0.4
mg
Don't forget to follow along on social media for alerts on new recipes!
You can catch me on Instagram, TikTok, Pinterest, and Facebook.