Get ready to shake up your cocktail game with this Peach Martini Bellini recipe! This cross between a Peach Bellini and a Vodka Martini is a delicious medley of vodka, peach schnapps, peach juice, lemon juice, and prosecco. With a refreshing taste and a beautiful minty-peach garnish, this drink is absolute bliss and sure to impress your guests at any gathering.
If you love Champagne-based cocktails, be sure to check out my Citrusy Cointreau Mimosa Spritz or this glittery and shimmering Cotton Candy Spritz. You also can't go wrong this Sparkling Pear French 76.
For peach cocktail lovers, you'll also want to see my Peach Bourbon Smash.
Or, if someone you know loves prosecco and you're looking for a good gift, check out my Best Gifts Guide for Prosecco Lovers.
Jump to:
Why You'll Love This Recipe
Perfect balance of sweet and tart flavors: This Peach Martini Bellini cocktail provides a perfect balance of sweet, tart, and fresh flavor. This makes for a refreshing sparkling cocktail that is easy to drink, without being overly sweet.
Elegant and sophisticated drink: It is an elegant and sophisticated drink that is perfect for special occasions. Whether you're hosting a bridal shower, a dinner party, or a birthday celebration, this cocktail is sure to impress your guests.
Light and refreshing: This drink is light and refreshing thanks to the bubbly prosecco that also enhances the aromas of sweet peach. And, who doesn't love a bit of bubbly?
What is a Bellini?
A Bellini is a popular Italian cocktail that originated in Venice in the 1940s. It is typically made with Prosecco and peach purée or juice, and sometimes a splash of raspberry or cherry juice for added color and flavor. The cocktail was created by Giuseppe Cipriani, the founder of the famous Harry's Bar in Venice, Italy. It was named after the famous painter Giovanni Bellini, who was known for his use of soft, peachy colors in his paintings.
Peach Bellinis are considered classic cocktails and have become a popular drink worldwide. It is often served as a brunch or breakfast cocktail, but it can be enjoyed at any time of the day. The combination of sweet peach and bubbly Prosecco makes the cocktail refreshing and easy to drink, while the addition of other fruit juices gives it a fun and fruity twist. The Bellini is also a versatile cocktail that can be customized to suit individual tastes, just as we did here with this Martini Bellini variation.
Ingredient Notes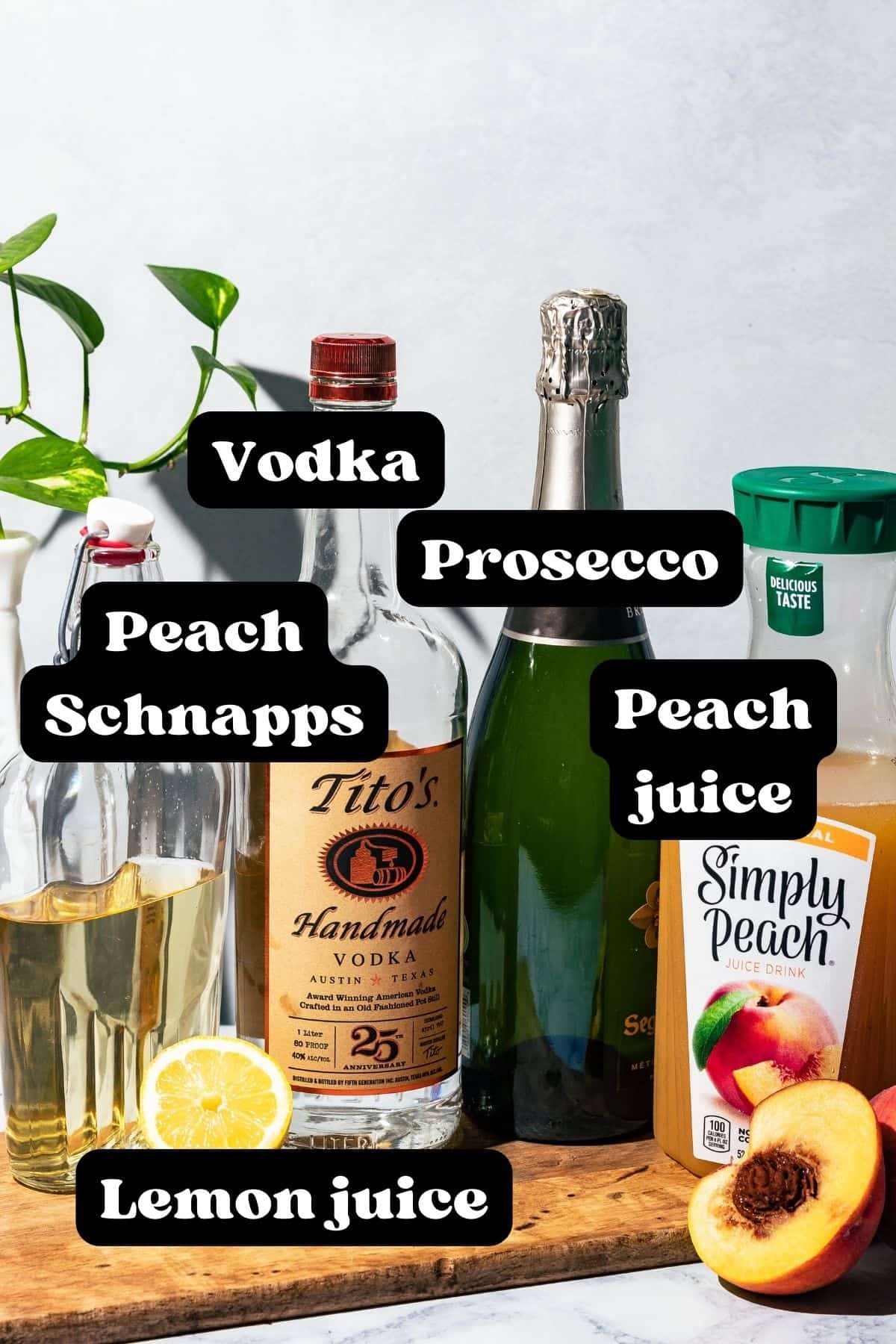 Vodka: It's important to use a good quality vodka to ensure a smooth and clean taste, but of course, you can use any type of vodka you prefer. I used regular vodka, but you can also certainly use peach vodka to up the peachy flavor of the cocktail.
Peach schnapps: This sweet peach-flavored liqueur adds a lovely sweetness and depth to the cocktail. You can also use other peach flavored liqueurs if you prefer.
Peach juice: Peach juice is a sweet and fruity addition to the cocktail that enhances the peach flavor. The peach juice was easy to find in the refrigerated juice section at my local grocery store.
Lemon juice: This provides a tart and refreshing taste that balances out the sweetness of the other ingredients in the cocktail.
Prosecco: This is a type of Italian classic sparkling wine that adds a light and bubbly feel to the cocktail. Because the cocktail is already sweet, it's important to use a dry (or brut) prosecco otherwise you may end up with a cocktail that is too sweet.
Substitutions and Variations:
Experiment with different flavors by substituting the peach schnapps and nectar with other fruit juices and liqueurs such as raspberry or mango.
To add some extra sweetness, dip the rim of the glass in water then roll in sugar before pouring in the cocktail.
If you prefer a thicker and more concentrated peach flavor, use peach nectar or peach puree instead of peach juice. You can make a simple peach puree by blending fresh peaches in a blender or food processor. You can leave the pulp and skin in the puree or strain it out with a fine mesh sieve.
Try a different dry sparkling wine like Champagne or cava, if you don't want or can't find prosecco.
Step-by-Step Instructions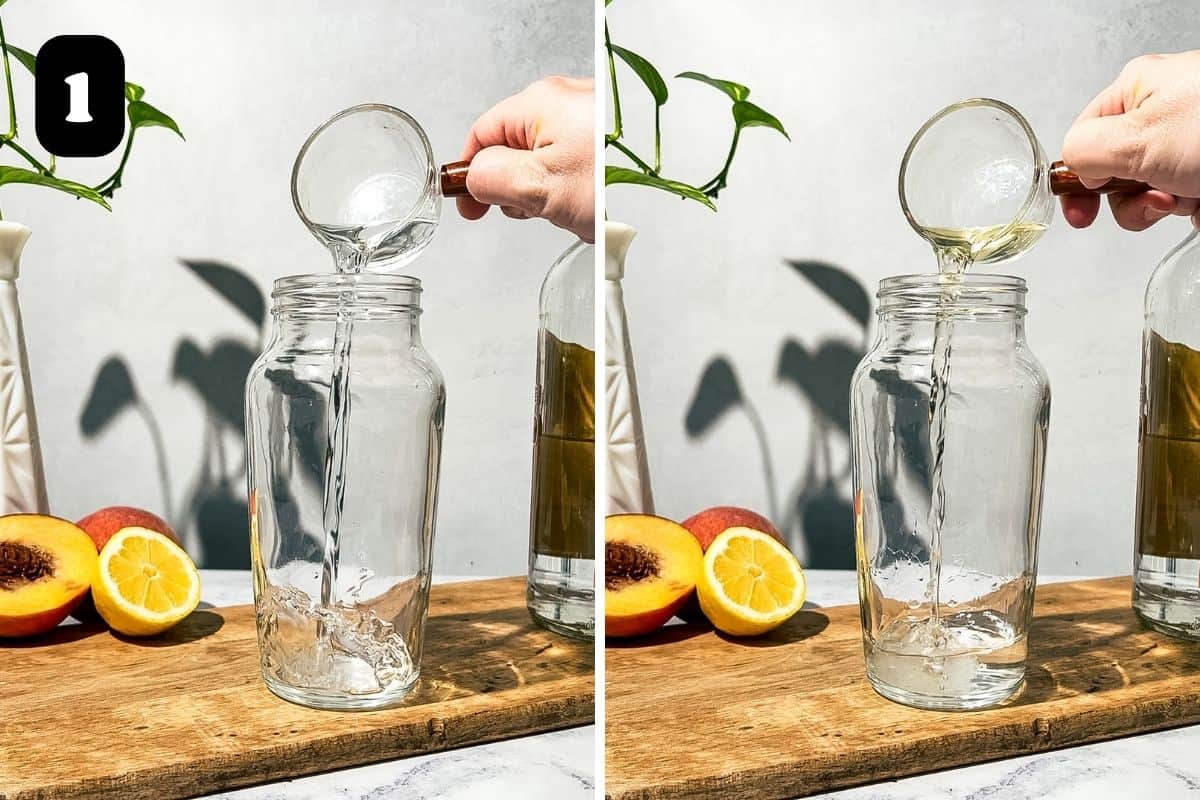 Step 1: Add the vodka and peach schnapps to a cocktail shaker.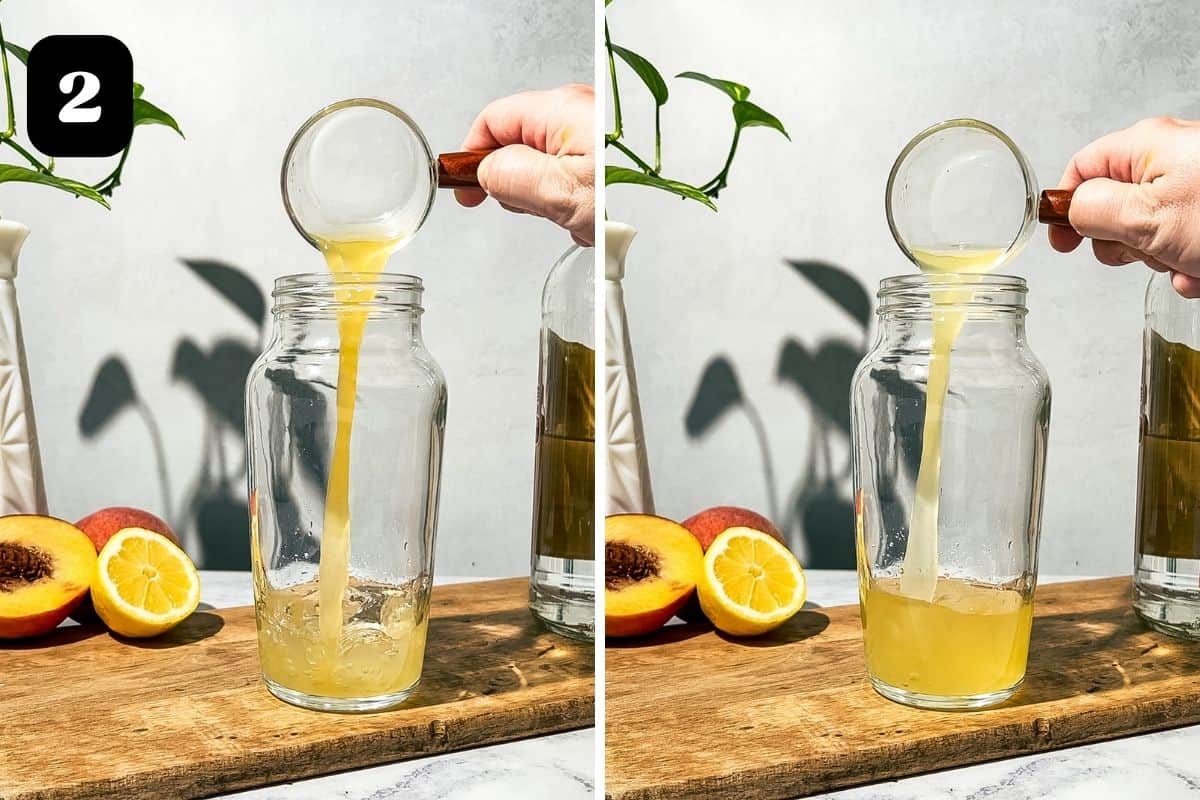 Step 2: Add the peach and lemon juice to the shaker.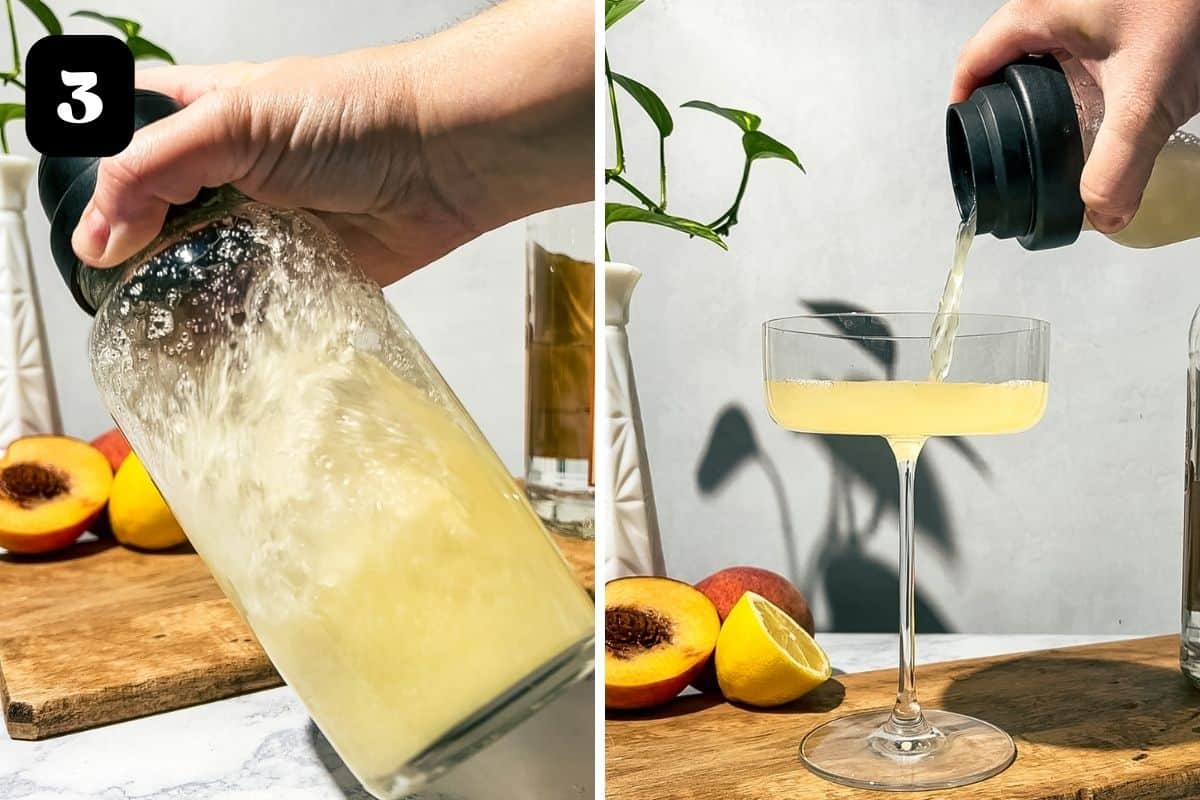 Step 3: Add lots of ice cubes and shake until well chilled. Strain into a coupe or martini glass. You can also use a large wine glass, if you prefer.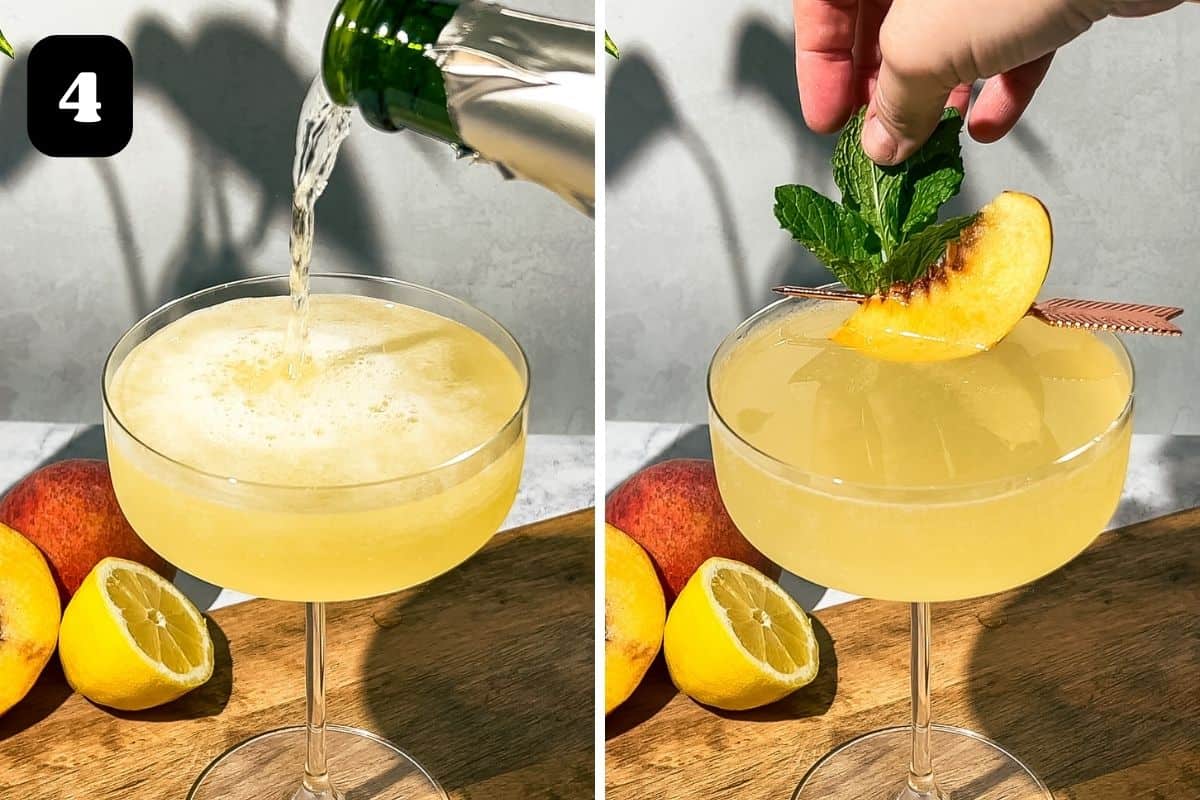 Step 4: Top with prosecco and garnish with peach slices and/or fresh mint, if desired.
Expert Tips
Chill your glass before pouring the cocktail to keep it at the perfect temperature. For the fastest chill, fill the glass with ice and cold water and let it sit for a few minutes. Pour out the ice water, then pour the cocktail into the martini glass.
Make sure to use fresh lemon juice for the best taste. Fresh citrus juice always tastes better over bottled. If you must use bottled, look for one that is not from concentrate.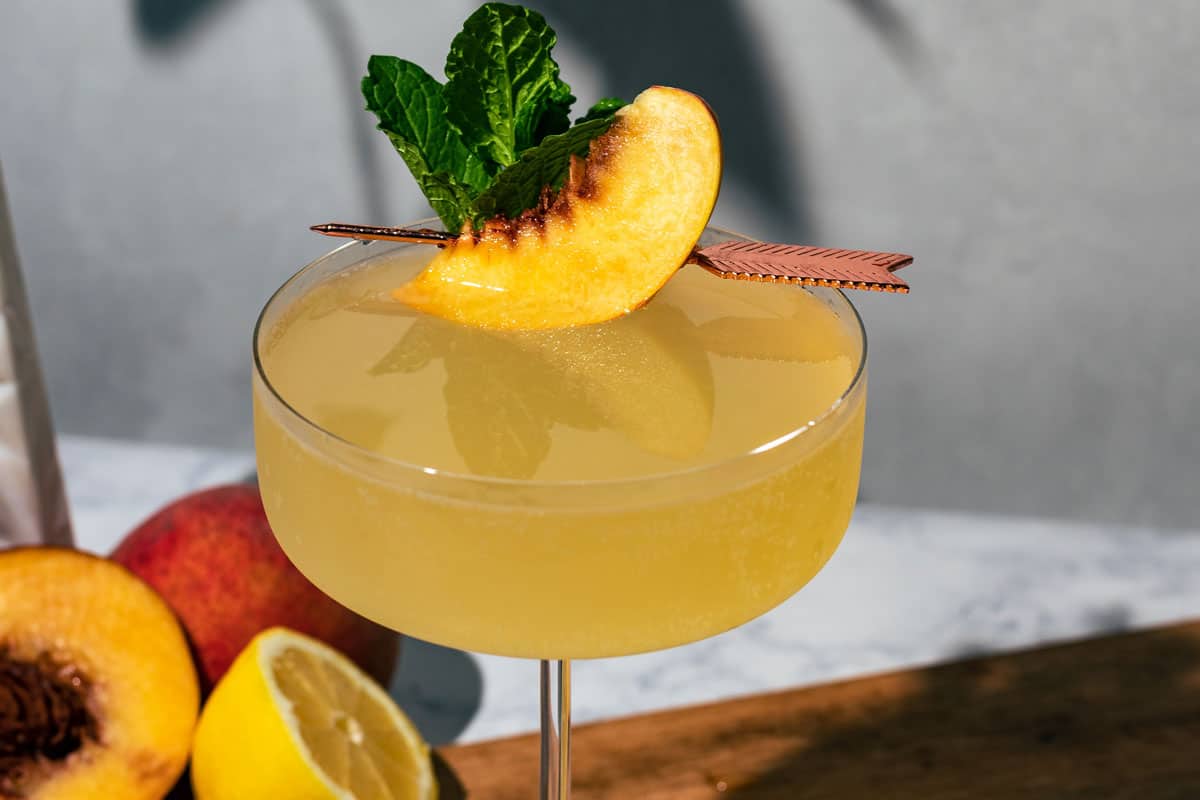 FAQ
Q: Can I make a batch of Peach Martini Bellini cocktails?
A: Yes, you can easily make a batch of Peach Martini Bellini cocktails by multiplying the recipe by the number of servings you need. Simply mix all the ingredients in a large pitcher, stir very well, and pour into individual glasses.
Q: Can I make a batch in advance?
A: While it's best to make the cocktail fresh for the best taste, you can mix up the ingredients in a large pitcher except for the prosecco up to one day in advance and keep in the fridge until ready to serve. Add the prosecco just before serving to ensure the cocktail is very bubbly and not flat.
Keep in mind that ice will dilute the drink over time, so opt to chill the fridge in advance and/or serve on the rocks in the cocktail glass. If you're outside, you can nestle the pitcher in a large ice bucket to keep cool without dilution.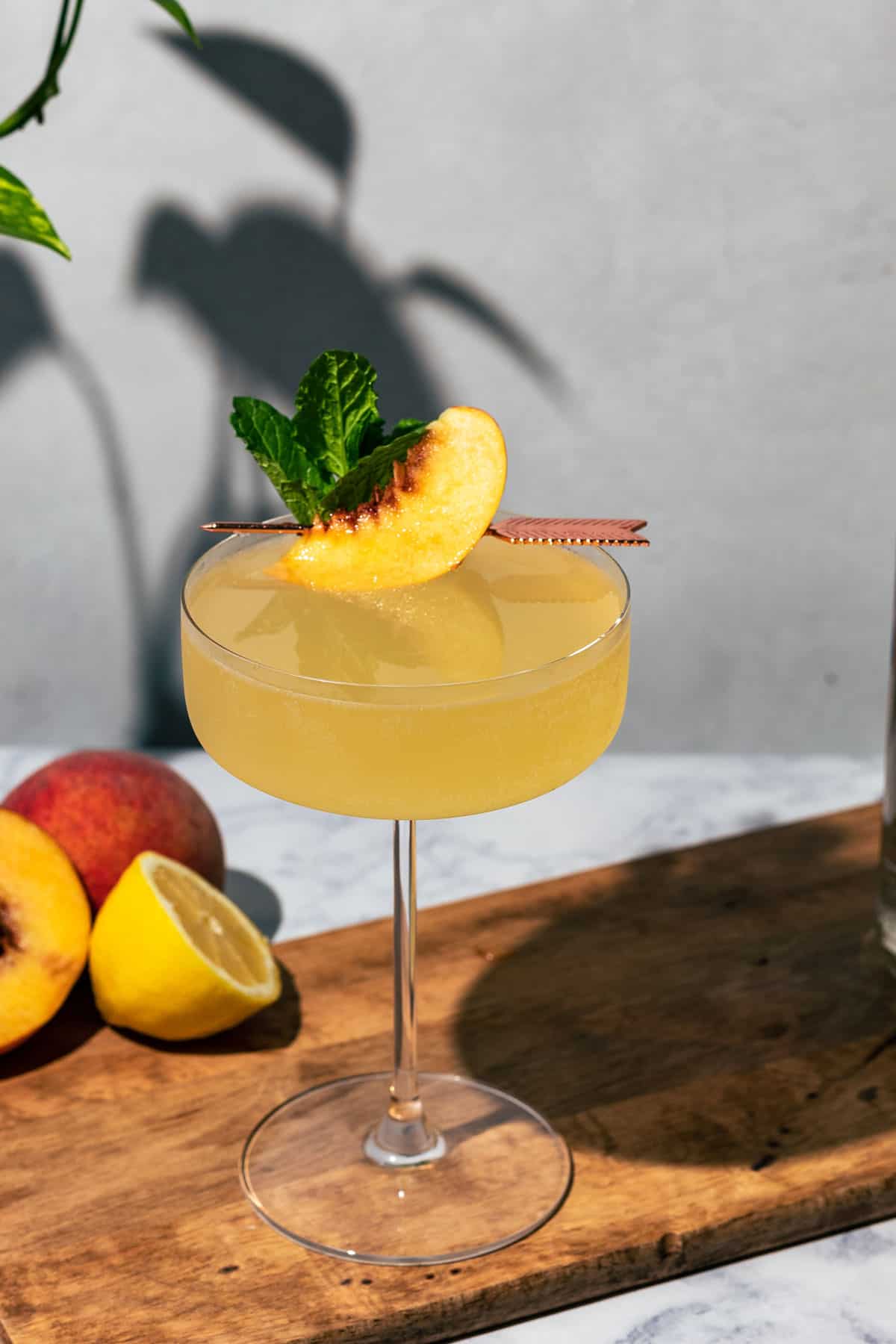 Related Recipes
Did you love this cocktail?
Please leave a 5-star 🌟🌟🌟🌟🌟 rating & review in the comments below.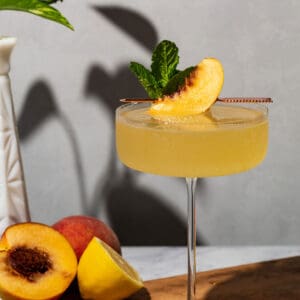 Peach Martini Bellini Recipe
Get ready to shake up your cocktail game with this Peach Martini Bellini recipe! This cross between a Peach Bellini and a Vodka Martini is a delicious medley of vodka, peach schnapps, peach juice, lemon juice, and prosecco.
Ingredients
1 ½

ounces

vodka

½

ounce

peach schnapps

1

ounce

peach juice

(or nectar)

1

ounce

lemon juice

2

ounces

prosecco

(dry or brut)

Fresh peach slice and/or fresh mint for garnish

(optional)
Instructions
Add the vodka, peach schnapps, and juices to a cocktail shaker.

Add ice and shake until very well chilled.

Strain into a cocktail glass and top with prosecco. 

Garnish with peach slices and/or mint, if desired. 
Notes
For a batch of 8 Peach Martini Bellinis:
1

½

cups vodka

½

cup peach schnapps
1 cup peach juice or nectar
1 cup lemon juice
2 cups dry or brut prosecco
Peach slices and mint for garnishes, optional
Tips and batch instructions: 
To make a Peach Martini Bellini in advance, mix all the ingredients except the prosecco in a large pitcher and chill for up to one day. When ready to serve, stir the pitcher very well and add the prosecco to keep the cocktail bubbly.
To prevent dilution, chill the cocktail in the fridge in advance, serve on the rocks, or nestle the pitcher in a large bucket of ice when serving outside.
CLICK TO DISPLAY NUTRITION INFO
Nutrition
Calories:
183
kcal
Carbohydrates:
9
g
Protein:
0.2
g
Fat:
0.2
g
Saturated Fat:
0.02
g
Polyunsaturated Fat:
0.01
g
Sodium:
8
mg
Potassium:
88
mg
Fiber:
0.1
g
Sugar:
8
g
Vitamin A:
75
IU
Vitamin C:
11
mg
Calcium:
9
mg
Iron:
0.3
mg
Don't forget to follow along on social media for alerts on new recipes!
You can catch me on Instagram, TikTok, Pinterest, and Facebook.