This vibrant and flavorful Peach Bourbon Smash with basil is the perfect refreshing drink for a hot summer day. This delightful concoction combines ripe peaches, fresh basil, lemon juice, simple syrup, and smooth bourbon whiskey, creating a tasty cocktail that is similar to a whiskey sour.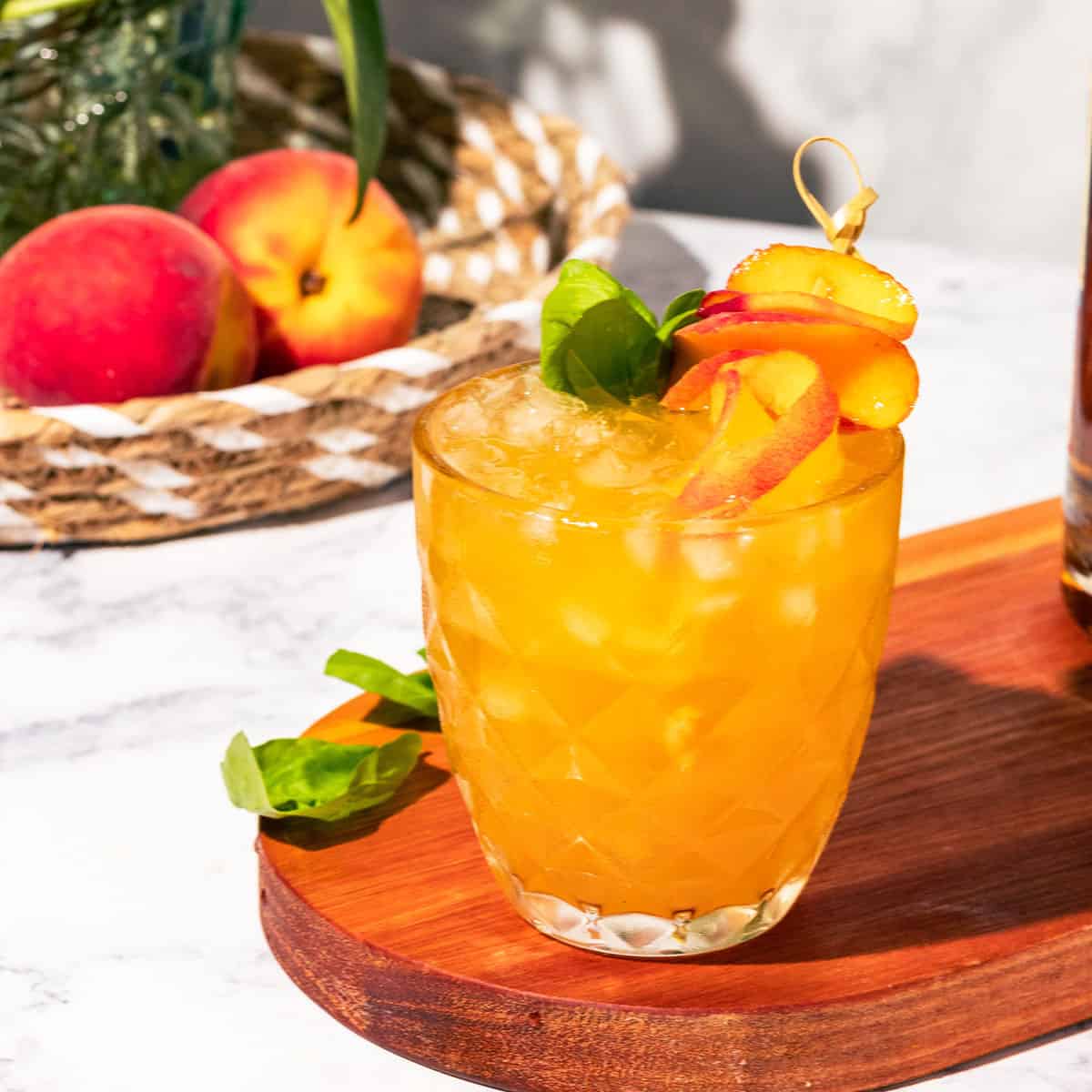 If you're a bourbon lover or looking for more peachy summer cocktails, make sure to also check out this Cherry Bourbon Whiskey Sour or Peach Martini Bellini.
Jump to:
Why You'll Love This Recipe
Bursting with fruity flavor: The ripe, sweet peaches meld beautifully with the smooth bourbon, creating a luscious and fruity base for this lightly sweet cocktail.
Easy to make: With just a few simple ingredients and minimal prep, you'll be sipping on this drink in no time.
Perfect for entertaining: This cocktail is a real crowd-pleaser, making it a great summertime drink for your next party, BBQ, or summer get-together.
Ingredient Notes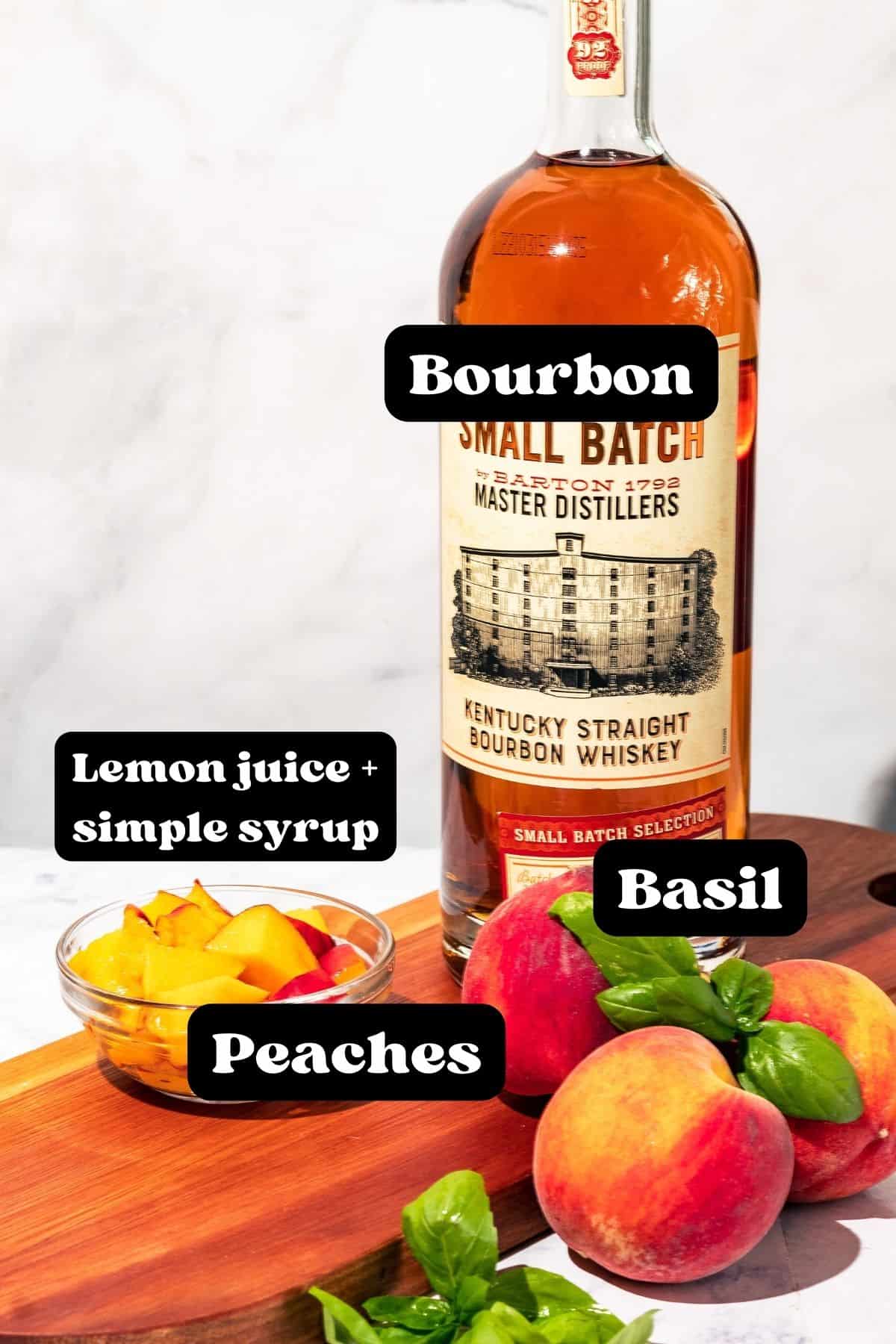 Fresh ingredients are key to this cocktail, so the following is what you need to make the best cocktail possible.
Peaches: Fresh peaches provide the juicy sweetness that makes this cocktail so delightful. Choose peaches that are fragrant and slightly soft to the touch for the best flavor.
Basil: Fresh basil leaves add a fragrant, herbal touch to this Peach Bourbon Smash recipe. Look for vibrant green leaves with no signs of wilting or browning to ensure optimal flavor and aroma.
Simple syrup: This sweet syrup is made by dissolving 1 part white sugar into 1 part water. It's used to balance the tartness of the lemon juice and add a touch of sweetness to the cocktail.
Lemon juice: Fresh lemon juice is an important ingredient for adding brightness and acidity to the drink. Avoid using bottled lemon juice, as it can taste artificial and overly tart.
Bourbon: The backbone of this cocktail, bourbon whiskey lends its smooth, rich flavor to the mix. Choose your favorite bourbon that you enjoy drinking straight, as its taste will greatly influence the final result.
Substitutions and Variations
For a little spicy and bubbly kick, try topping with a splash of ginger beer, which would blend perfectly with a peach bourbon cocktail like this.
If basil isn't your favorite herb, try swapping it out for fresh mint leaves for a flavor similar to mint juleps. Use only fresh herbs, not dried.
Lime juice can be used instead of lemon juice for a different sour citrus kick. If you want to add orange juice, you should still add some lime or lemon juice for some sour flavor to balance the sweetness of the orange.
Try a different type of whiskey, like rye whiskey, to create your own unique version of this cocktail.
For more of a peachy kick, add a touch of peach juice or nectar, or use peach whiskey as your base spirit.
Step-by-Step Instructions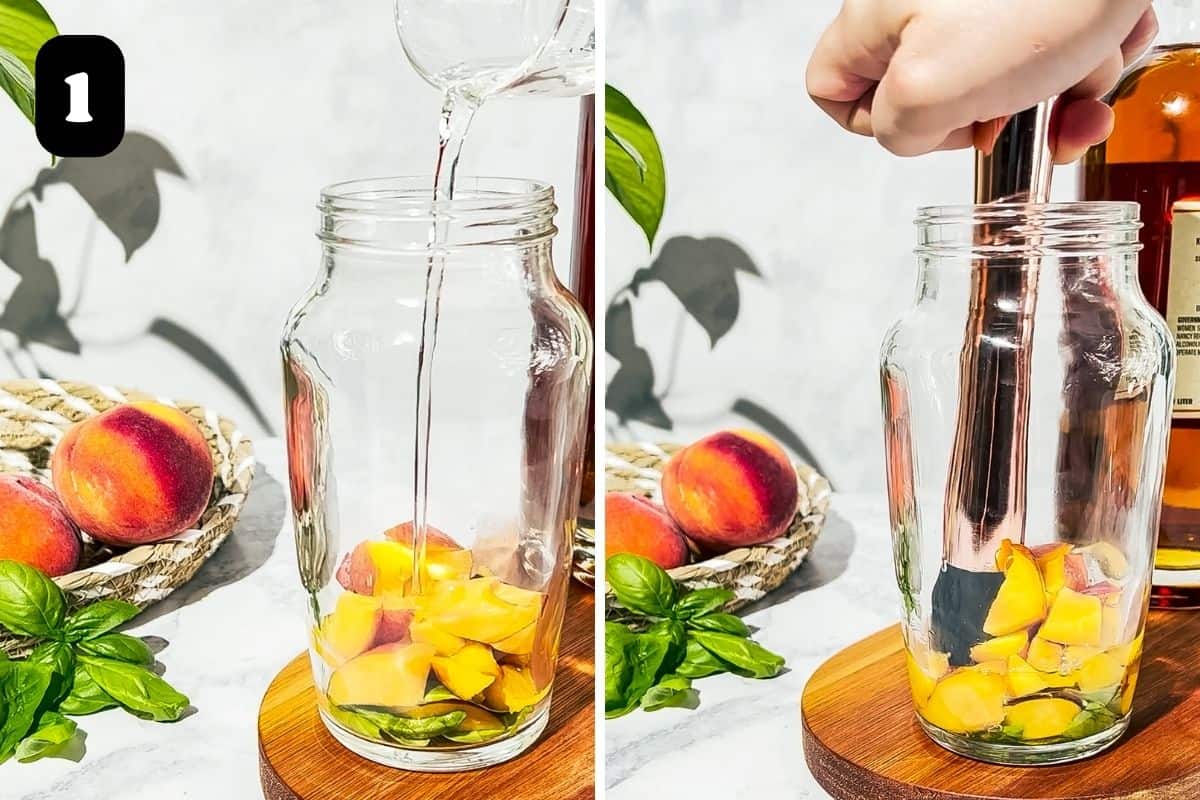 Step 1: Add the peaches, basil, simple syrup, and lemon juice to the bottom of a cocktail shaker. Muddle gently with a muddler.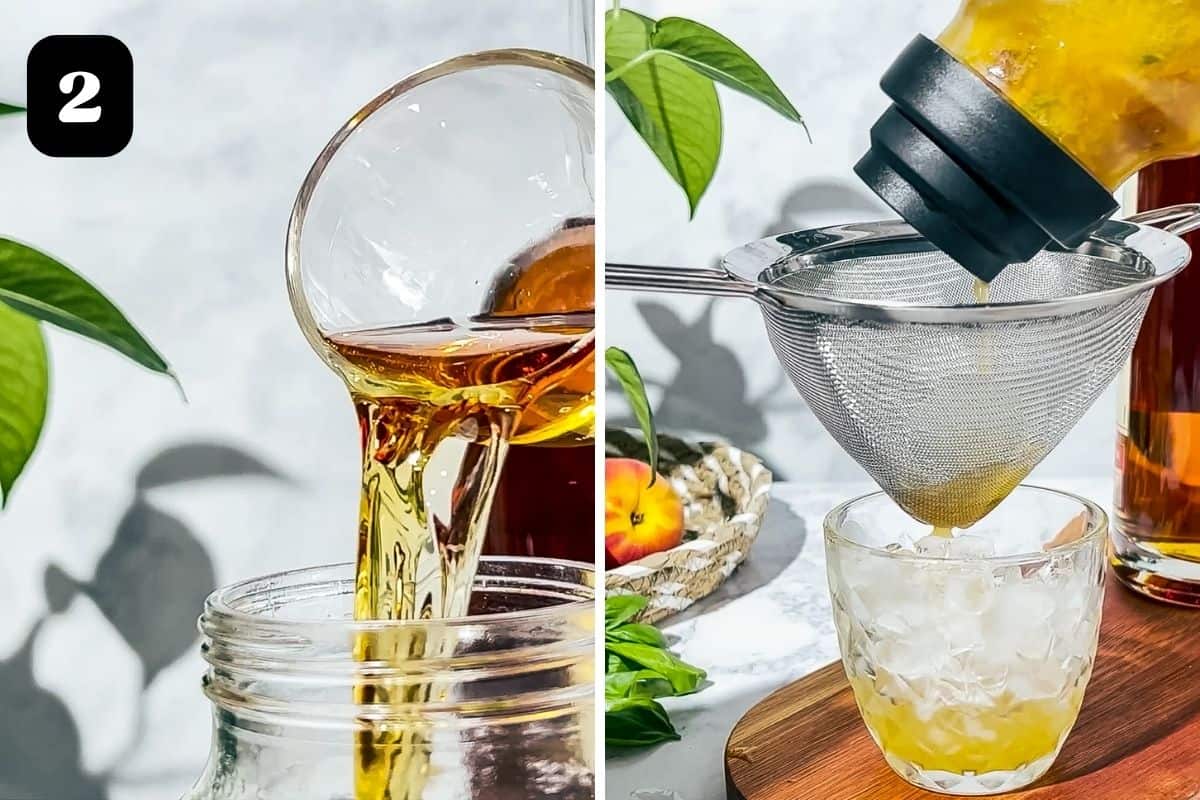 Step 2: Add the bourbon whiskey and ice cubes, then shake until well chilled. Strain through a fine mesh sieve or strainer into a rocks glass (aka old fashioned glass) filled with ice. If you're okay with peach pulp/skins in the cocktail, you can skip the fine mesh double strain.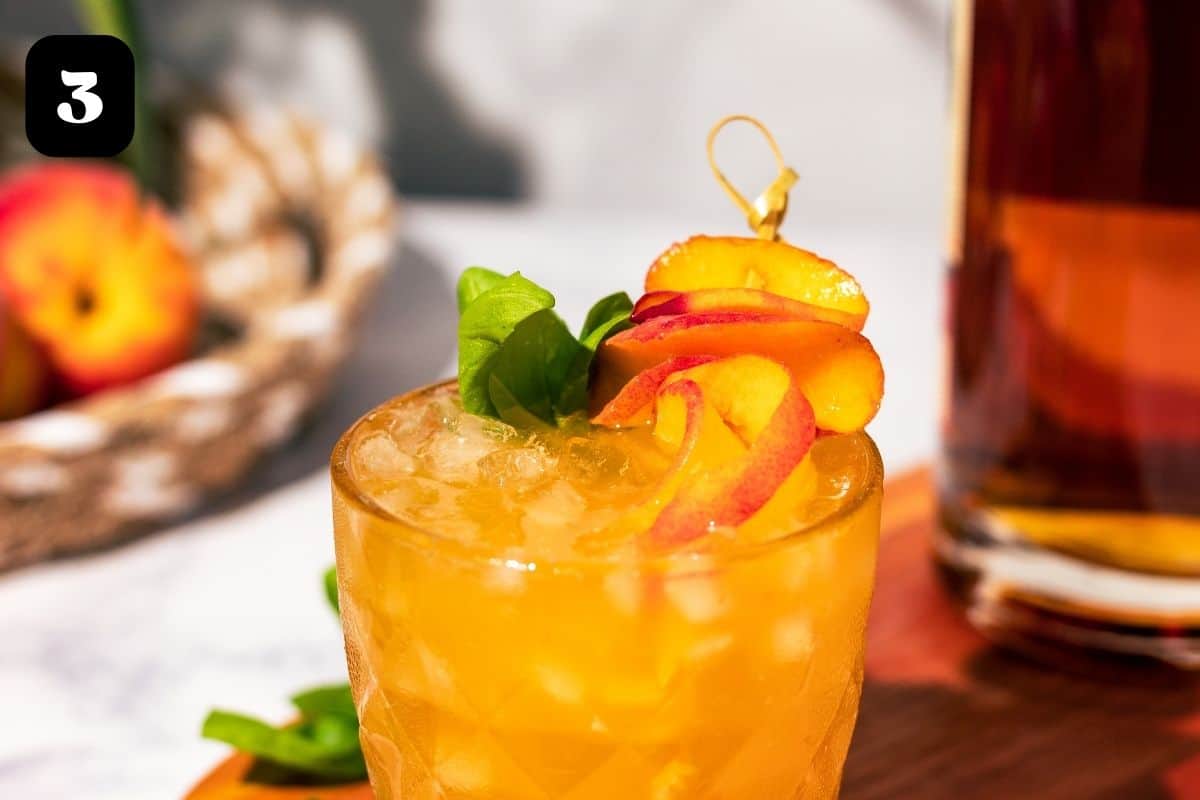 Step 3: Garnish with peach slices and/or fresh basil, if desired. You can also use a lemon wedge as a garnish.
Expert Tips and Serving Suggestions
Use gentle pressure to muddle the peaches and basil to release their flavors without crushing them completely. Over-muddling can result in a bitter taste.
For an extra-chilled drink, pre-chill your serving glass in the refrigerator or freezer before pouring the cocktail.
To extract the most juice from your lemon, roll it on the counter under your palm before cutting and squeezing.
FAQ
How do you muddle peaches?
To muddle peaches, first chop them into small pieces. Place the peach pieces in the bottom of a sturdy glass or cocktail shaker. Using a muddler, gently press and twist the fruit to release its juices and flavor.
Can you muddle without a muddler?
Yes, you can muddle without a muddler by using a wooden spoon or even a sturdy silicone spatula. While it may not be as efficient as a muddler, these alternatives will still help you release the flavors and juices from the fruit and herbs.
What does smash mean in a cocktail?
A "smash" is a type of cocktail that typically features a combination of muddled fruit, herbs, and sometimes sugar, mixed with a spirit. The name "smash" comes from the action of muddling or "smashing" the ingredients together to release their flavors. Smashes are known for being refreshing, flavorful, and easy to make, making them a popular choice for warm-weather drinks.
Can I make a batch?
Yes, you can easily make a batch of this Bourbon Peach Smash by scaling up the recipe. I have extra instructions for big batches in the notes section of the recipe below.
Can I make a batch in advance?
You can prepare a batch of Peach Bourbon Smash in advance, but there are a few things to consider. You'll want to leave the basil out until just before serving – more details and instructions are available in the recipe's notes section.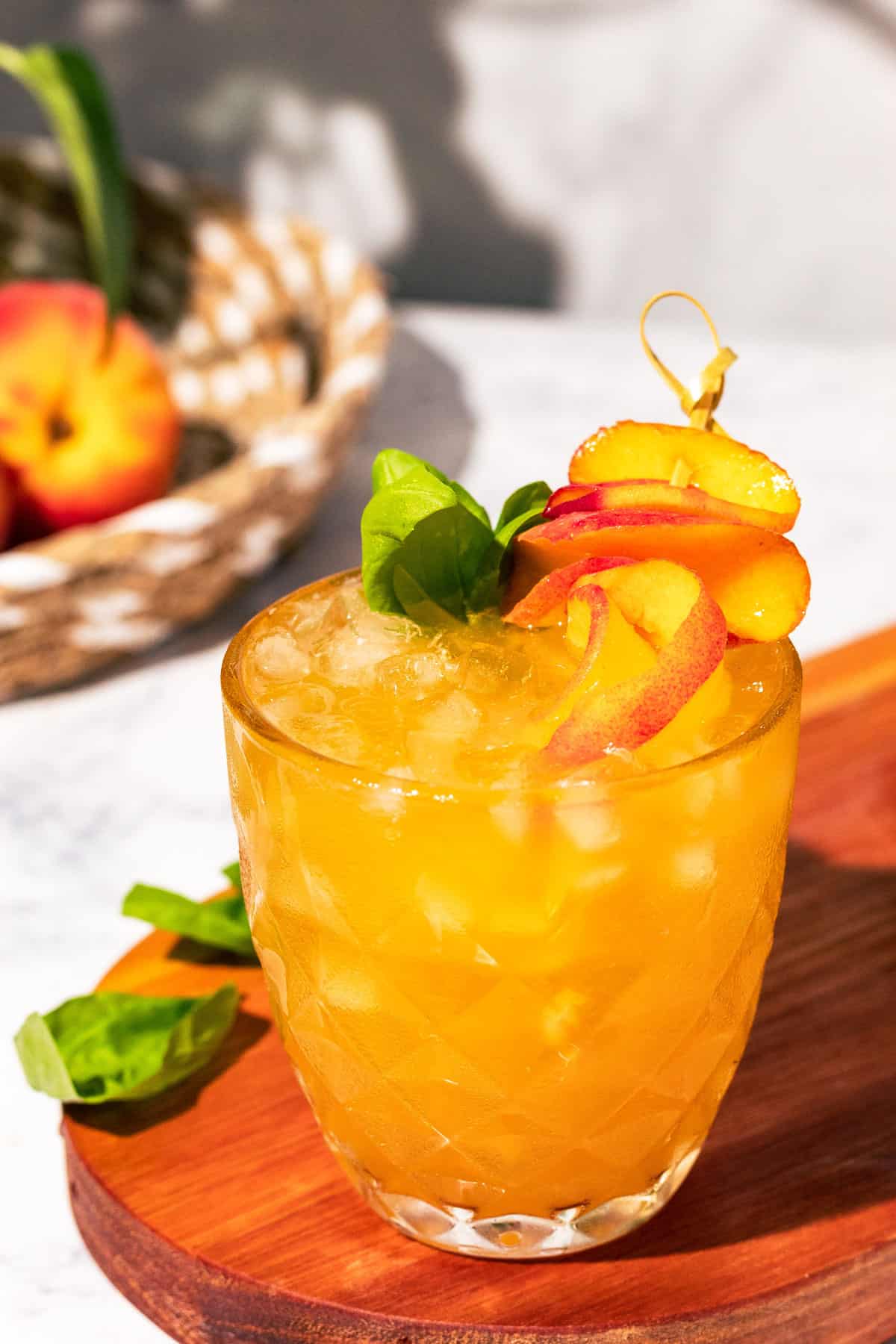 Related Recipes
Did you love this cocktail?
Please leave a 5-star 🌟🌟🌟🌟🌟 rating & review in the comments below.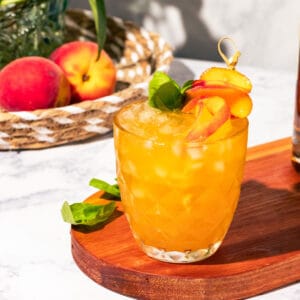 Peach Bourbon Smash Recipe
This vibrant and flavorful Peach Bourbon Smash with basil is the perfect refreshing drink for a hot summer day.
Ingredients
½

fresh peach

(chopped)

3-5

leaves

fresh basil

½

ounce

simple syrup

½

ounce

lemon juice

2

ounces

bourbon whiskey

Fresh peach slices and/or fresh basil for garnish

(optional)
Instructions
Add the chopped peach, basil leaves, simple syrup, and lemon juice to an empty cocktail shaker.

Muddle everything together using a muddler or wooden spoon.

Add the bourbon whiskey and ice cubes. Shake until well chilled. 

Strain through a fine mesh strainer into a cocktail glass filled with ice. (You can skip the fine mesh strainer if you are okay with pulp or peach skin in your cocktail.)

Garnish with peach slices and/or fresh basil, if desired. 
Notes
For a batch of 8 cocktails:
4 peaches, chopped
30-40 fresh basil leaves
½ cup simple syrup
½ cup lemon juice
2 cups bourbon whiskey
Muddle everything together in a large pitcher or container with a large wooden spoon. Stir very well. Strain through a fine mesh strainer into another large pitcher. Serve immediately over ice.
To make ahead: 
Muddle everything except for the basil and strain as usual. Store in the fridge for up to 1 day in advance.
When ready to serve, lightly press the basil with a wooden spoon or rub between hands vigorously to release its aromas and oils, then add to the pitcher to serve. 
CLICK TO DISPLAY NUTRITION INFO
Nutrition
Calories:
215
kcal
Carbohydrates:
19
g
Protein:
1
g
Fat:
0.2
g
Saturated Fat:
0.02
g
Polyunsaturated Fat:
0.1
g
Monounsaturated Fat:
0.1
g
Sodium:
18
mg
Potassium:
120
mg
Fiber:
1
g
Sugar:
17
g
Vitamin A:
324
IU
Vitamin C:
9
mg
Calcium:
8
mg
Iron:
1
mg
Don't forget to follow along on social media for alerts on new recipes!
You can catch me on Instagram, TikTok, Pinterest, and Facebook.