Did you know that there are more types of hunger than just physical hunger? Specifically, there are four different types of hunger that can help you understand your own signs of hunger and individual needs through intuitive eating.
These types of hunger include physical, emotional, taste, and practical hunger. Some of these can occur at the same time or completely independent of one another.
Physical Signs of Hunger
Physical hunger is the one that most people are most familiar with – but that's not always the case. It is possible not to know what physical hunger feels like, which can stem from continually suppressing the signal.
And many aren't familiar with the subtle signs of physical hunger, such as merely beginning to think about food. Understanding the subtle signs of hunger can help you eat with attunement to your body's needs.
These are a few ways (obvious and maybe not so obvious) that physical hunger manifests:
Stomach: growling, rumbling, gurgling
Throat or esophagus: dull ache or gnawing feeling
Head: light-headed, dizzy, faint, difficulty focusing
Mood: thinking about food, cranky, irritable, "hangry"
Energy: waning, lethargic, tired
If you want to understand physical hunger and its nuances better, I recommend using a hunger fullness scale like this one to explore your feelings of physical hunger.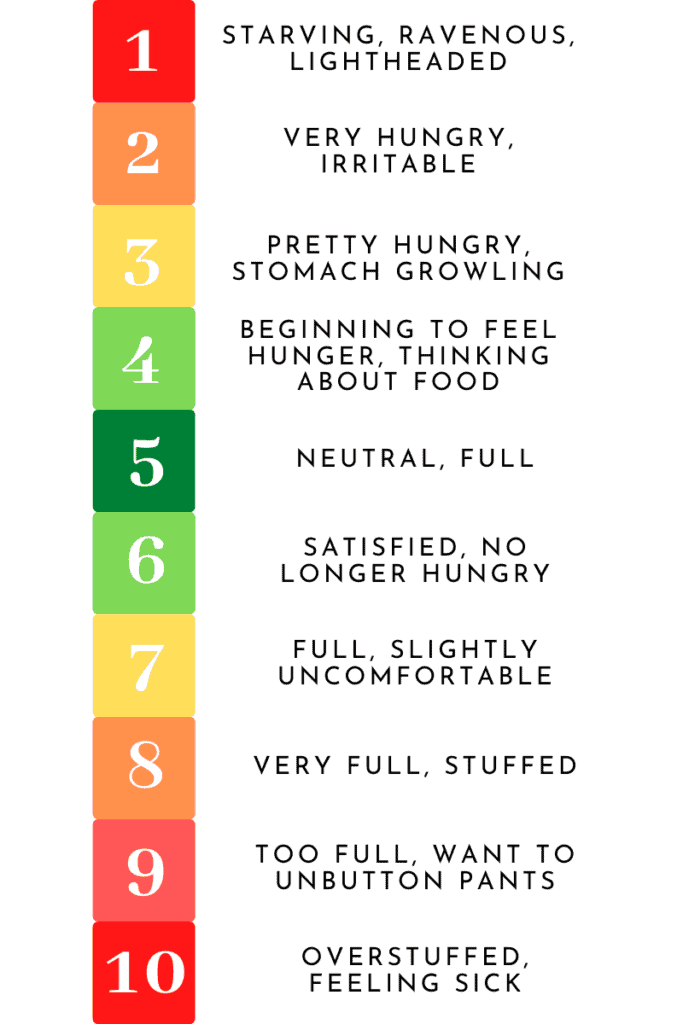 Emotional Hunger
Emotional hunger is something that many people fear by thinking that emotional eating is always problematic. In actuality, emotional eating can be helpful. We're wired as humans to soothe and fix uncomfortable feelings.
Physical hunger is an uncomfortable feeling, so we eat to soothe it – problem solved. Boredom, loneliness, stress, and grief are all uncomfortable feelings, so it's natural for us to try something like eating (that is generally enjoyable or can be enjoyable) to soothe those feelings too. Food won't fix many of those problems, so it's important to seek other coping mechanisms that help the root issue.
And other times, coming home from work after a really crappy day and eating something that evokes pleasant memories or experiences can genuinely feel good. And that's okay too. Emotional eating is entirely valid.
Taste Hunger
Taste hunger happens when it's just that food tastes good or a special occasion where it is part of the ritual to eat (like a wedding cake, for example) even if you're not physically hungry. These are both acceptable.
From a taste perspective, we are wired to enjoy highly palatable foods. If you're not physically hungry and wanting to enjoy food for the sake of taste, pause after a few bites and ask if the taste is just as good as when you took your first bite. Taste satisfaction will dissipate.
Another question to ask if you're not sure is, "when will I be able to enjoy this particular food truly? Is it now, or will it be better later?" Either way, you get to enjoy any food you want, whenever you want, and the bottom line is to enjoy the taste and move on.
Don't get hung up on feeling guilty – that's the part that typically disrupts our ability to do what's best for ourselves.
Practical Hunger
Practical hunger isn't hunger, per se. It's more about the practicality of keeping yourself from getting too hungry. Here's a situation – you try not to schedule meetings during lunchtime, but one comes up anyway, and it's not appropriate for you to eat during the meeting.
You know, after the meeting, you'll be hungry, and this meeting sometimes runs over. So, you opt to eat lunch before you go to the meeting to ensure you have a sustained amount of energy and don't find yourself hangry after the meeting.
More on Signs of Hunger and Cues
As a VERY general rule of thumb, you can assume that physical hunger will likely hit at least every 3-5 hours, which can help you plan ahead for windows of time that you will likely be hungry.
Keep in mind we are not machines or robots. Your activity level, hormone fluctuations, what you ate the day before or even the meal before, etc., are all just a few factors that impact our hunger cues, so it's completely normal and natural to have hunger outside of those windows. When you experience hunger in any of its forms, the important thing is that you honor it.