Do you love tart and fruity drink recipes? If so, this Chambord sour cocktail is probably right up your cocktail-drinking alley. This Chambord sour recipe is simple, with only a few ingredients, but packs a big sour flavor and silky texture from adding egg whites.
Jump to:
What is a Sour Cocktail?
So what makes it a sour cocktail? Cocktails in the sour drink family are typically made with liquor as a base, lemon or lime juice, and a sweetener such as simple sugar syrup, agave syrup, or orgeat syrup. Usually, a sour cocktail contains egg whites for an unmistakable signature texture.
You have probably seen a whiskey or amaretto sour on a cocktail menu. While these two are the most common combination to be served up, gin, rum, and tequila are also used to make sours. I have recipes for an Aperol Sour and a Pomegranate Whiskey Sour that you can try if you like this cocktail family. Pisco sour, made of a brandy local to Peru, is so beloved that it is celebrated in the country on National Pisco Sour day every year in February.
What is Chambord?
Chambord is a black raspberry-flavored liqueur originally from the Loire Valley in France. Chambord raspberry liqueur has a cognac base, which is a type of brandy made from distilled white grapes. It is also made with other French spirits. Chambord has a beautiful deep purple color and a semi-sweet raspberry flavor that lends itself to several cocktails.
In addition to black raspberries, Chambord is infused with blackberries, currants, vanilla, honey, Morrocan citrus peels, and spices. These flavors create an intense, rich, semi-sweet berry flavor and a slightly velvety texture. Chambord is used in the famous French martini, along with pineapple juice and vodka, giving it a beautiful deep pink color.
Ingredients in a Chambord Sour Cocktail
You don't need many ingredients to make a Chambord sour cocktail, it really couldn't be easier. You probably already have most of the ingredients in your kitchen and a well-stocked bar, but if not, they are easy to find in your grocery or favorite liquor store.
Gather your ingredients; Chambord, lemon juice, an egg white, and some fresh raspberries.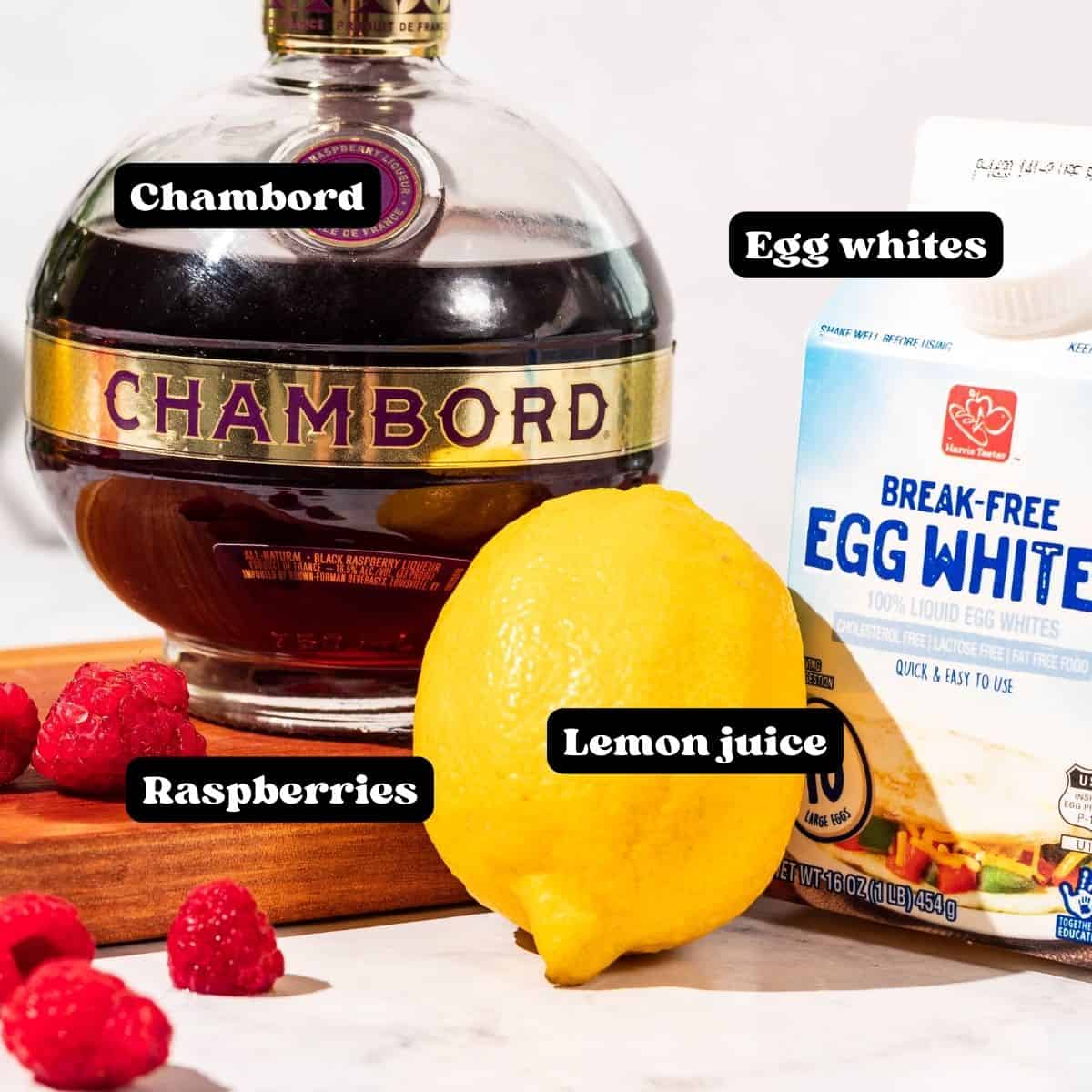 Chambord: This is the essential ingredient in this sour recipe since it will give it most of its flavor and color. As I already said, sours can be made with different types of liquor, giving them each a different taste, depending on which you use.
Chambord will give this sour cocktail, mixed with lemon juice, a flavor reminiscent of raspberry lemonade, but for adults only! Since Chambord has some sweetness, we won't need to add extra sweeteners like simple syrup. It should be easy to find Chambord at your liquor store, but if you can't or prefer a different flavor, there are some alternatives you can use.
Liqueurs such as creme de cassis, raspberry liqueur, or creme de mure, a blackberry liqueur, have similar flavor profiles as Chambord and are slightly less expensive. These will likely have more sweetness than Chambord and slightly different tastes, so keep that in mind if you decide to substitute with them.
Lemon juice: Next, freshly squeezed lemon juice gives this sour cocktail its tart acidity factor. As always, I recommend using the freshly squeezed juice of a lemon instead of store-bought bottled lemon juice for its brighter flavor and better taste. If all you have is the bottled stuff, it will work. You can also use lime juice if that's what you have on hand but expect a slightly more bitter flavor from a lime than its sweeter relative, the lemon.
Egg whites: An egg white gives this sour cocktail its signature silky texture and mouthfeel. Not only will adding an egg white create more richness and creaminess in your Chambord sour cocktail, but it also balances out some of the tanginess from the lemon juice. For these reasons, most sour cocktails contain an egg white, and if it sounds strange to you, you will indeed become a believer once you try it.
If you're worried about ingesting raw egg whites, it is important to know that the risk of salmonella is minimal. Not only are there strict protocols regarding sanitation efforts in egg processing, but there is little risk of any foodborne illness surviving in the acidic environment of the cocktail. If you prefer, you can buy pasteurized egg whites in the carton for an extra precaution.
Even so, if you are uncomfortable using a raw egg, you can substitute it with aquafaba, also known as chickpea liquid. Aquafaba is also a vegan alternative for egg whites in cocktails.
Fresh raspberries: Finally, use some fresh raspberries as a garnish for your Chambord sour. Not only will raspberries look beautiful, but they give a little extra flavor! A lemon slice would also be a good garnish, if you prefer.
How to Make a Chambord Sour Cocktail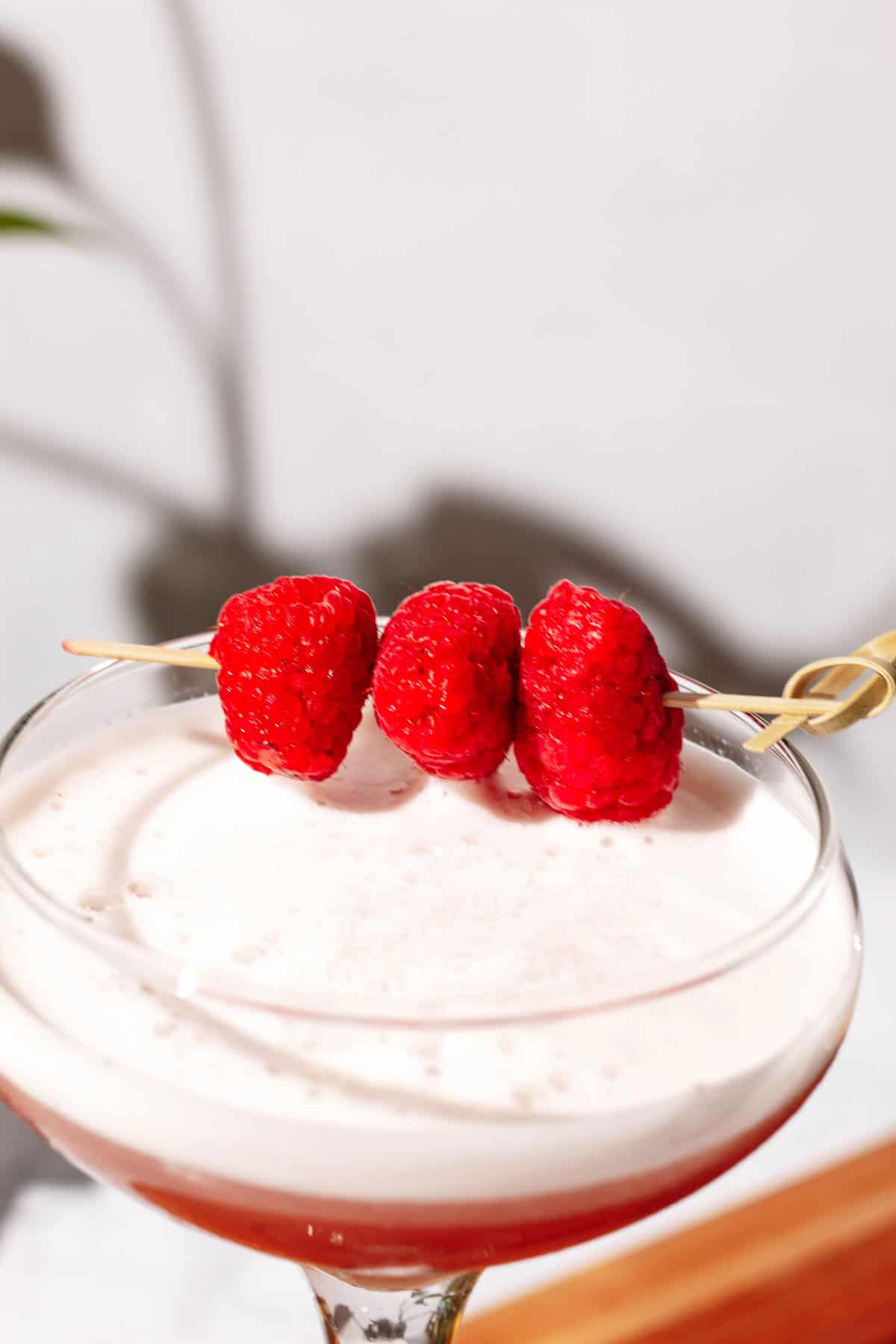 Now that we have all the ingredients to make a Chambord sour let's shake one up! For this recipe, you will need a cocktail shaker with a lid, a strainer, ice, and a cocktail glass. You can use any cocktail glass you desire: old-fashioned glass, coupe, and martini glass are all good options. For a Chambord sour, I like to use a coupe or martini glass. Viski makes beautiful cocktail glasses including these coupe glasses on Amazon.
Start by adding the Chambord, egg whites, and lemon juice to your cocktail shaker. Give it a good shake using the dry shake method, without ice. Dry shaking will ensure that the egg whites combine with the other ingredients making a nice frothy drink.
Once you've shaken the cocktail for about 30 seconds with no ice, add some ice and give it another good shake. Remove the lid and use the strainer to pour your beautiful cocktail into a glass. Garnish the top with a raspberry or lemon slice, and enjoy!
Serving Suggestions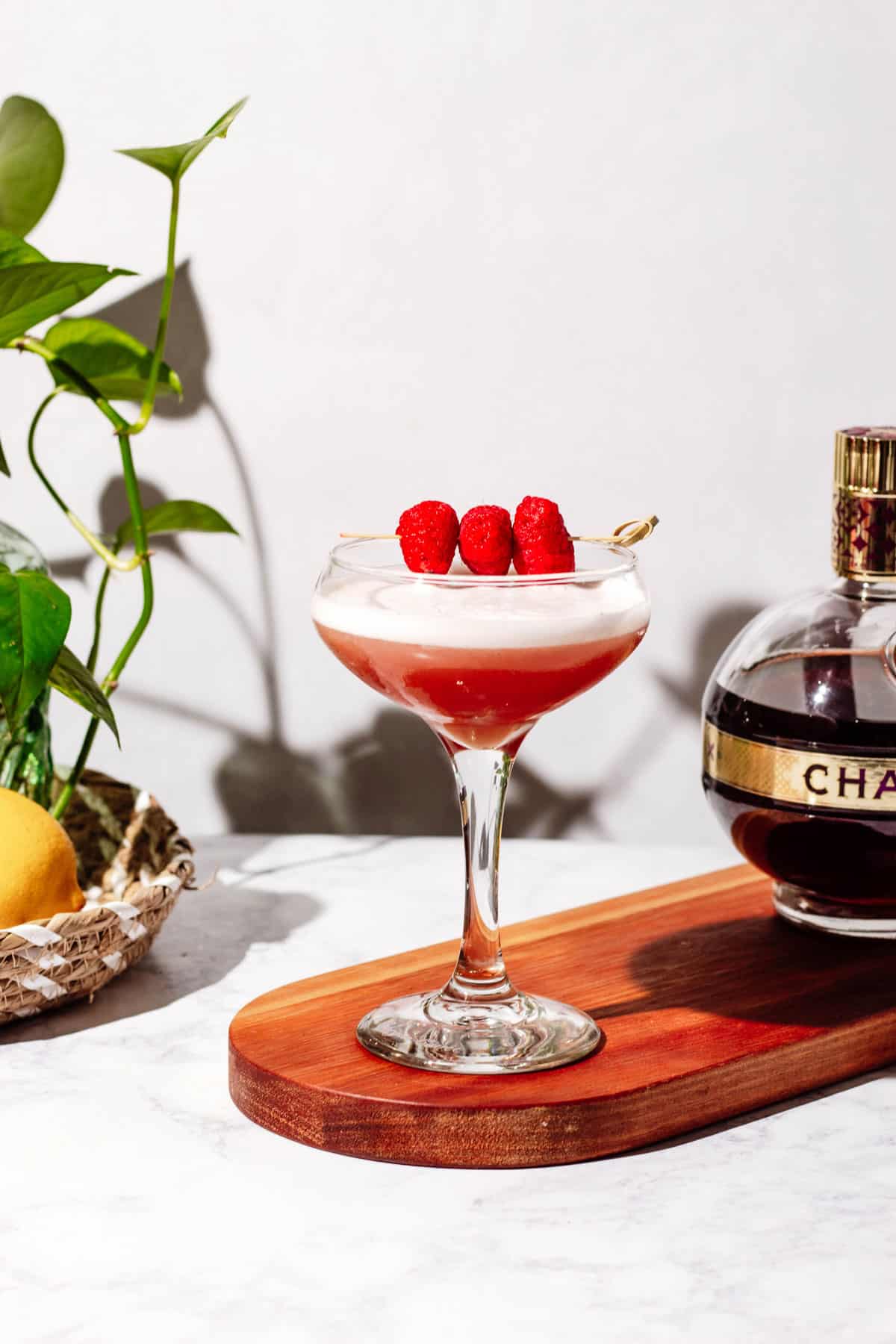 Enjoy this semi-sweet fruit-forward cocktail with a tart finish during the late summer, at the end of the raspberry season. You can enjoy this sour cocktail for happy hour with small bites like cheese and meat or go for a nice dessert like a pear crumble.
A Chambord sour has such a vibrant color that it would also be beautiful to sip on for a Christmas party or New Years Eve festivities. I also think it would be awesome at Valentine's Day.
If you prefer a variation with a little more booze, you can add some bourbon or whiskey. Replace an ounce of Chambord with 1 – 1 ½ ounces of whiskey or bourbon. I suggest using rye whiskey as it is a little less sweet than bourbon and will give this drink some more bite.
However you decide to enjoy it, you will love this Chambord sour cocktail with good company!
More Cocktails to Try
If you're looking for more cocktail recipes to enjoy, you may want to try:
Empress Gin French Martini – made with the vivid purple Empress 1908 gin, berry liqueur, pineapple juice, and a couple of non-traditional ingredients.
El Diablo – this classic cocktail's star ingredients are tequila and creme de cassis, which is a sweet liqueur made with blackcurrants and has a similar flavor profile as Chambord.
Pomegranate Sour – this is fun twist on the traditional whiskey sour starring pomegranate liqueur.
Strawberry Limoncello Margarita – this cocktail has tart and sweet flavor that you will love if you like Chambord Sours.
Empress Gin French 75 – another tart cocktail that you'll love if you like this recipe. Be warned all you lightweights out there if you've never had a French 75 – they are delicious but they are very boozy.
Shop my Amazon Cocktail Favorites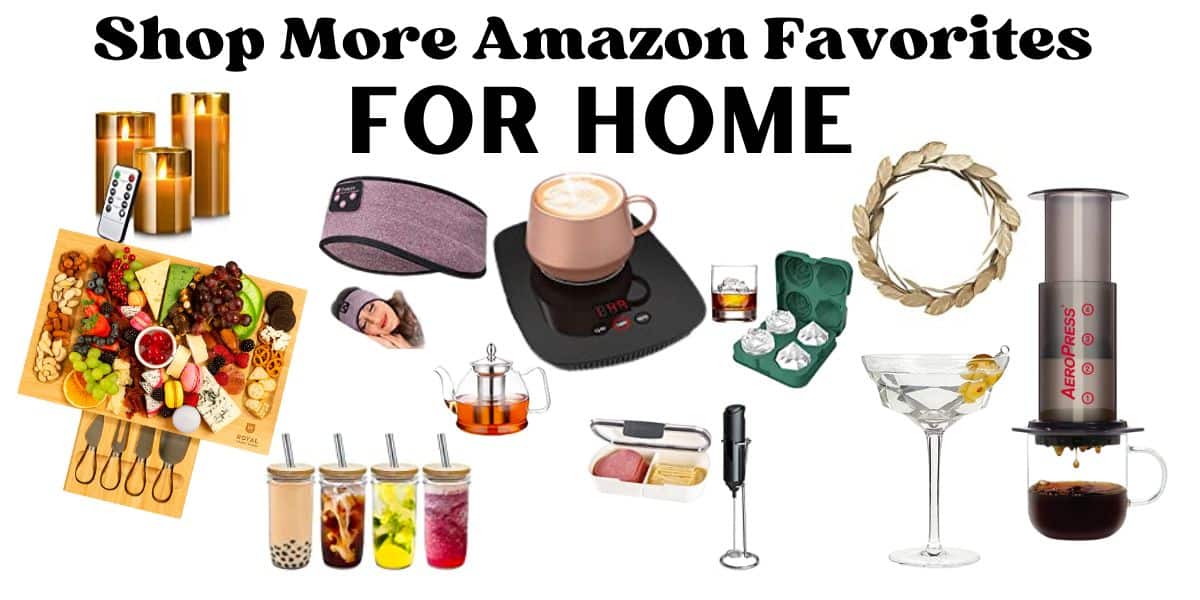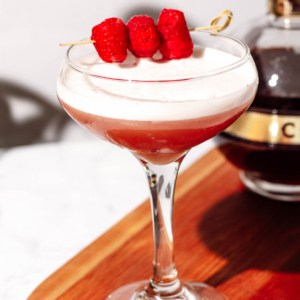 Chambord Sour Cocktail
This Chambord sour recipe is simple, with only a few ingredients, but packs a big sour flavor and silky texture from adding egg whites.
Ingredients
2

oz

raspberry liqueur

Chambord

1

oz

egg white

1

oz

lemon juice

Raspberries for garnish

optional
Instructions
Add raspberry liqueur, egg white, and lemon juice to the cocktail shaker. Shake well.

Add ice to the cocktail shaker and shake again very well.

Strain into a cocktail glass and garnish with raspberries, if desired.