No other fruit combinations can beat the classic strawberry banana combo, but this delicious recipe takes it to a new level with this Caramelized Strawberry Banana Pancake recipe.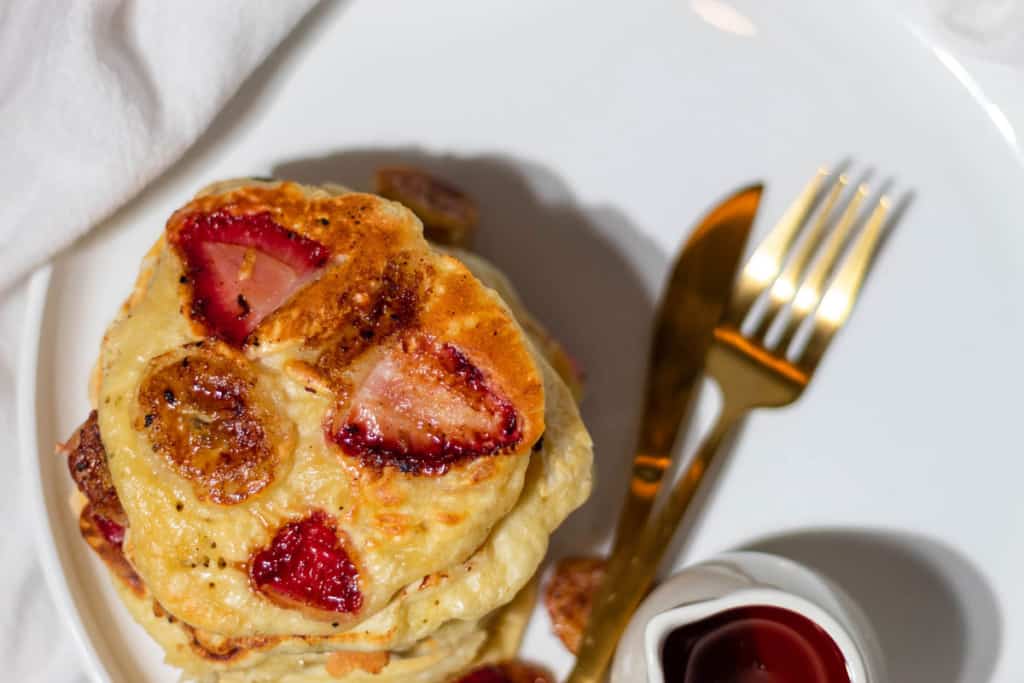 These strawberry banana pancakes are an absolute dream – they're super easy and are the perfect way to change up your breakfast. Fresh strawberries and bananas are added while the first side of the pancakes cooks so that when they are flipped the fruit will caramelize into a satisfying sweet flavor. I like doing this with fresh fruit pancakes because it keeps from all the fruit sinking to the bottom of the batter bowl resulting in an unevenly distributed amount of fruit between all of the pancakes. Whenever I've used fruit in my pancakes, especially when I make strawberry pancakes, I find this to be the case.
I like making these pancakes from scratch. However, this also will work with pancake mix, like Krusteaz or Bisquick mix, as well. You would just make the pancakes per the box's instructions and then use the same technique layering the strawberries and banana slice pieces into the pancake batter while the first side cooks. It is a simple recipe that is very versatile also – you can easily whip up a big batch of these fluffy pancakes for a crowd or freeze for later.
Jump to:
Ingredients for Strawberry Banana Pancake Recipe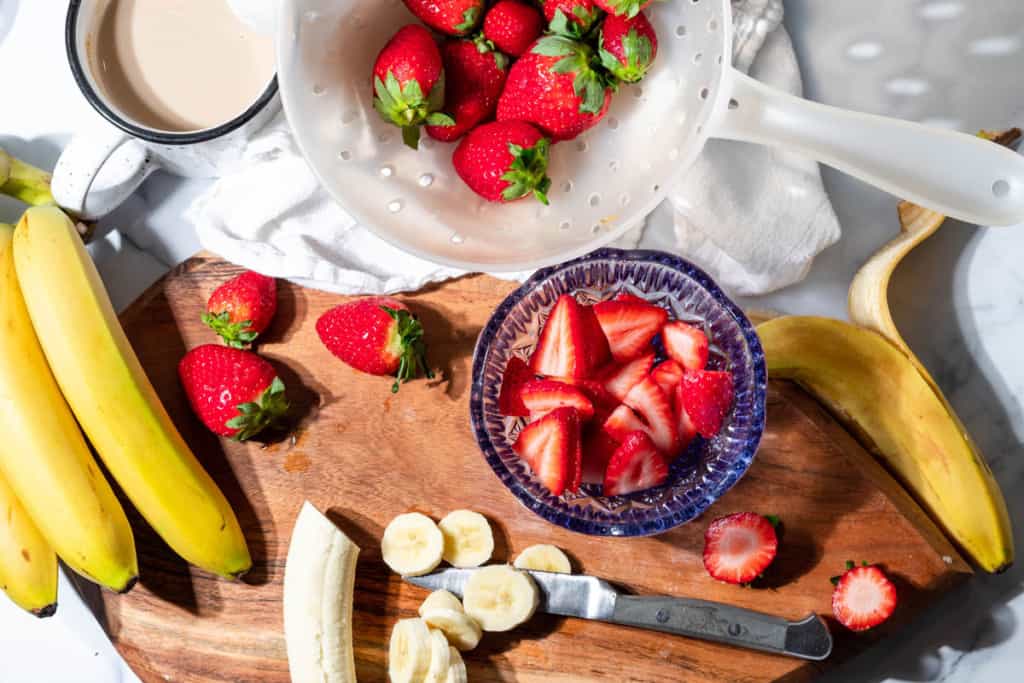 All-purpose flour: If you prefer flour other than all-purpose, white flour, you can substitute whole wheat or white whole wheat flour if you want, but I would avoid flours like almond flour, coconut flour, or oat flour – these will all disrupt the dry to wet ingredient ratio.
Sugar: This recipe only uses about a tablespoon sugar, but you can substitute it with maple syrup, honey, or agave nectar.
Baking powder: This is what makes the pancakes rise, make sure yours isn't expired.
Milk: I like using whole or 2% for the protein and fat, but if you can use plant-based milks like almond milk.
Eggs: These help bind the pancakes together. And, it will stick to the pan less when you use eggs.
Unsalted butter: I use unsalted in making pancakes, so I can best control the flavor.
Vanilla extract: I have also used vanilla paste and almond extract would be a great option too.
Sliced strawberries and banana: Fresh fruit works best here for texture and taste.
Cinnamon: If you end up with extra fresh fruit, I like to saute the extra with butter, cinnamon, and sugar and serve on top or on the side of the pancakes.
Toppings of choice: The classic is maple syrup and butter, but you can top the pancakes with any extra fruit, whipped cream, chocolate chips, etc. Another option that I like to use when I'm out of maple syrup is warming up a small amount of jam, like strawberry jam, in the microwave for about 30 seconds or so to get it melty and pourable and topping my pancakes with the warm jam.
Instructions
To make this strawberry banana pancake recipe, you'll mix the dry ingredients in a large bowl and then the wet ingredients in a separate bowl. Then you'll combine the dry and wet ingredients. You'll need a hot griddle or large non-stick pan heated over medium heat. First thing, you should pour a quarter-sized amount of the batter in the pan or griddle to test if it is hot enough so that you'll get the perfect pancake. When it's hot enough you'll quickly see air bubbles rise the top while it cooks.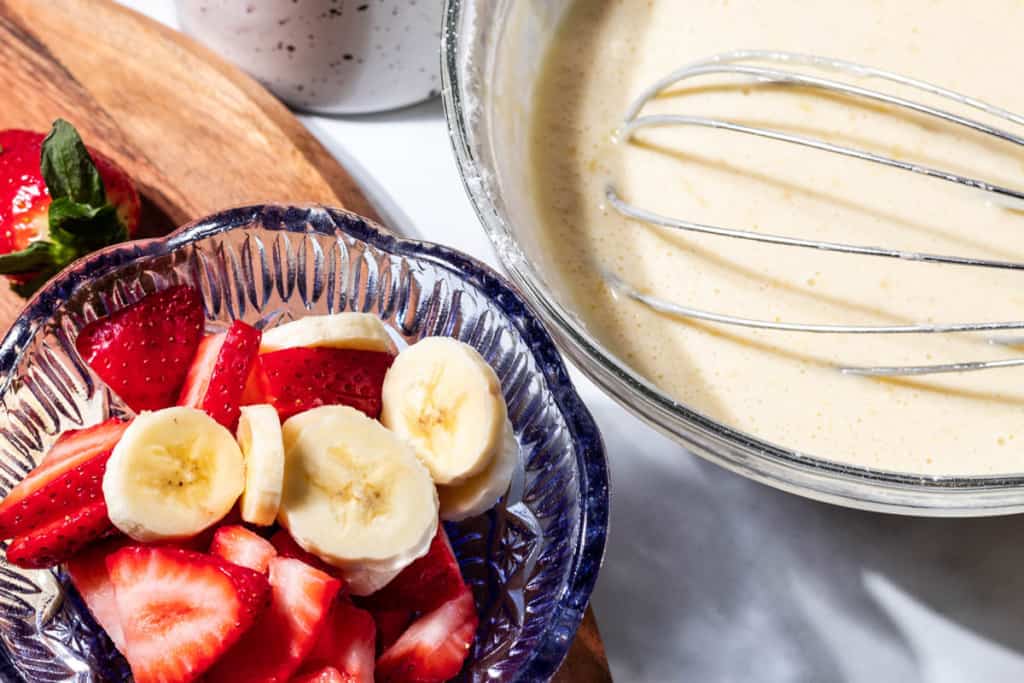 Using a ¼ cup measuring cup, pour the batter into the hot pan. As it cooks, add strawberry and banana slices in a single layer on top. Press them into the batter to make sure they stick when you flip the pancakes. Cook until you see bubbles at the outer corners. Flip and cook for another couple of minutes. During this time the layer of banana and strawberries will begin to caramelize. Continue this process until all of the remaining batter is used.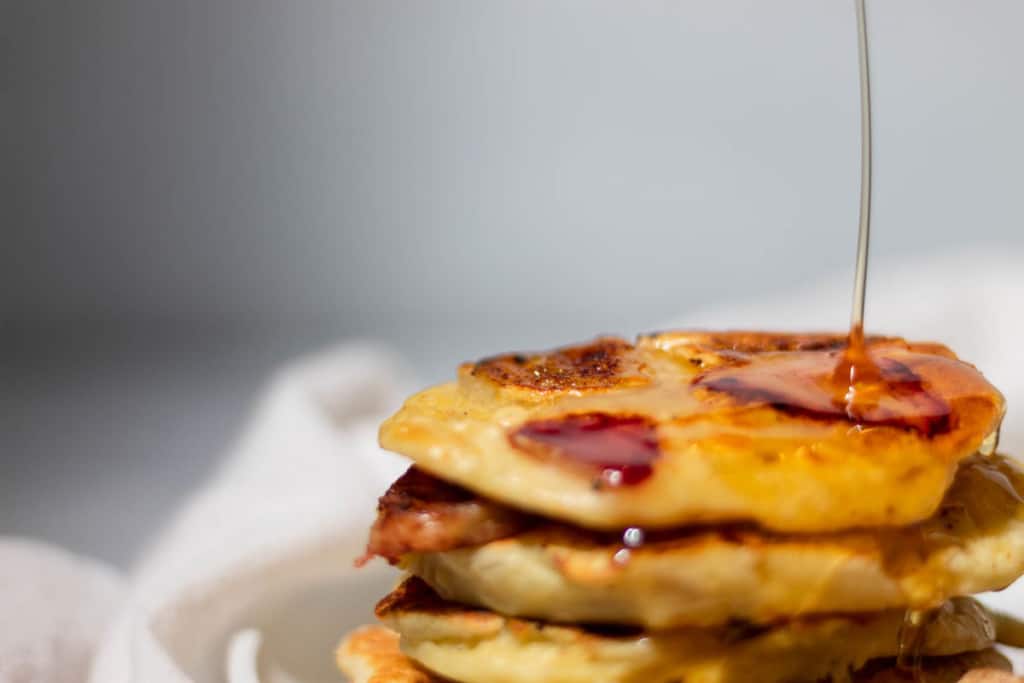 How to Store Leftover Strawberry Banana Pancakes
Store any leftover pancakes in the refrigerator in a sealed container or ziplock bag for up to 3 days. If you want to freeze for later, freeze them in a single layer on a baking sheet. Once they are frozen pop them into a freezer bag for up to 3 months.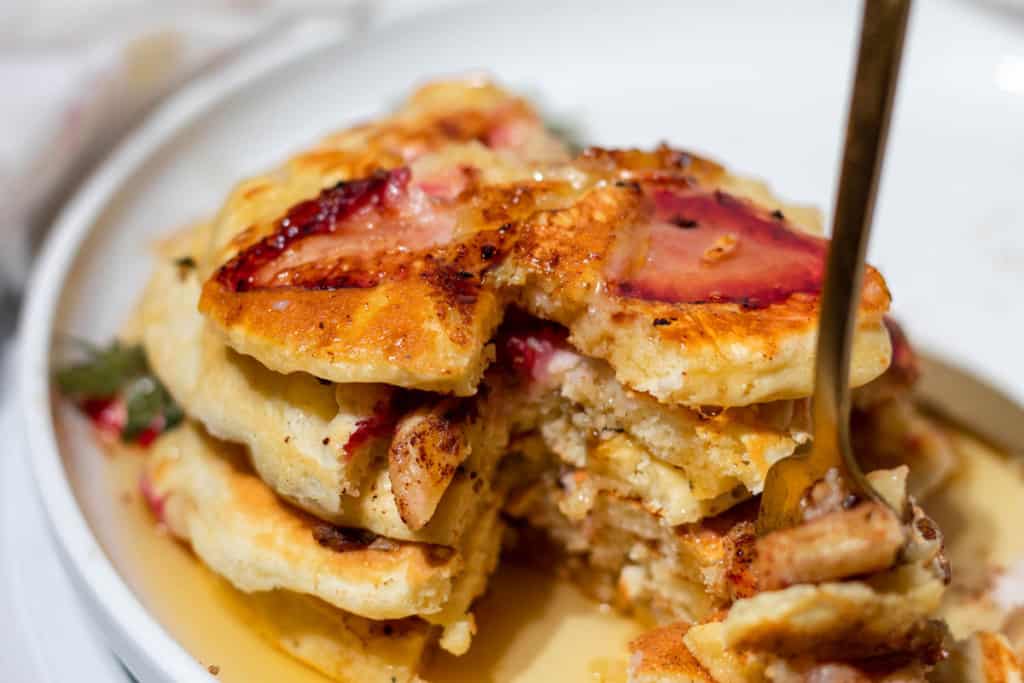 To reheat pancakes:
In an oven, spread the pancakes in a single layer on a non-stick baking sheet the cover the baking sheet with foil. Heat at 350 degrees for about 5-10 minutes.
For frozen, add an additional 5-7 minutes.
In an air fryer, arrange in a single layer in your air fryer basket and heat on 325 degrees for about 2-3 minutes.
For frozen, add an additional 2-3 minutes.
In the microwave, heat pancakes in a single layer on a microwave-safe plate on high heat for about 10-20 seconds for 1-3 pancakes and 30-60 seconds for 4+ pancakes.
For frozen, heat 1-3 pancakes for 20-30 seconds and 45-60 seconds for 4+ pancakes.
More Breakfast Recipes
If you enjoyed this delicious breakfast recipe, then you'll love these as well: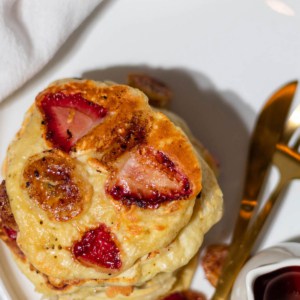 Caramelized Strawberry Banana Pancake Recipe
Ingredients
2 ¾

cups

all-purpose flour

1

tablespoon

sugar

4

teaspoons

baking powder

Pinch

of salt

1 ¼

cups

milk

2

eggs

beaten

3

tablespoons

unsalted butter

melted

1

teaspoon

vanilla extract

Sliced strawberries and bananas

Favorite pancake toppings

such as extra fruit, jam, coconut, maple syrup, butter, whipped cream, nuts or nut butter, chocolate chips, yogurt, etc.
Instructions
In a large mixing bowl, whisk together flour, sugar, baking powder, and salt. In a separate bowl, whisk together milk, eggs, butter, and vanilla extract. Then mix the wet and dry ingredients together and mix until just combined.

Heat a large non-stick pan over medium-high heat. Spray with oil or butter the pan if needed/desired. Using ¼ or ½ cup measuring cups (depending on the desired size), pour the batter into the pan, spreading the batter flat.

Layer the sliced fruit on the uncooked side of the pancake in a single layer. Cook until you see bubbles on the outer corners. Flip and cook for another 1-2 minutes or until brown and fruit caramelized. Repeat until all batter and fruit are used.

Serve with your favorite toppings. 
Notes
If you have extra fruit leftover, heat 1 tablespoon of butter in a pan and saute the remaining fruit. While sauteing, sprinkle a heavy pinch of cinnamon and sugar to allow the fruit to caramelize further. Once softened and caramelized, serve on top or on the side of your pancakes. 
CLICK TO DISPLAY NUTRITION INFO
Nutrition
Calories:
339
kcal
Carbohydrates:
54
g
Protein:
10
g
Fat:
9
g
Saturated Fat:
5
g
Polyunsaturated Fat:
1
g
Monounsaturated Fat:
2
g
Trans Fat:
0.2
g
Cholesterol:
76
mg
Sodium:
331
mg
Potassium:
231
mg
Fiber:
2
g
Sugar:
7
g
Vitamin A:
350
IU
Vitamin C:
2
mg
Calcium:
239
mg
Iron:
3
mg