This orange chocolate Christmas granola marries two festive flavors together that are perfect for a snack or for a wholesome breakfast.
This granola is the perfect combination of flavors and feels super festive. The granola is packed with oats, nuts, and dried fruit. It's a perfect treat for breakfast or as an afternoon snack. If you're looking for a delicious breakfast item or snack that will transport you straight to Christmas, then this Orange Chocolate Granola is the recipe for you!
Does anyone else get those chocolate oranges in their stocking at Christmas? You know the ones that you hit off the table, and they break into what looks like chocolate orange slices? Yeah, those ones. They're one of my favorite Christmas treats because orange and chocolate are two flavors that are made for one another. This Orange Chocolate Christmas Granola is the same flavor profile and can be enjoyed all year round.
The orange juice gives it a bright citrus aroma and the chocolate chunks give you that lovely cocoa crunchiness on top of each spoonful. It's absolutely delicious and so easy to make a delicious, festive breakfast. The combo is perfection!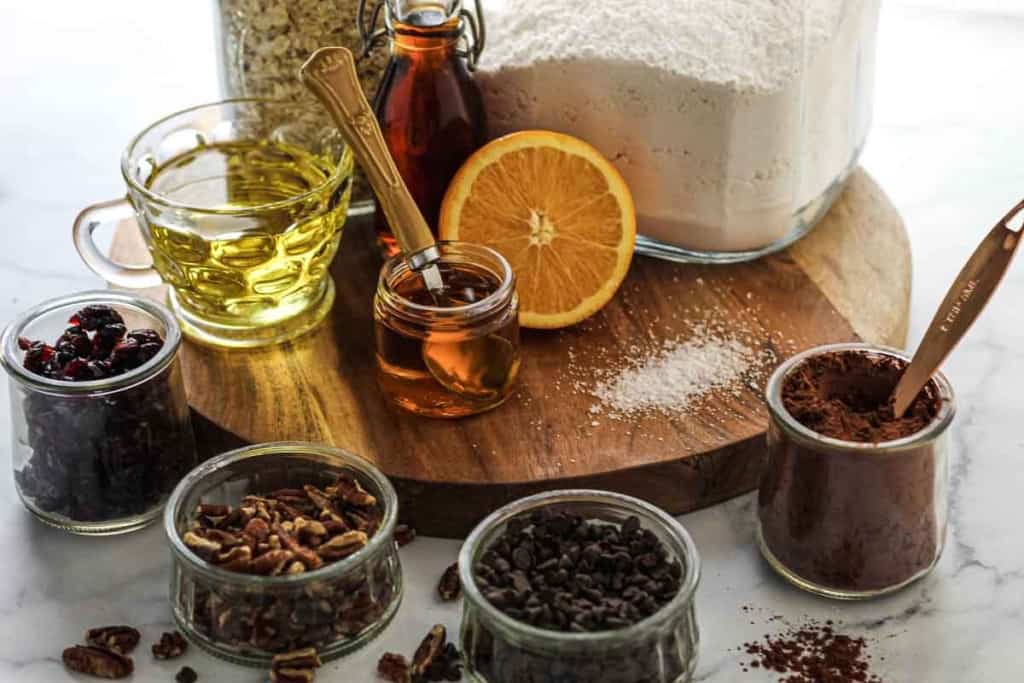 Ingredients for Christmas Granola
Rolled oats: There are many different types of oats and they all vary based on their cooking time. You'll definitely want to use old-fashioned rolled oats for this granola.
Raw pecans: I used pecans because they're one of the nuts I associate with Christmas, but you can use whatever nut is your favorite. I recommend raw nuts because this granola will be baking and if you choose a nut that is already roasted the flavor could come off wrong.
Flour: I recommend using either all-purpose flour or whole grain flour. The flour along with the oats soak up the juice and sweetness. I wouldn't use something like almond flour as this won't have the same absorption properties.
Cocoa powder: This is the plain, unsweetened cocoa powder that is typically used for baking.
Sweetener: This recipe uses a combination of orange juice and a syrupy sweetener like honey or agave nectar to sweeten and flavor the granola.
Other flavor and texture enhancers: The orange juice and zest is not one that you want to skip for these are what gives its ultimate orange flavor. Adding in some vanilla extract will give a little extra flavor boost and the oil will help crisp up the granola to make it crunchy.
Mix-ins: You'll allow the granola to cool before you mix in some dried cranberries and chocolate chips. Or, you can get crazy and chop up some orange chocolate to sprinkle into the granola.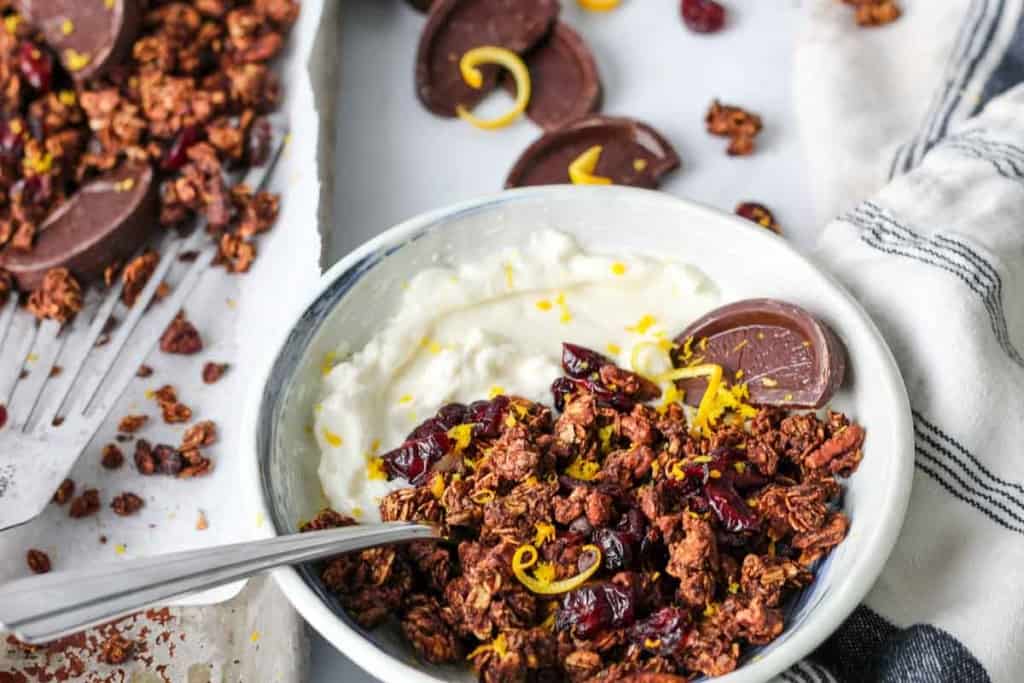 How to Make Christmas Granola
Just like in baking you'll mix the dry and wet ingredients separately and then add them together. You do this except that you leave out the chocolate chips and dried cranberries. You'll fold those in later – otherwise, they get all melty and the dried cranberries turn rock hard.
The granola gets poured on a parchment paper-lined baking sheet. Spread it out evenly. You're going to check on the granola every 20 minutes for an hour. You'll use a spatula to distribute it every time you check so that the granola doesn't burn. It also helps evenly dry out the granola so that the end product is perfectly crunchy.
After it's done baking and cooled down a bit, you can then add in some chocolate chips (or orange chocolate slices) along with the dried cranberrie.
When I was baking this, the house smelled amazing. You know how you're supposed to bake chocolate chip cookies when you're trying to sell your house so that potential buyers will feel your home is cozy and want to buy it? Yeah, don't do that – bake this instead. It fills the air with bright, sweet citrus aromas and the indulgent smell of chocolate paired with the toasty nuttiness of pecans. After the orange chocolate granola came out of my oven, my mom called, and I talked to her for at least 20 minutes. I stood at the counter the entire conversation snacking on this granola because I couldn't get over how great it tasted.
It's also a nutritional powerhouse with dark chocolate, whole grains, high protein nuts, and dried fruit. The best part is that you can double or triple this recipe as it will keep for at least 3 weeks in an airtight container. It's perfect for making it on the weekend to enjoy all week long!
If you're looking for a recipe that will make your house smell amazing and keep the people around you happy, try this one!
Looking for other recipes for breakfast? Try these too.
Follow along!
Keep up to date with new recipes and wellness articles by following along by bookmarking and following on social media!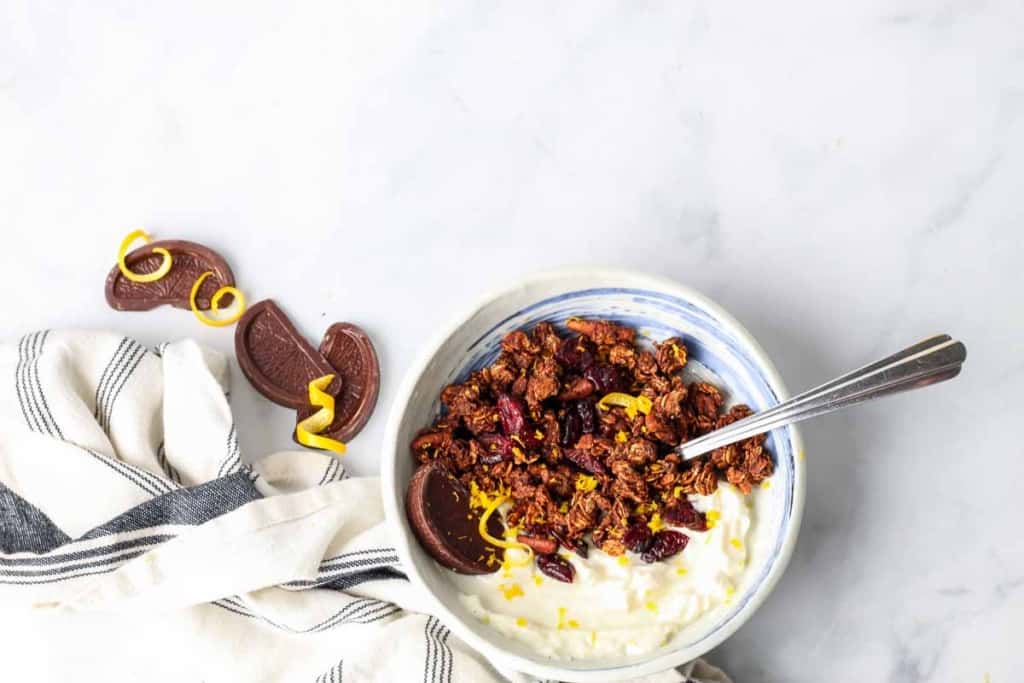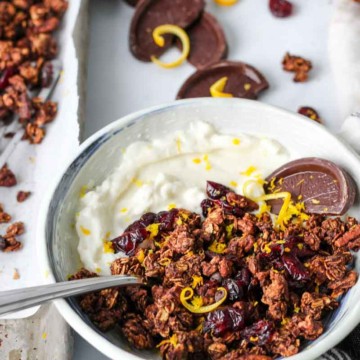 Orange Chocolate Granola
This orange chocolate Christmas granola marries two festive flavors together that are perfect for a snack or for a wholesome breakfast.
Ingredients
3

cups

old-fashioned rolled oats

¾

cup

chopped raw pecans

¼

cup

whole grain flour

3

tbsp.

cocoa powder

½

tsp.

salt

¾

cup

honey or agave syrup

1

tbsp.

grated orange zest

½

cup

100% orange juice

2

tsp.

vanilla extract

1

tbsp.

light-colored olive oil or canola oil

¼

cup

dried cranberries or dried cherries

¼

cup

dark chocolate chips or chunks
Instructions
Preheat oven to 300 degrees F. Line a baking with with a silicone baking mat or parchment paper. 

Mix oats, pecans, flour, cocoa powder, and salt in a small bowl. In a larger bowl, whisk together the honey (or agave), orange zest, orange juice, vanilla extract, and oil. Add the dry ingredients to the wet ingredients and mix well.  

Spread evenly onto the baking sheet and bake for about 1 hour. Set a timer to check and stir granola about every 20 minutes to ensure that edges don't burn. 

Remove from oven and cool. Granola will continue to crisp up while cooling. Once cool, mix in dried fruit and chocolate chips. Store in an air tight container for up to 3 weeks. 
CLICK TO DISPLAY NUTRITION INFO
Nutrition
Calories:
531
kcal
Carbohydrates:
88
g
Protein:
9
g
Fat:
18
g
Saturated Fat:
4
g
Polyunsaturated Fat:
4
g
Monounsaturated Fat:
8
g
Trans Fat:
0.02
g
Cholesterol:
0.1
mg
Sodium:
235
mg
Potassium:
318
mg
Fiber:
8
g
Sugar:
48
g
Vitamin A:
60
IU
Vitamin C:
14
mg
Calcium:
69
mg
Iron:
3
mg